Tenerife is one of the most popular tourist destinations in Europe. This stunning island is located in the Atlantic Ocean, and it is the largest of the seven Canary Islands. It is known for its beautiful beaches, stunning landscapes, and rich history.
But, is Tenerife in Spain? Yes, Tenerife is in Spain, and in this article, we will explore this question in detail, and we will also provide you with a comprehensive guide to this magnificent island.
The Location of Tenerife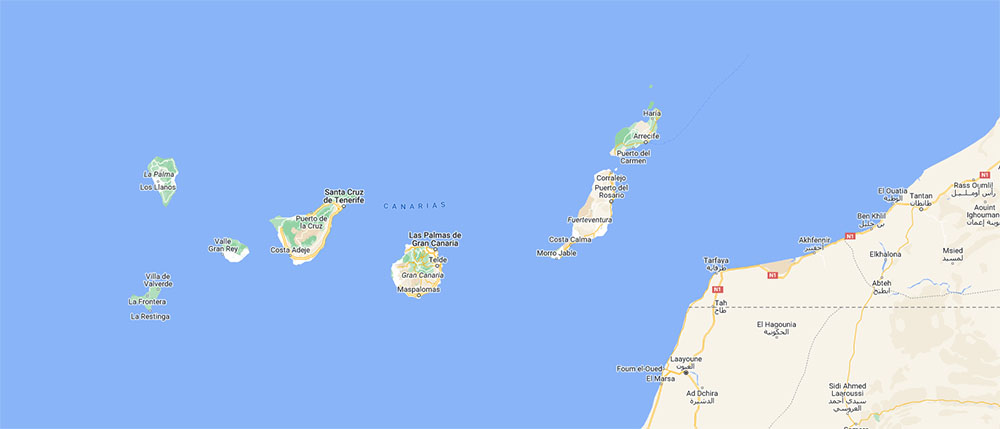 Tenerife is located within the Canary Islands, just outside the coast of Africa.
Tenerife is a breathtakingly beautiful island located in the Atlantic Ocean, off the coast of Africa. It is part of the Canary Islands, a Spanish archipelago that is a popular destination for tourists seeking sun, sea, and sand. Despite its small size, Tenerife boasts a diverse landscape, from rugged mountains and verdant forests to golden beaches and crystal-clear waters. This makes it an ideal destination for those seeking outdoor adventure or simply a place to relax and unwind.
What sets Tenerife apart from other destinations is its unique blend of Spanish and African cultures, which is reflected in its cuisine, music, and architecture. Whether you're exploring charming villages and historic towns or soaking up the vibrant nightlife in bustling cities, there is always something new to discover on this enchanting island.
Tenerife's History
Tenerife's history is as fascinating as it is diverse. The island has been inhabited for thousands of years, with evidence of prehistoric settlements dating back to the Guanches, the indigenous people of the Canary Islands. The Guanches lived in relative isolation until the arrival of the Spanish in the 15th century, who quickly conquered the island and imposed their own culture and language.
Throughout the centuries, Tenerife has played an important role in Spanish history. It was a key trading post for Spanish ships en route to the New World and was also the site of several battles between Spanish and British forces. In the 19th century, Tenerife experienced a period of economic growth thanks to its fertile soil and the export of crops such as bananas and sugar cane.
Today, Tenerife is a vibrant and modern island that celebrates its rich cultural heritage. Visitors can explore historic sites such as the UNESCO World Heritage-listed Teide National Park, which boasts stunning volcanic landscapes and ancient Guanche rock art. They can also visit charming villages and towns, such as La Orotava and Garachico, that offer a glimpse into the island's past.
In short, Tenerife's history is a rich tapestry of cultures and influences that have shaped the island into the unique destination it is today. From prehistoric settlements to Spanish conquests and modern-day tourism, Tenerife's past is a testament to the resilience and adaptability of its people.
Tenerife's Culture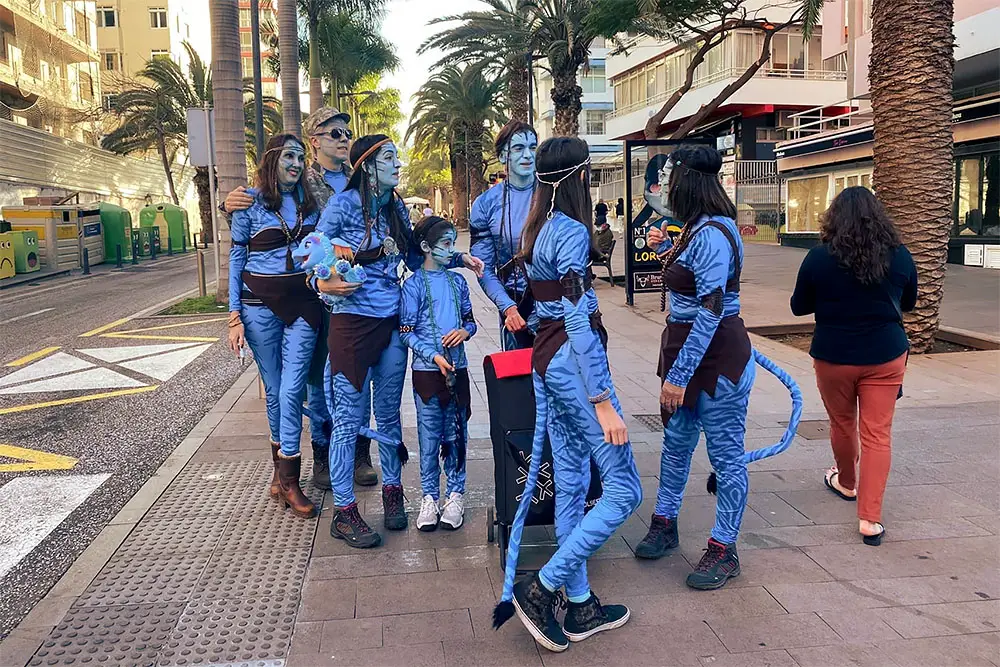 Photo: My mum, in Puerto de la Cruz, Feb 2023.
Tenerife's culture is a rich and diverse blend of influences from its indigenous Guanche past and its Spanish heritage. One of the most distinctive aspects of Tenerife's culture is its music and dance traditions. The island is known for its vibrant Carnival celebrations, which feature colorful costumes, parades, and live music. The traditional music of Tenerife includes the timple, a small guitar-like instrument, and the popular folk music genre known as isas.
Another important aspect of Tenerife's culture is its gastronomy. The island's cuisine is heavily influenced by its location and climate, with an abundance of fresh seafood, tropical fruits, and vegetables. Traditional dishes include papas arrugadas, small boiled potatoes served with mojo sauce, and gofio, a type of flour made from roasted cereals that are used in many local recipes.
Tenerife is also home to a thriving arts scene, with numerous galleries and museums showcasing the works of local and international artists. The island has a rich literary tradition, with notable authors such as Agustín Espinosa hailing from Tenerife.
Overall, Tenerife's culture is a unique and vibrant blend of traditions and influences that reflect its rich history and diverse population. Visitors to the island can experience this rich cultural tapestry firsthand, from the lively Carnival celebrations to the delicious local cuisine and the vibrant arts scene.
Tenerife's Geography
Tenerife's geography is as varied and fascinating as its culture and history. The island is located in the Canary Islands archipelago, off the coast of Morocco, and is the largest and most populous of the seven islands. It is a volcanic island, with a towering peak known as Mount Teide rising to a height of 3,718 meters (12,198 feet) above sea level. This makes it the highest peak in Spain and the third-highest volcano in the world, as well as a popular destination for hiking and other outdoor activities.
The island's coastline is also varied, with rugged cliffs and secluded coves giving way to long stretches of sandy beaches. In the north of the island, the Anaga Mountains form a rugged and isolated region that is home to some of the island's most spectacular scenery and hiking trails. The south of the island is home to the popular tourist resorts of Playa de las Americas and Los Cristianos, which offer a range of amenities and attractions for visitors.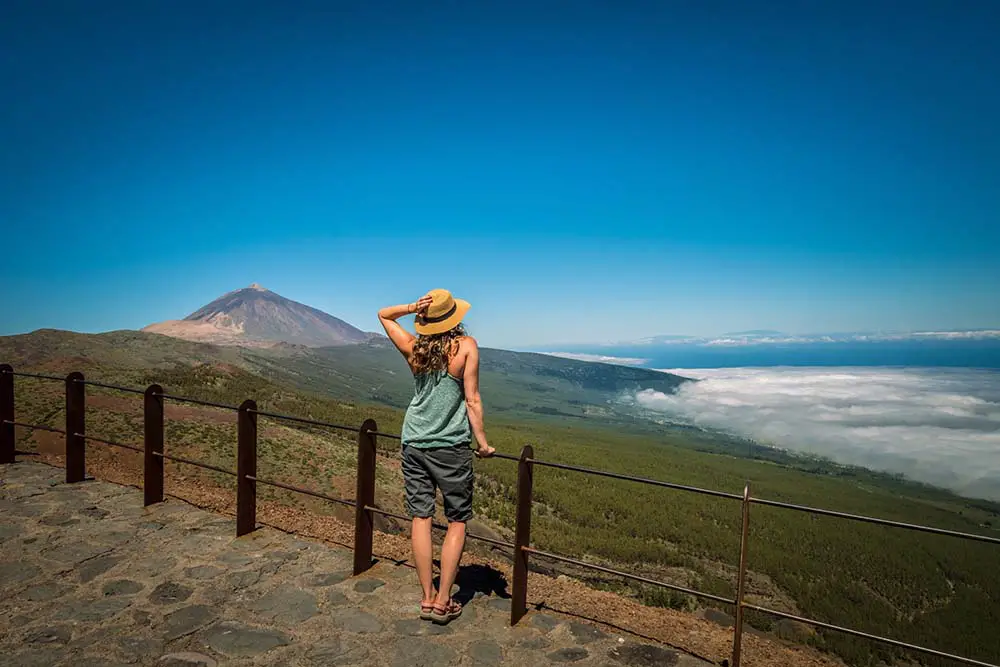 Despite its small size, Tenerife boasts a remarkable diversity of landscapes, from the lush green forests of the north to the barren lunar-like landscapes of the Teide National Park. This diversity has earned it the nickname "Island of Eternal Spring", as the mild subtropical climate means that the island enjoys warm temperatures and plenty of sunshine year-round.
Overall, Tenerife's geography is a fascinating and varied landscape that offers visitors a unique blend of natural beauty and outdoor adventure. Whether you're looking to climb a volcano, explore rugged mountain trails, or relax on a sunny beach, Tenerife has something to offer everyone.
Tenerife's Climate
Playa de Teresitas, outside the capital Santa Cruz.
Tenerife's climate is subtropical, which means it enjoys year-round warmth and sunshine. The island's location close to the equator ensures that temperatures are consistently high, with average highs ranging from 22°C in January to 29°C in August. Even in the winter months, temperatures rarely drop below 20°C during the day, making Tenerife a popular destination for winter sun seekers.
One of the most striking features of Tenerife's climate is the stark difference in weather patterns between the north and south of the island. The north, where you find Puerto de la Cruz and Santa Cruz, is generally cooler and wetter, with more frequent rainfall and lush vegetation, while the south, where you find Playa de las Americas, is drier and sunnier, with arid landscapes and desert-like conditions in some areas.
Despite the generally warm and sunny climate, Tenerife does experience some variation in weather conditions throughout the year. The winter months can bring occasional rain and wind, while the summer months can be hot and humid. However, overall, Tenerife's climate is considered to be one of its greatest attractions, providing the perfect environment for year-round outdoor activities and relaxation.
Tenerife's Tourist Attractions
Tenerife is a popular destination for tourists from all over the world, thanks to its stunning natural landscapes, rich cultural heritage, and abundance of outdoor activities. The island offers a wide range of attractions and experiences, catering to all tastes and interests.
Perhaps the most iconic attraction in Tenerife is Mount Teide, a dormant volcano that stands at an impressive 3,718 meters high. Visitors can take a cable car to the summit for breathtaking views over the island and beyond. The surrounding national park is also a must-visit destination for nature lovers, with its otherworldly landscapes, unique flora and fauna, and fascinating geological formations.
Tenerife also boasts an array of beautiful beaches, from secluded coves to bustling resort areas. The Playa de las Americas and Los Cristianos areas in the south are particularly popular for their lively nightlife and family-friendly activities, while the north offers a more laid-back vibe and unspoiled natural beauty.
For those interested in history and culture, Tenerife has plenty to offer as well. The capital city of Santa Cruz de Tenerife is home to several impressive museums and historic sites, including the stunning Auditorio de Tenerife and the impressive Iglesia de la Concepción.
Getting to Tenerife
Now that we've established that Tenerife is, in fact, part of Spain, let's discuss the best ways to get to this beautiful island.
By Air
The easiest way to reach Tenerife is by air. Tenerife has two airports, the Tenerife North Airport (TFN) and the Tenerife South Airport (TFS). Both airports offer daily flights to and from major cities in Spain and Europe. Airlines like Ryanair, EasyJet, and Vueling offer low-cost flights to Tenerife, making it an affordable destination for many travelers.
By Sea
If you prefer traveling by sea from other islands in the region, there are ferries that connect Tenerife to other islands in the Canary Islands archipelago, as well as to mainland Spain. Ferries depart from Santa Cruz de Tenerife, the capital of the island, and offer a unique and scenic way to reach the island.
By Car
If you're already in Spain, you can naturally also reach Tenerife by car. You'll need to take a ferry from mainland Spain to Tenerife. This guide from Ferryhopper is a great resource if you're looking into going by ferry from the mainland.
Once you've arrived in Tenerife, you can easily explore the island by car or public transportation. Taxis, buses, and rental cars are all readily available on the island, making it easy to get around and explore all that Tenerife has to offer.
Accommodation in Tenerife
When it comes to finding accommodation in Tenerife, there are a plethora of options to choose from, no matter what your budget may be. From luxury resorts to budget-friendly apartments, there is something for everyone on this vibrant island.
For those looking for a truly luxurious experience, Tenerife is home to some of the most luxurious hotels in the world, including the Ritz Carlton Abama and the Bahia del Duque. These hotels offer top-of-the-line amenities, world-class service, and breathtaking views of the island.
For those on a budget, there are plenty of affordable options available as well. Tenerife is home to a variety of apartments, hostels, and guesthouses that offer comfortable accommodations at a fraction of the cost of a luxury resort.
No matter where you decide to stay on the island, you can rest assured that you will have access to all of Tenerife's amazing attractions, including its stunning beaches, vibrant nightlife, and rich culture.
Tenerife's Cuisine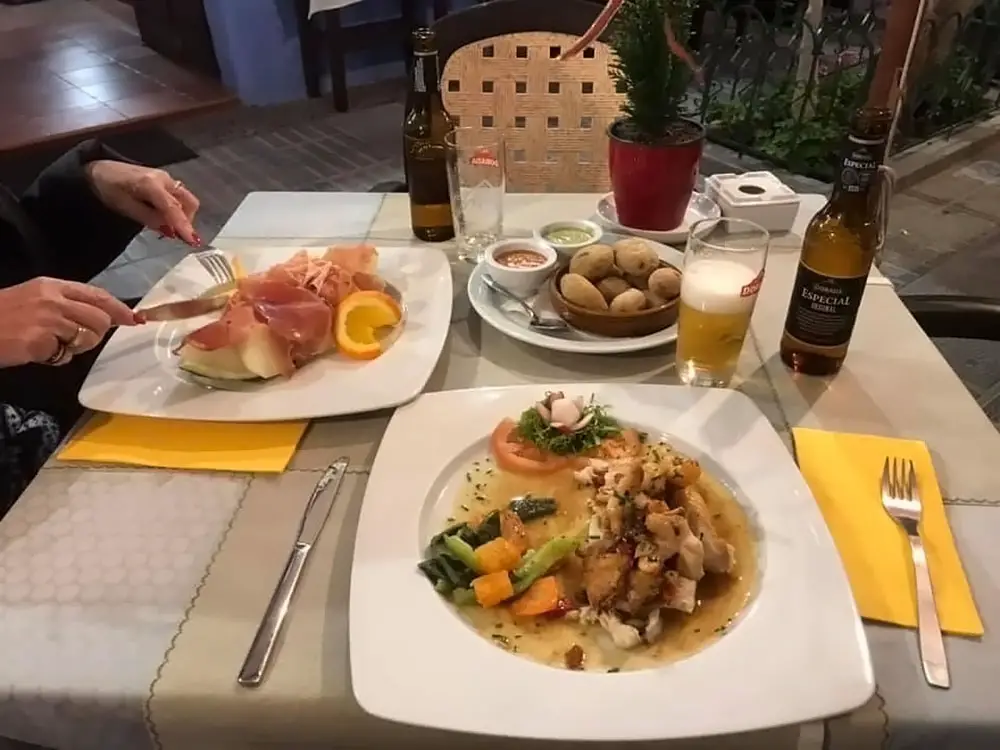 Enjoying food at a local restaurant in Puerto de la Cruz.
Tenerife's cuisine is a reflection of its diverse cultural influences, with a fusion of Spanish, African, and Latin American flavors. The island's cuisine is known for its fresh seafood, meat dishes, and an abundance of locally grown fruits and vegetables.
One of the most famous local dishes is "papas arrugadas," which are small potatoes boiled in salt water until the skin becomes wrinkled, served with "mojo" sauce, made from garlic, olive oil, cumin, and chili peppers. Another local specialty is "gofio," a flour made from toasted grains that is used in many dishes, including stews and desserts.
Seafood lovers will be delighted with the variety of fresh fish and shellfish available, including "vieja," a local fish with a delicate flavor, and "lapa," a type of limpet. The island is also famous for its "queso blanco," a mild, fresh goat cheese that pairs perfectly with local wines.
For those with a sweet tooth, Tenerife offers many delicious desserts, including "bienmesabe," a traditional almond cream, and "frangollo," a type of pudding made from gofio and milk. Visitors should also try the local honey, made from the flowers of the island's diverse flora.
Shopping in Tenerife
Aside from its natural beauty and culinary delights, Tenerife is also known for its shopping opportunities. Whether you are in search of luxury brands, unique souvenirs, or just browsing for a good deal, the island has something for everyone.
One of the most popular shopping destinations in Tenerife is the Safari Centre in Playa de las Americas. This open-air mall features over 50 shops, including fashion boutiques, jewelry stores, and souvenir shops. In addition to shopping, the Safari Centre also offers a range of restaurants and cafes, making it a great place to spend an afternoon or evening.
Other notable shopping areas in Tenerife include the El Corte Ingles department store in Santa Cruz de Tenerife, as well as the numerous markets scattered throughout the island. The Mercado de Nuestra Señora de Africa in Santa Cruz de Tenerife is a particularly popular spot for picking up fresh produce and local delicacies.
Activities in Tenerife
Tenerife is truly an island with a wealth of activities on offer. If you are looking for something adventurous, you have a wide variety of options, such as paragliding, jet skiing, or diving in crystal-clear waters.
The island's unique geography provides a perfect backdrop for hiking and cycling excursions, offering stunning views of the volcanic landscapes and coastline. For a family-friendly activity, take a trip to the Loro Parque Zoo or the Siam Park Water Park, which are consistently rated as some of the best attractions in Europe.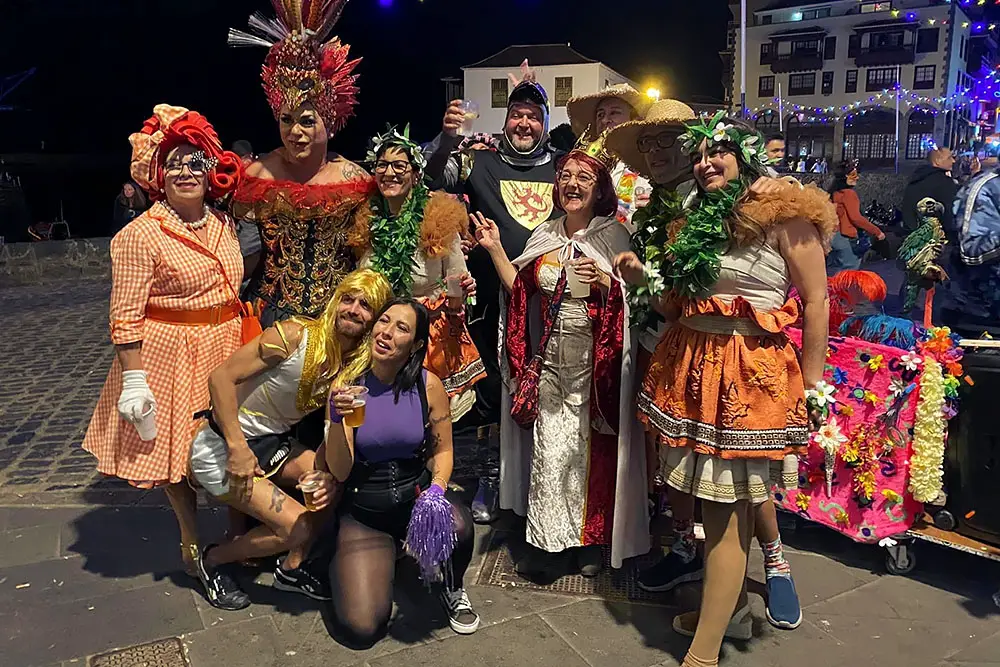 Locals outside La Fragata in Puerto de la Cruz during the 2023 Carnival (Photo by: my mum :))
If you are interested in culture, the island also boasts a number of museums and galleries, such as the Museum of Fine Arts and the Museum of Nature and Man. Additionally, Tenerife is famous for its traditional festivals, which are a true spectacle of music, dancing, and costumes. The Carnival of Santa Cruz de Tenerife, for example, is one of the largest and most spectacular carnivals in the world.
Tenerife's Nightlife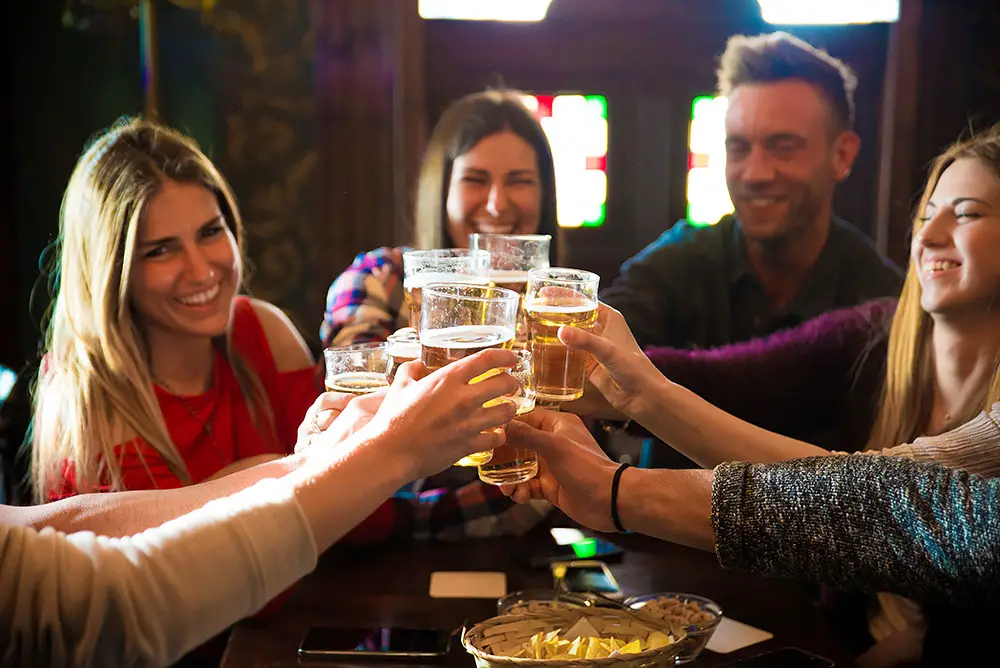 Tenerife is a great destination for those seeking exciting and vibrant nightlife. The island offers a diverse range of entertainment options, from live music and shows to nightclubs and bars. In Playa de las Americas, one of the island's most popular tourist destinations, there are plenty of bars and clubs to choose from. The Veronicas Strip is a well-known hotspot for party-goers, with a range of bars and clubs offering everything from karaoke to live music and DJ sets.
Another popular area for nightlife is Santa Cruz de Tenerife, the island's capital. Here you will find a wide selection of bars and clubs, from chic lounges to lively nightclubs. One of the most popular venues in Santa Cruz is the Teatro Guimerá, which hosts a variety of shows and events throughout the year.
If you're looking for a more laid-back evening, head to one of Tenerife's many restaurants or tapas bars. Many of these establishments offer live music and entertainment, as well as delicious food and drinks. Whatever your taste, Tenerife's nightlife scene is sure to keep you entertained throughout your stay.
Conclusion
In conclusion, Tenerife is a truly magical destination that should be at the top of every traveler's bucket list. From its stunning natural landscapes to its vibrant culture and warm hospitality, this island has something for everyone.
Whether you are seeking adventure, relaxation, or a combination of both, Tenerife has it all. Soak up the sun on its gorgeous beaches, explore the unique flora and fauna of its national parks, indulge in delicious local cuisine, or dance the night away in its vibrant nightlife scene.
But Tenerife is not just a destination for a vacation. It is a destination for memories that will last a lifetime. Its stunning landscapes, rich culture, and friendly people will leave a lasting impression on anyone who visits.
So why should you go to Tenerife? Because it is a place where you can experience the beauty of nature, immerse yourself in a rich and diverse culture, and create unforgettable memories that will stay with you forever.
FAQs
Is Tenerife part of Spain?
Yes, Tenerife is part of Spain and is one of the seven Canary Islands, located off the west coast of Africa.
What is the currency used in Tenerife?
The currency used in Tenerife is the Euro, which is the same currency used throughout Spain.
What is the official language of Tenerife?
The official language of Tenerife is Spanish, but English and German are also widely spoken in tourist areas.
What is the time zone in Tenerife?
Tenerife follows the Western European Time Zone (WET), which is one hour ahead of Coordinated Universal Time (UTC+1).
What is the best time to visit Tenerife?
The best time to visit Tenerife is during the spring (March to May) or fall (September to November) when the weather is mild and there are fewer crowds. However, Tenerife enjoys warm weather year-round, making it a popular destination for winter sun seekers.
Do I need a visa to travel to Tenerife?
As Tenerife is part of Spain, travelers from the EU, the USA, Canada, Australia, and many other countries do not need a visa to visit Tenerife. However, it's always a good idea to check the entry requirements for your country before you travel.
How long does it take to fly to Tenerife?
The duration of flights to Tenerife varies depending on the departure city. Flights from London to Tenerife take around four hours, while flights from Madrid take around two and a half hours.
Are there direct flights to Tenerife?
Yes, there are direct flights to Tenerife from many major cities in Europe, including London, Paris, Amsterdam, and Berlin.
How much does it cost to travel to Tenerife?
The cost of traveling to Tenerife varies depending on several factors, such as the time of year you travel, the mode of transportation you choose, and the activities you plan to do while on the island. However, Tenerife is known to be an affordable destination, and travelers can find good deals on flights, accommodations, and activities.