Puerto de la Cruz is a popular tourist destination on Tenerife's north coast in the Canary Islands. This charming resort town offers something for everyone, from beautiful beaches to historic sites and natural attractions.
I've spent a lot of time in Puerto de la Cruz both growing up and up until now, with my own family. My father is from this small town so I've been to the town for a very long time.
In this complete travel guide, I'll give you all the information you need to plan a perfect trip to Puerto de la Cruz. Whether you're looking for things to do, where to stay, or how to get around, I've got you covered!
Puerto de la Cruz is a popular tourist destination in Tenerife, and there are many things to see and do there. Some popular attractions include the Loro Parque, which is a zoo and botanical garden, and the Martianez Lake, which is a man-made lake with a beach, gardens, and outdoor pools.
Taoro Park is also a popular spot, with its gardens, playgrounds, and panoramic views of the city. Additionally, the city has many museums, such as the Museum of History and Anthropology, and the Castillo San Felipe, which is a historic fort.
There are also many shops, restaurants, and bars in the city, so you can enjoy some local cuisine and nightlife.
Puerto de la Cruz is a beautiful town located on the north coast of Tenerife
Puerto de la Cruz in Tenerife is an extraordinary destination for your next vacation. Once a small fishing village on the coast of the Atlantic Ocean, this vibrant town is now a beloved area that offers a wide variety of activities and incredible sights.
As you wander the Plaza del Charco in the central old town, you'll take in ocean views and stunning street art, while local shops on side streets give away glimpses into the culture of Puerto de la Cruz.
Water activities like kayaking and yachting are also popular here due to their extraordinarily clear coastal waters. If you're looking for a place to experience genuine Spanish culture without straining your budget, Puerto de la Cruz is ideal!
From Puerto de la Cruz there are good bus connections to different parts of the island. In addition, the city itself is a very pleasant experience with beautiful gardens and lush slopes.
In late April and early May, the Jacaranda trees are wrapped in blue-violet flowers. And bananas abound everywhere, thanks to the many banana plantations around the city.
As a child, I ate a lot of bananas when I visited my grandparents. My grandfather worked on a banana plantation and so many bananas were eaten that my father still doesn't eat bananas anymore.
The town is known for its black sand beaches, stunning views, and relaxed atmosphere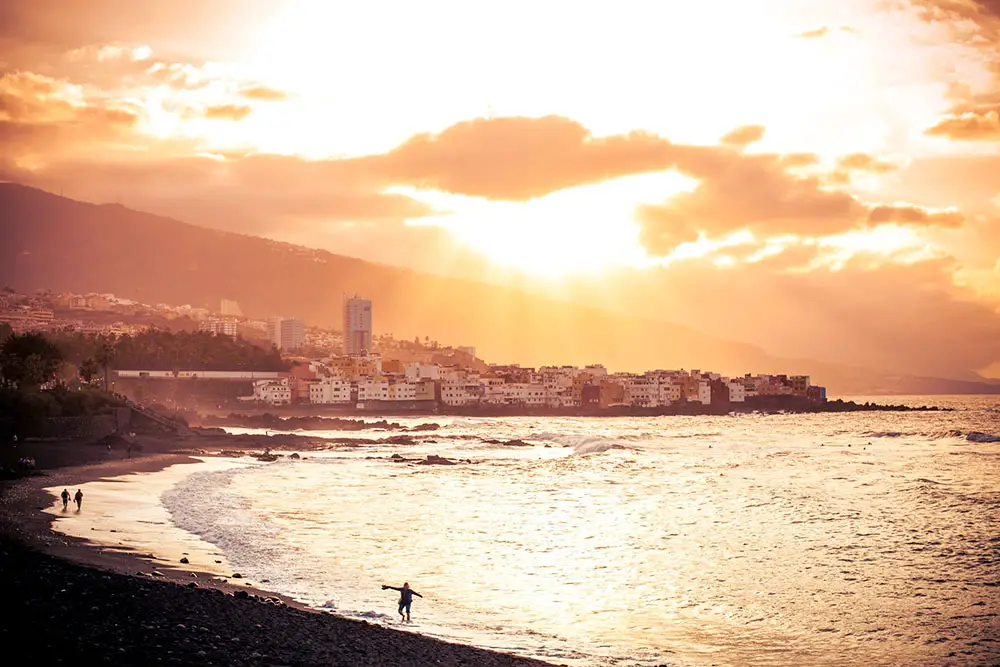 Puerto de la Cruz is a sight to behold. From its black sand beaches to its stunning views, this is the perfect destination for those looking to relax and enjoy a beach vacation. Not only does the black sand beach provide a unique experience, but it also allows visitors to appreciate the diverse beauty that nature has to offer in our coastal region of the Canary Islands.
The overall atmosphere of the town is one of relaxation and tranquility, setting it apart from other beach locales. Whether you're looking for an adventure or just some much-needed downtime, make sure that the black sand beaches are part of your itinerary!
Lago Martiánez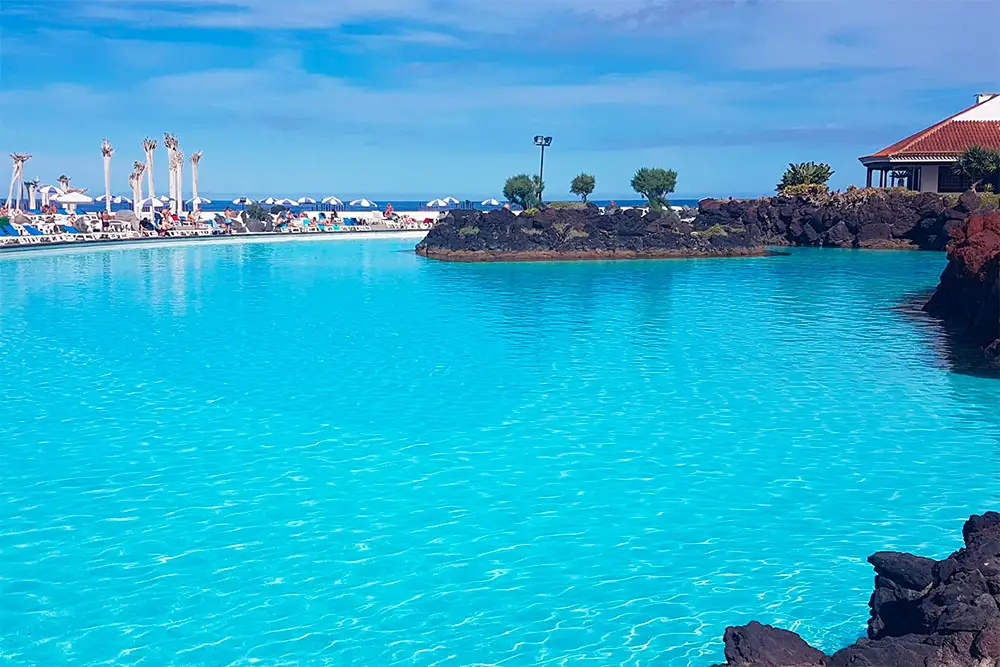 Lago Martiánez is a public recreational area in Puerto de la Cruz. It is a complex of swimming pools and artificial lagoon that are filled with seawater and are surrounded by gardens, restaurants, and other amenities.
The creator of Lago Martiánez was the artist and architect César Manrique from the neighboring island of Lanzarote. His principle was to integrate architecture with nature. Therefore, natural materials such as stone, wood, cement and iron were used.
It is a popular destination for tourists and locals alike, who come to enjoy the warm climate, the beautiful scenery, and the many recreational activities available at the lagoons.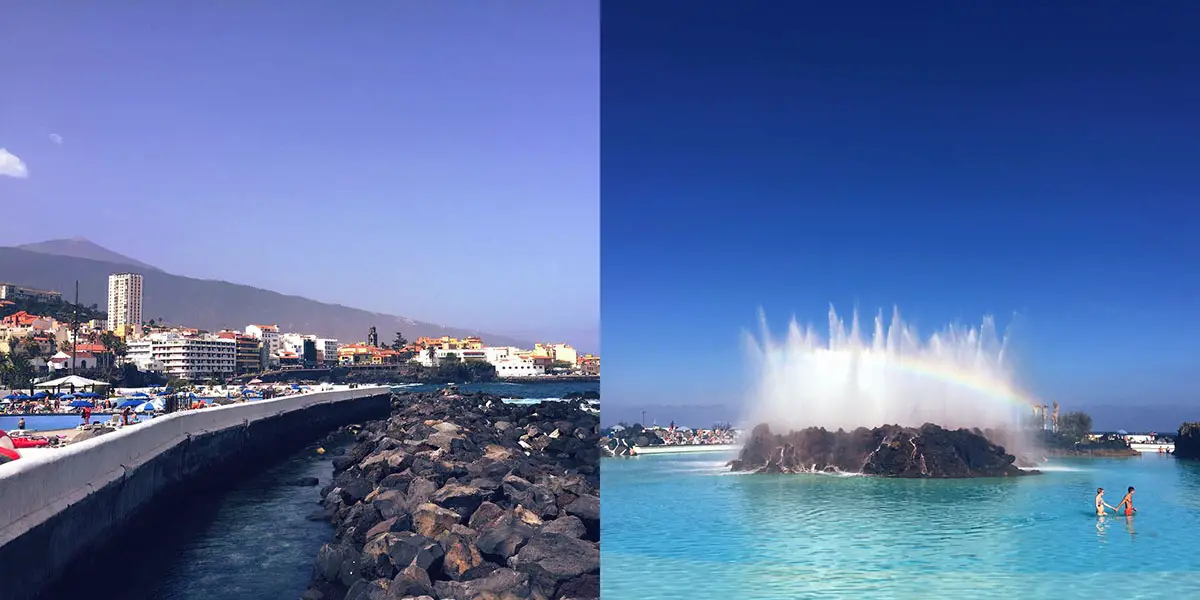 The seawater pools are filled from the Atlantic Ocean which gets heated by the sun and makes it possible to take a swim all year, even in the winter months. Since it's salt water it also makes a perfect spot for teaching your kids to swim if needed.
My own kids have always loved swimming in Lago Martiánez. They also have a great pool for kids. One for toddlers and one for the little older kids.
Street Art & Culture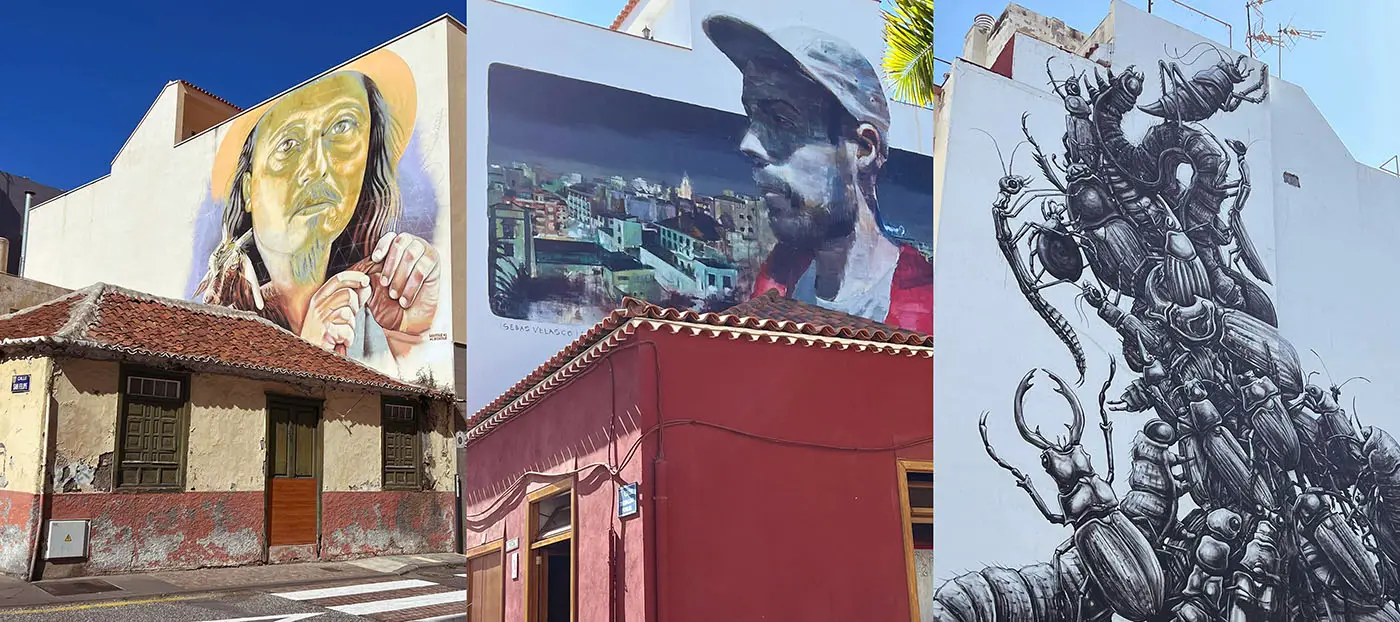 Puerto De La Cruz is an old town with plenty of hidden gems to explore. Stroll past old statues and discover quaint cafes and boutiques. Visit old churches and see a traditional side of the old country that many don't get to experience.
After you are done exploring the old town, head to the botanical gardens for breathtaking views of exotic plants, colorful flowers, and diverse wildlife. With its combination of old-time roots and modern amenities, Puerto de la Cruz is sure to provide something for everyone.
Puerto de la Cruz is home to a vibrant street art culture and it is a must-see for anyone looking to explore the street art culture of Spain. With street art performances, walls dotted with street art, and creative displays of artwork all around the main hub, it is easy for visitors to take in street art from the comfort of its bustling downtown area.
Street Art has become an integral part of Puerto de la Cruz's distinct local identity, showcasing both its rustic charm and metropolitan culture. Exploring its street art should be a priority during any trip to Puerto de la Cruz as it provides an invigorating look into Puerto de la Cruz's unique character!
Loro Parque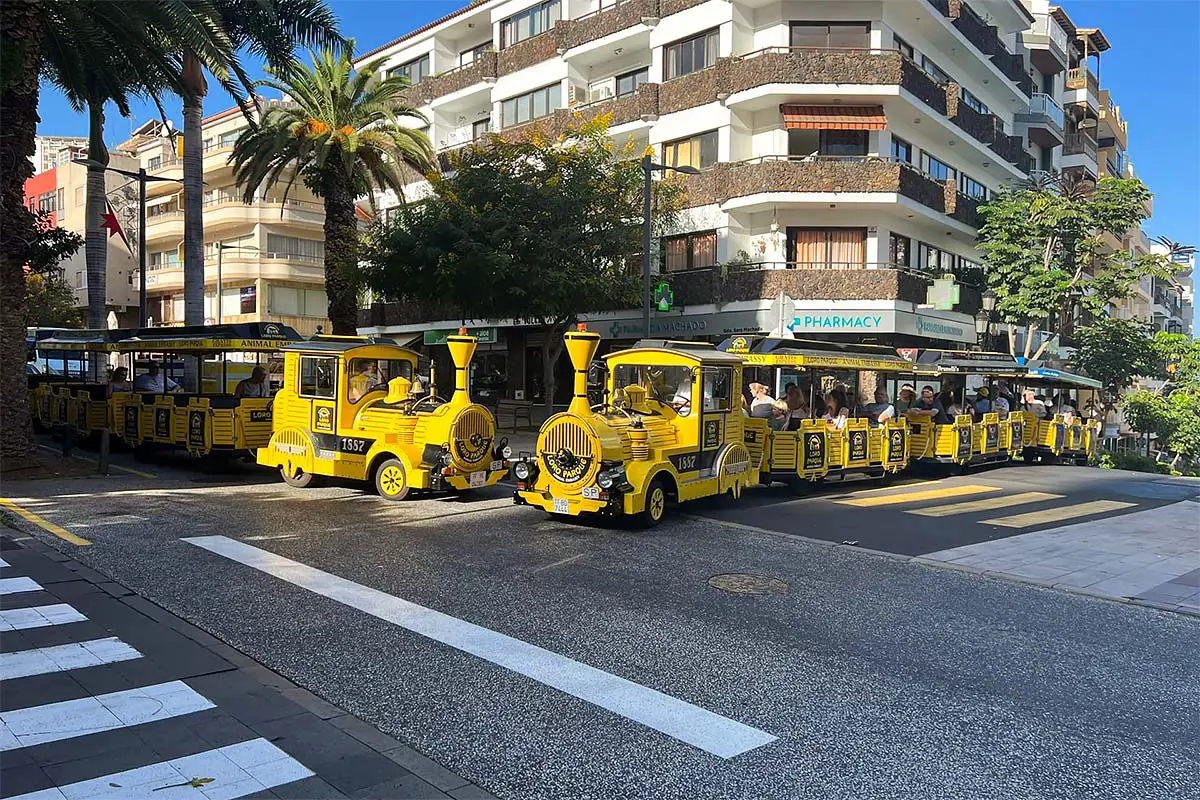 While visiting the seaside town of Puerto de la Cruz you can easily and conveniently experience some of the beauty and enchantment of Tenerife by taking one of the daily trains from the city center that depart from town to Loro Parque.
This family-friendly park, located just a short train ride away, is a must-visit area while on vacation, with lots to do for visitors of all ages. A plethora of animals inhabit the lush grounds, including parrots, killer whales, dolphins, and Sea Lions, which offer up endless possibilities for unforgettable experiences with nature.
Want to see how PUERTO DE LA CRUZ is looking right now?
Additionally, there are numerous activities for kids to take part in so adults have time to explore the souvenir shops or simply relax alongside the picturesque area. All in all, a journey from Puerto de la Cruz to Loro Parque promises an enjoyable visit with plenty of memories for any traveler!
If you're looking for a place to eat, there are plenty of restaurants serving traditional Canarian cuisine
Eating is a universal way of connecting with the culture of a location, and the Canarian island region is bursting with local gems ready to tantalize your taste buds. Incorporating traditional ingredients like mojo sauce and papas arrugadas with unique flavor combinations, there are plenty of restaurants on the islands serving up specialties that you won't find anywhere else.
Puerto de la Cruz has been a haven for tourists mainly from Europe for a very long time. This also comes with a rather large variety of food and restaurants on offer.
Naturally, you'll find a lot of local cuisines and the best idea here is to find a restaurant where you see the locals eat. This is true all over the world. If the locals eat there, the food has to be good.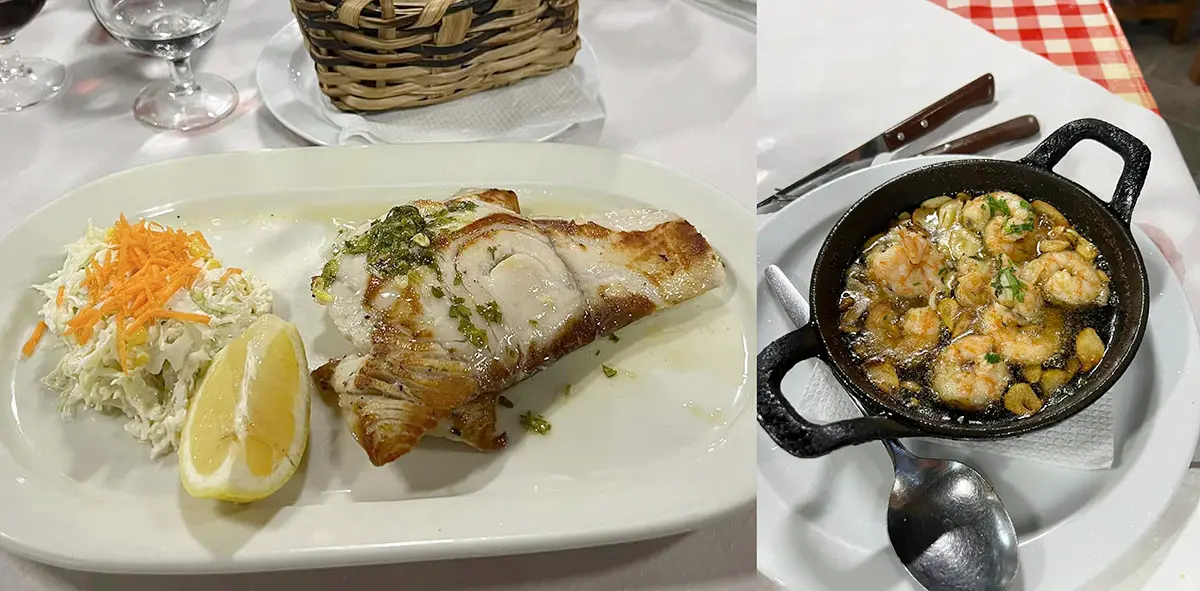 One of my own favorite restaurants in Puerto de la Cruz is Mesón Los Gemelos where you'll find a lot of great food at affordable prices. Make sure to be there in time though, because it fills up quickly.
Dine in style and take in the beauty around you – there's something for everyone when it comes to traditional Canarian cuisine.
Whatever you do, make sure to sample some of the fresh fish from the restaurants.
I've you're up early, I'd even recommend you head down to the harbor (El Muelle) where you can see the local fishermen come in and clean the fish in the morning.
And finally, if you want to stay in Puerto de la Cruz, there are plenty of accommodation options to choose from
For those wishing to stay in Puerto de la Cruz, this beautiful city in the north of Tenerife offers many options for accommodation. From luxury villas perched atop the rocky hillside with breathtaking views of the ocean to chic beachfront properties just a few steps from some of Europe's most stunning beaches, you can find your perfect place to stay and make unforgettable memories.
In addition to those looking for high-end stays, there are also plenty of budget-friendly guesthouses and apartments tucked into Puerto de la Cruz's vibrant historical center in the Old Town – ideal for sampling some of that quaint charm or simply finding a spot with easy access to all the attractions.
And no matter where you choose to stay, Puerto de la Cruz is sure to provide you with an enjoyable experience!