Are you looking for inspirational words to kickstart your next vacation?
This article showcases a collection of more than 85 amazing travel quotes, each accompanied by an inspiring image. From uplifting phrases that make you feel ready to explore the world, to heartfelt observations that capture the beauty of traveling and its transformative power – we have it all.
No matter if you are planning a solo journey or embarking on an adventure with loved ones, these travel quotes will spark enthusiasm and enthusiasm in your heart.
It's time to be captivated by wanderlust and get ready for an exciting journey!
Feel free to download these inspirational quotes and print them out if you want to. They are also very convenient to share on Pinterest or any other Social Media platform.
Adventure
Are you looking for a way to get motivated and inspired to explore the unknown?
Adventure travel quotes can be just the thing to help you reignite your passion for life. Whether you're seeking a memorable vacation, planning a daring mission, or simply want to break away from your routine, these inspirational quotes about adventure will provide the motivation and tenacity needed to take the plunge.
With wise words from some of history's most influential adventurers, philosophers, and writers, these adventure quotes are sure to ignite your sense of wanderlust and give you the courage to embark on an extraordinary journey of discovery.
"Life is either a daring adventure or nothing at all." (Helen Keller)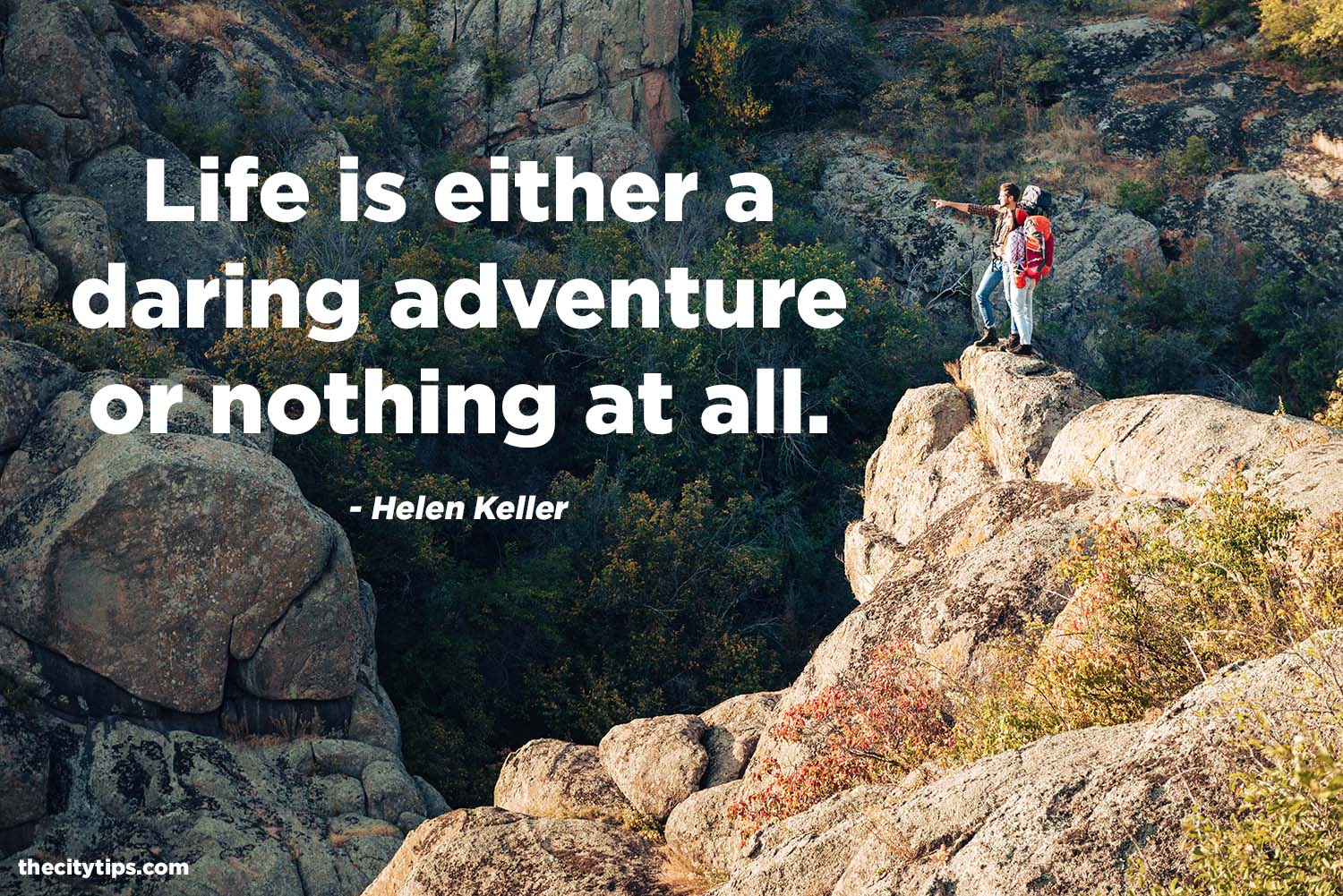 Life is truly an adventure, and as Helen is saying, you have to dare going out and explore the world.
"Adventure is worthwhile." (Aesop)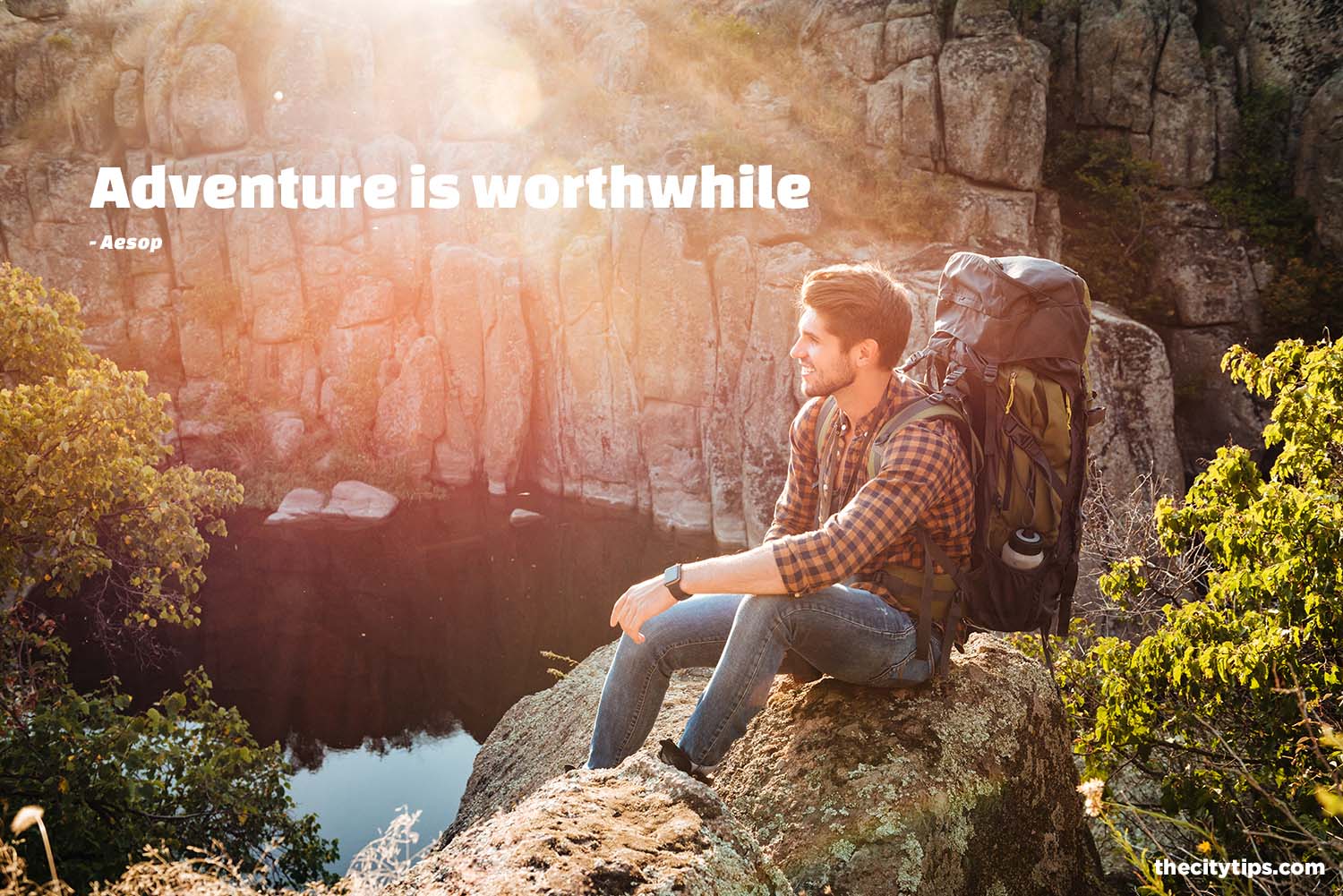 "The biggest adventure you can ever take is to live the life of your dreams." (Oprah Winfrey)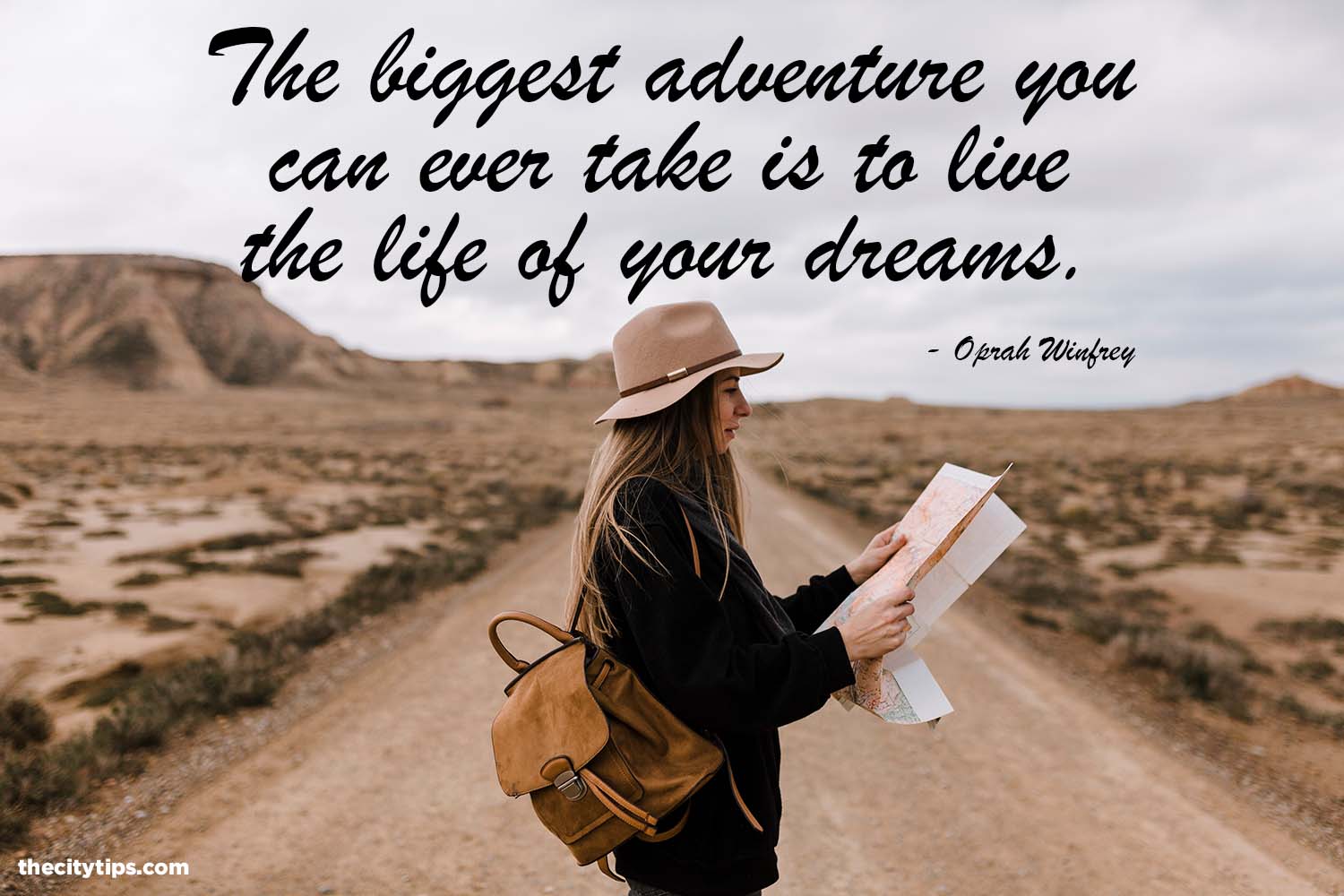 "The world is a book, and those who do not travel read only one page." (Saint Augustine)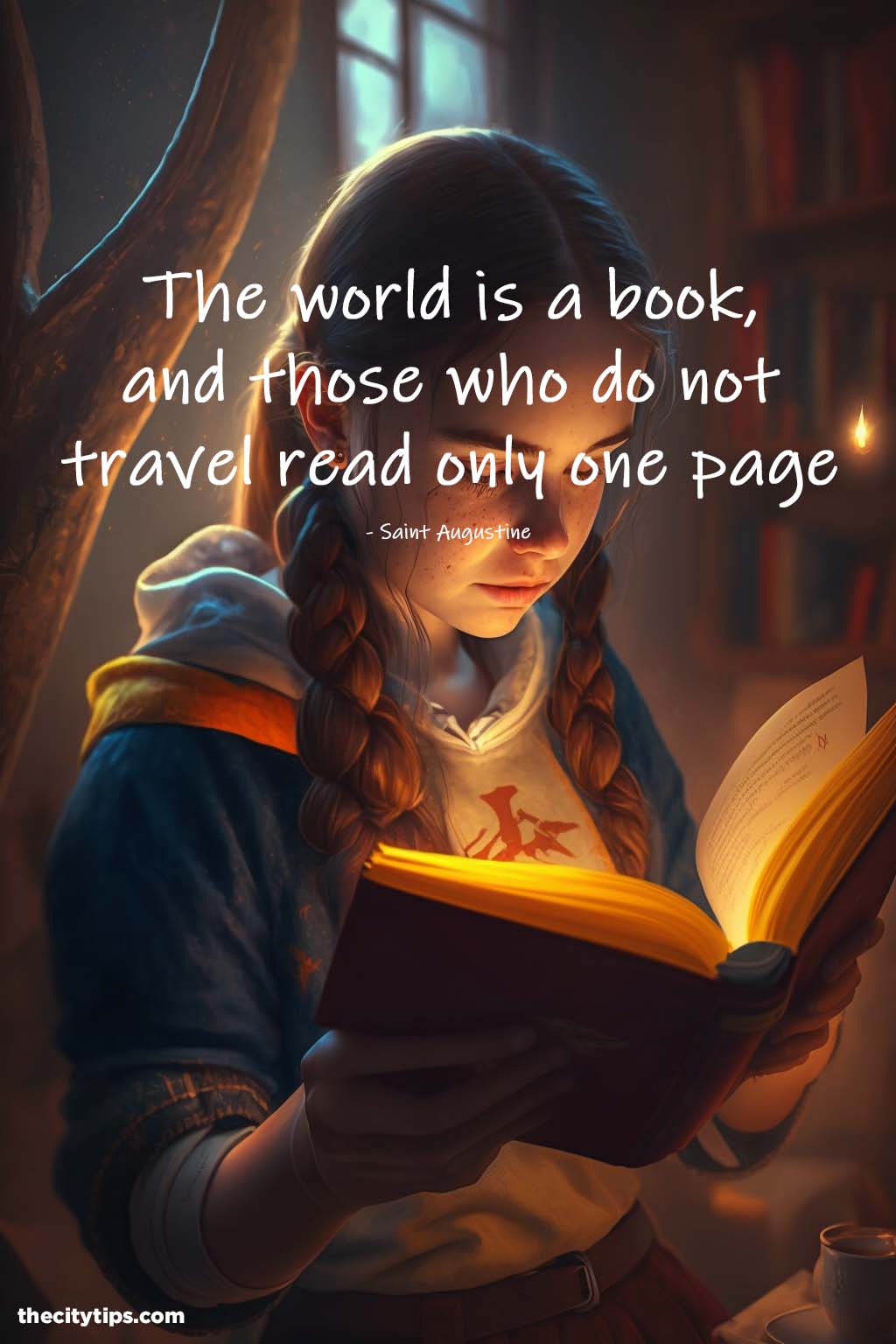 "Jobs fill your pocket, but adventures fill your soul." (Jamie Lyn Beatty)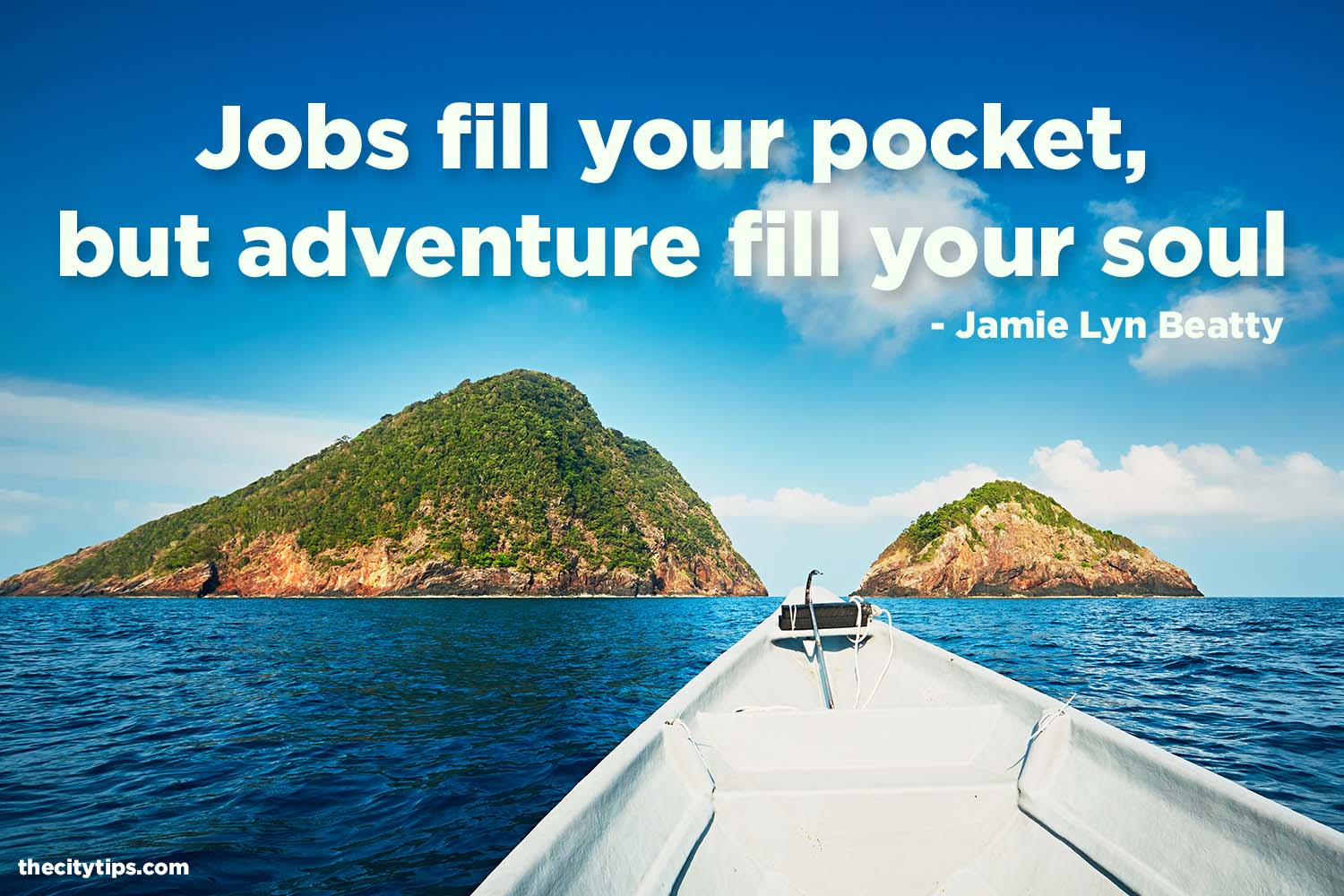 "Adventure is out there!" (Ellie, from Pixar's "Up")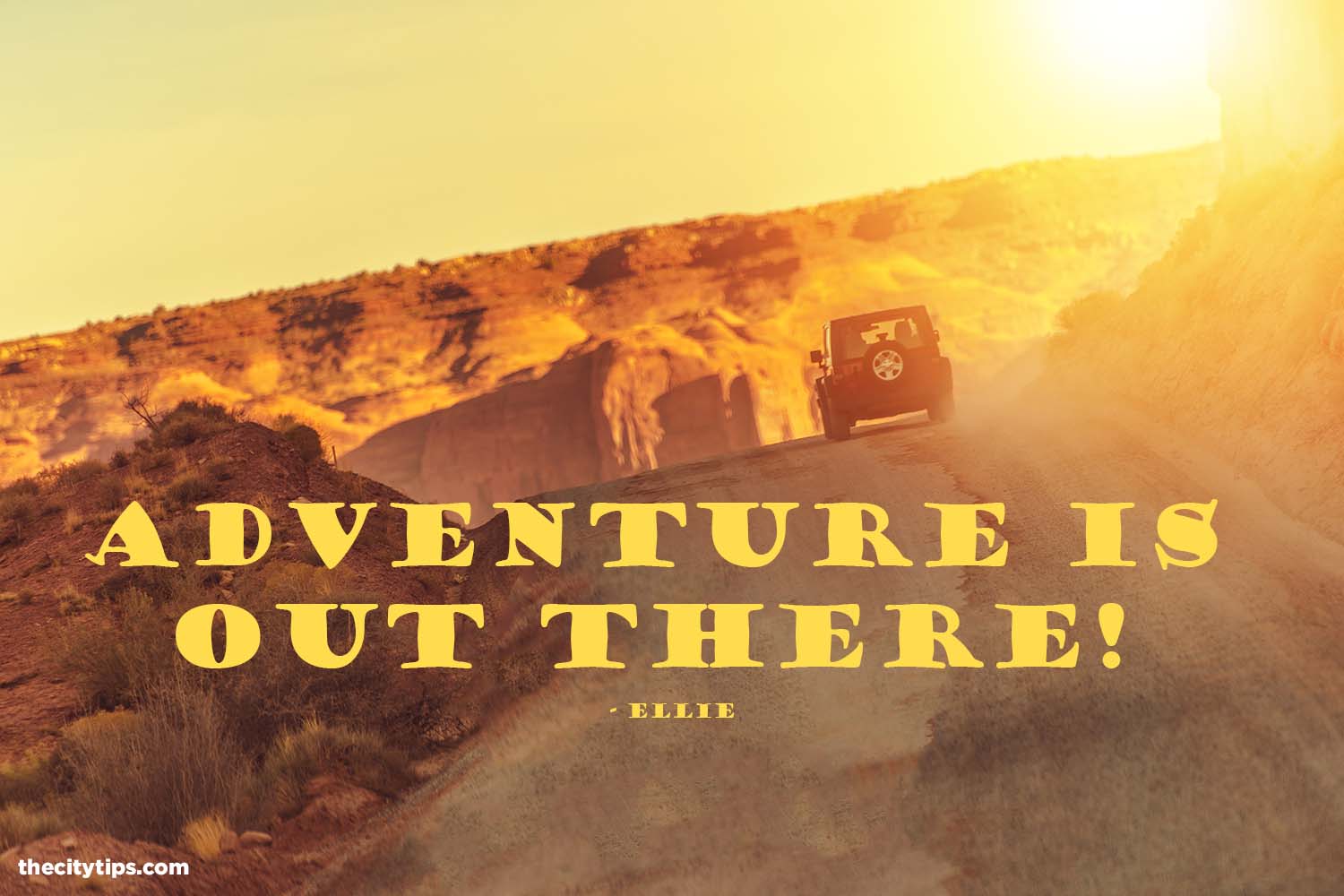 "One way to get the most out of life is to look upon it as an adventure." (William Feather)
"To adventure is to find yourself whole." (Andrea Hirata)
"Adventure may hurt you, but monotony will kill you." (Unknown)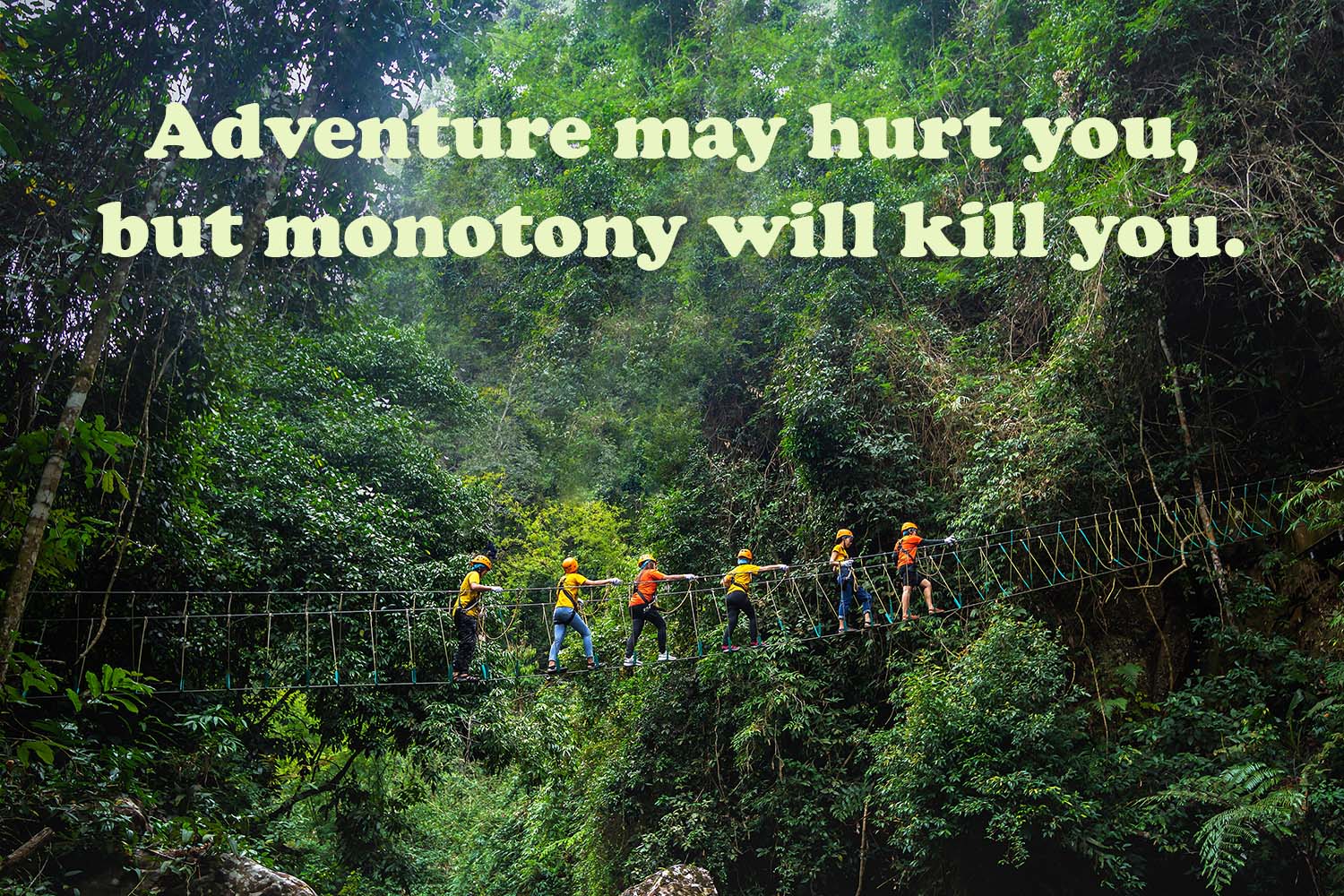 "Adventure is not outside man; it is within." (George Eliot)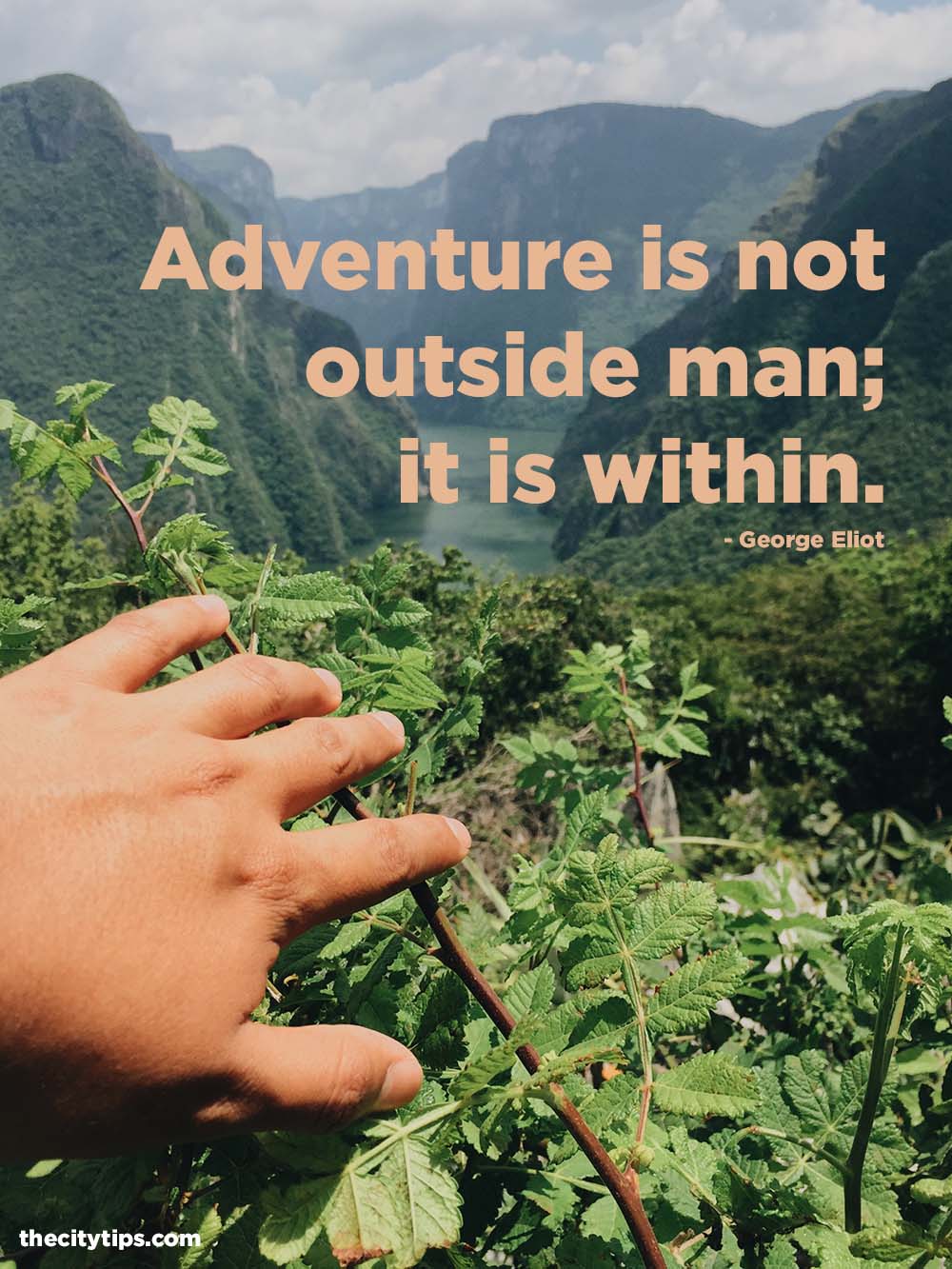 "Life begins at the end of your comfort zone." (Neale Donald Walsch)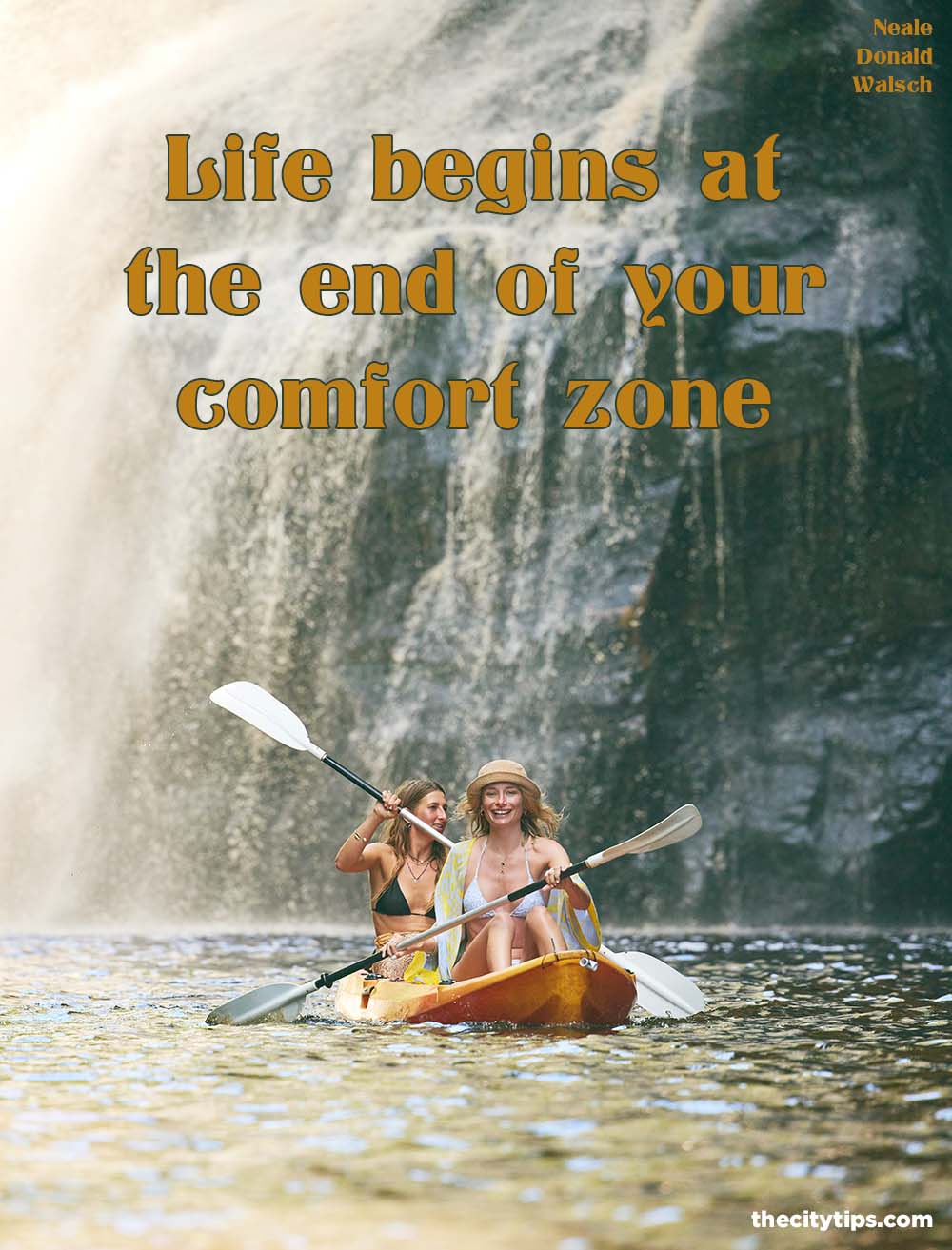 "A ship in harbor is safe, but that is not what ships are built for." (John A. Shedd)
"Adventure isn't hanging off a rope on the side of a mountain. Adventure is an attitude we must apply to the day-to-day obstacles in life." (John Amatt)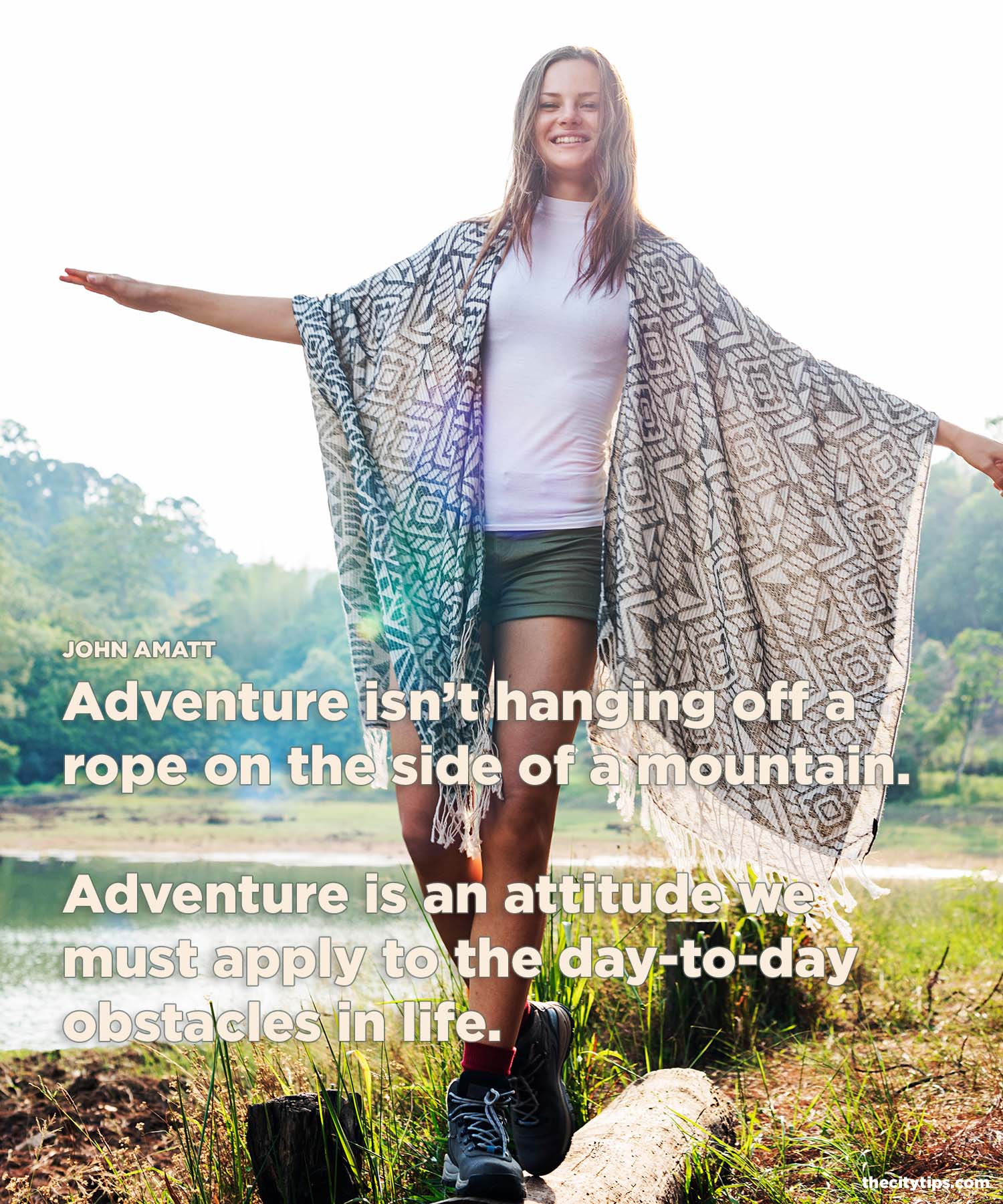 "I travel not to escape life, but for life not to escape me." (Anonymous)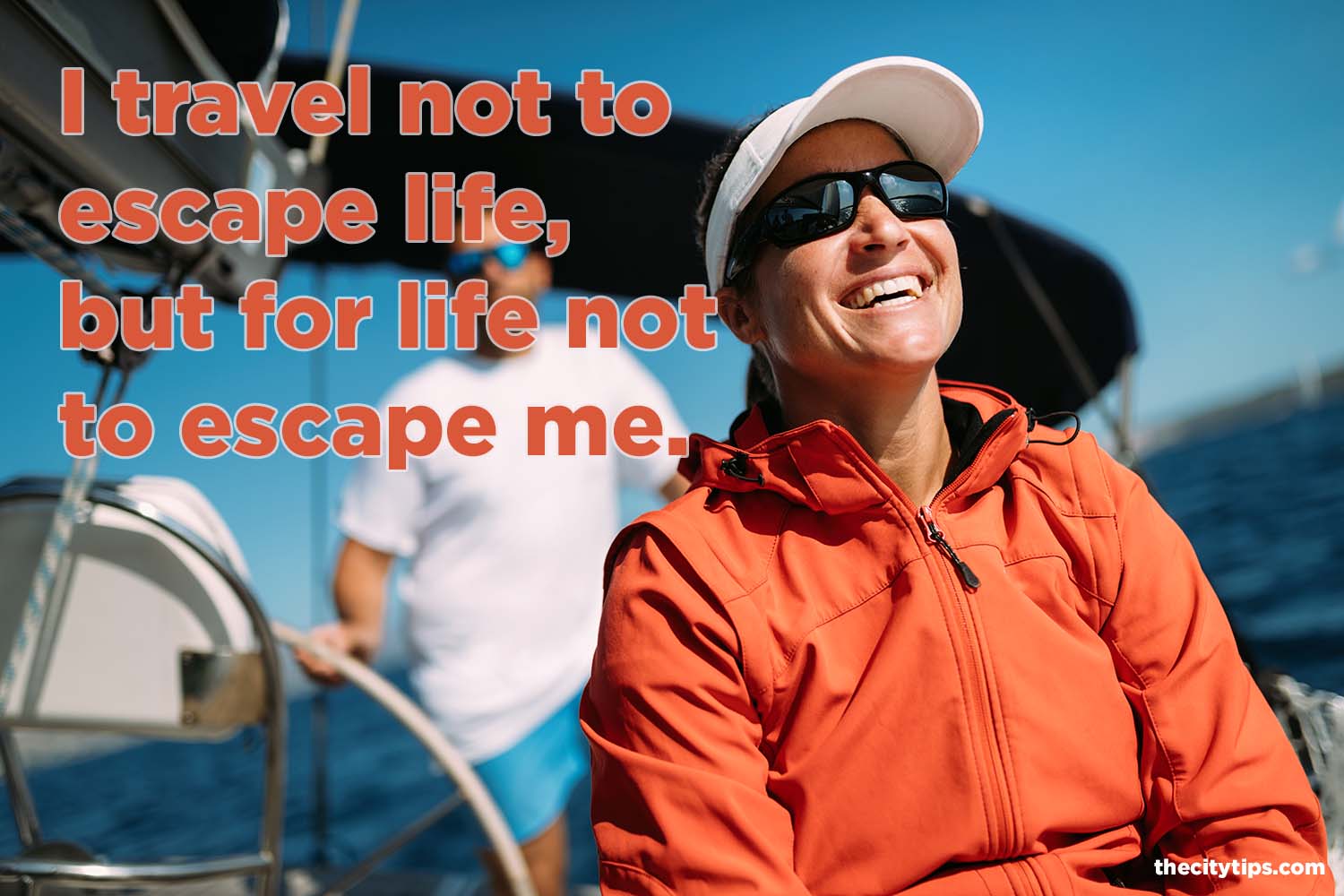 "Two roads diverged in a wood, and I took the one less traveled by, and that has made all the difference." (Robert Frost)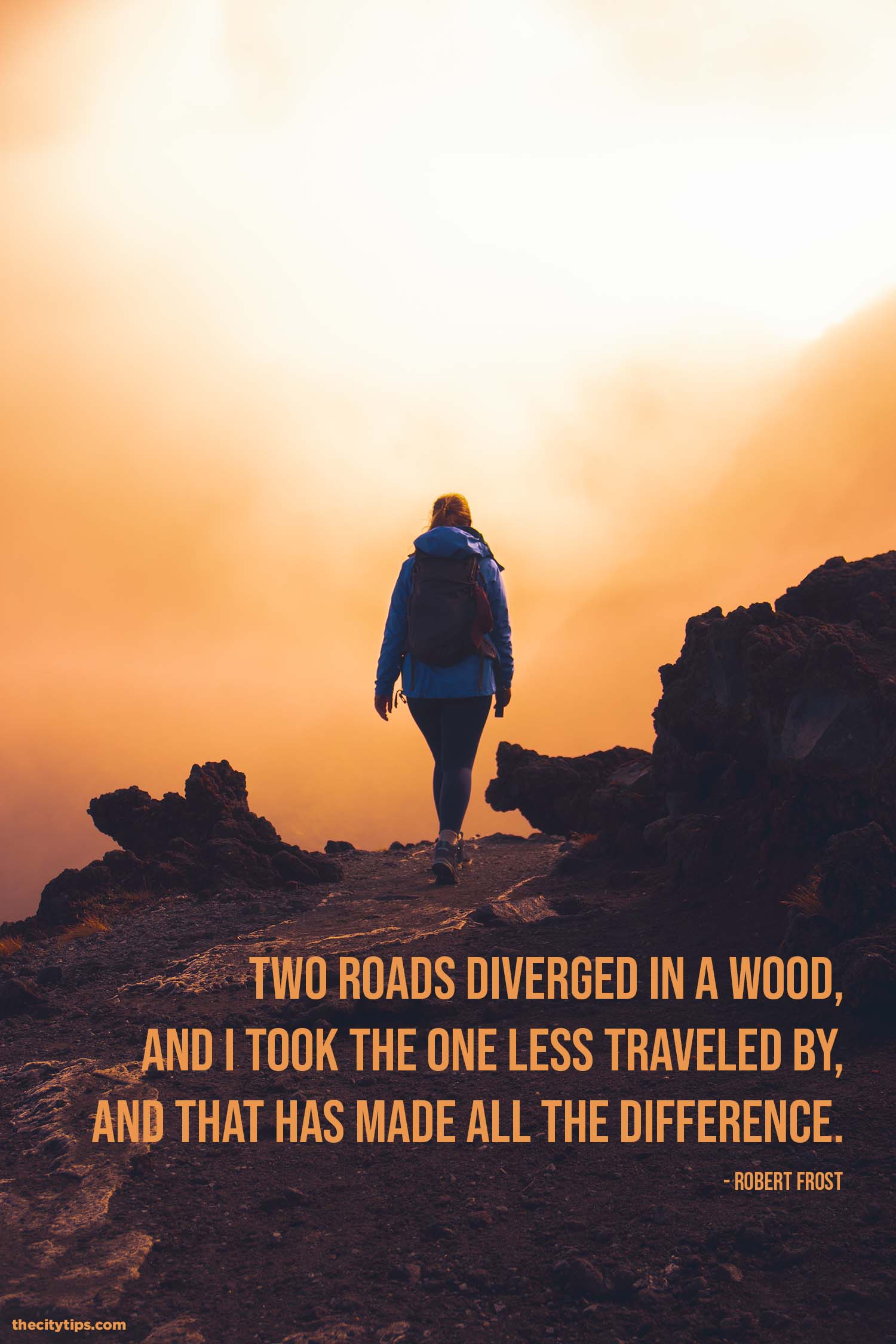 "Life is a grand adventure, so keep moving forward and experience the journey." (Anonymous)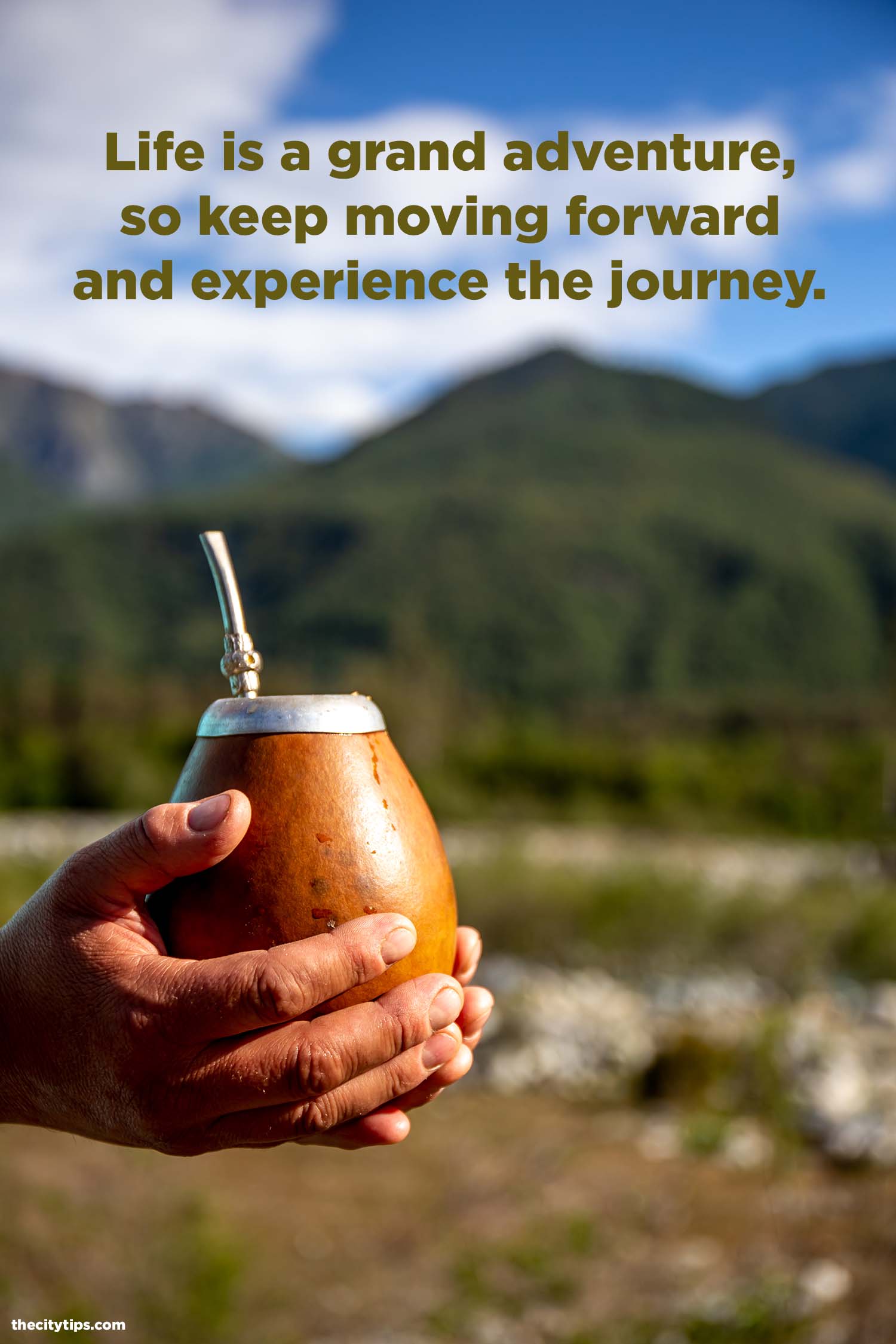 "Adventure is a path. Real adventure – self-determined, self-motivated, often risky – forces you to have firsthand encounters with the world." (Mark Jenkins)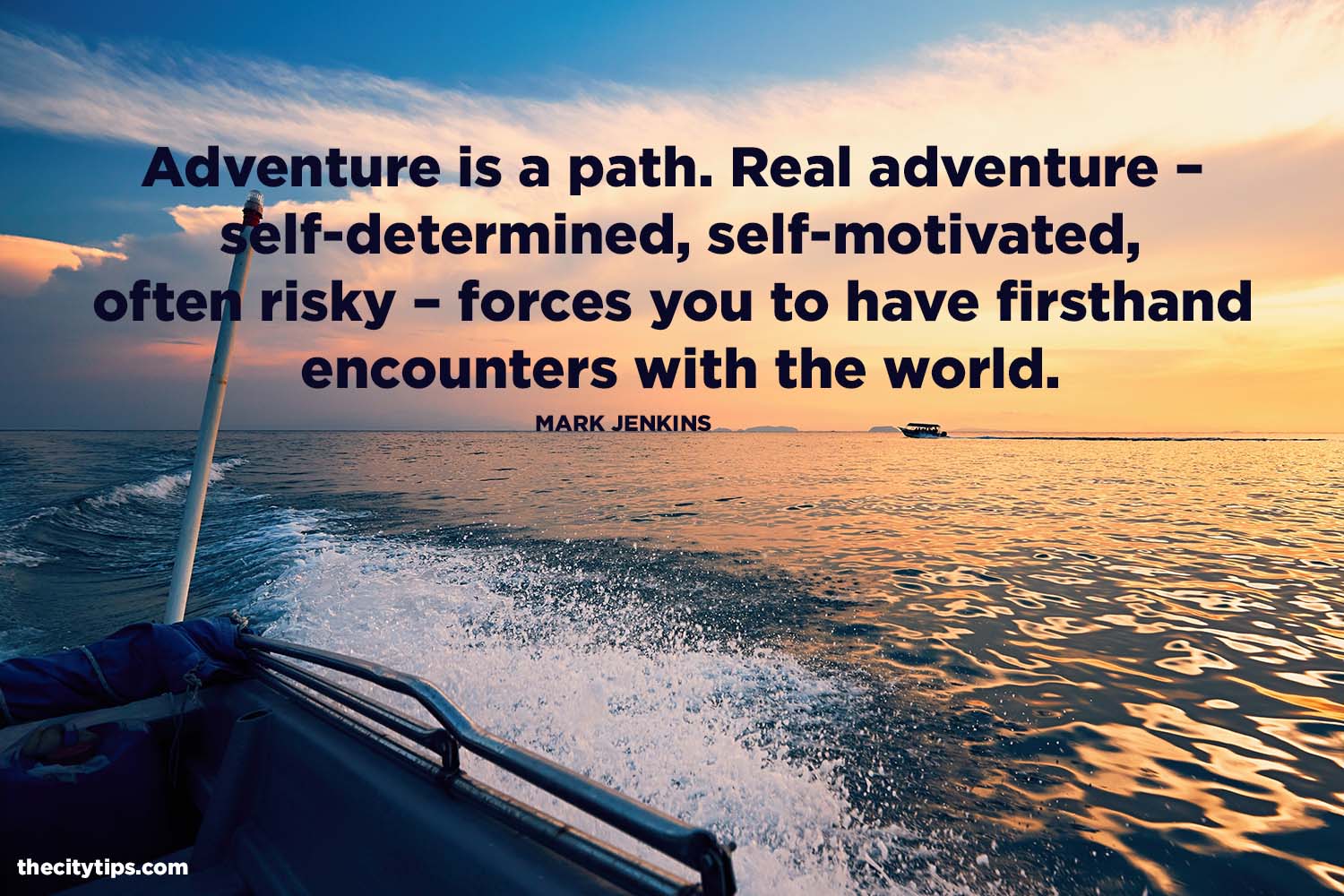 "Adventure is an attitude of the spirit, an attitude of willingness to take risks and to try something new, to leave the security of the known and step into the unknown." (Osho)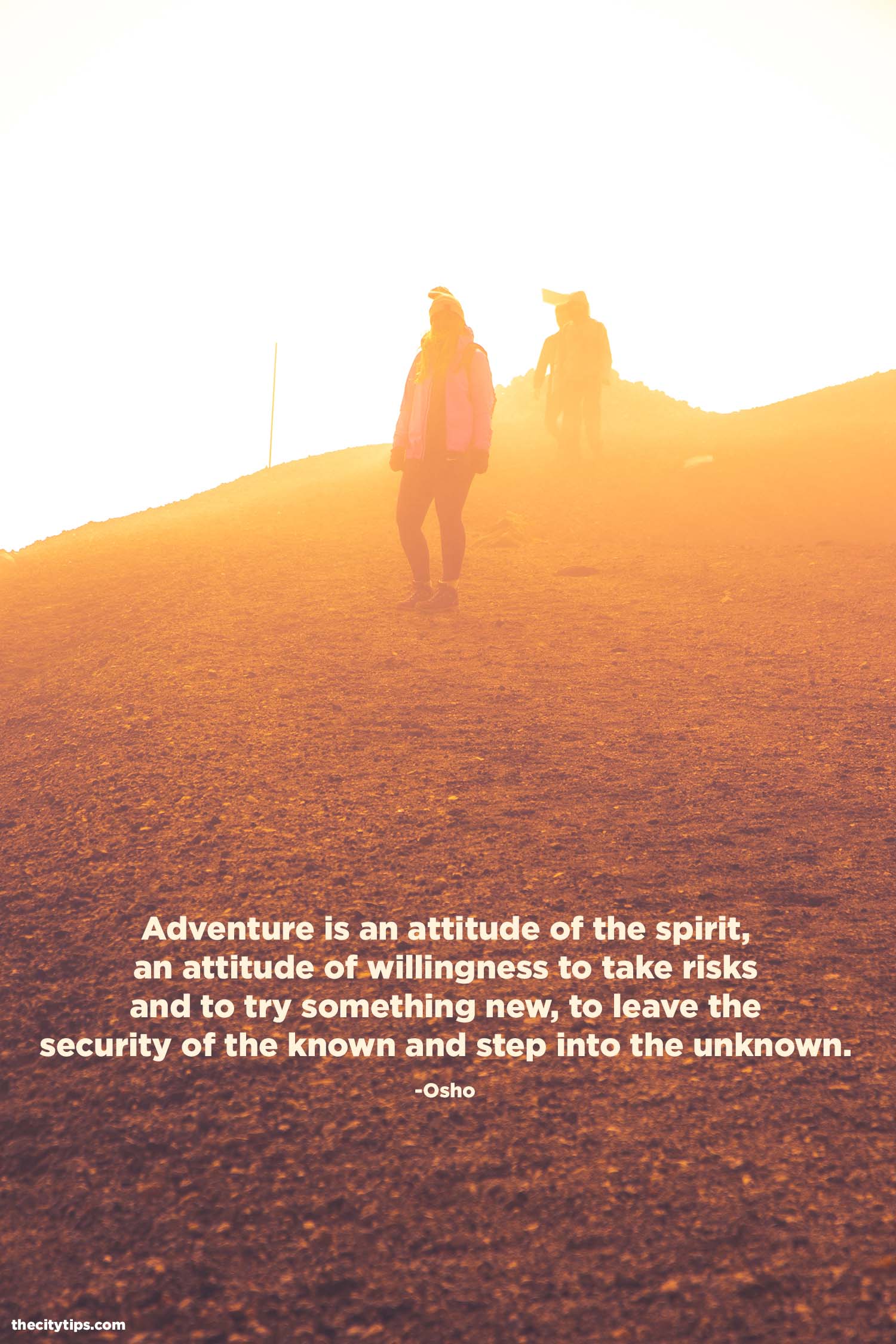 "The purpose of life, after all, is to live it, to taste experience to the utmost, to reach out eagerly and without fear for newer and richer experience." (Eleanor Roosevelt)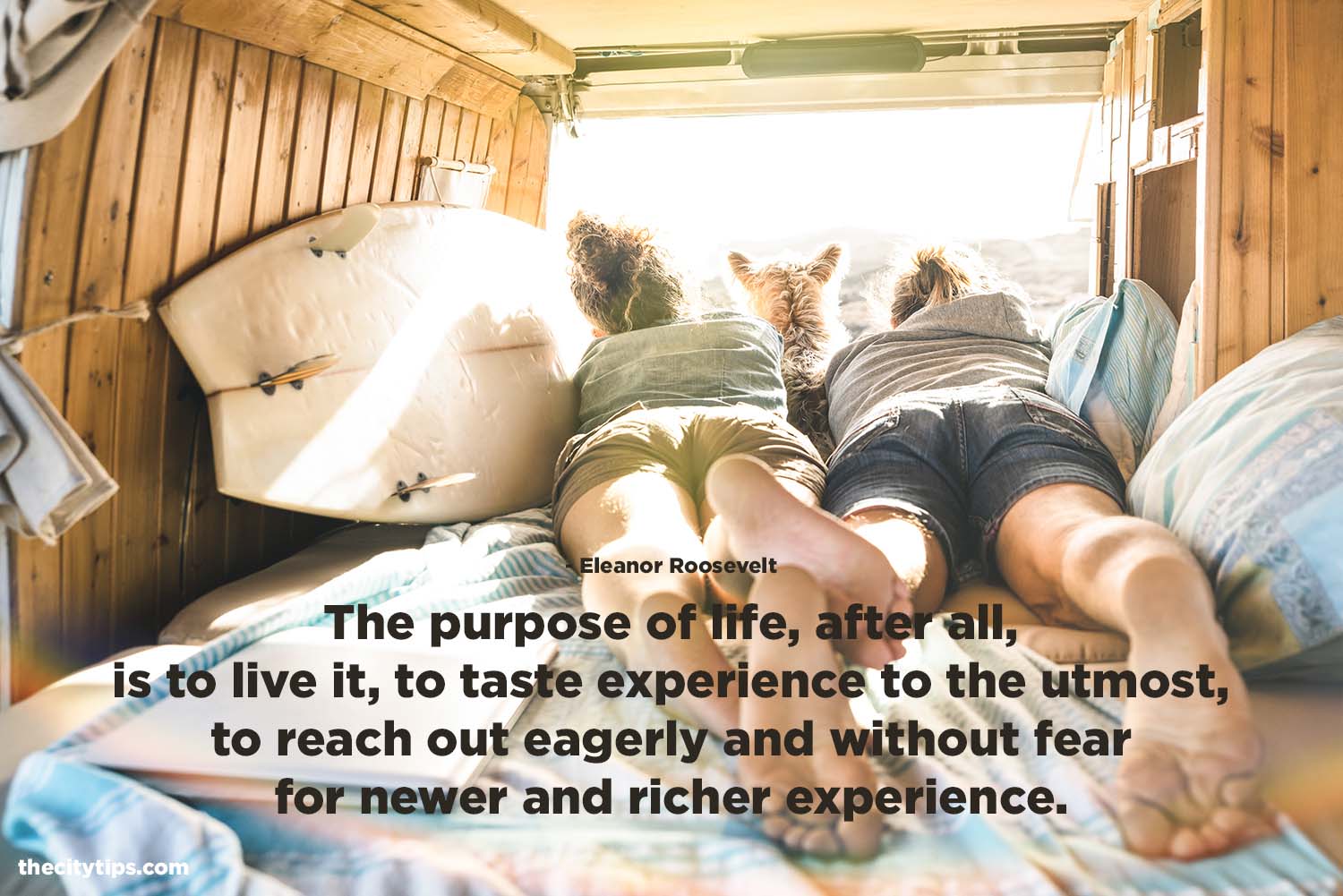 "Don't die without embracing the daring adventure your life was meant to be." (Steve Pavlina)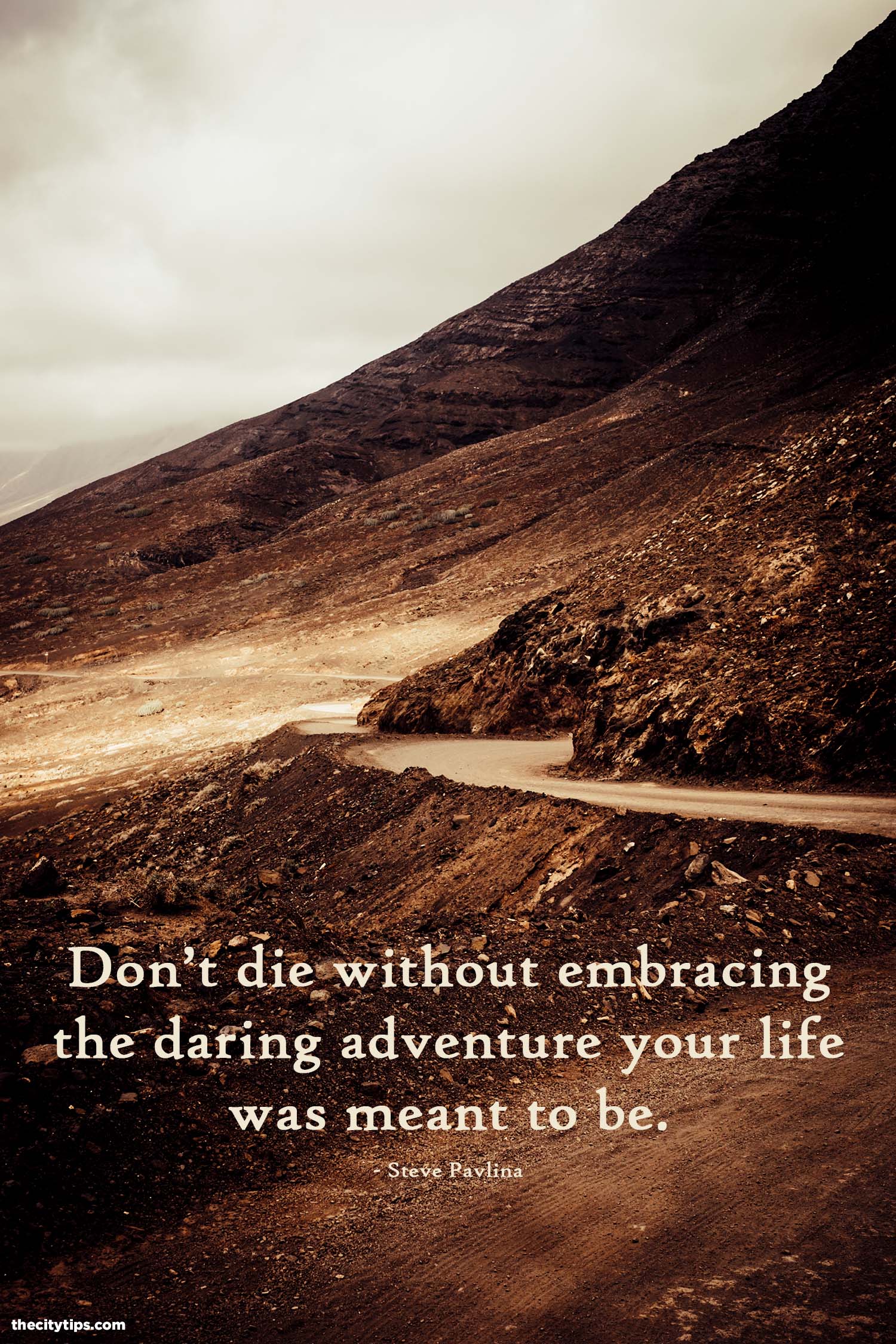 "I travel not to find myself but to remember who I've been all along." (Anonymous)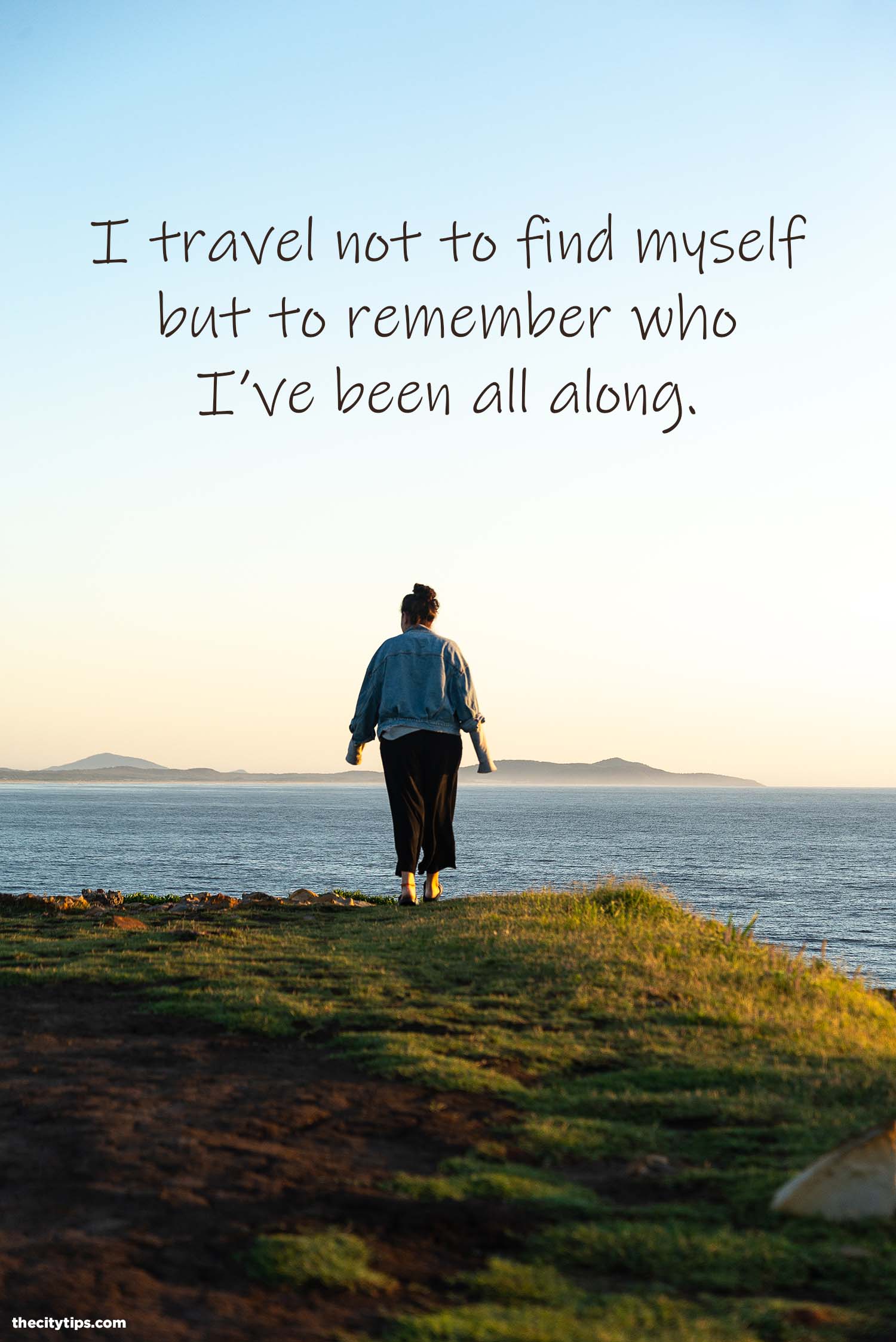 Connection
Traveling is an unforgettable experience that has the power to bring people together in unique and unexpected ways. It can create connections between travelers and locals, as well as with fellow adventurers who share similar stories and experiences.
Travel connects us to cultures, traditions, and environments around the world, giving us a deeper understanding of our place within it. From the bonds we form with others to the way it allows us to discover hidden parts of ourselves, travel quotes can provide insight into how powerful these connections can be.
With inspiring messages from some of history's greatest travelers and adventurers, these quotes can stretch your imagination, invigorate your spirit of adventure and make you appreciate the power of travel even more.
"Traveling creates connections with people, places, and experiences that last a lifetime." (Anonymous)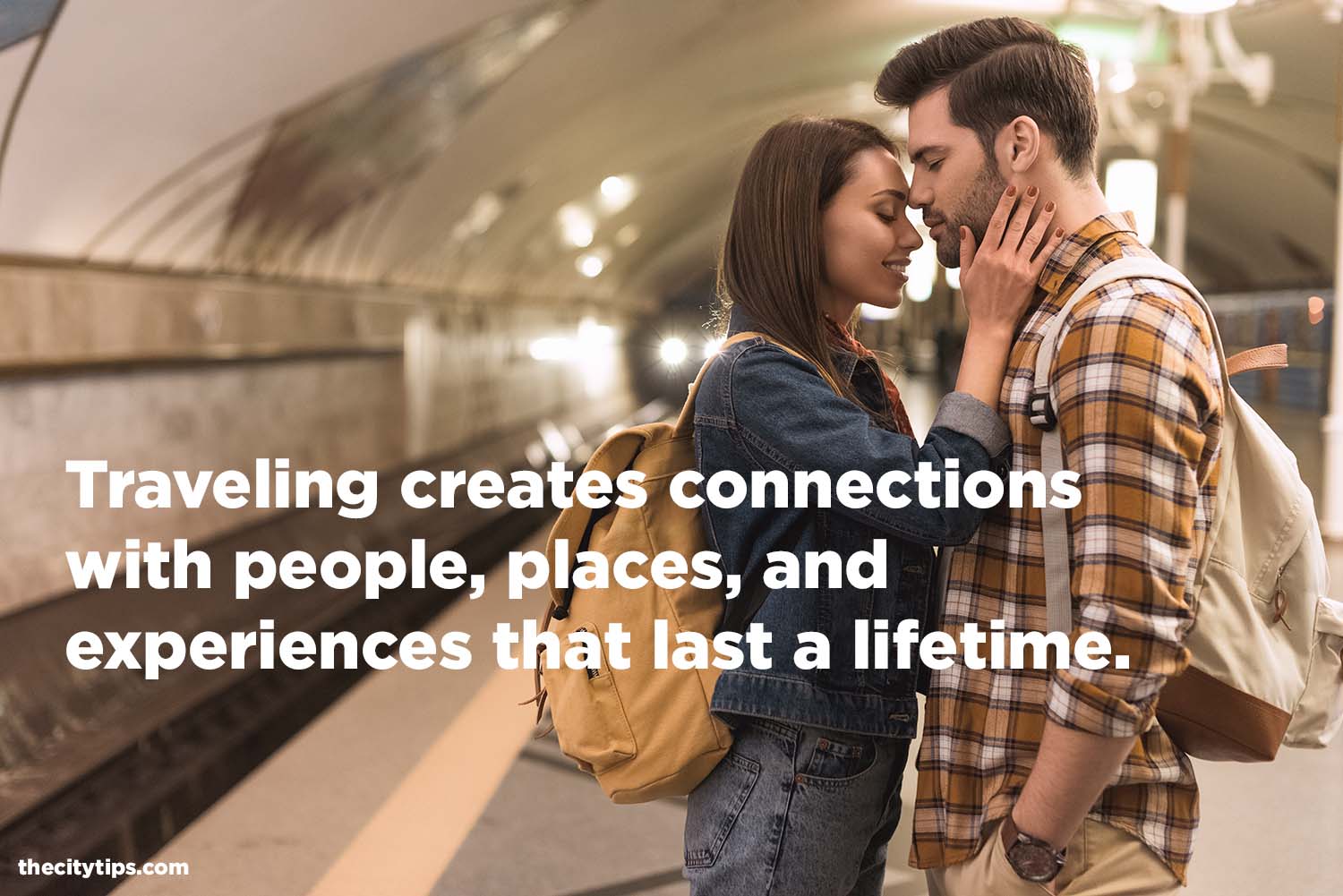 "Traveling allows us to connect with different cultures and find common ground." (Anonymous)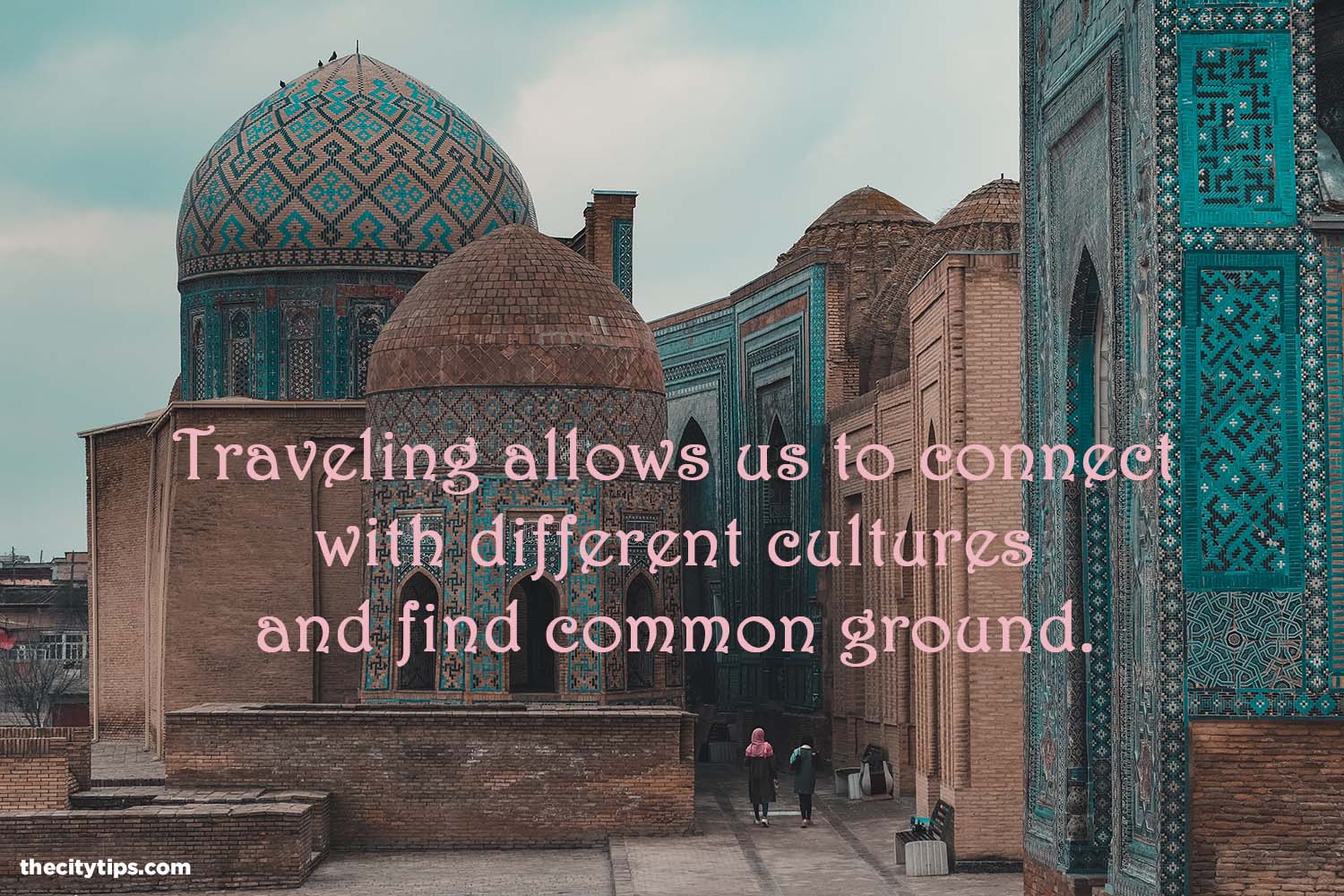 "The best part of traveling is the connections you make with people along the way." (Anonymous)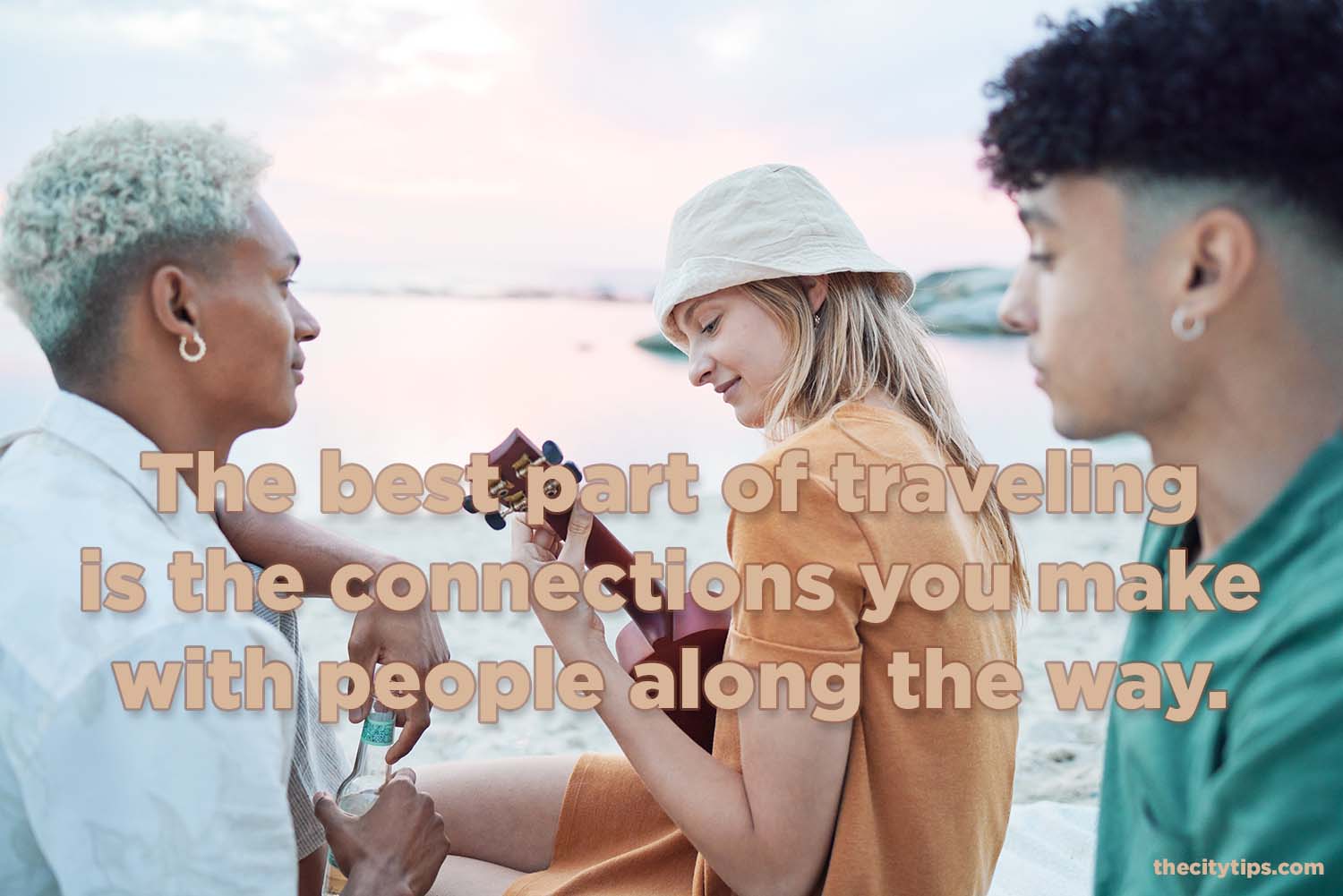 "Traveling helps you connect with the world in a way that books and movies can't." (Anonymous)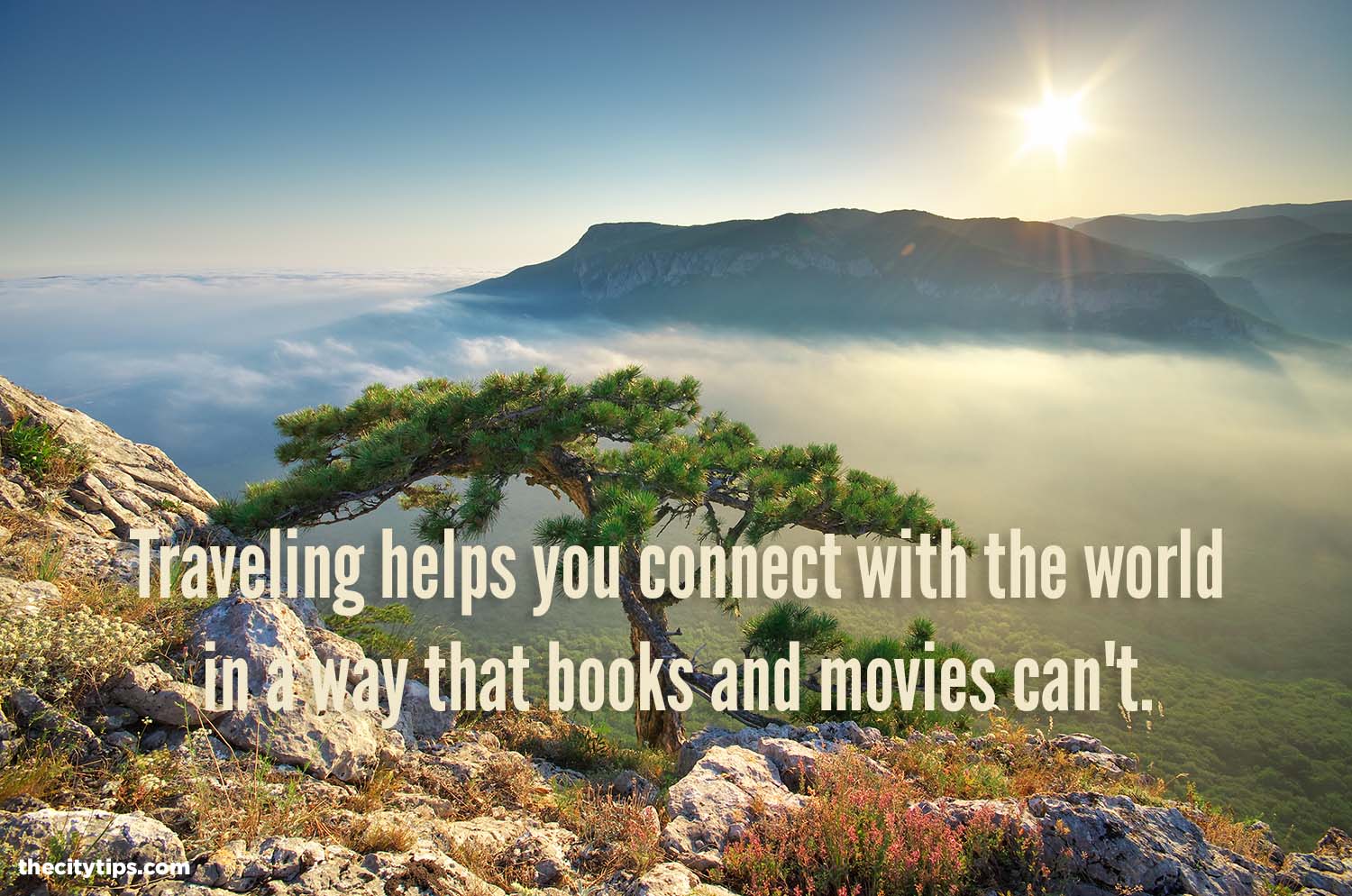 "Traveling is not just about seeing new places, it's about making meaningful connections." (Anonymous)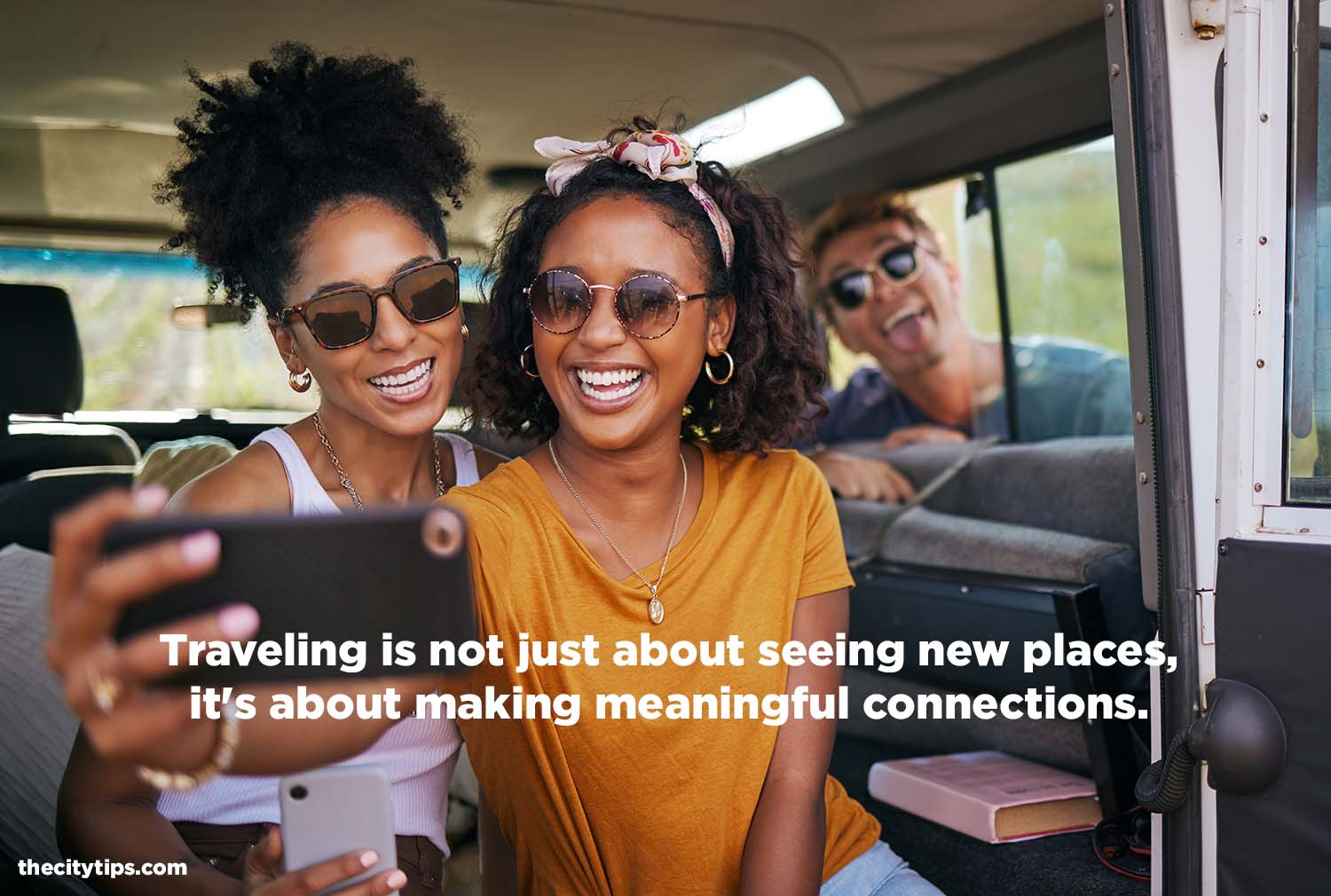 "Traveling allows us to connect with people from different walks of life and broaden our horizons." (Anonymous)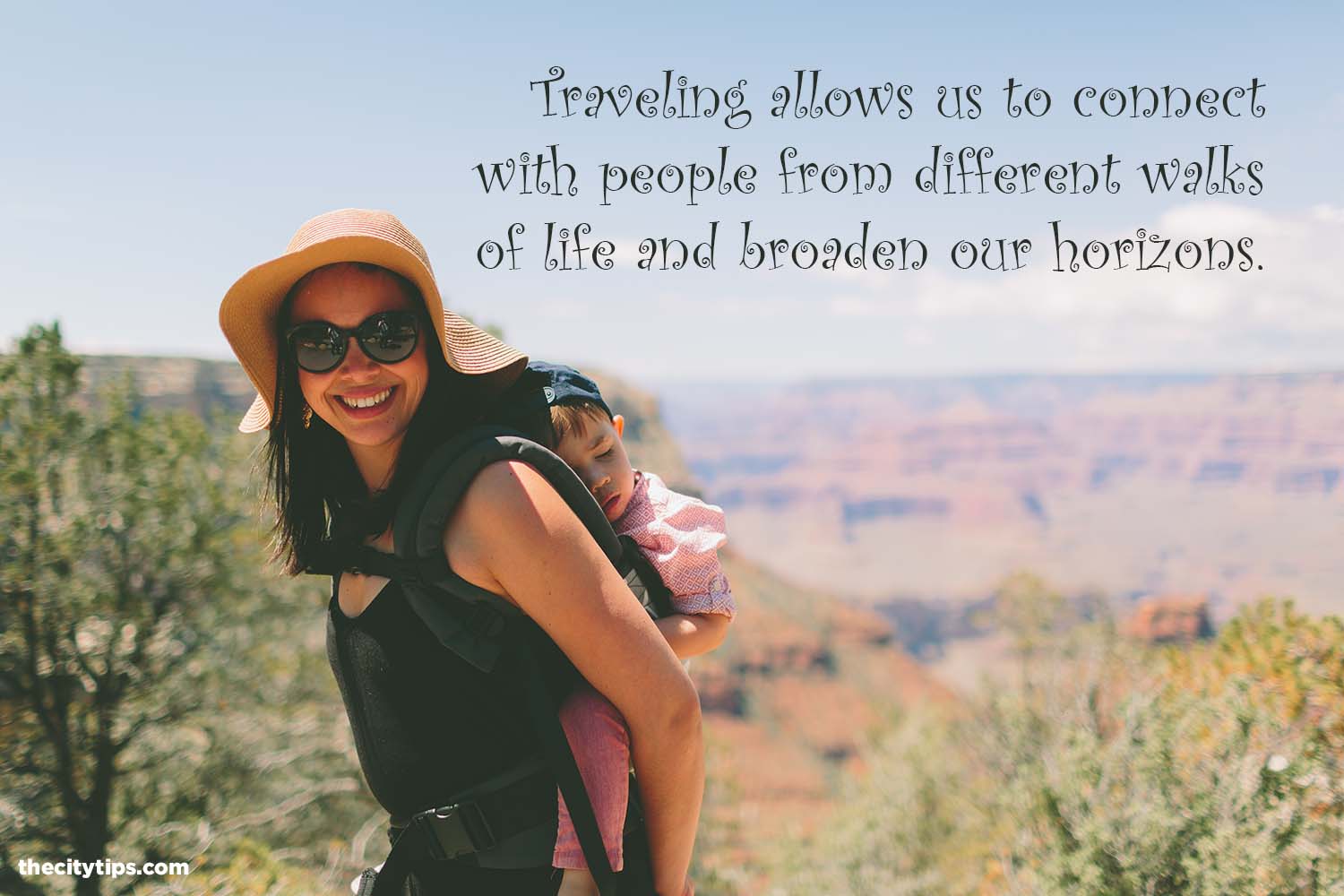 "Traveling helps us connect with the world around us and find our place in it." (Anonymous)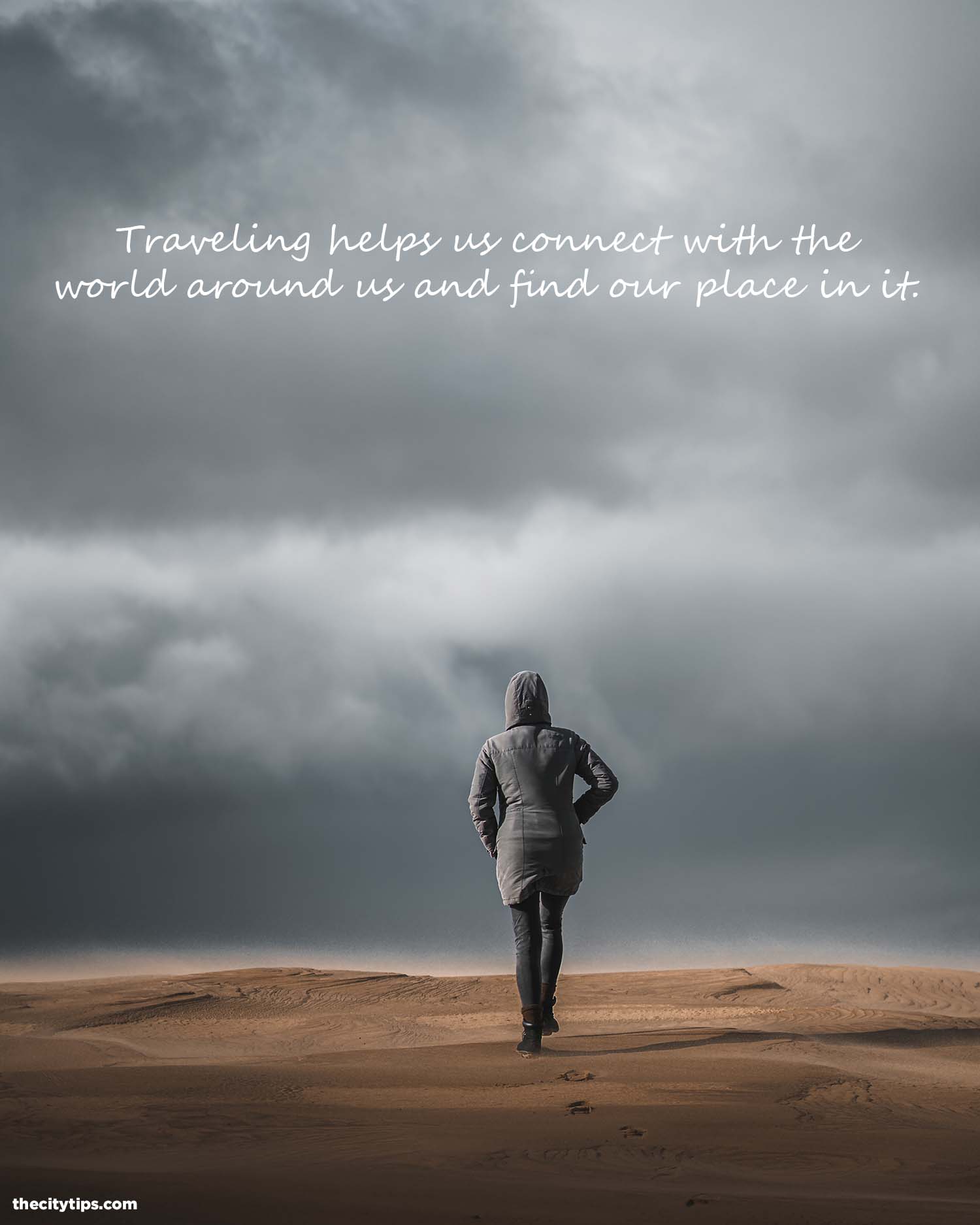 "Traveling is a way to connect with yourself, others, and the world." (Anonymous)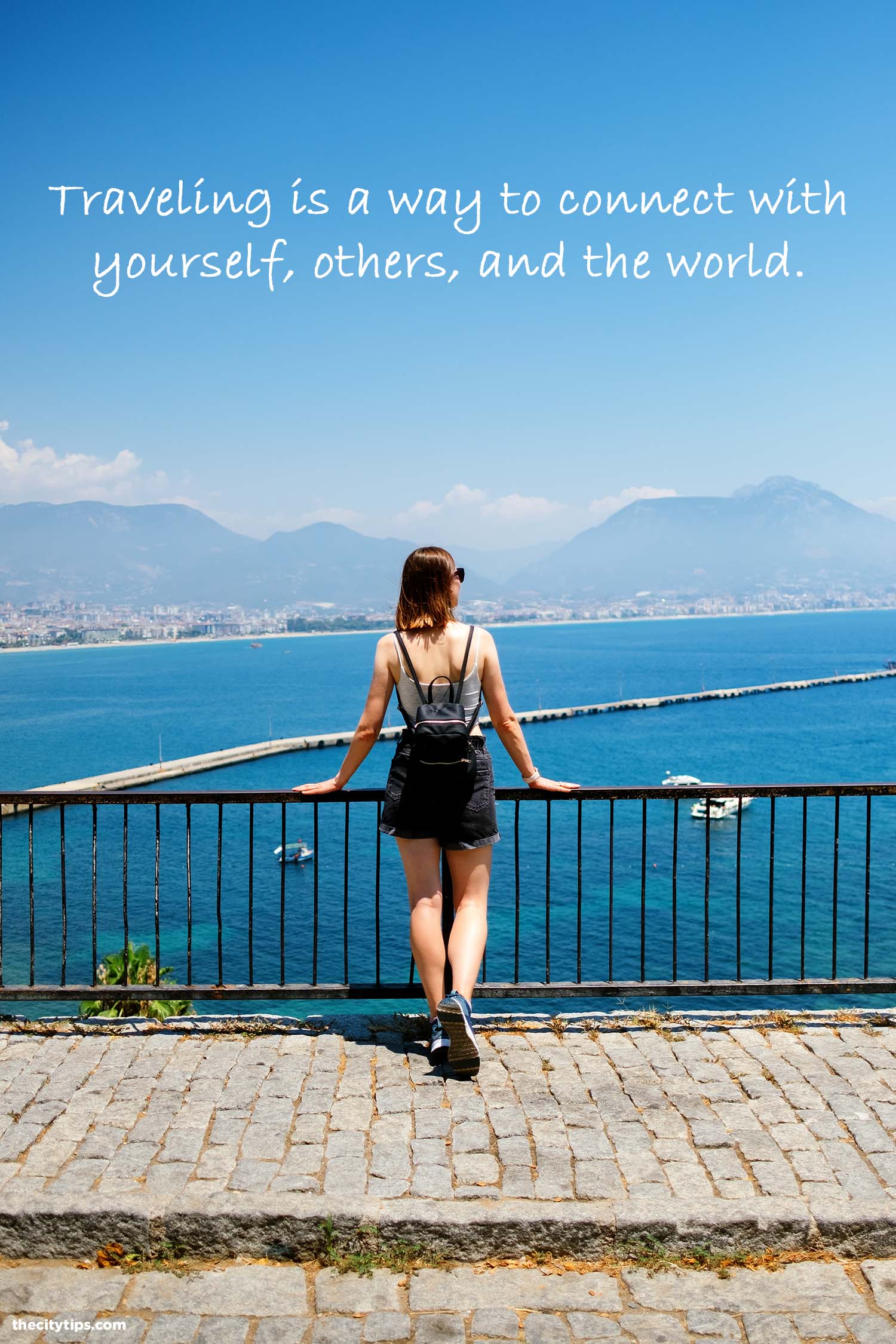 "Traveling is a way to connect with the beauty of nature and appreciate the world we live in." (Anonymous)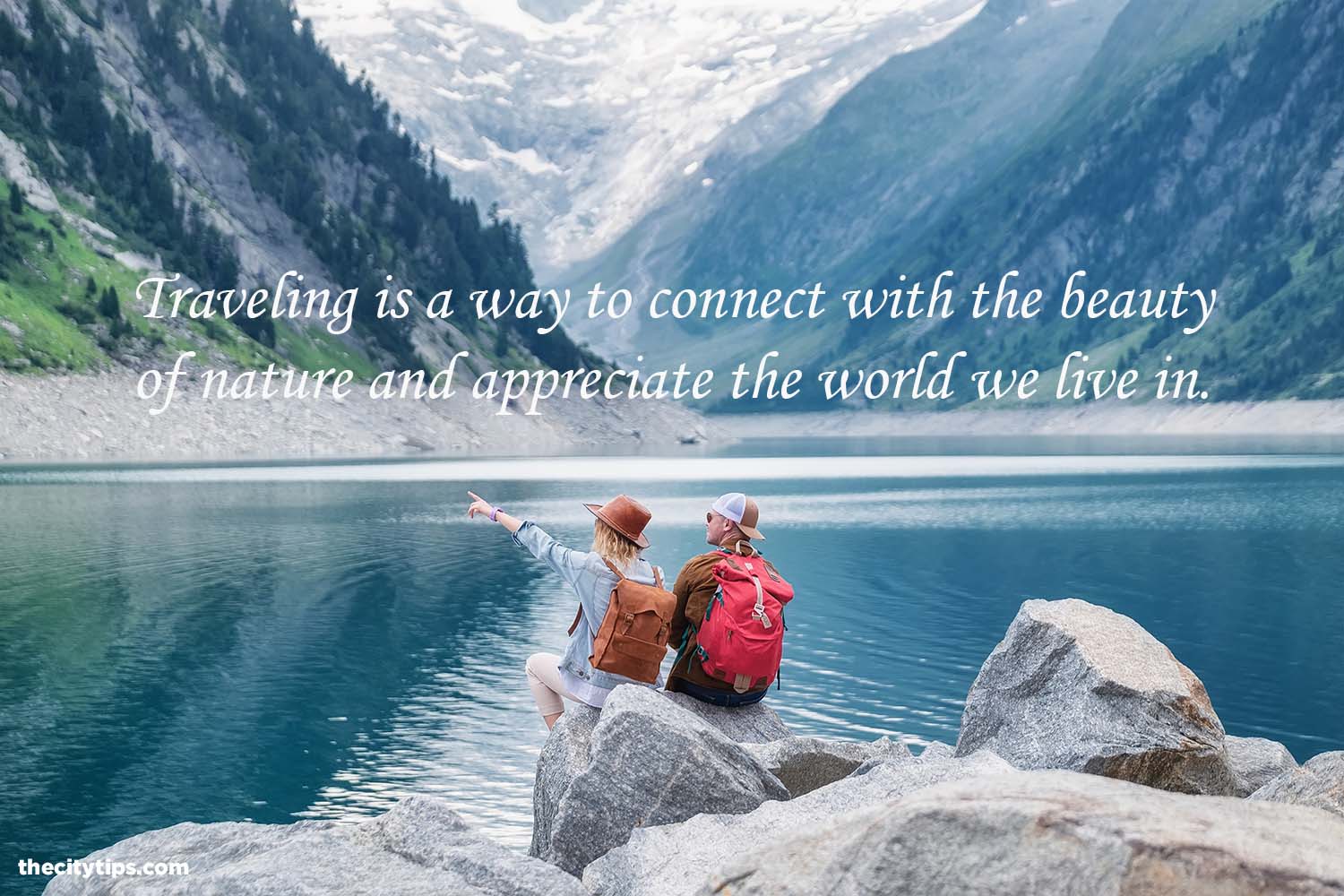 "Traveling is a way to connect with history and gain a deeper understanding of the world." (Anonymous)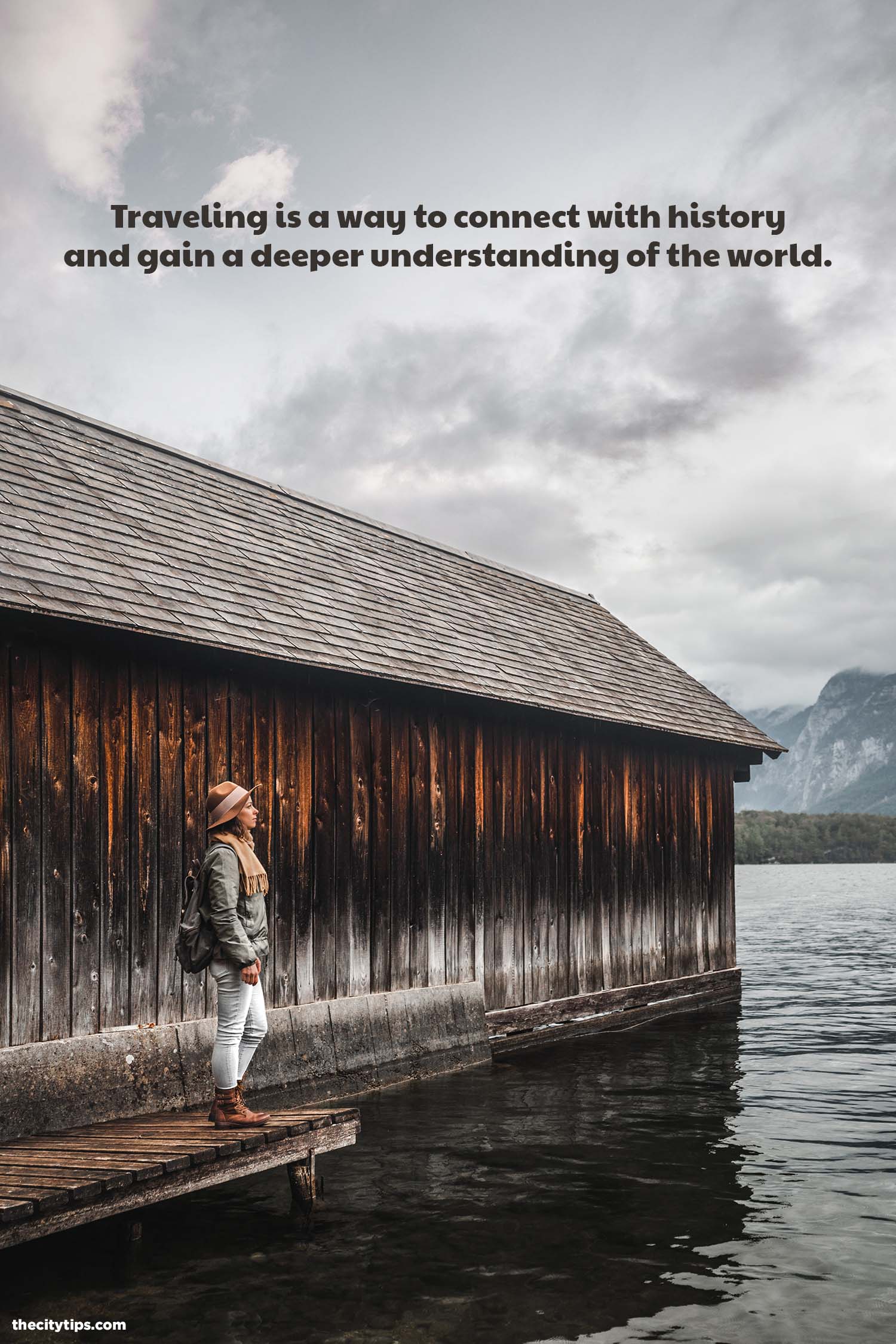 "Traveling is a way to connect with our inner selves and find a sense of purpose." (Anonymous)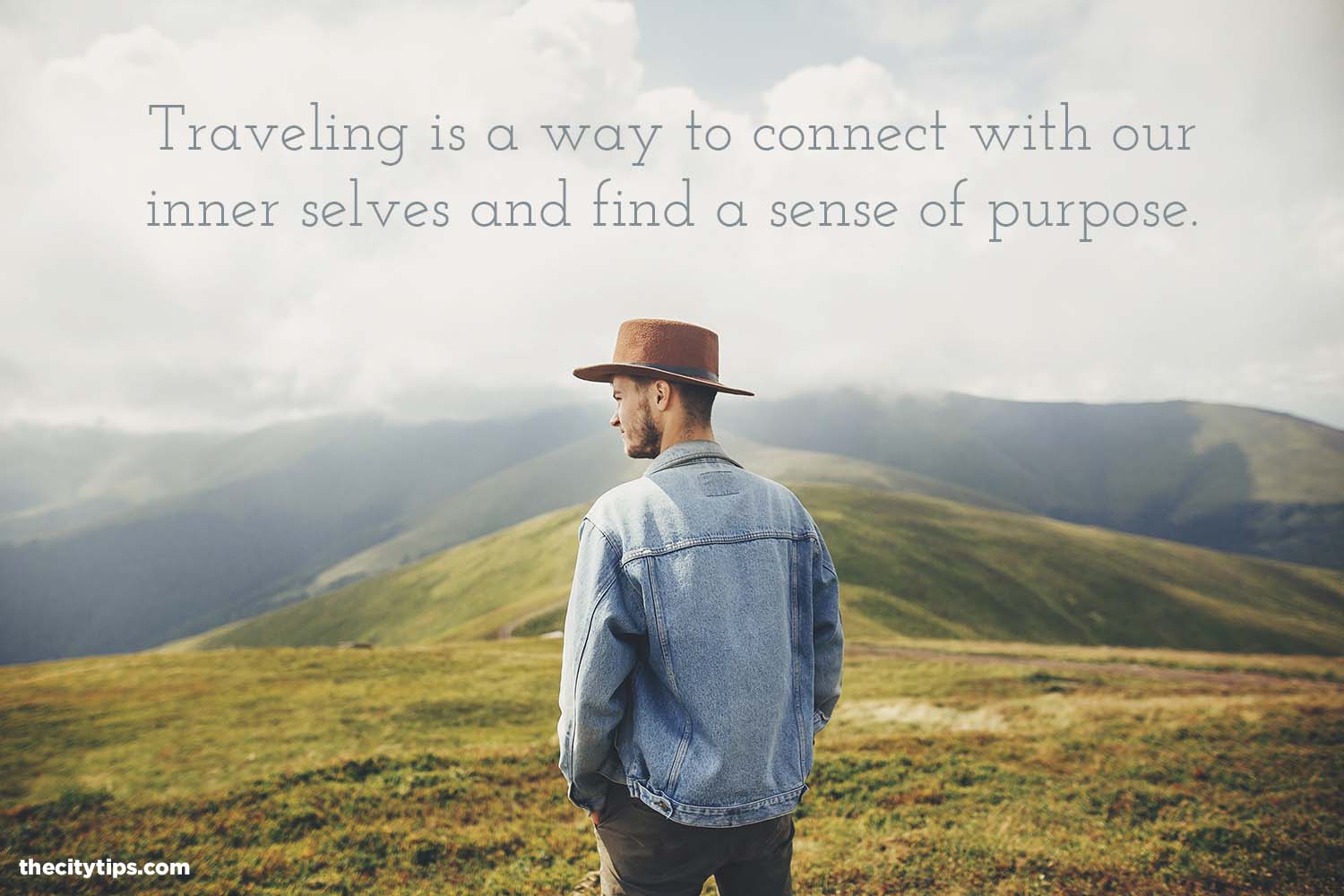 "Traveling allows us to connect with the present moment and appreciate the beauty of life." (Anonymous)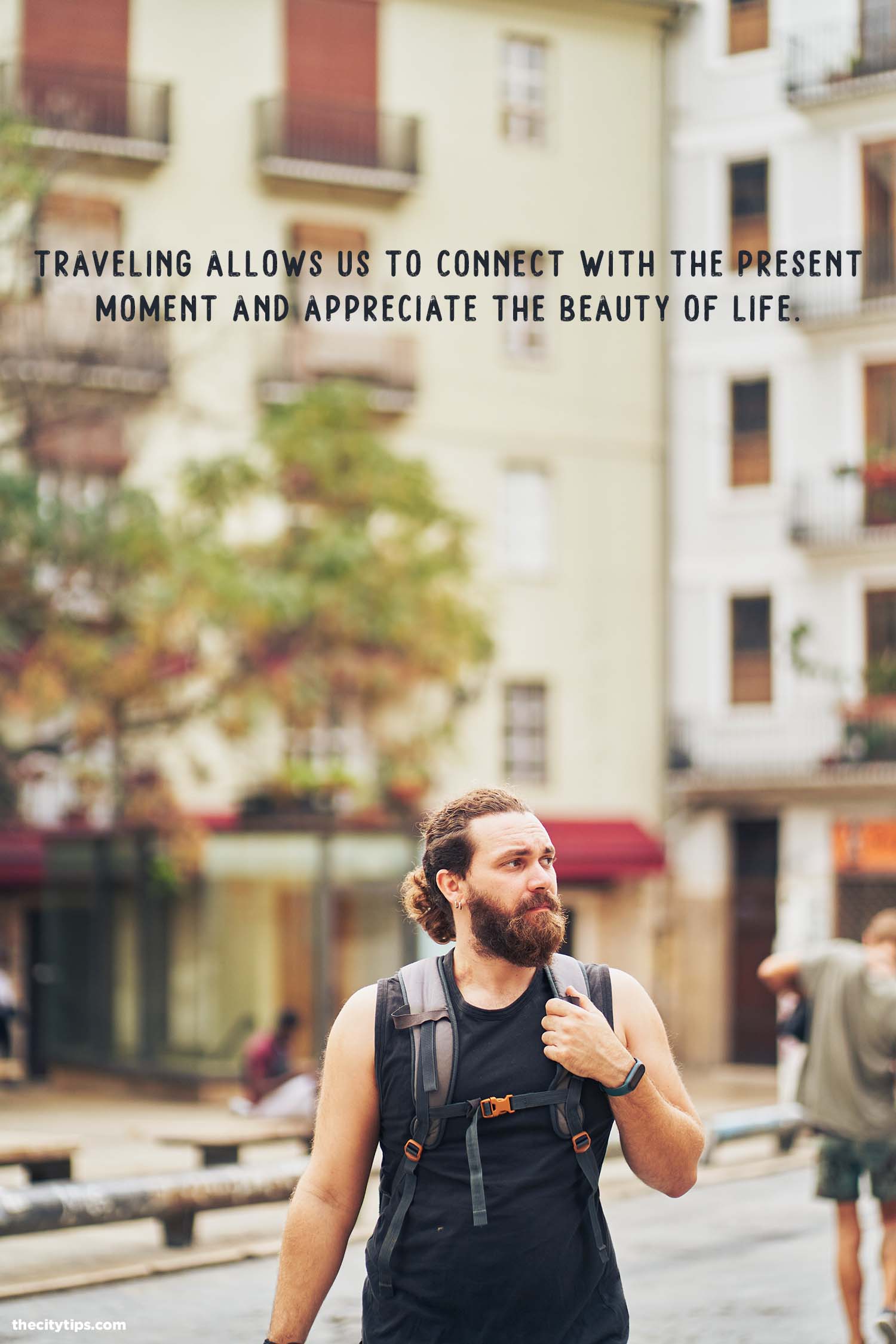 "Traveling is a way to connect with different cultures and learn from each other." (Anonymous)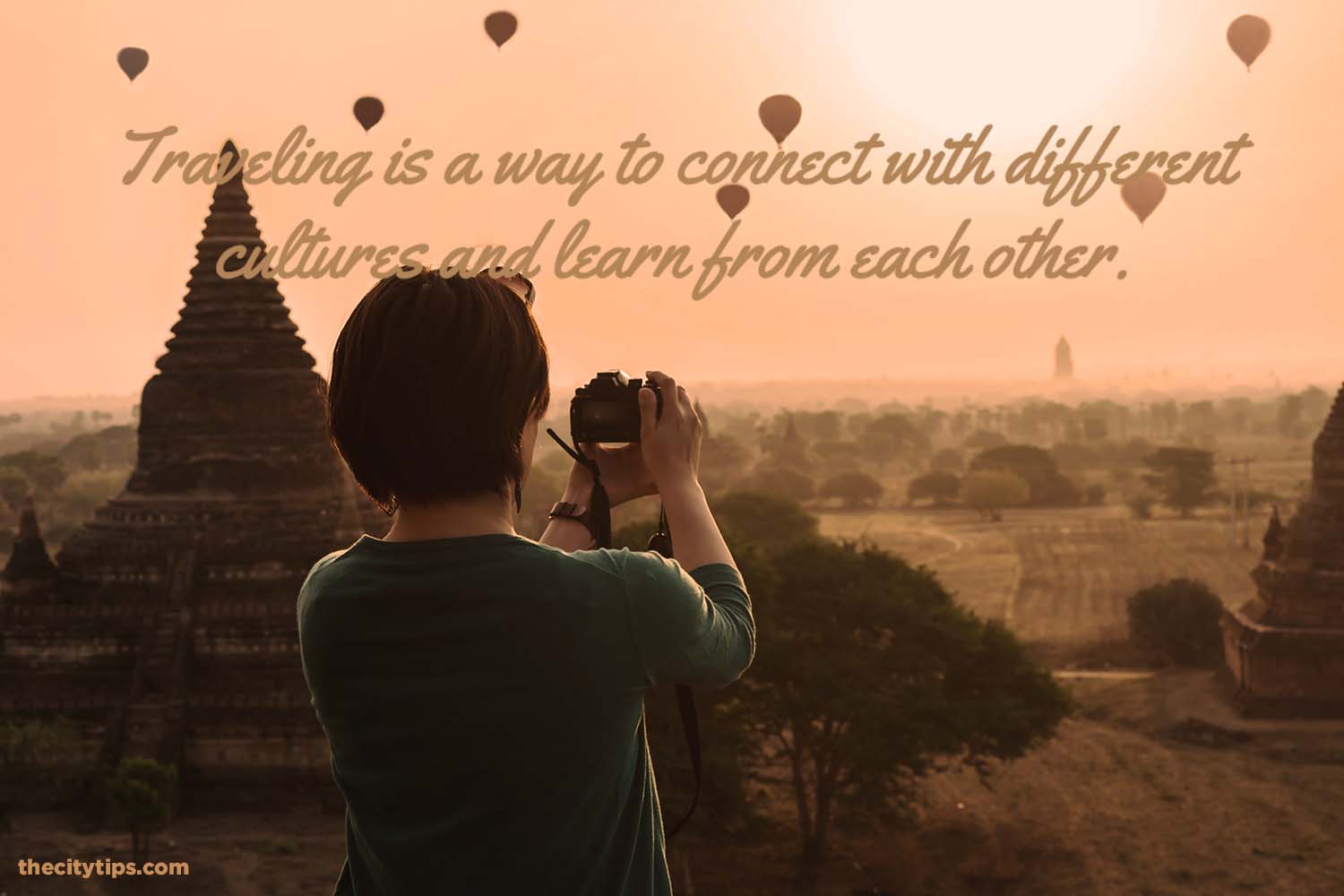 "Traveling is a way to connect with your passions and find inspiration." (Anonymous)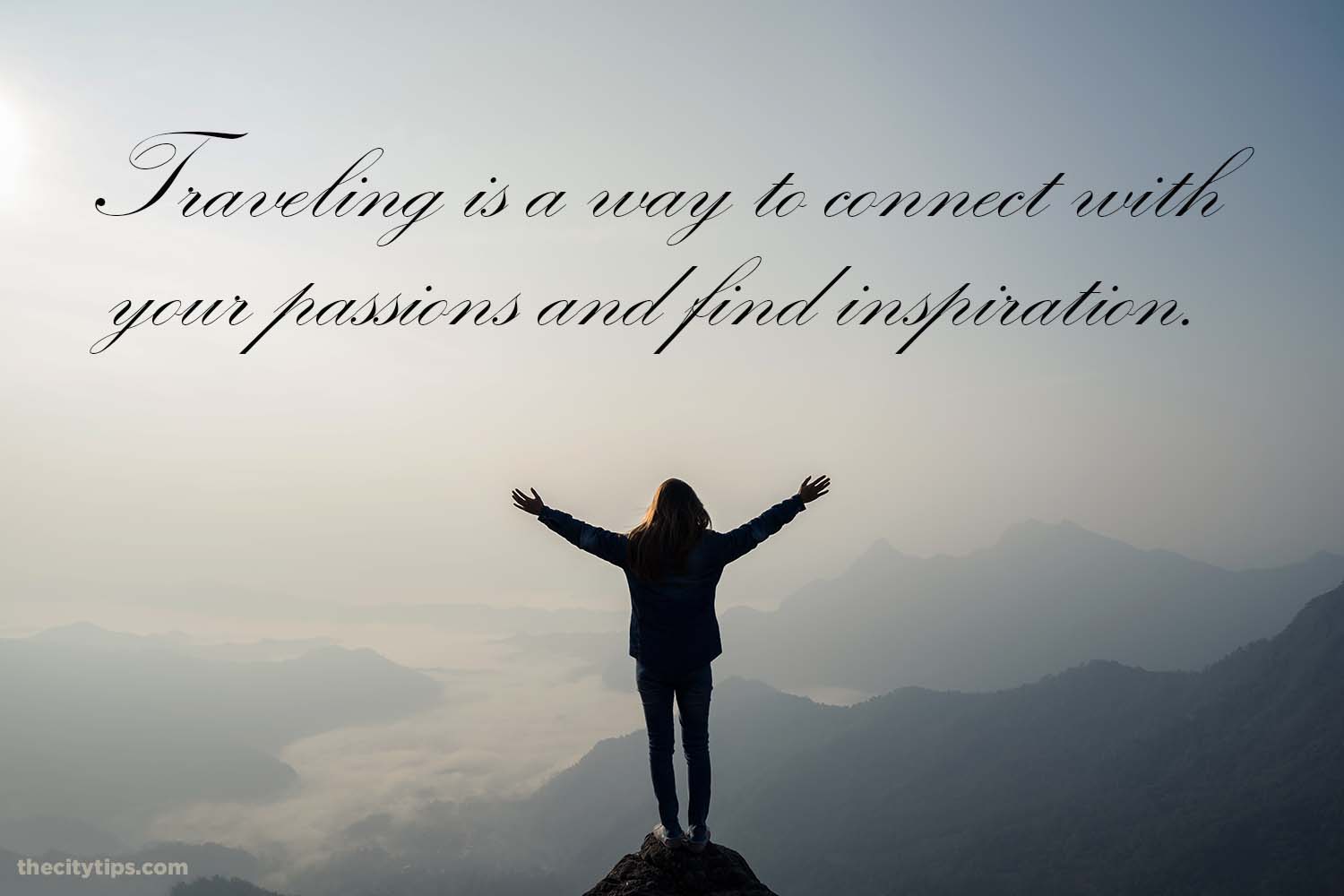 "Traveling helps us connect with our true selves and discover what really matters in life." (Anonymous)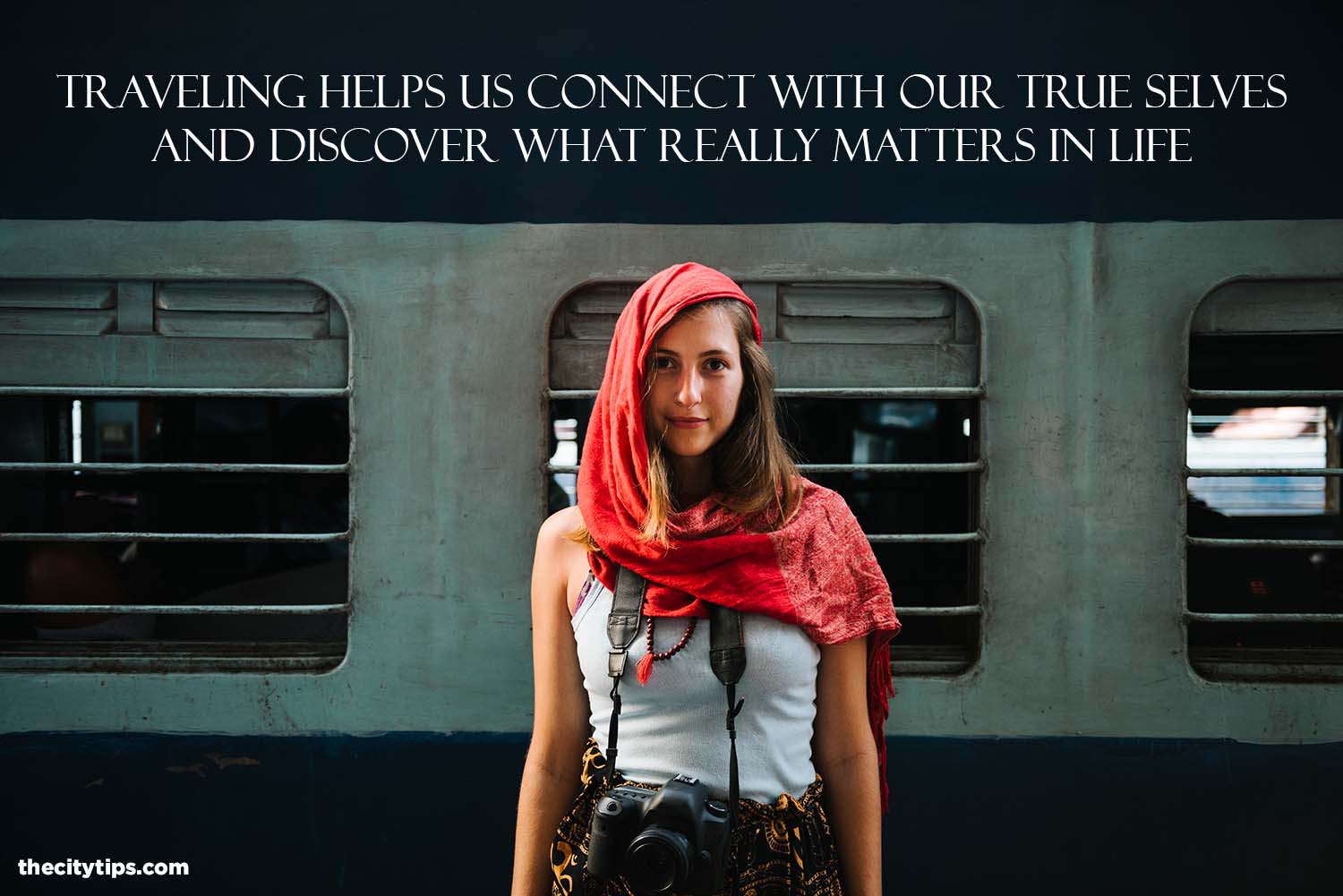 "Traveling allows us to connect with the world in a way that transcends language and cultural barriers." (Anonymous)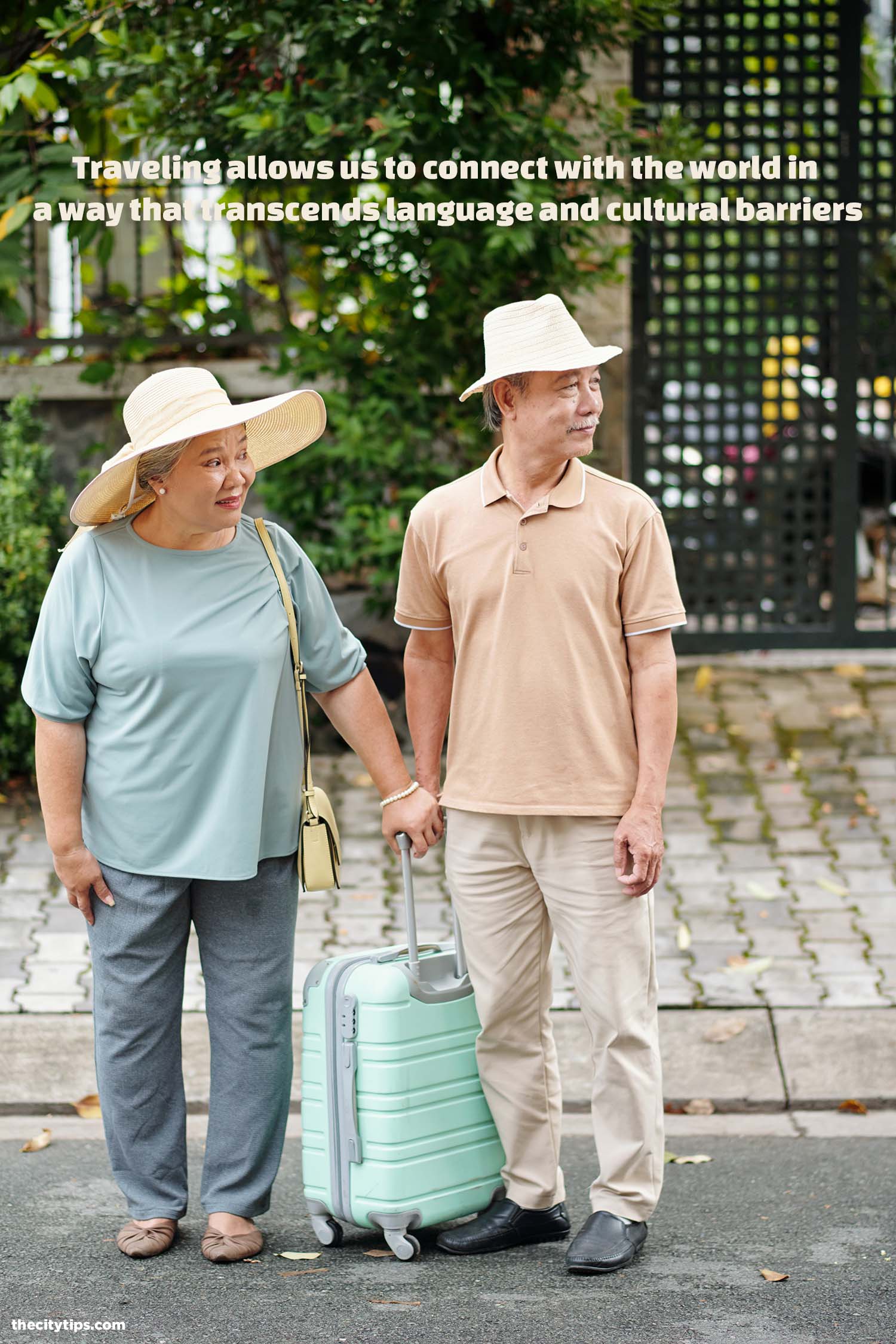 "Traveling is a way to connect with the people and places that inspire us." (Anonymous)
"Traveling is a way to connect with the diversity of the world and celebrate our differences." (Anonymous)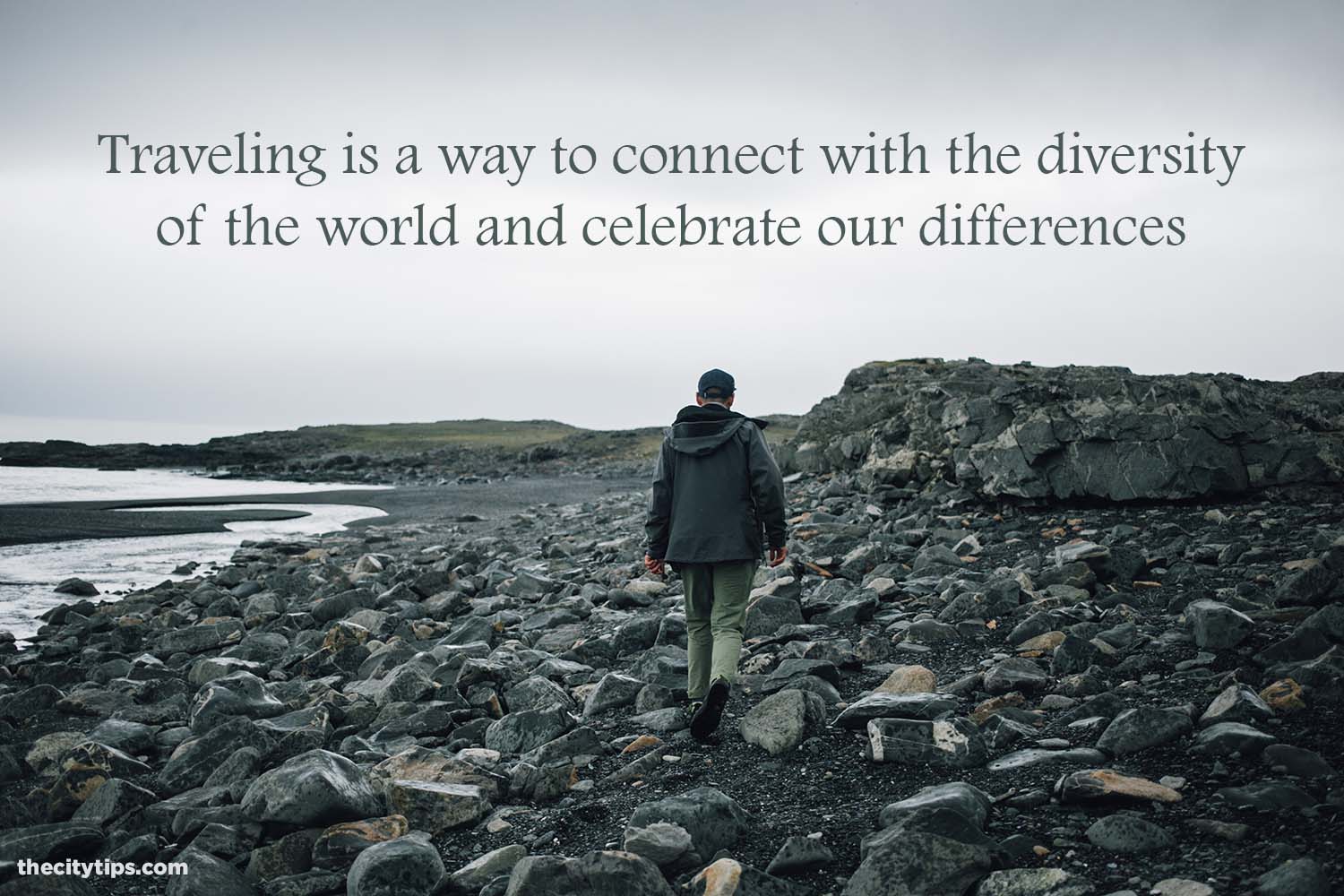 "Traveling helps us connect with our dreams and make them a reality." (Anonymous)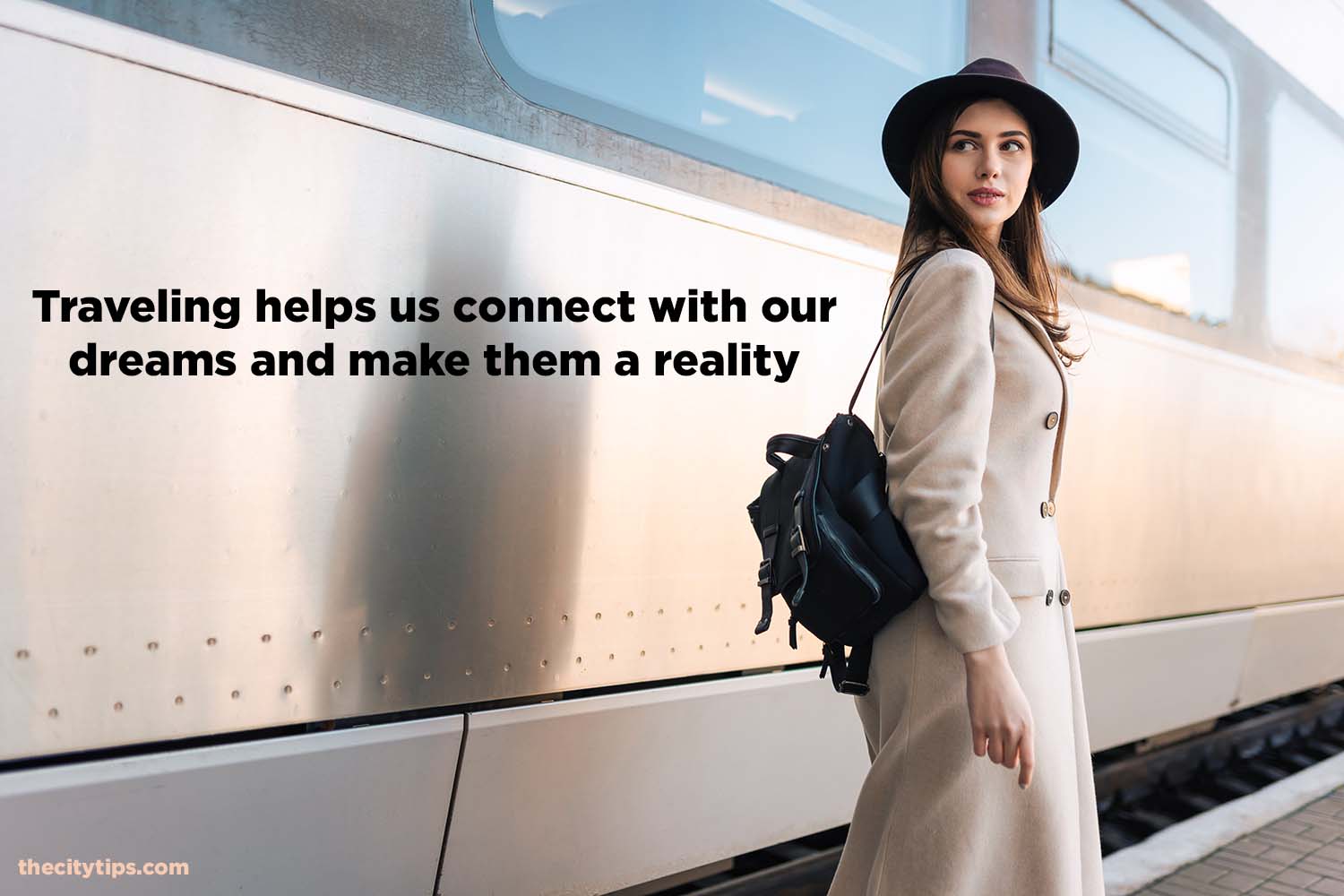 "Traveling is a way to connect with the world and leave our mark on it." (Anonymous)
Culture
Travel is a powerful way to open our eyes to the world and experience different cultures.
These travel quotes about culture can serve as reminders of why it's important to immerse yourself in the customs, beliefs, and traditions of foreign lands. From ancient wisdom to modern musings, travel quotes about culture have an undeniable power to inspire travelers to seek out new experiences.
They speak of the unique beauty found in humanity's diversity, encourage us to push our boundaries and explore beyond what we know, and remind us that nothing is more valuable than experiencing something authentic.
No matter if you are planning your next adventure or simply looking for some motivation for your next journey, these quotes about cultural experiences will spark your curiosity and help you make the most of your trip.
"The best education I have ever received was through travel." (Lisa Ling)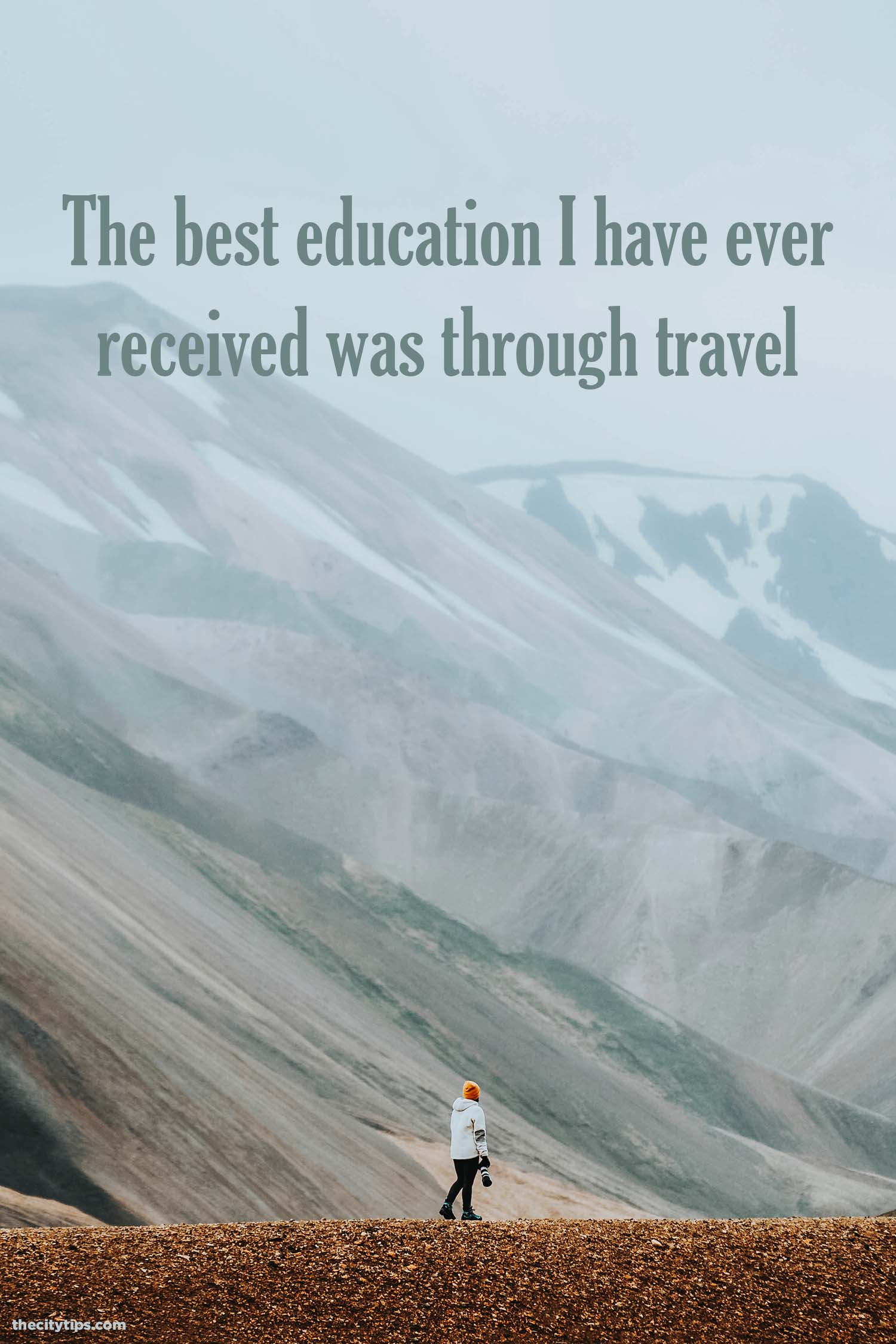 "To travel is to discover that everyone is wrong about other countries." (Aldous Huxley)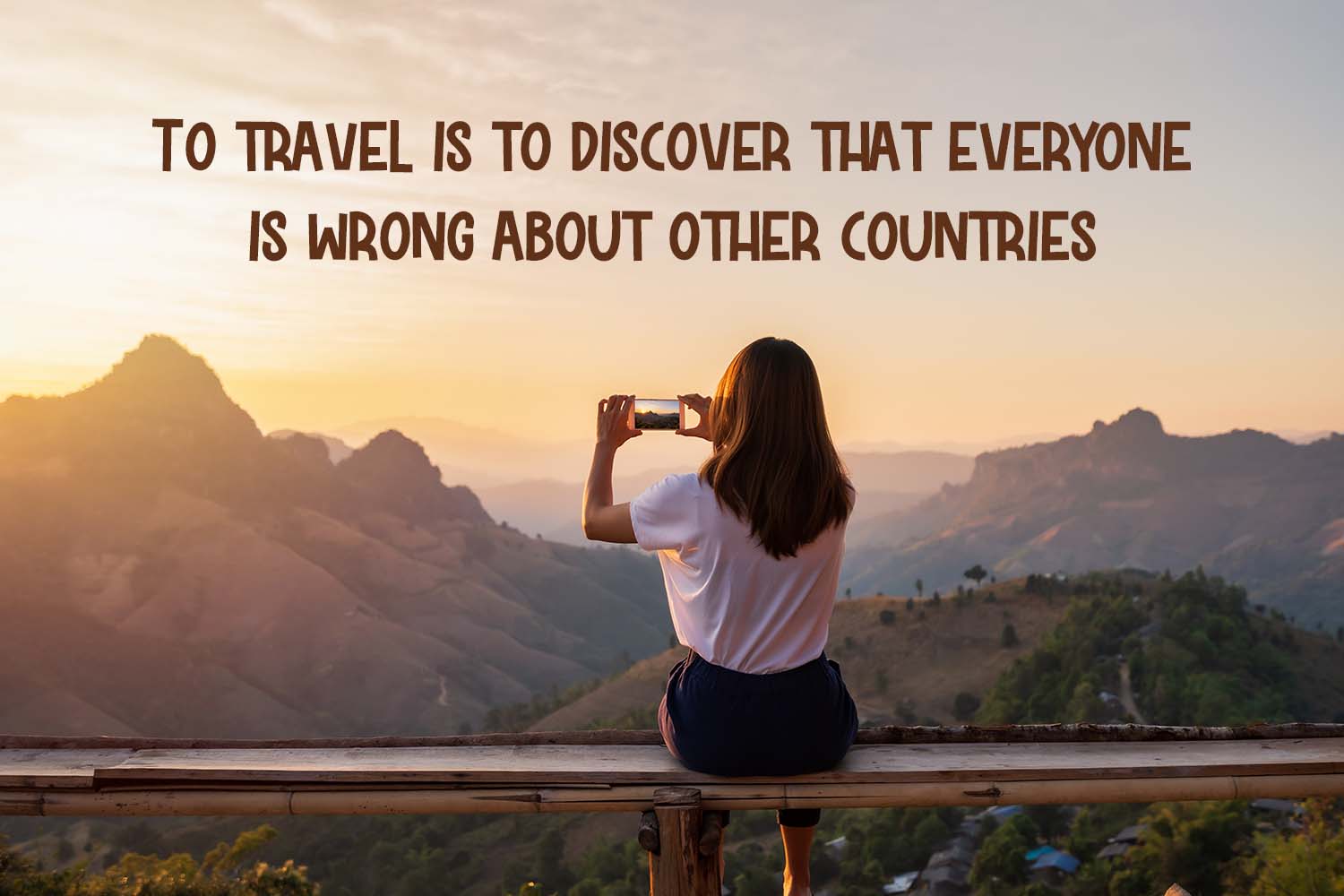 "The real voyage of discovery consists not in seeking new landscapes, but in having new eyes." (Marcel Proust)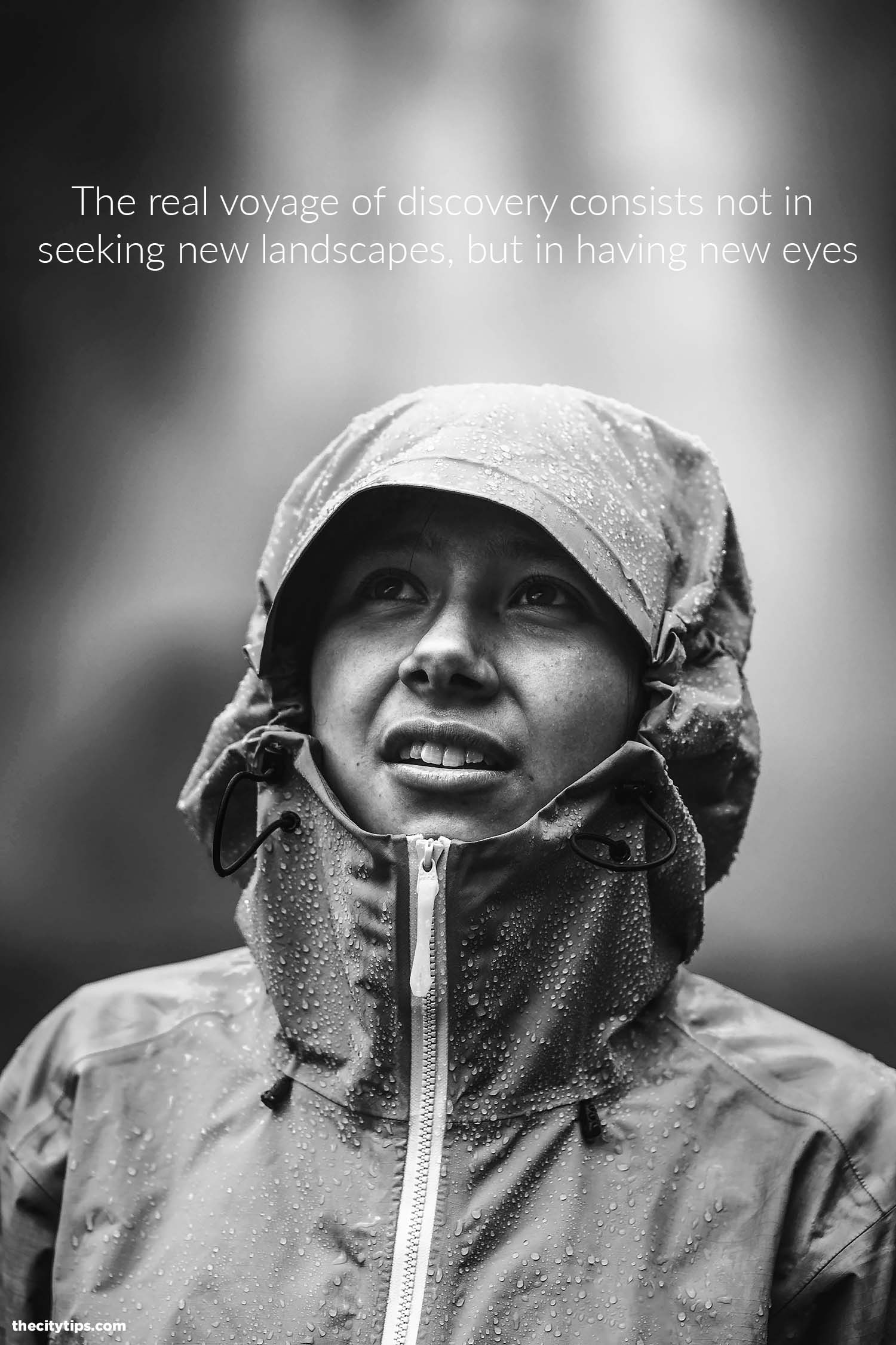 "The use of traveling is to regulate imagination by reality, and instead of thinking how things may be, to see them as they are." (Samuel Johnson)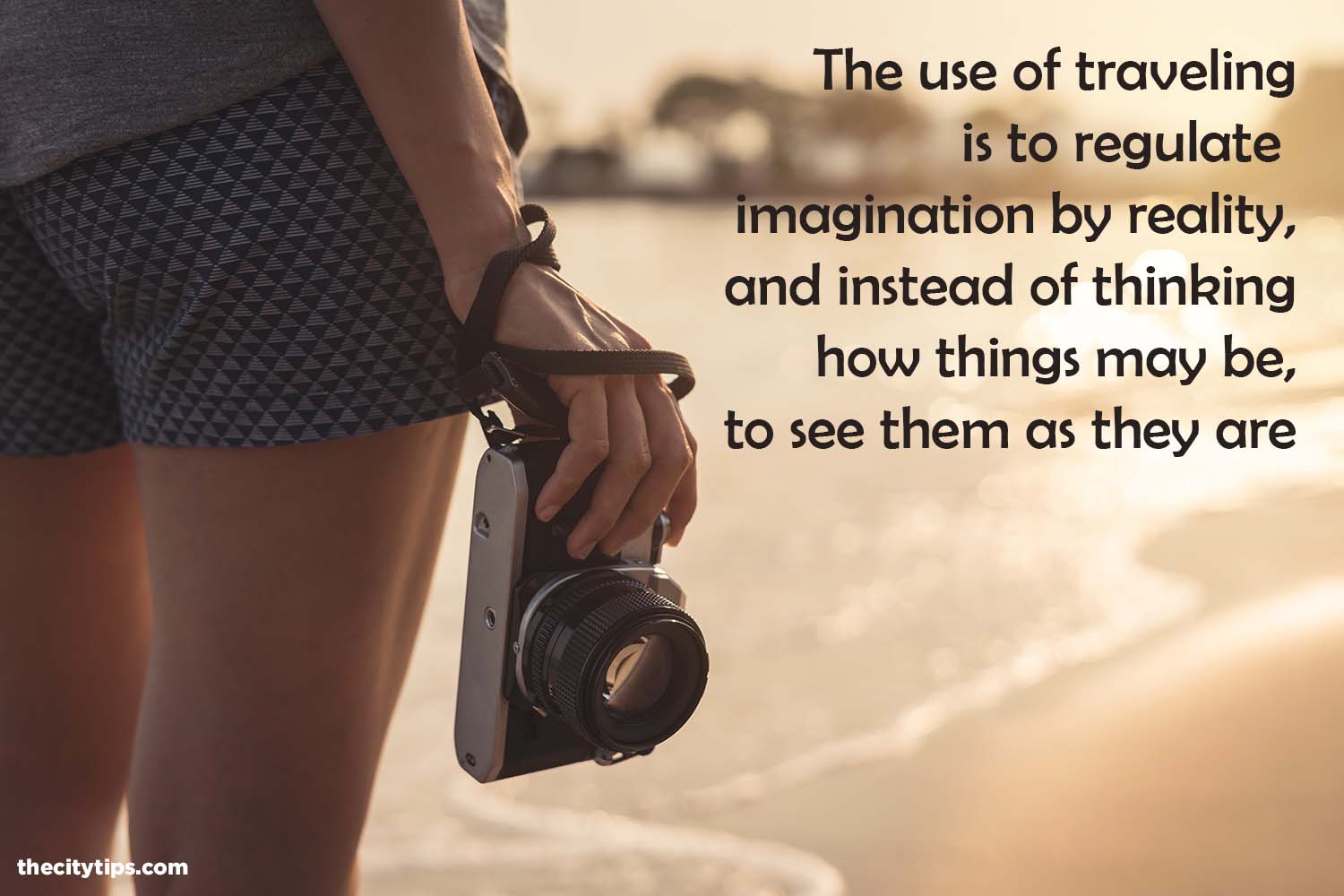 "One's destination is never a place, but a new way of seeing things." (Henry Miller)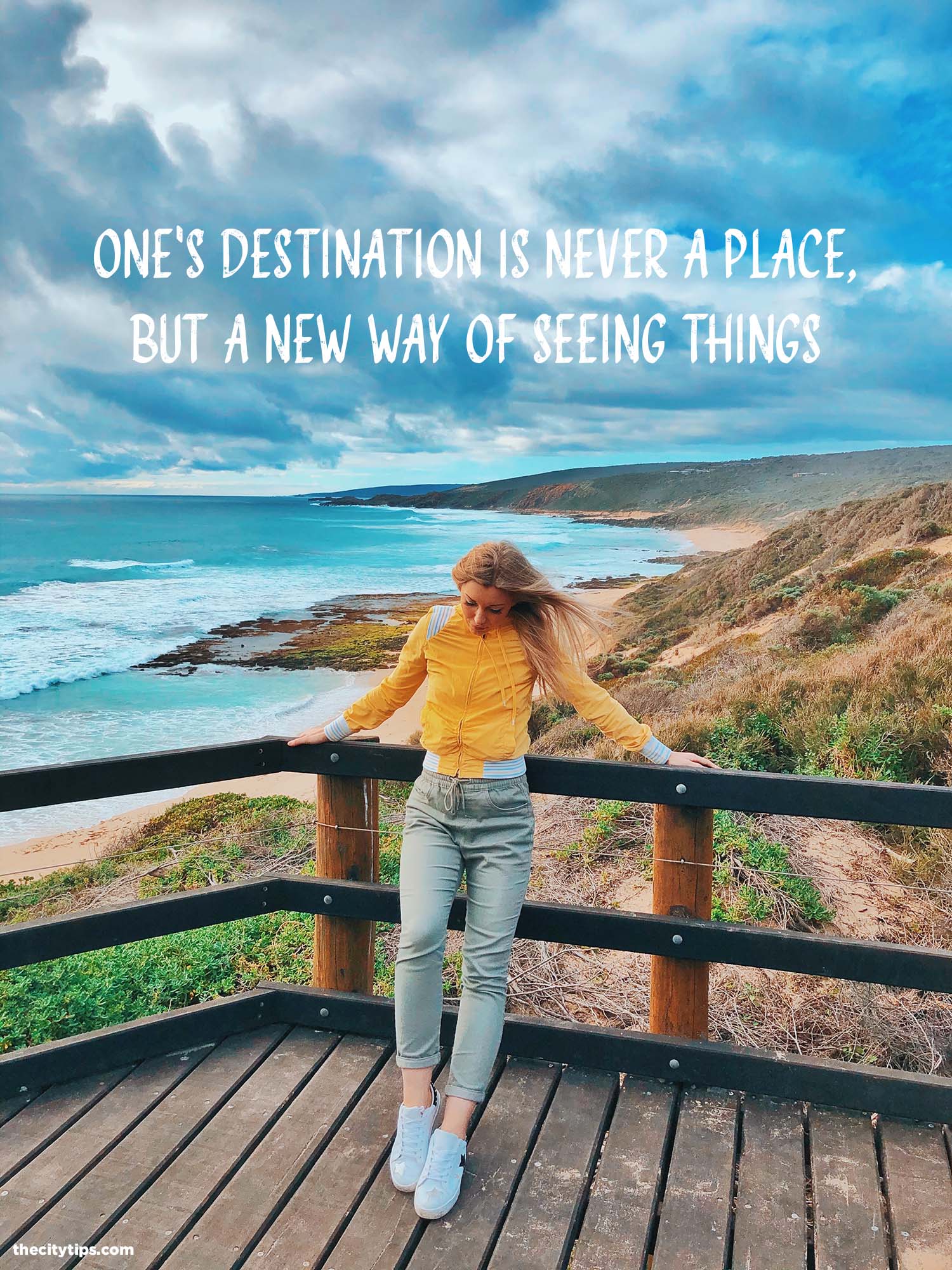 "Travel far enough, you'll meet yourself." (David Mitchell)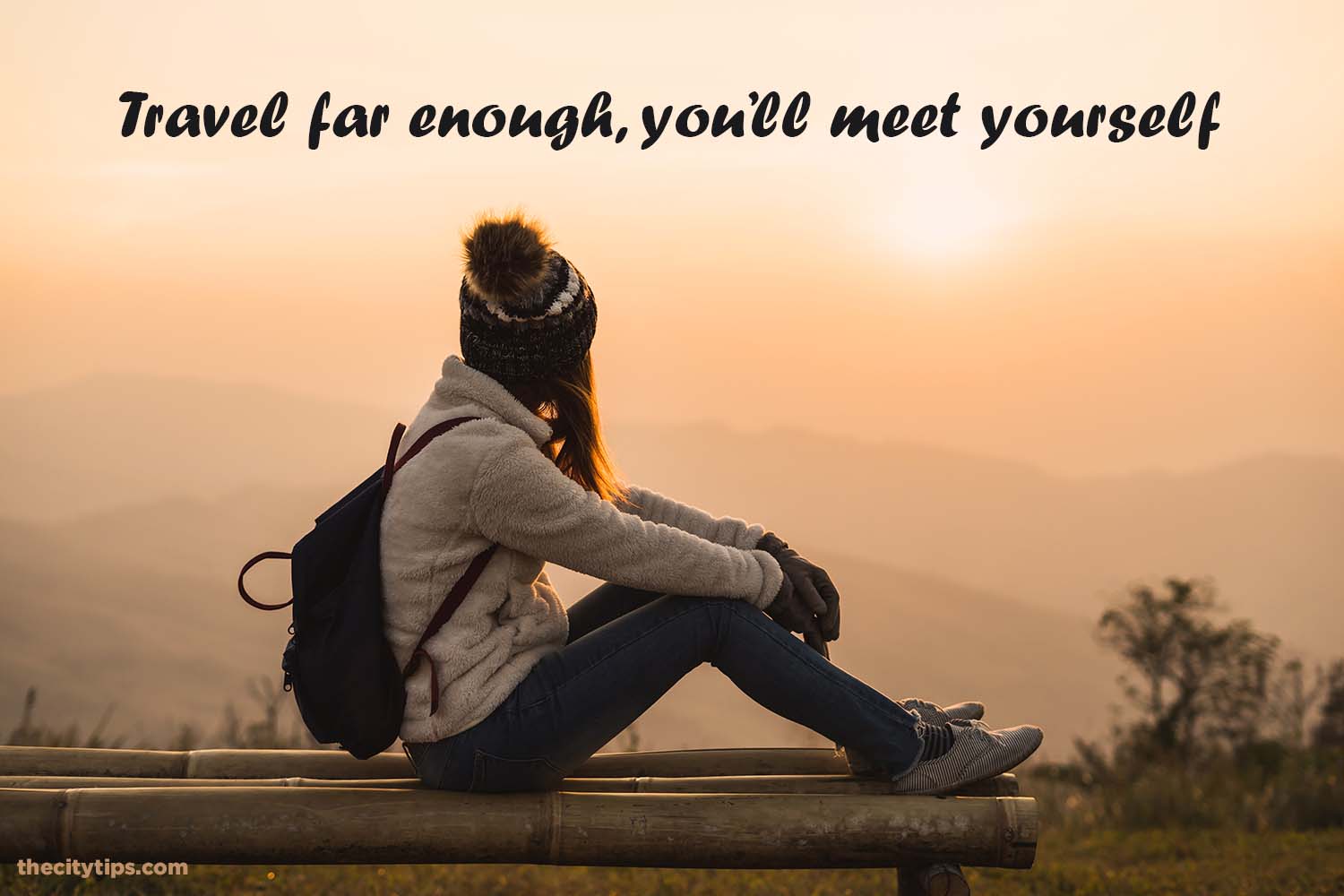 "If you reject the food, ignore the customs, fear the religion, and avoid the people, you might better stay home."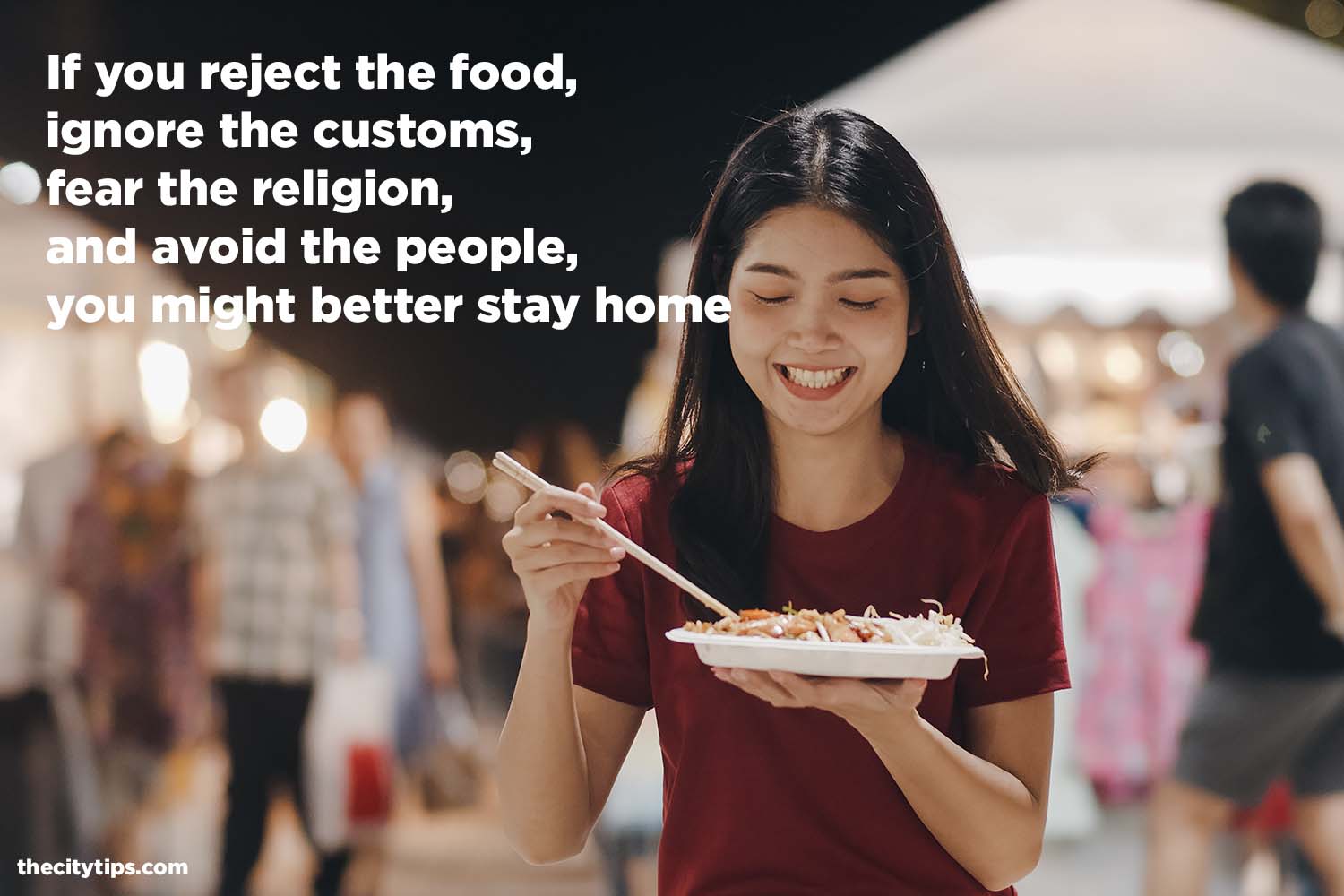 James Michener
"The world is a beautiful place to be explored, one culture at a time." (Unknown)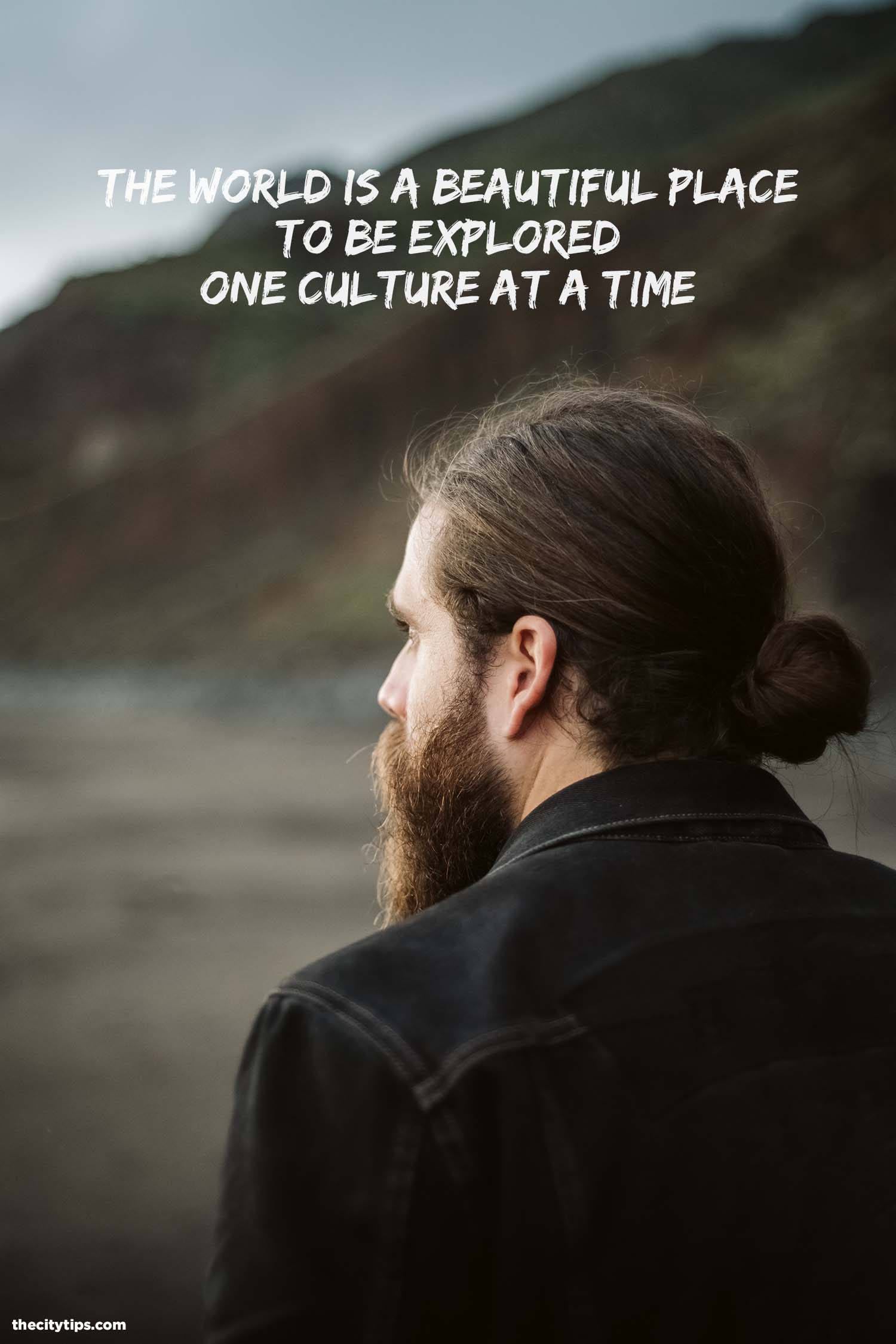 "Travel teaches toleration." (Benjamin Disraeli)
"Travel is fatal to prejudice, bigotry, and narrow-mindedness." (Mark Twain)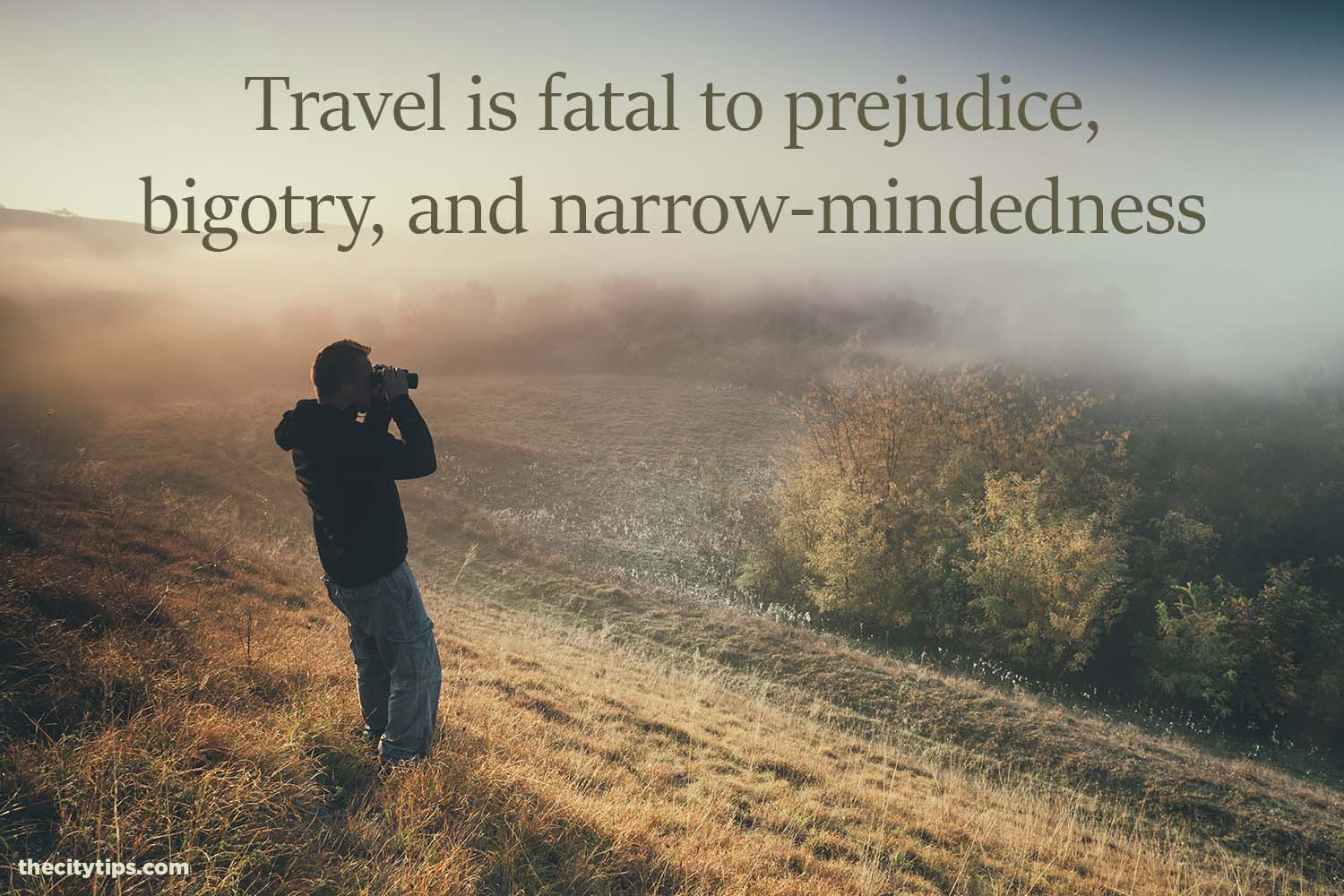 "The gladdest moment in human life, me thinks, is a departure into unknown lands." (Sir Richard Burton)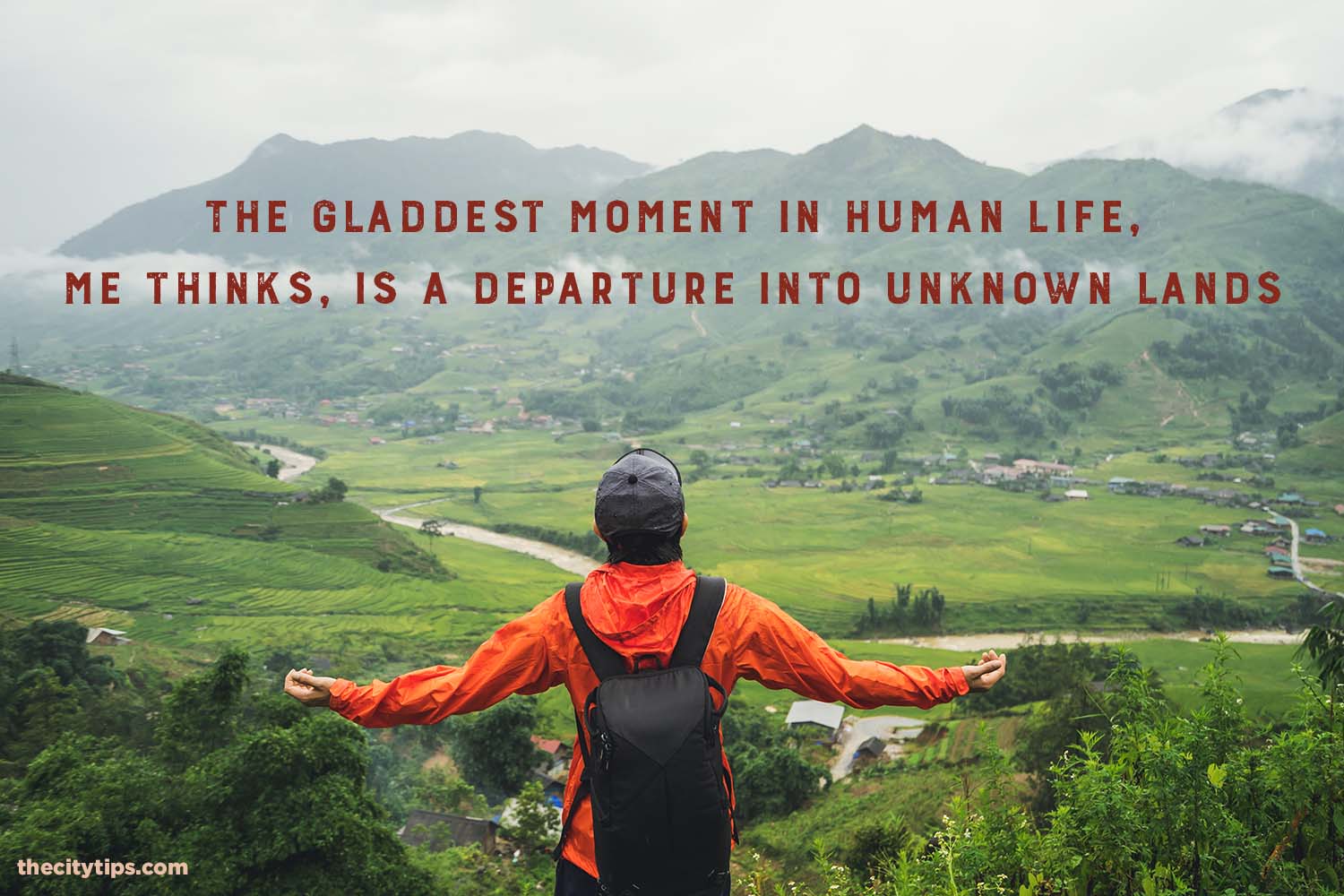 "The traveler sees what he sees. The tourist sees what he has come to see." (G.K. Chesterton)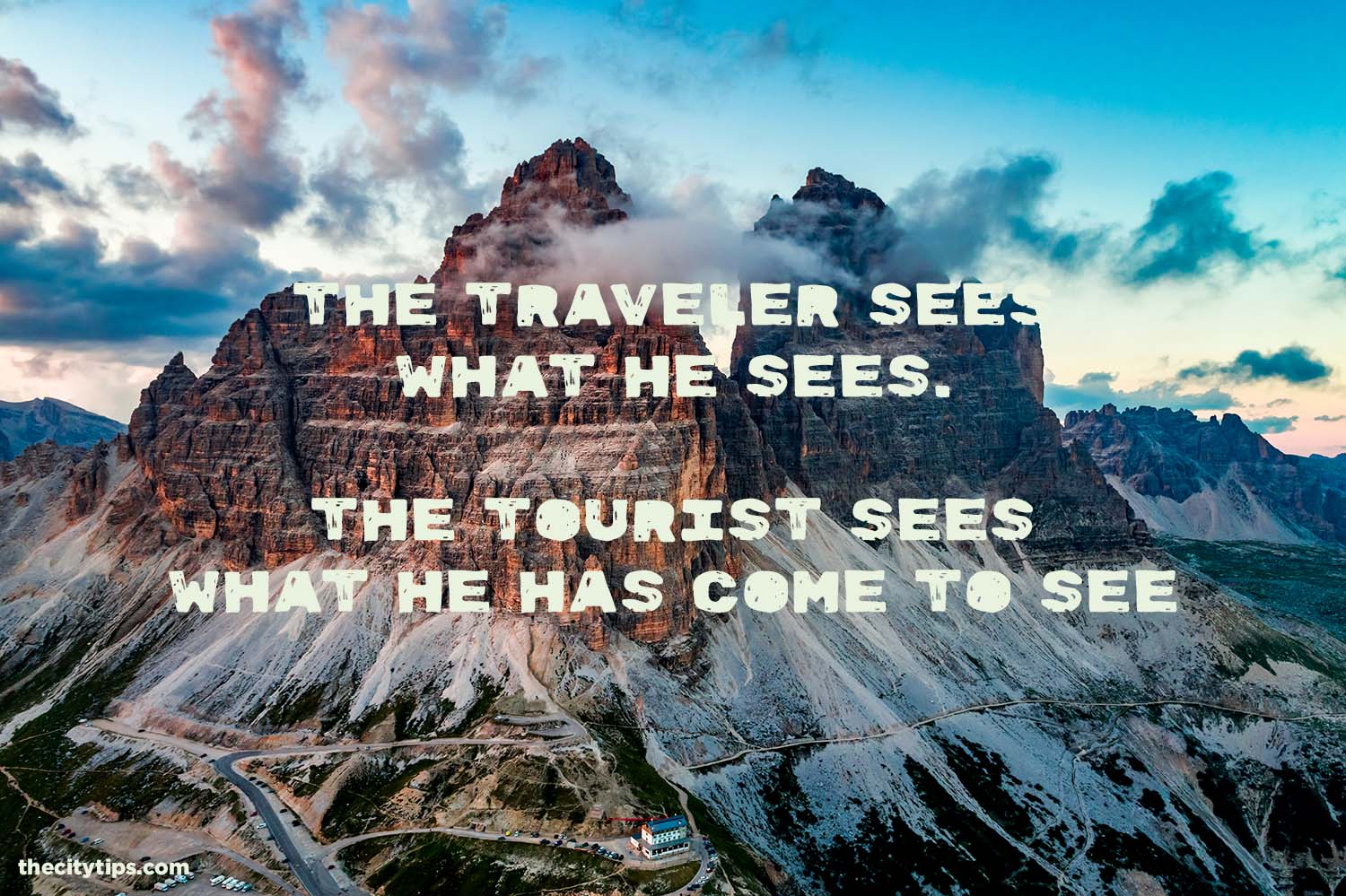 "Travel makes a wise man better, and a fool worse." (Thomas Fuller)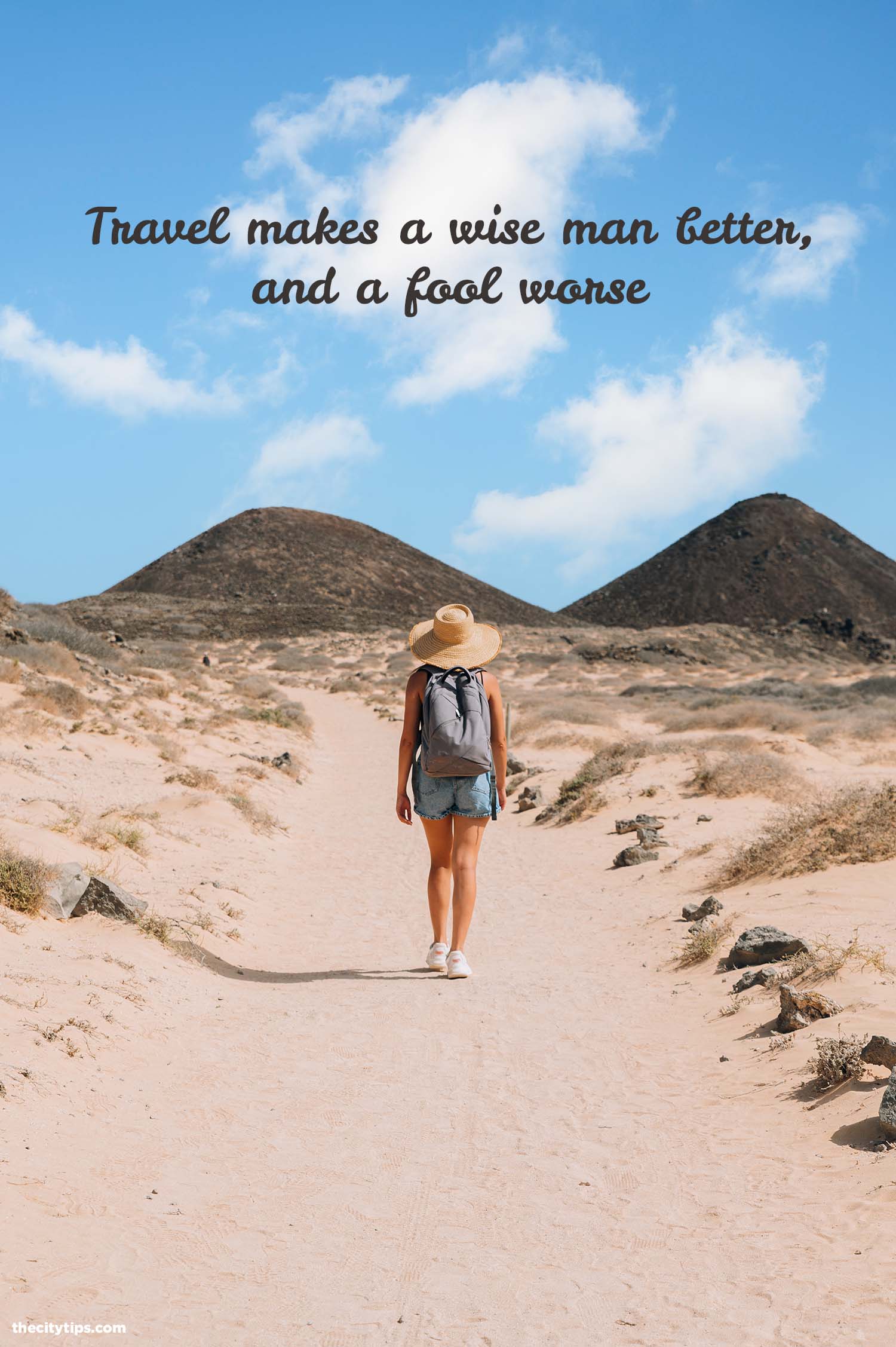 Exploration
We all long for exploration, the thrill of discovery, and the chance to experience something new.
For centuries, travelers have been inspired by quotes about adventure, discovering new places and cultures, as well as embracing unfamiliar environments. These travel quotes capture the joy of exploration like no other, ranging from profound to funny statements that highlight the importance of exploring beyond one's comfort zone.
From stories of personal growth to motivating words from adventurers from around the world, these travel quotes will inspire you to explore and break free from your everyday routine.
So if you are planning an epic trip or just dreaming about it, let these travel quotes be your guide!
"We travel, some of us forever, to seek other states, other lives, other souls." (Anaïs Nin)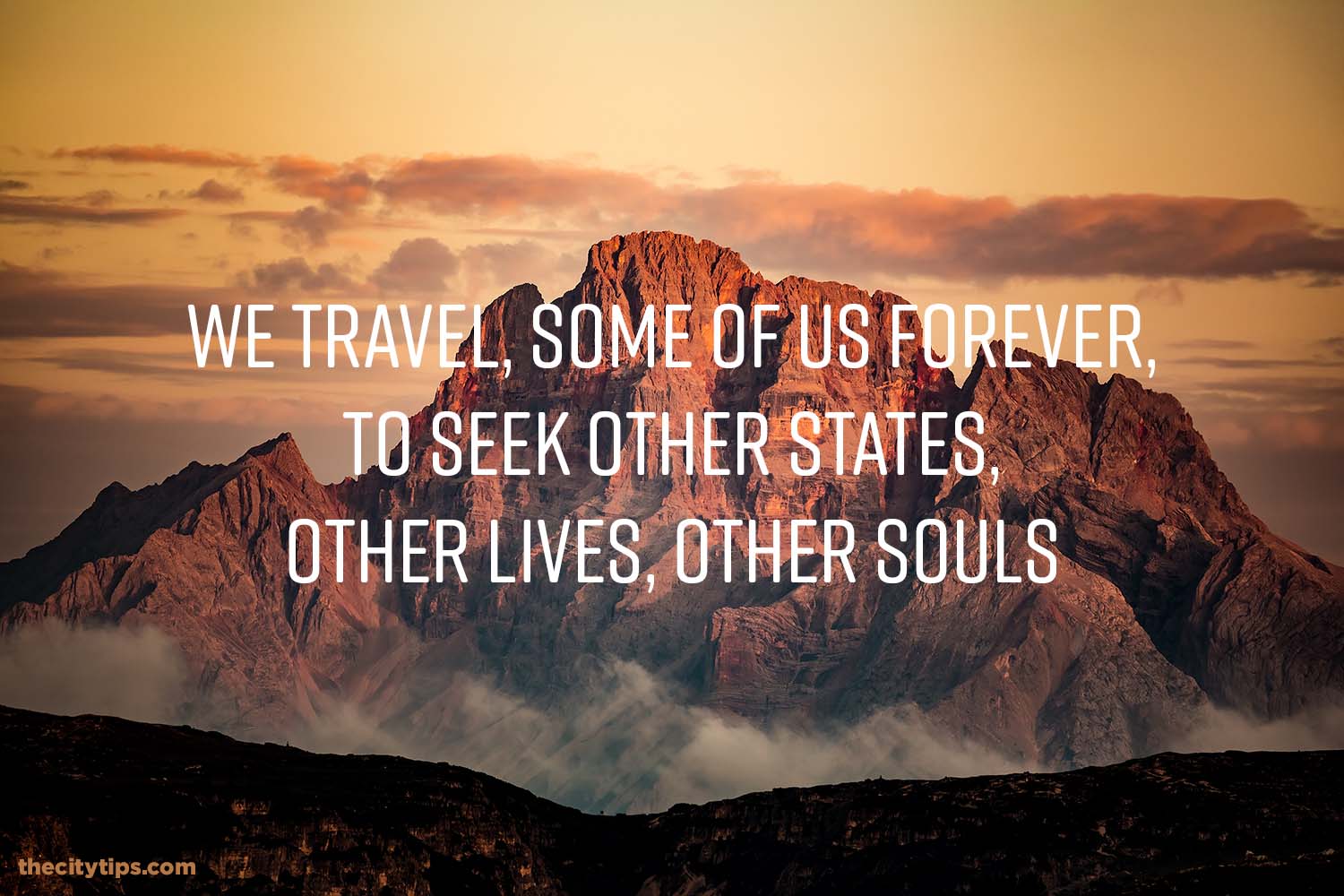 "The world is full of wonderful things you haven't seen yet. Don't ever give up on the chance of seeing them." (J.K. Rowling)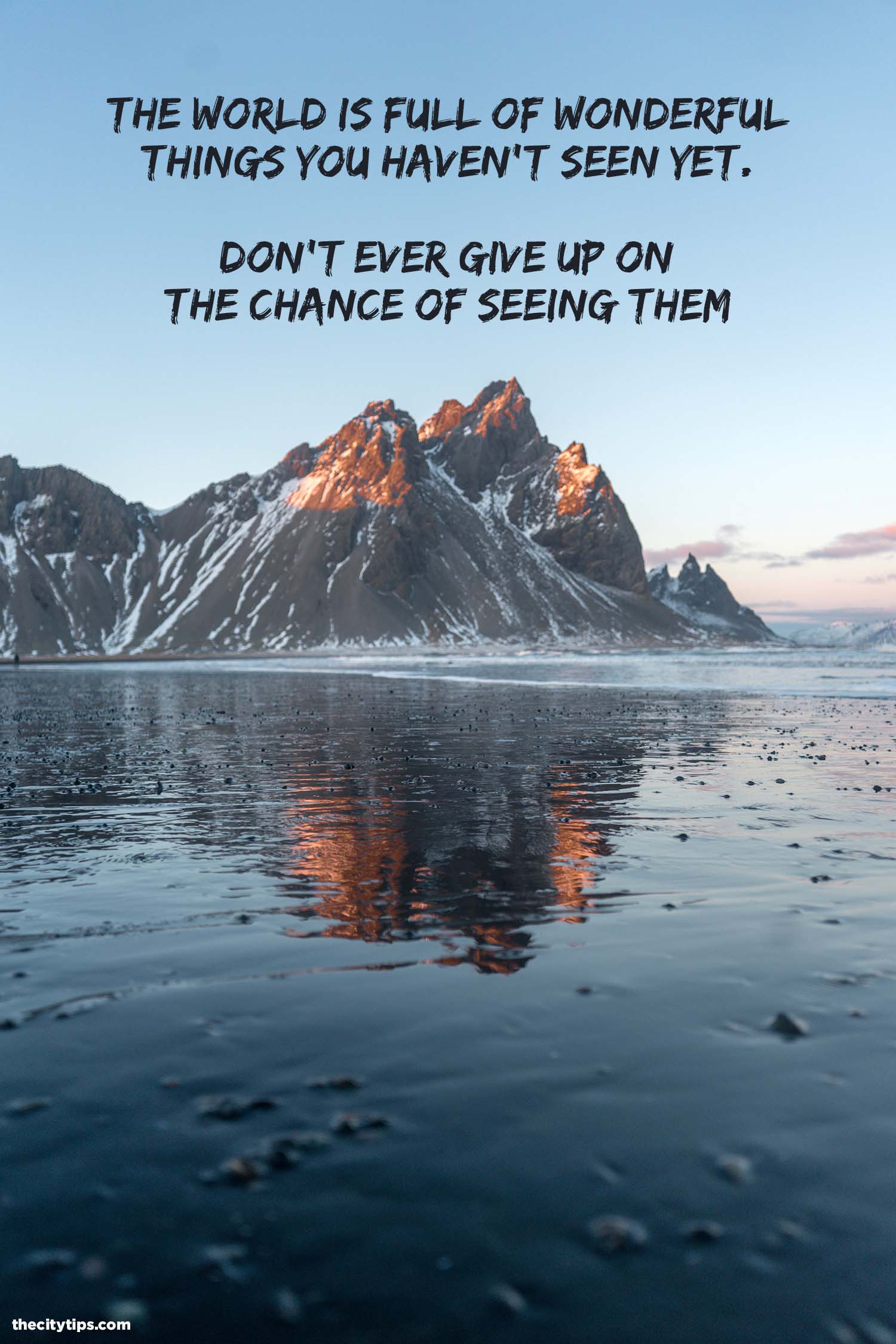 "Exploration is really the essence of the human spirit." (Frank Borman)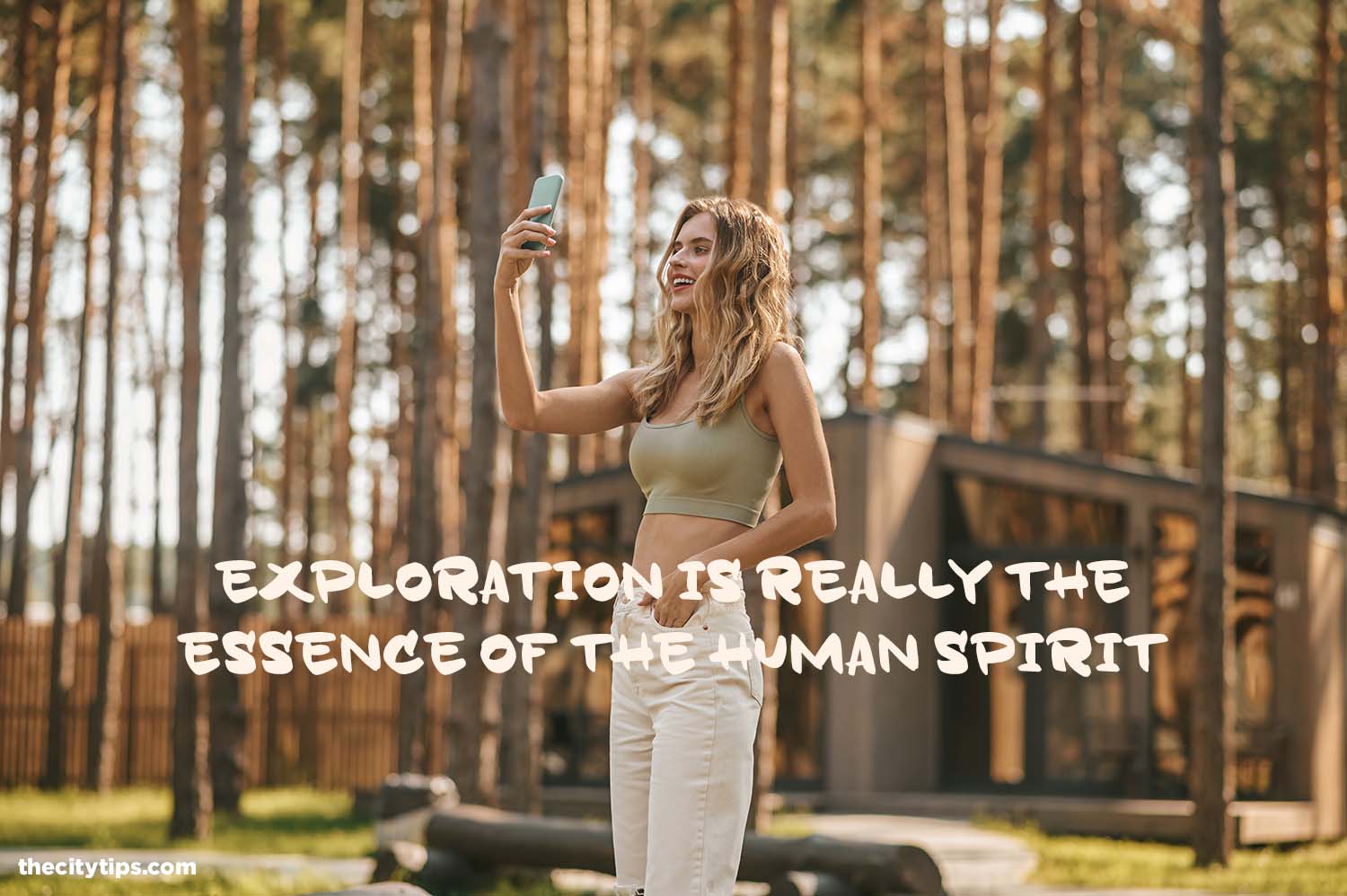 "We travel to find ourselves and sometimes we find ourselves in the airport bar." (Anonymous)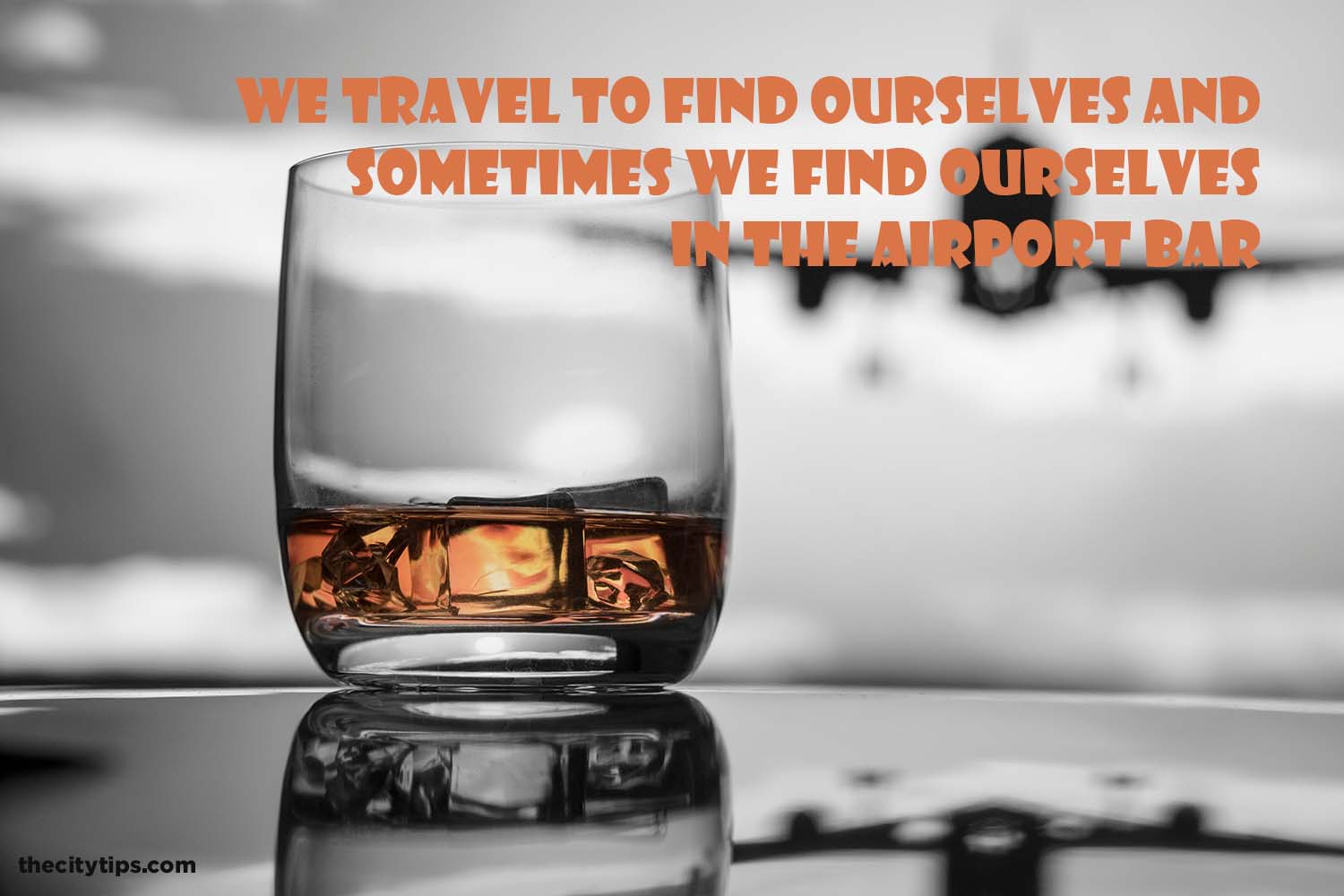 "To travel is to live." (Hans Christian Andersen)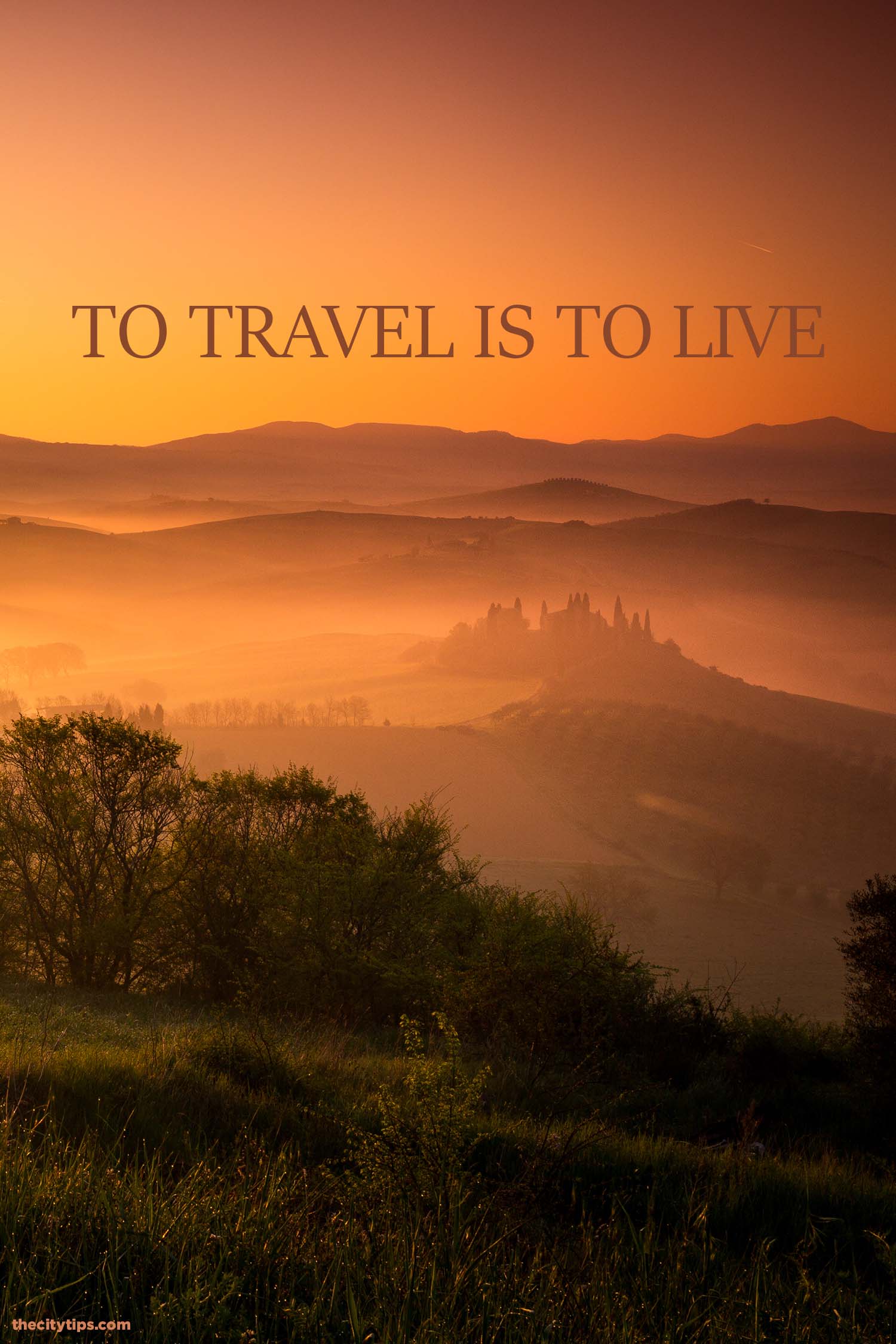 "Life is short and the world is wide." (Unknown)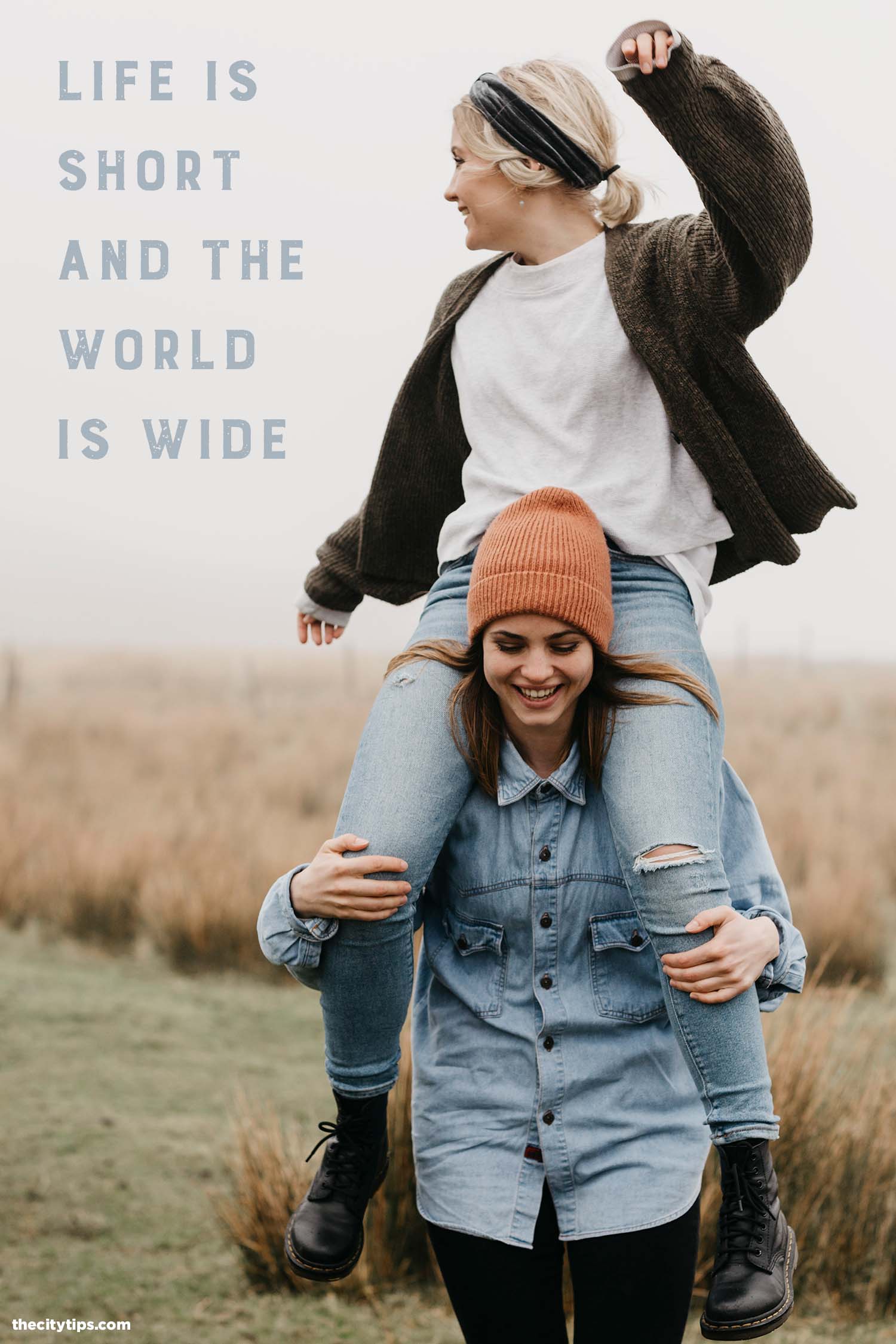 "If you don't know where you're going, any road will take you there." (Lewis Carroll)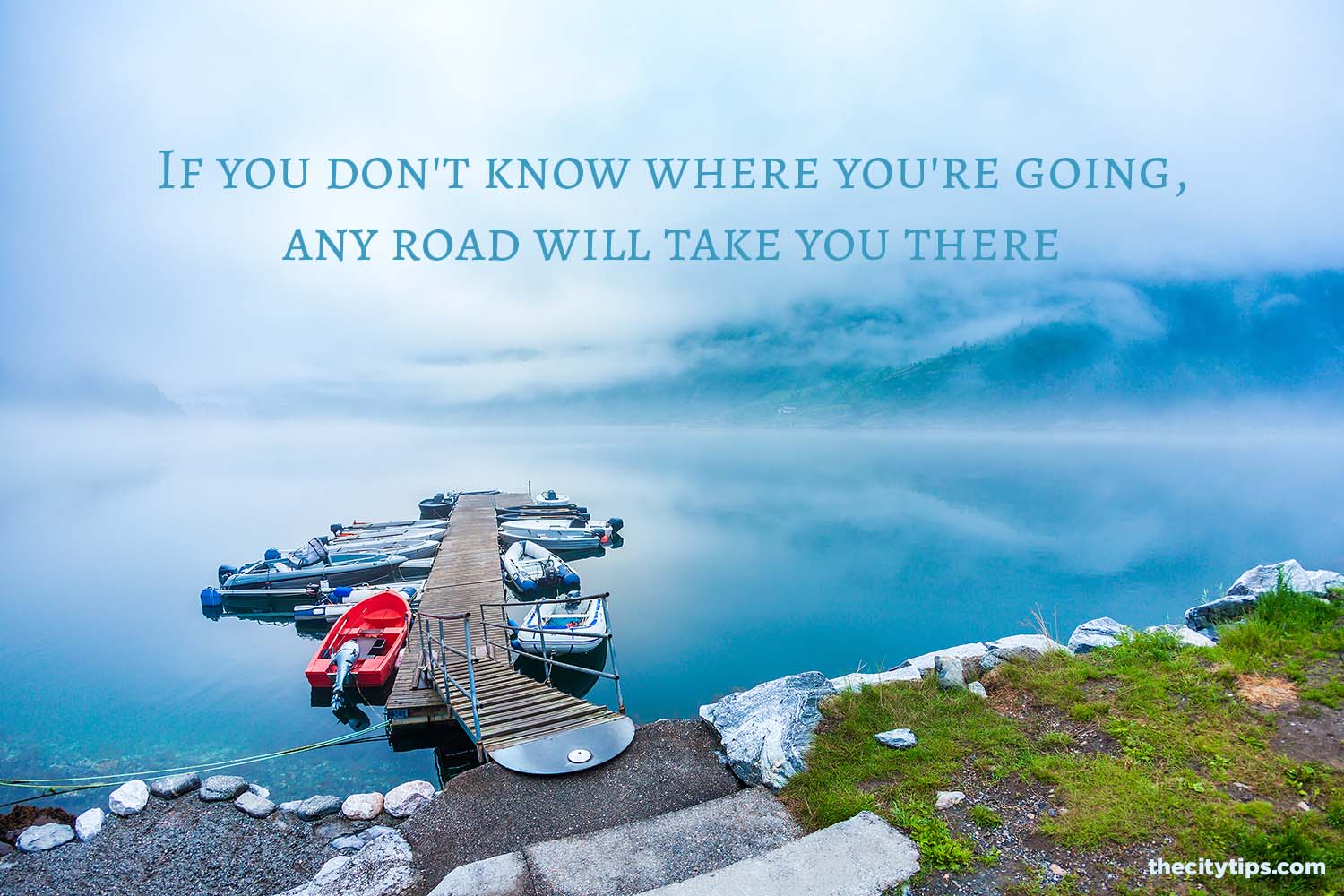 "The journey not the arrival matters." (T.S. Eliot)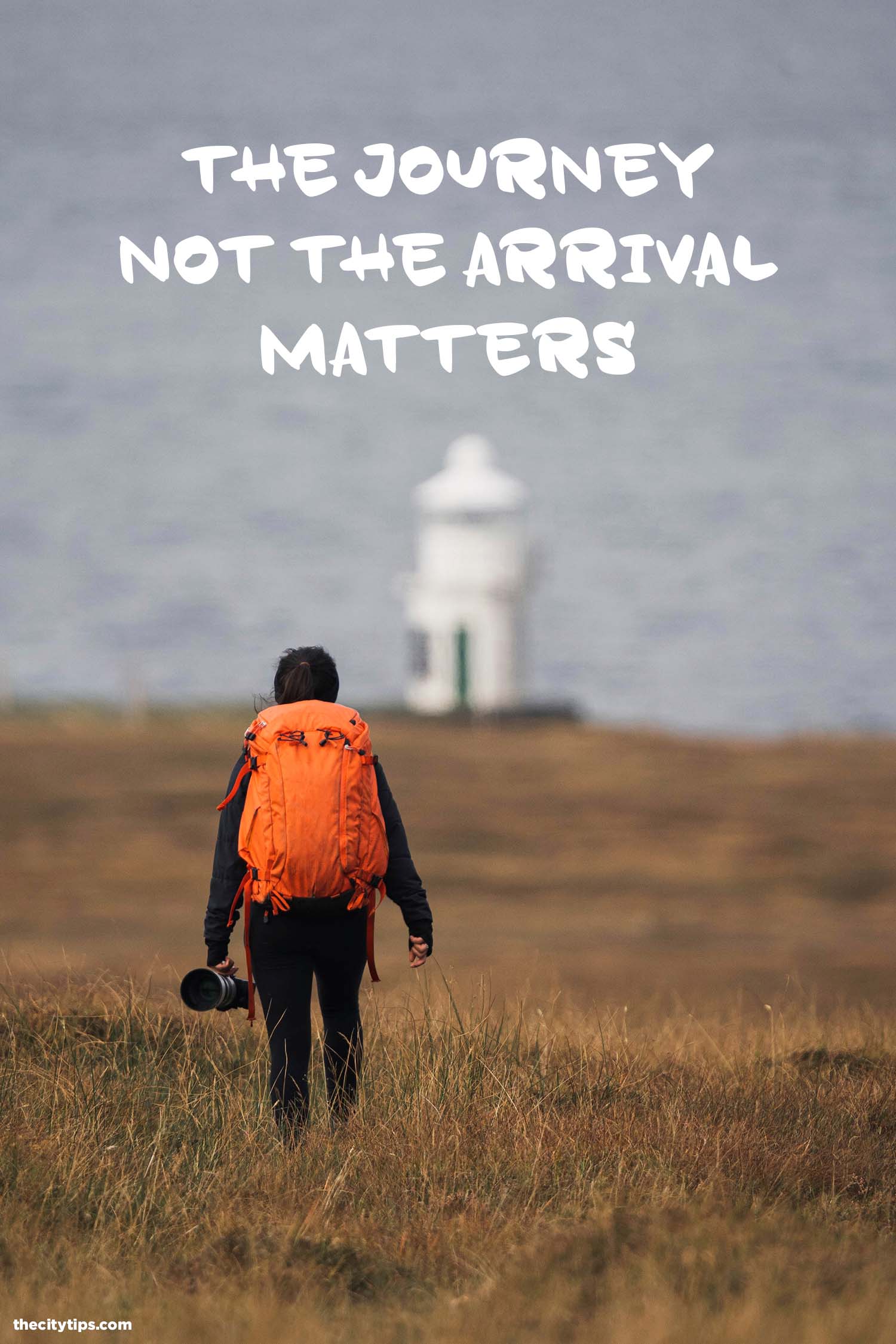 "I am not the same, having seen the moon shine on the other side of the world." (Mary Anne Radmacher)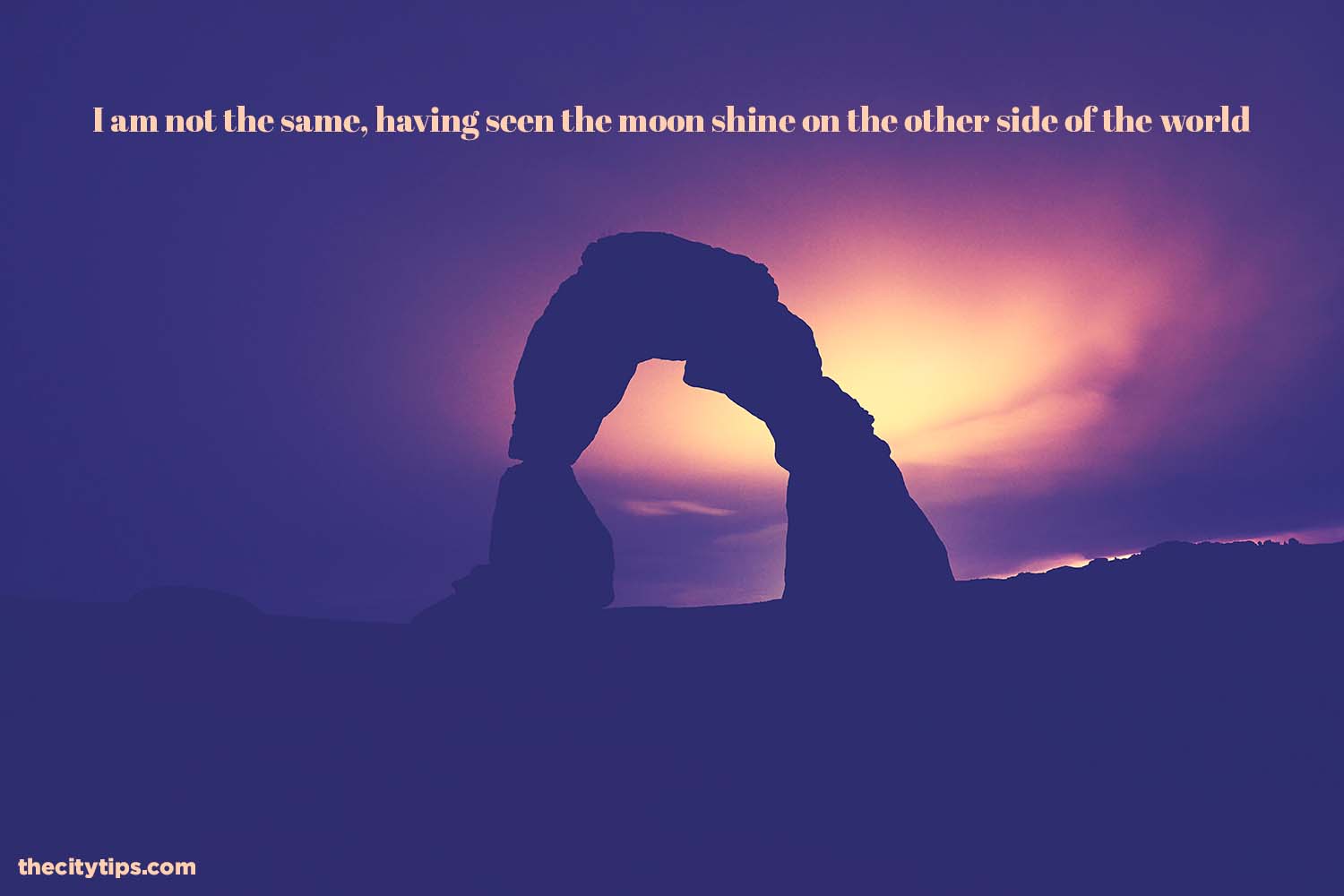 "We travel for romance, we travel for architecture, and we travel to be lost." (Ray Bradbury)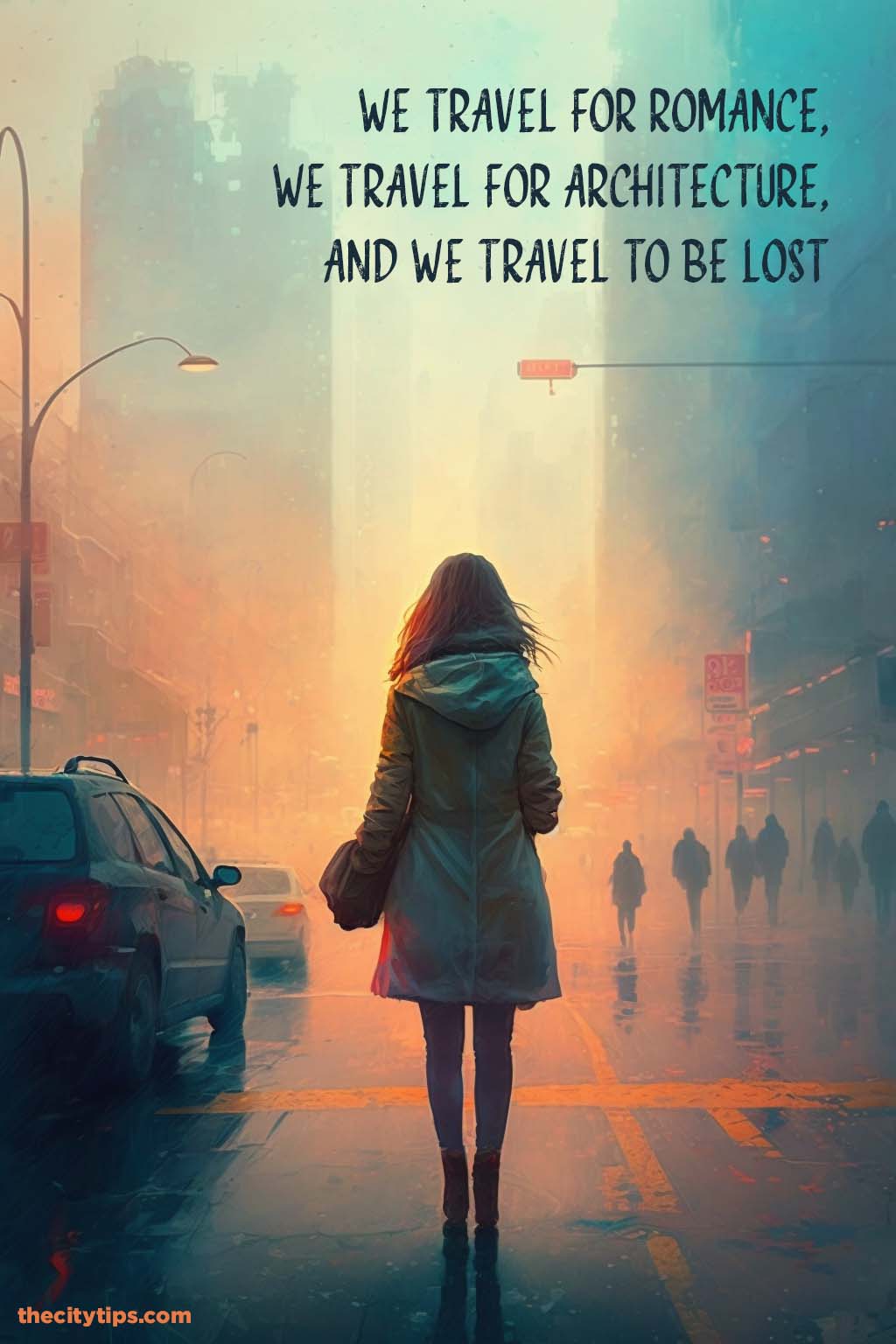 "It's not what you look at that matters, it's what you see." (Henry David Thoreau)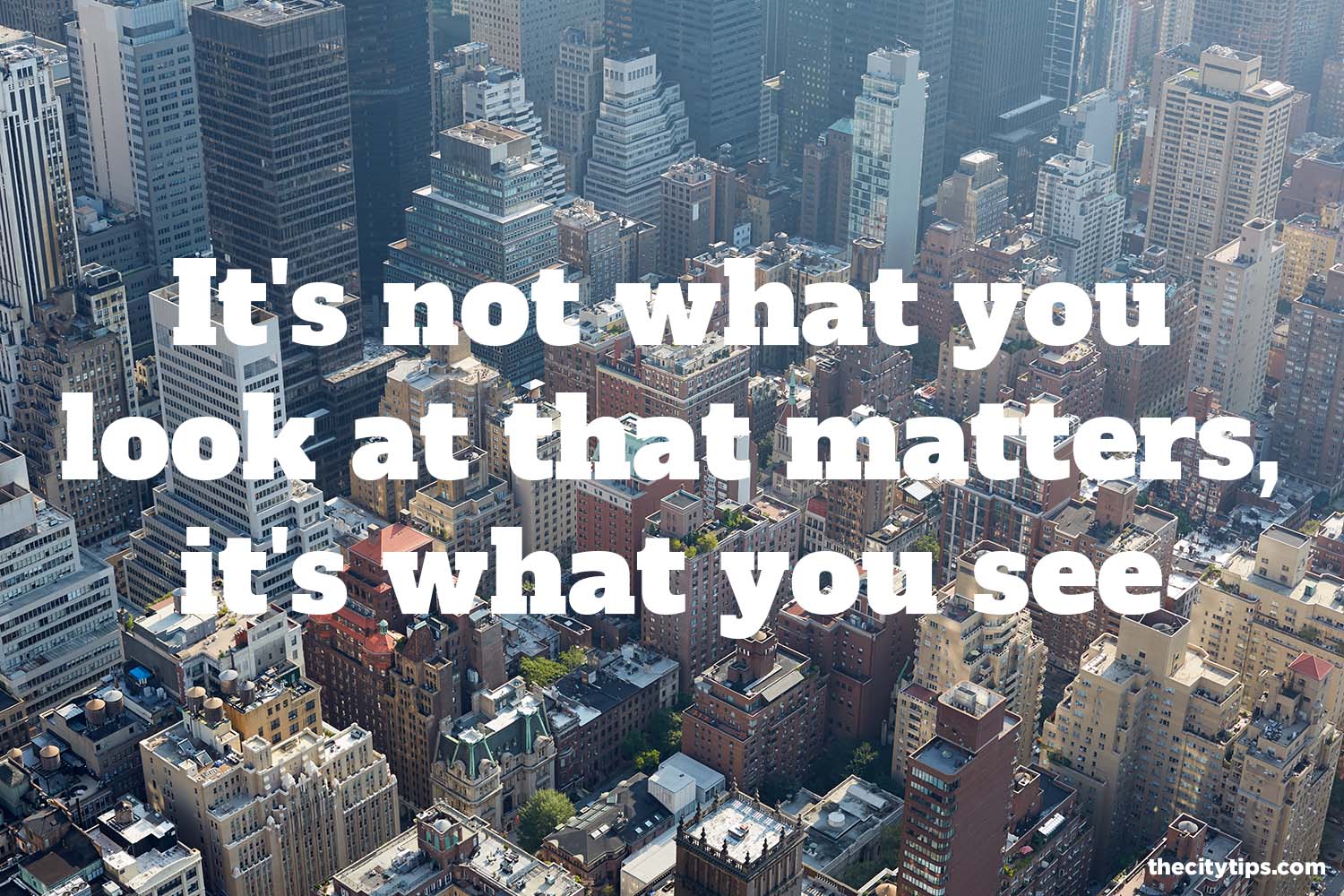 "Life is an adventure, it's not a package tour." (Eckhart Tolle)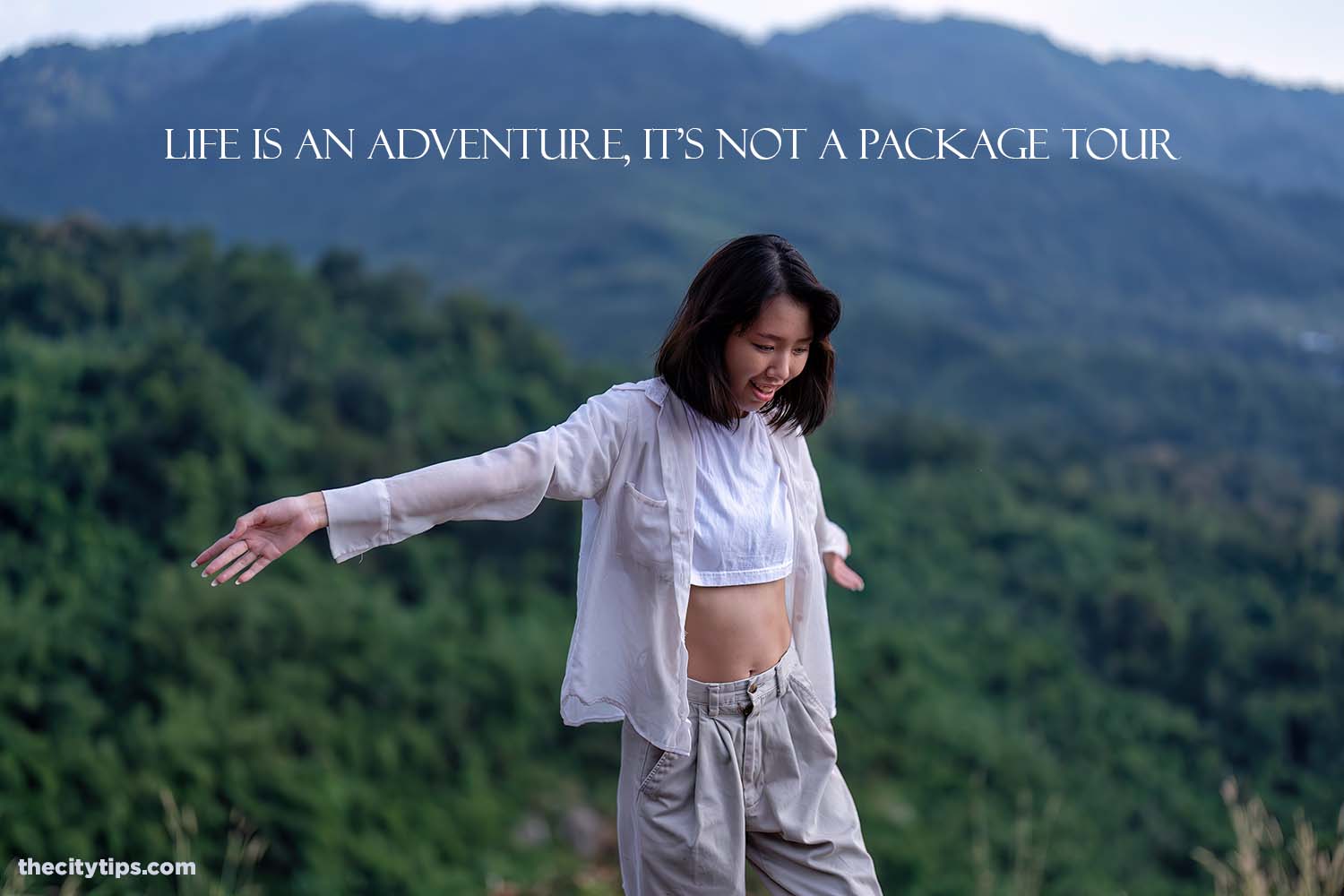 "Every exit is an entry somewhere else." (Tom Stoppard)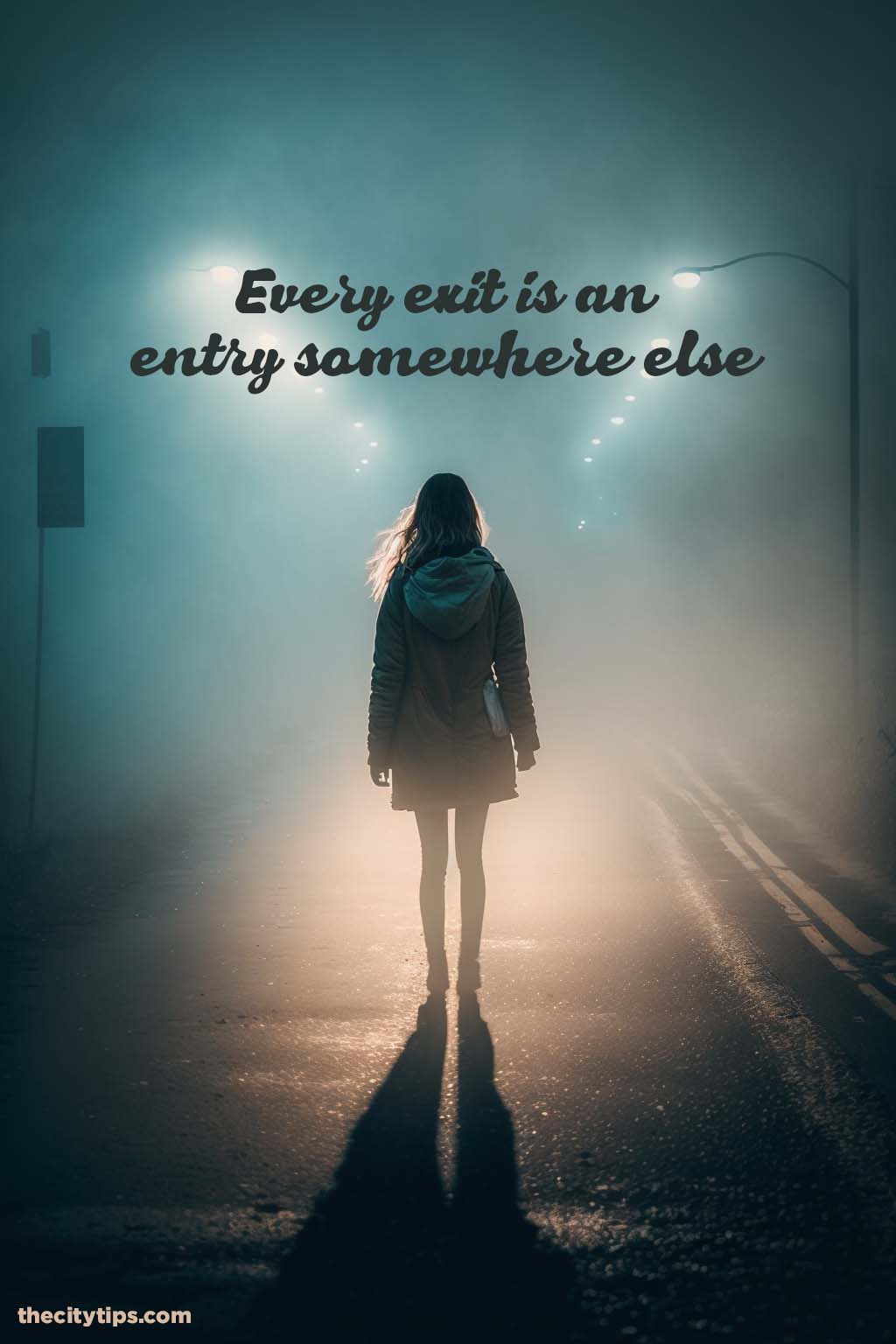 "The pleasure we derive from journeys is perhaps dependent more on the mindset with which we travel than on the destination we travel to." (Alain de Botton)
Freedom
Traveling has the power to free us from everyday monotony, unlocking an escape route from our mundane lives while allowing us to fully experience the joy and limitless potential of life.
Whether it's a long trip overseas or a staycation in your own city, travel brings with it an unparalleled sense of liberation and freedom. From experiencing different cultures to breaking away from societal expectations and standards, traveling can be a transformative experience that offers us all something unique.
For those who love to explore and discover, quotes celebrating this freedom can serve as inspiring reminders of why travel is so special. Read on for a selection of quotes that celebrate the joys of embracing freedom through travel.
"The world is a playground, and life is pushing my swing." (Natalie Kocsis)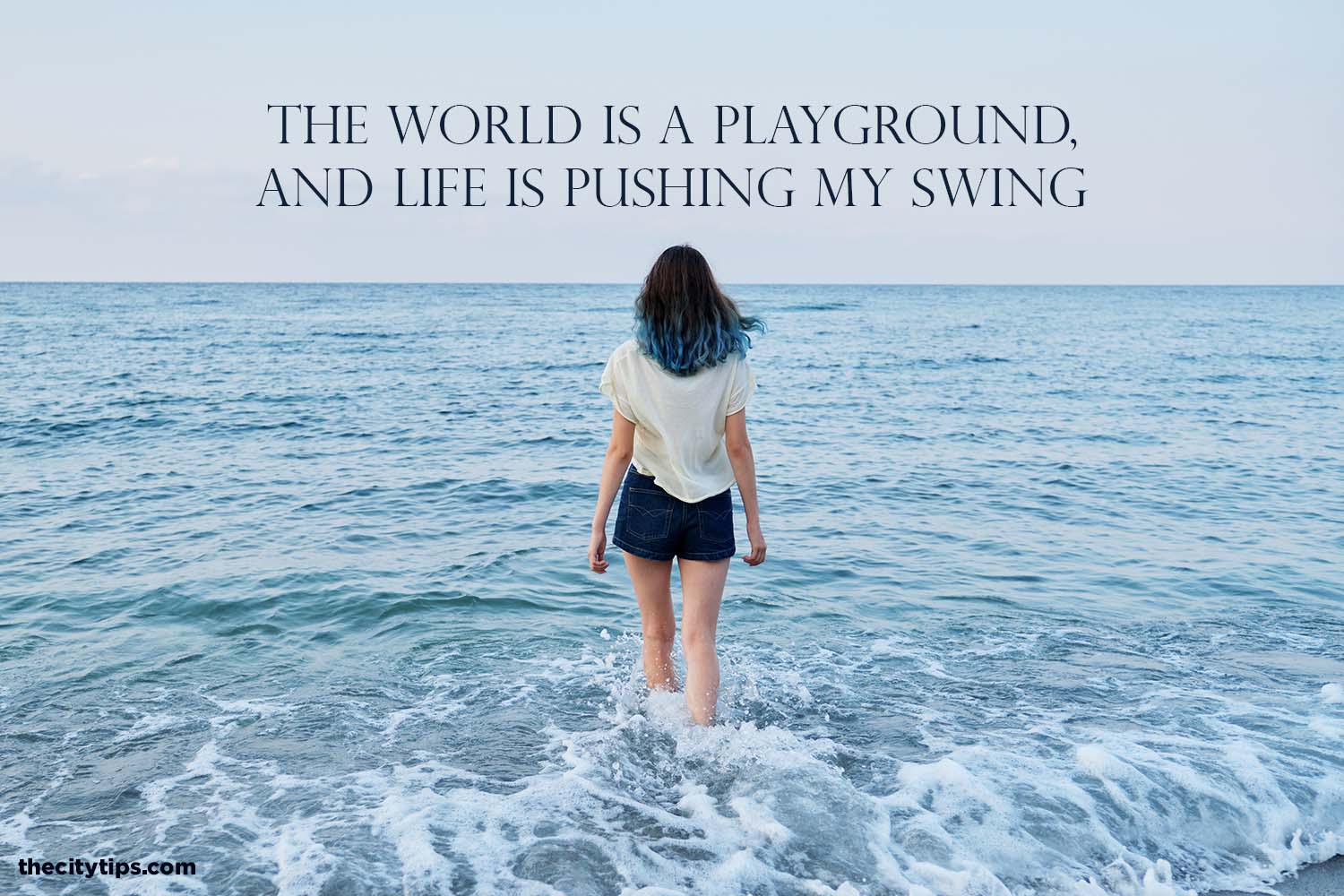 "Not all who wander are lost." (J.R.R. Tolkien)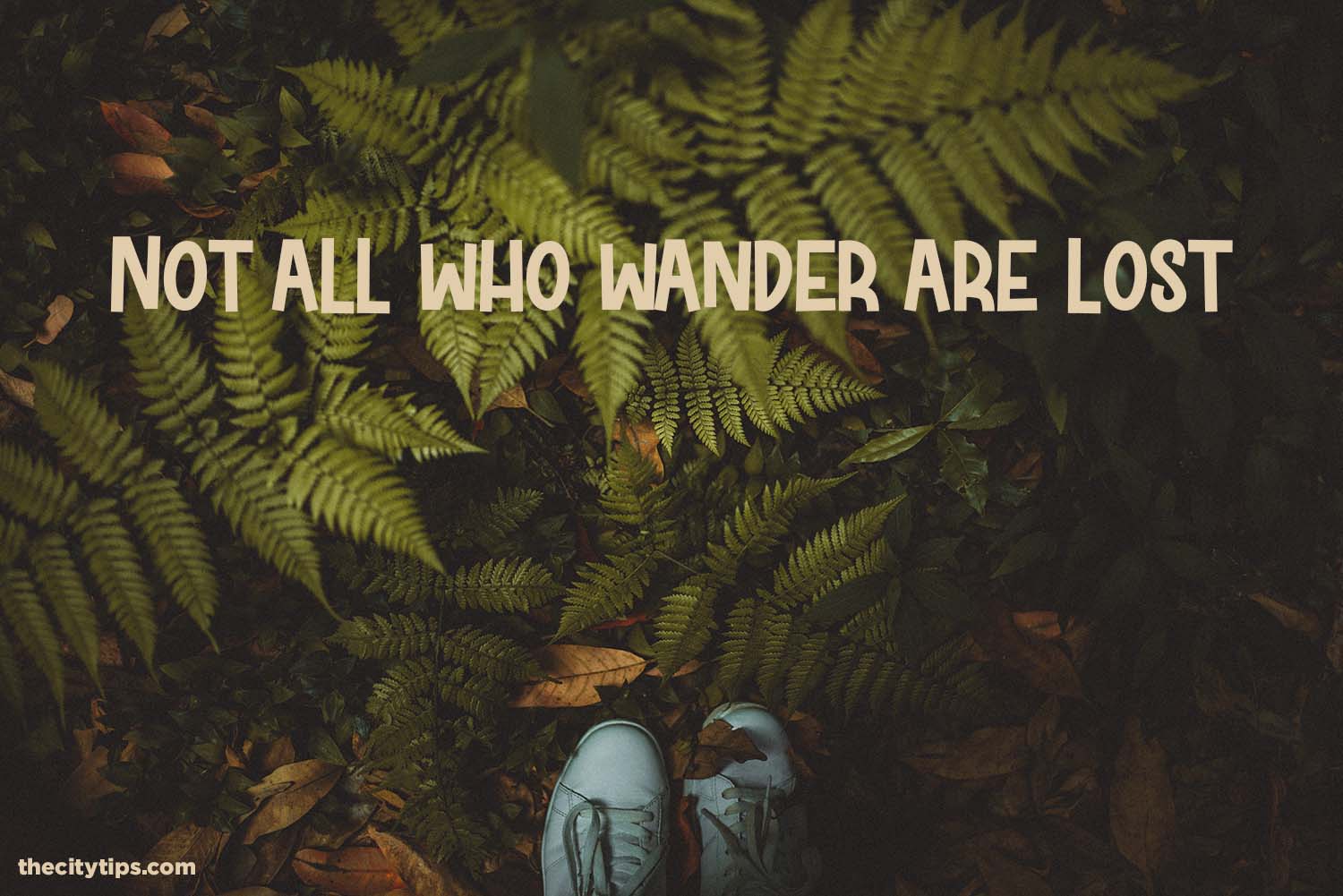 "Traveling is a way to find freedom and escape from the monotony of daily life." (Anonymous)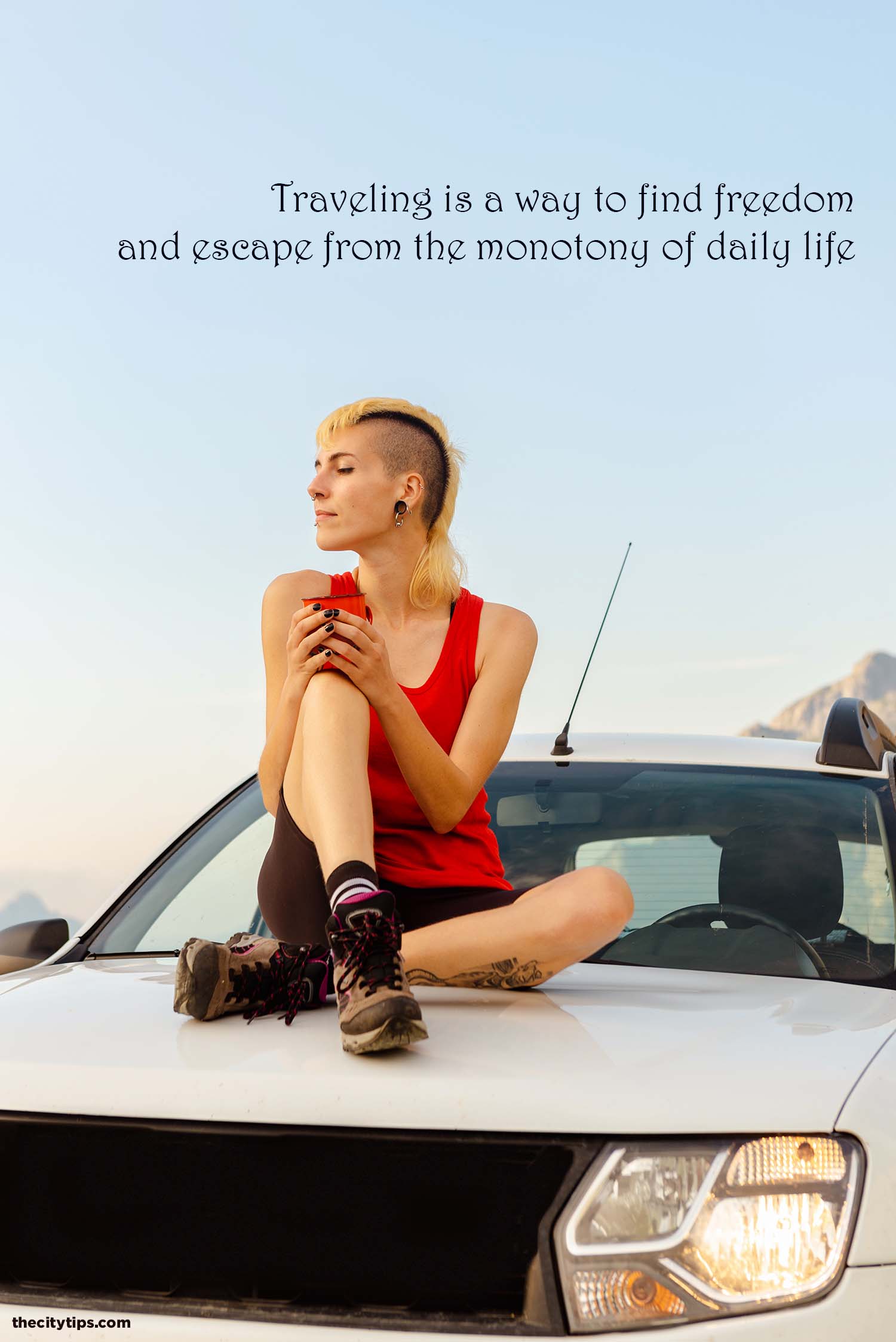 "To awaken quite alone in a strange town is one of the pleasantest sensations in the world." (Freya Stark)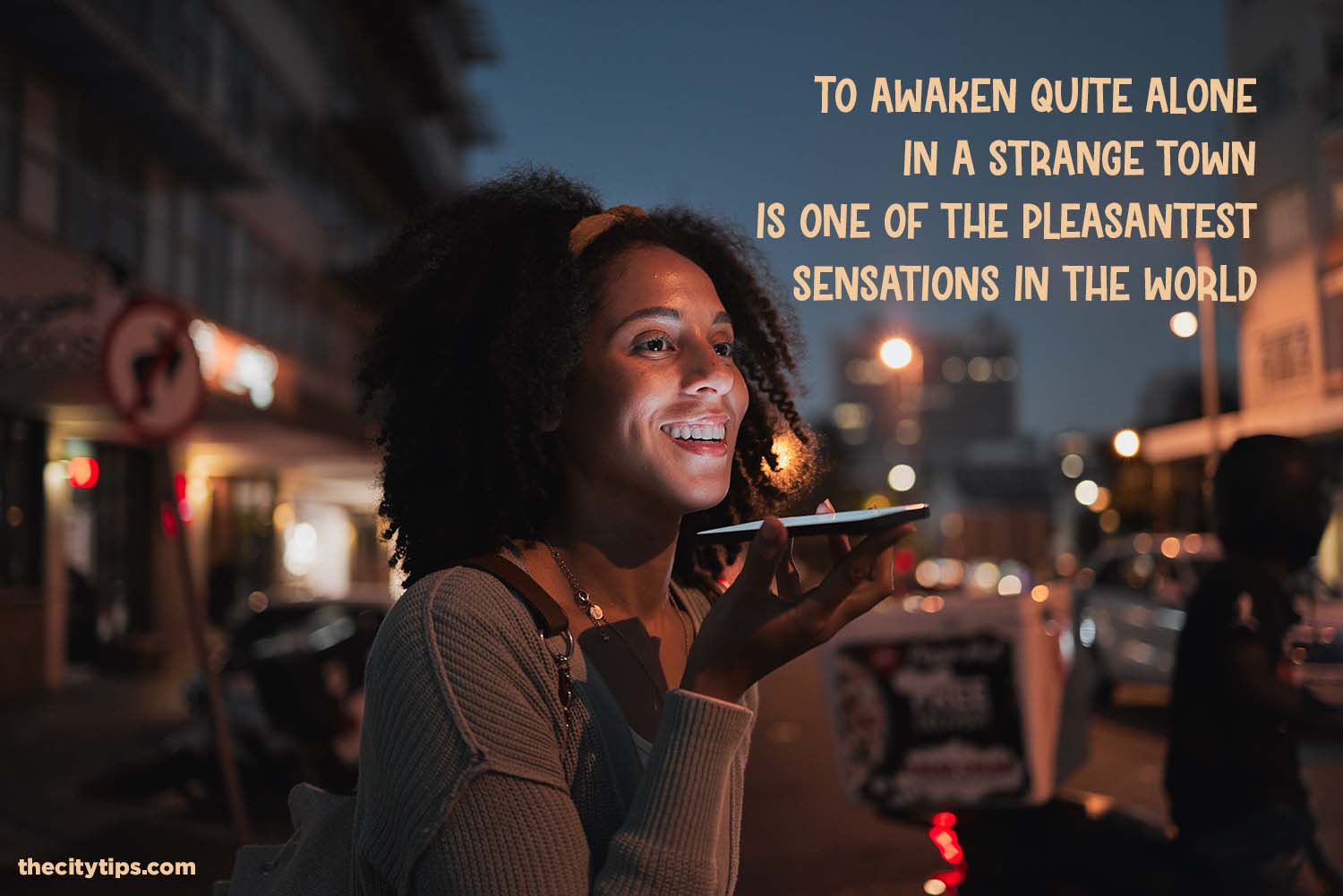 "Travel is the ultimate freedom." (Anonymous)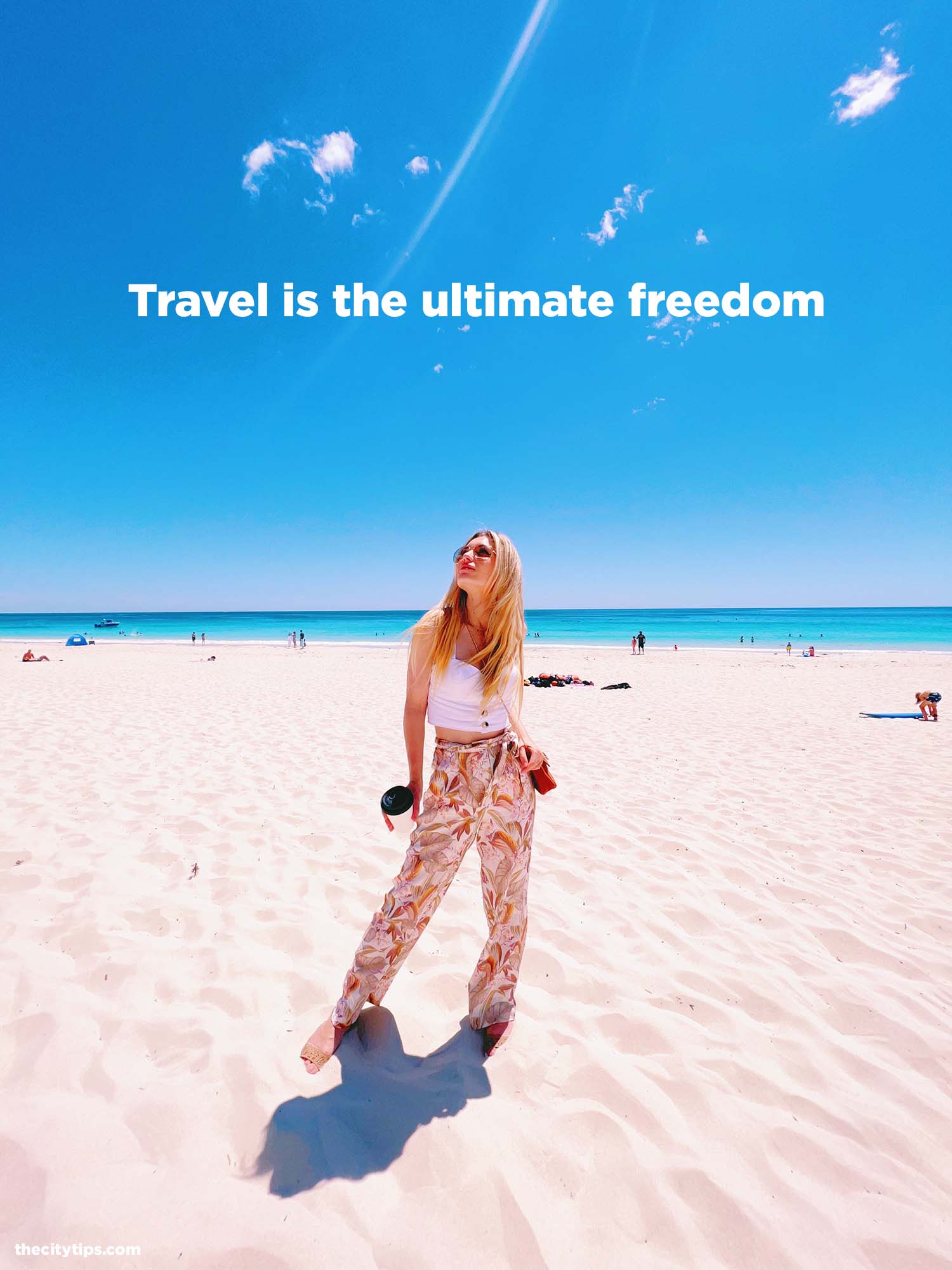 "The desire to be free is a strong motivator for travel." (Anonymous)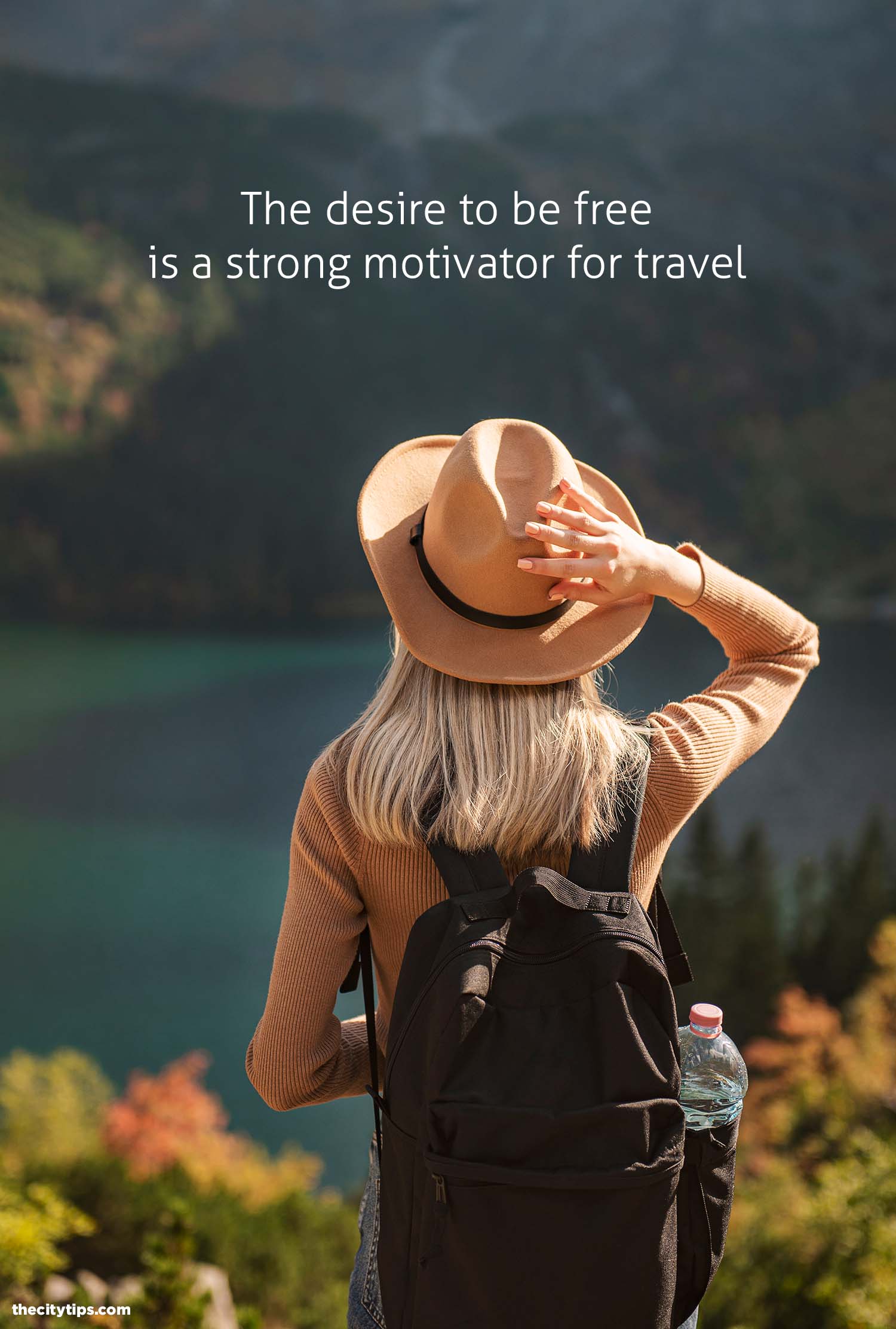 "The world is a big place, and travel gives us the freedom to explore it." (Anonymous)
"Traveling is a way to break free from the constraints of everyday life and discover new horizons." (Anonymous)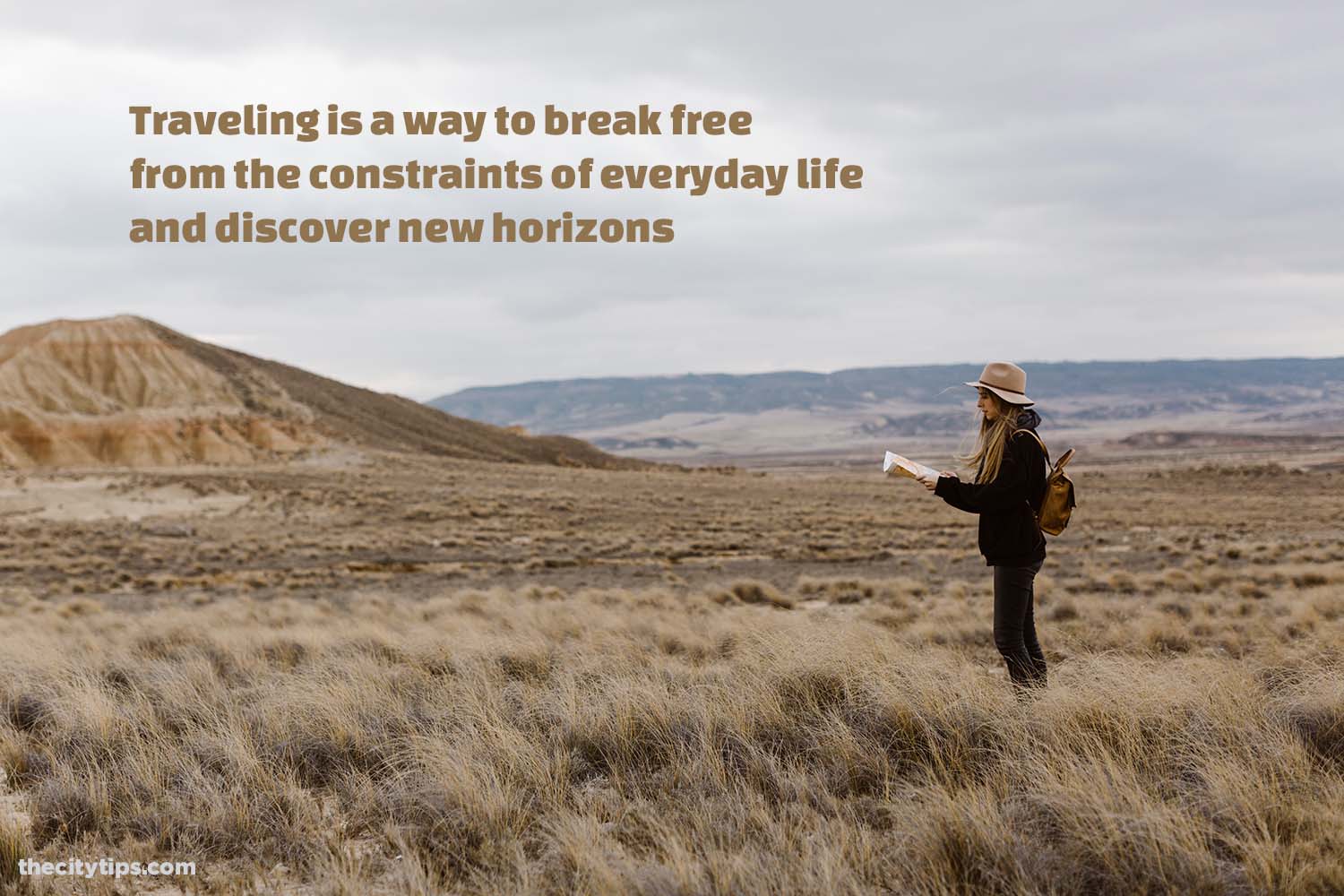 "Travel is the only thing you can spend money on that will make you richer." (Anonymous)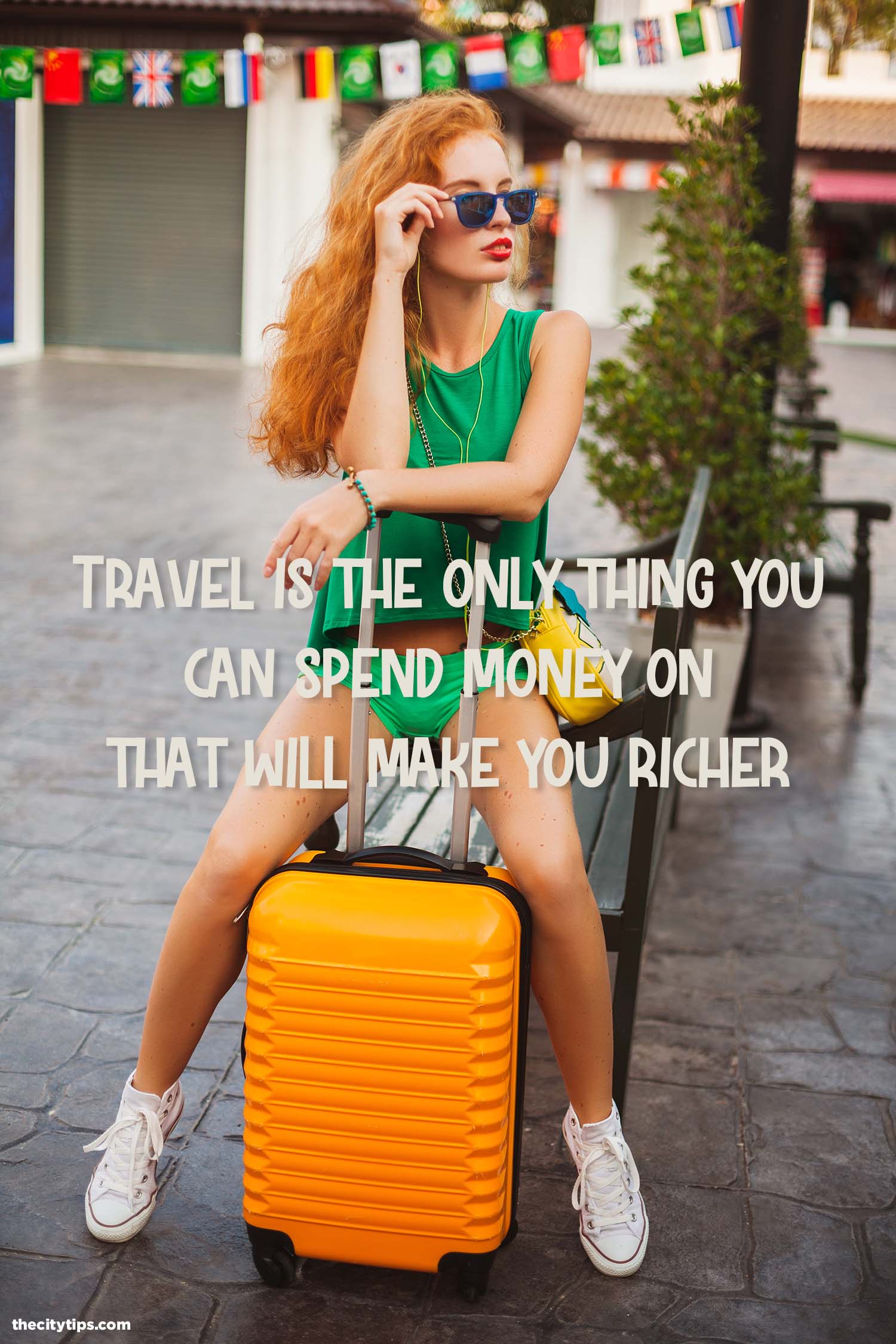 "Travel is the ultimate form of freedom because it allows you to be whoever you want to be." (Anonymous)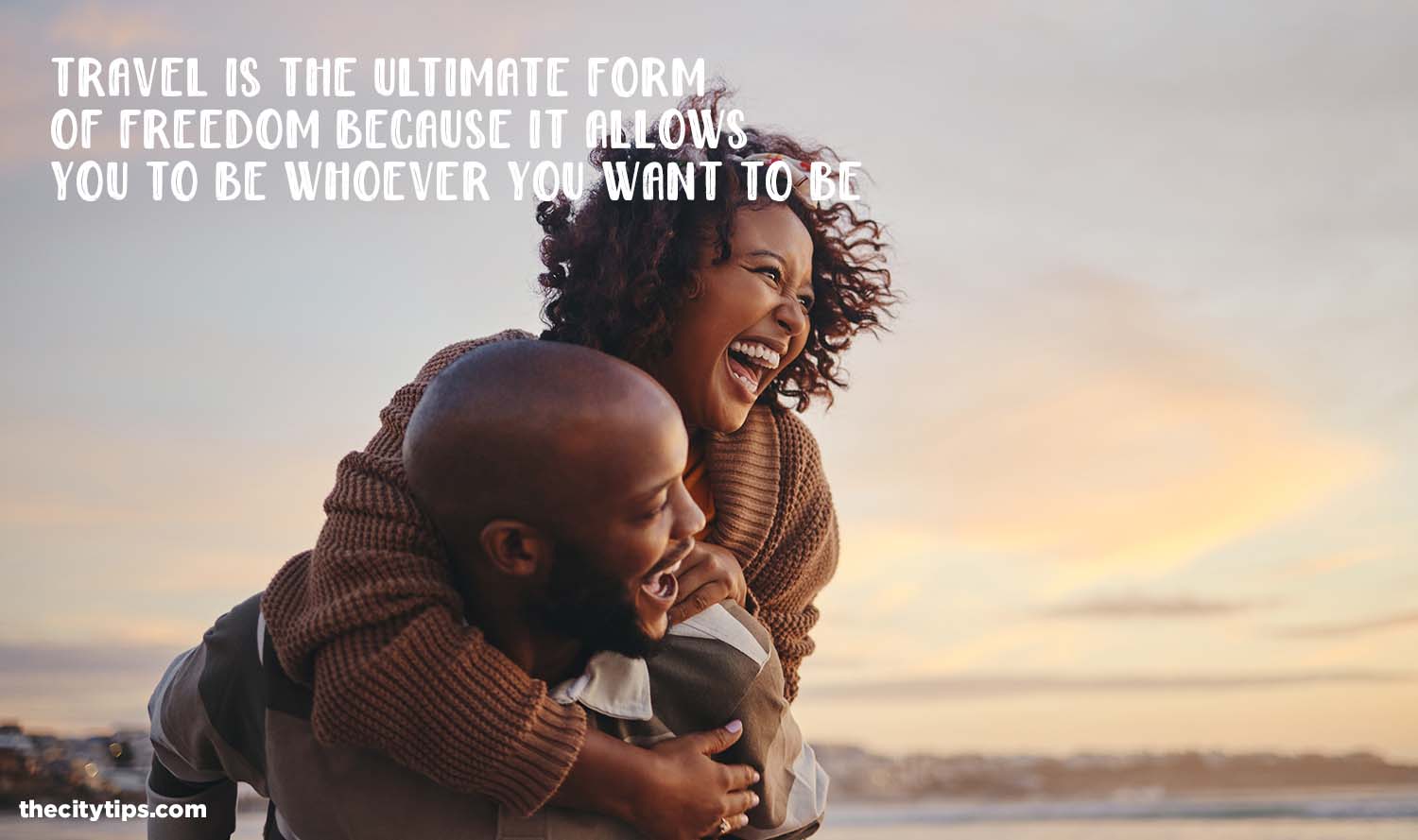 "Traveling is like breathing, it gives me the freedom to live." (Anonymous)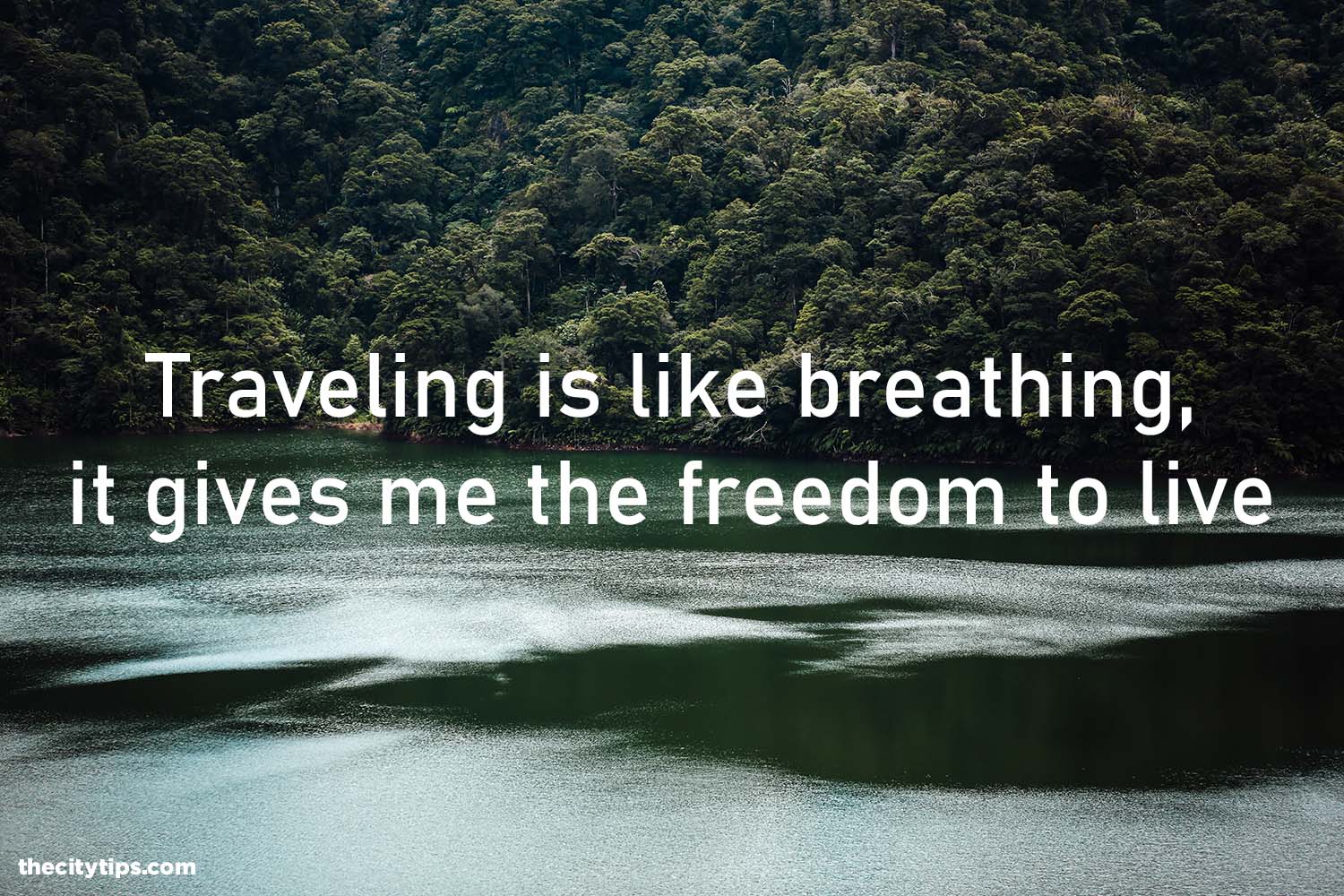 "Travel is the key to freedom and the gateway to adventure." (Anonymous)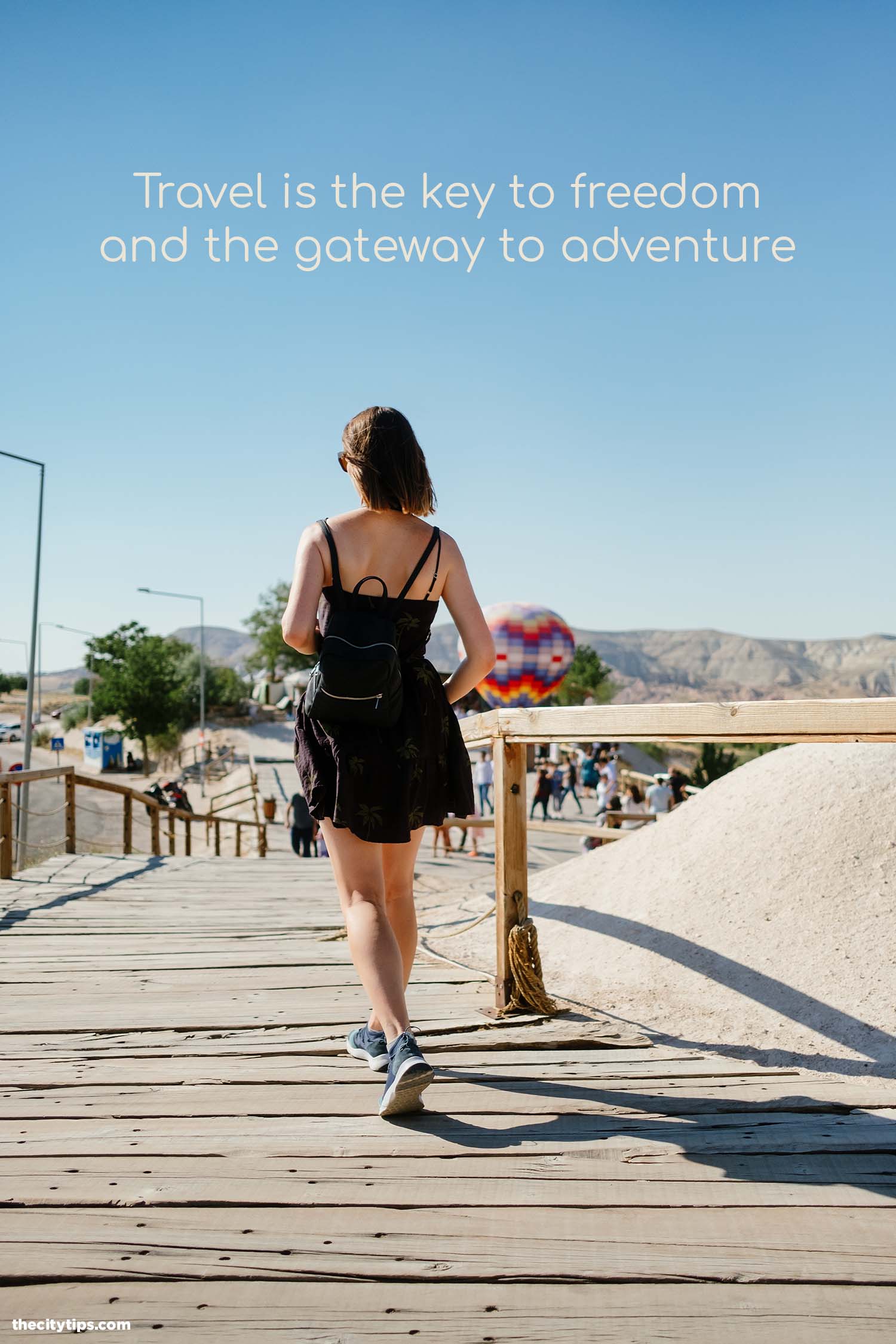 "Traveling is the ultimate way to gain perspective and freedom in life." (Anonymous)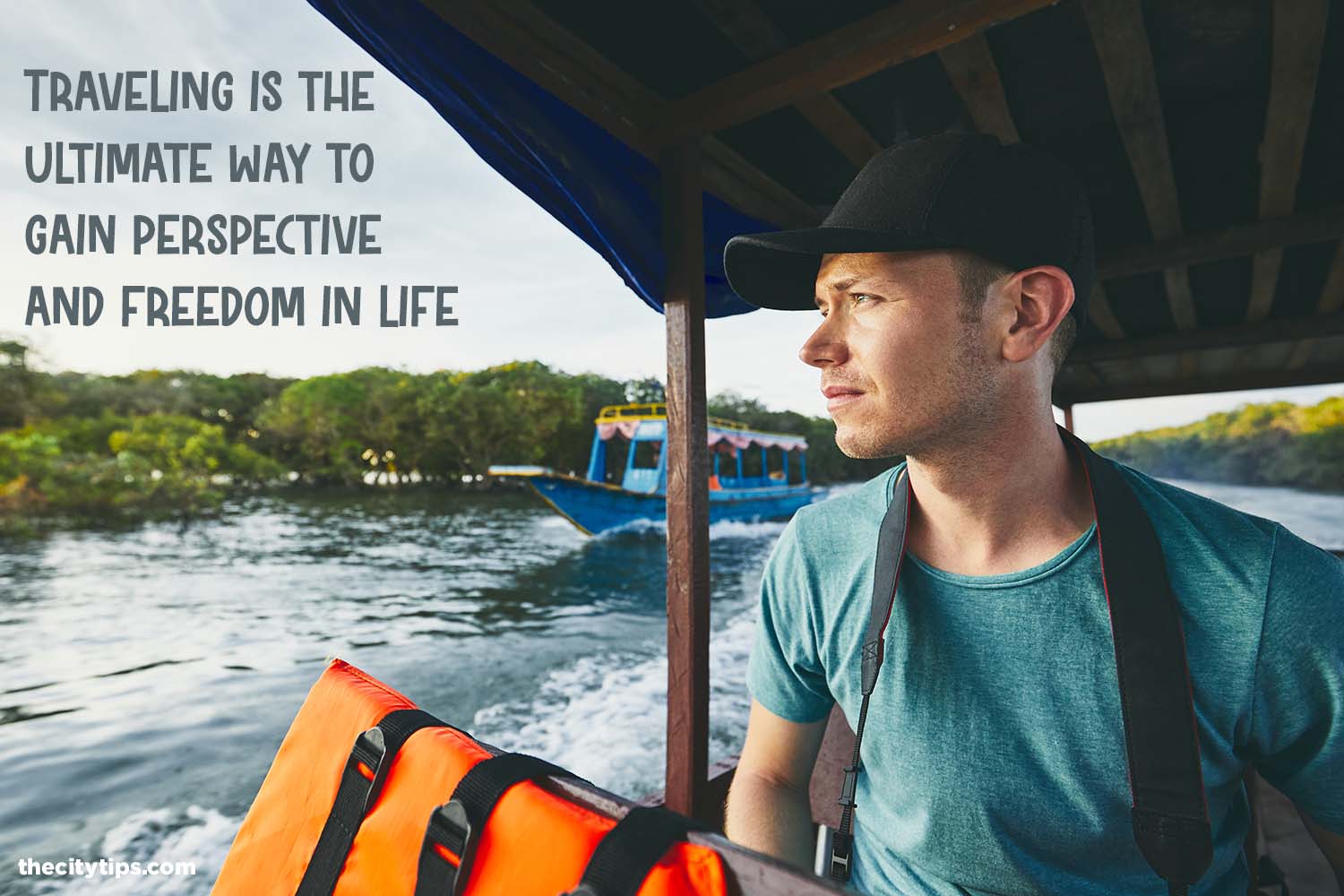 "Traveling is a way to escape the routine and experience true freedom." (Anonymous)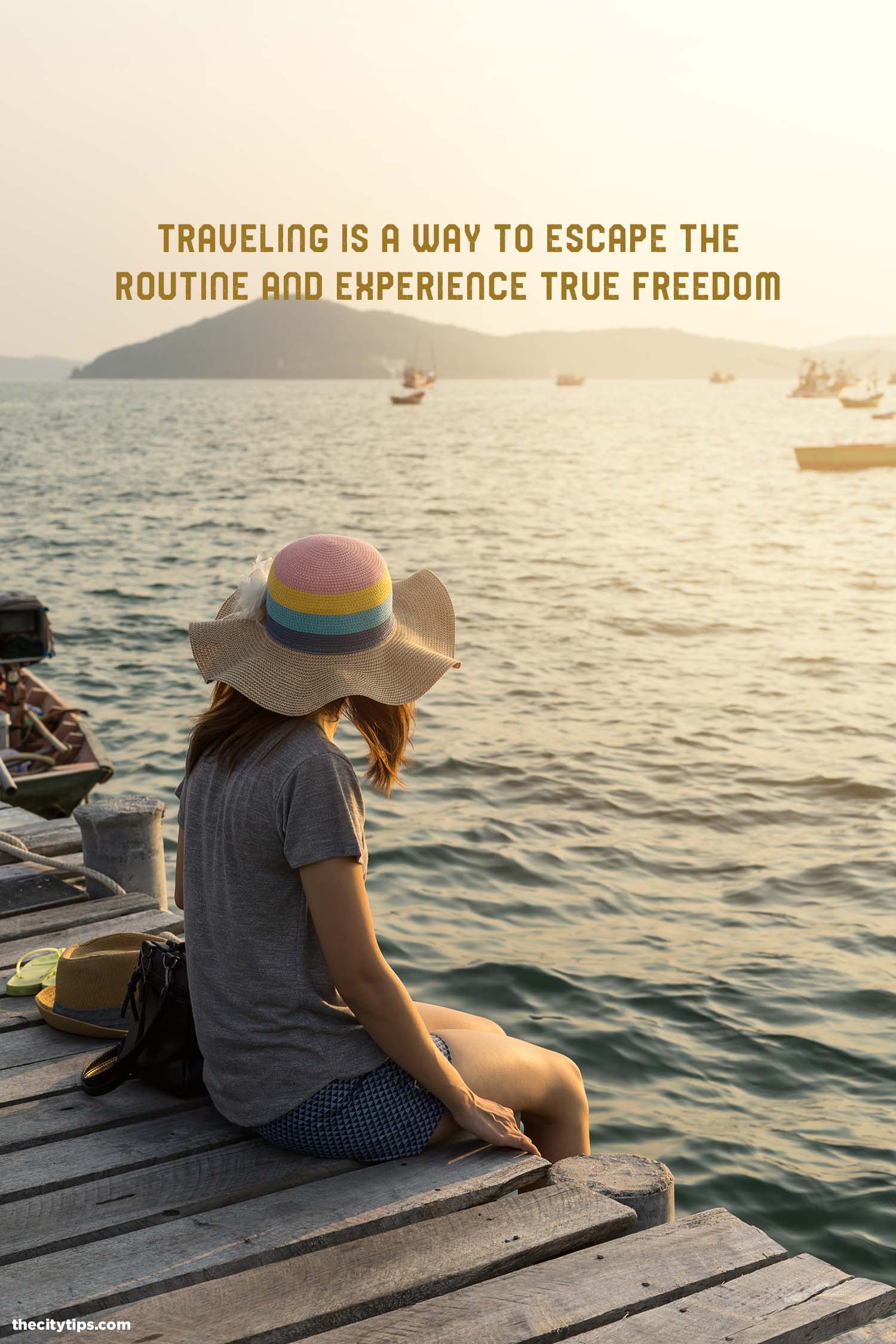 "Freedom lies in being bold." (Robert Frost)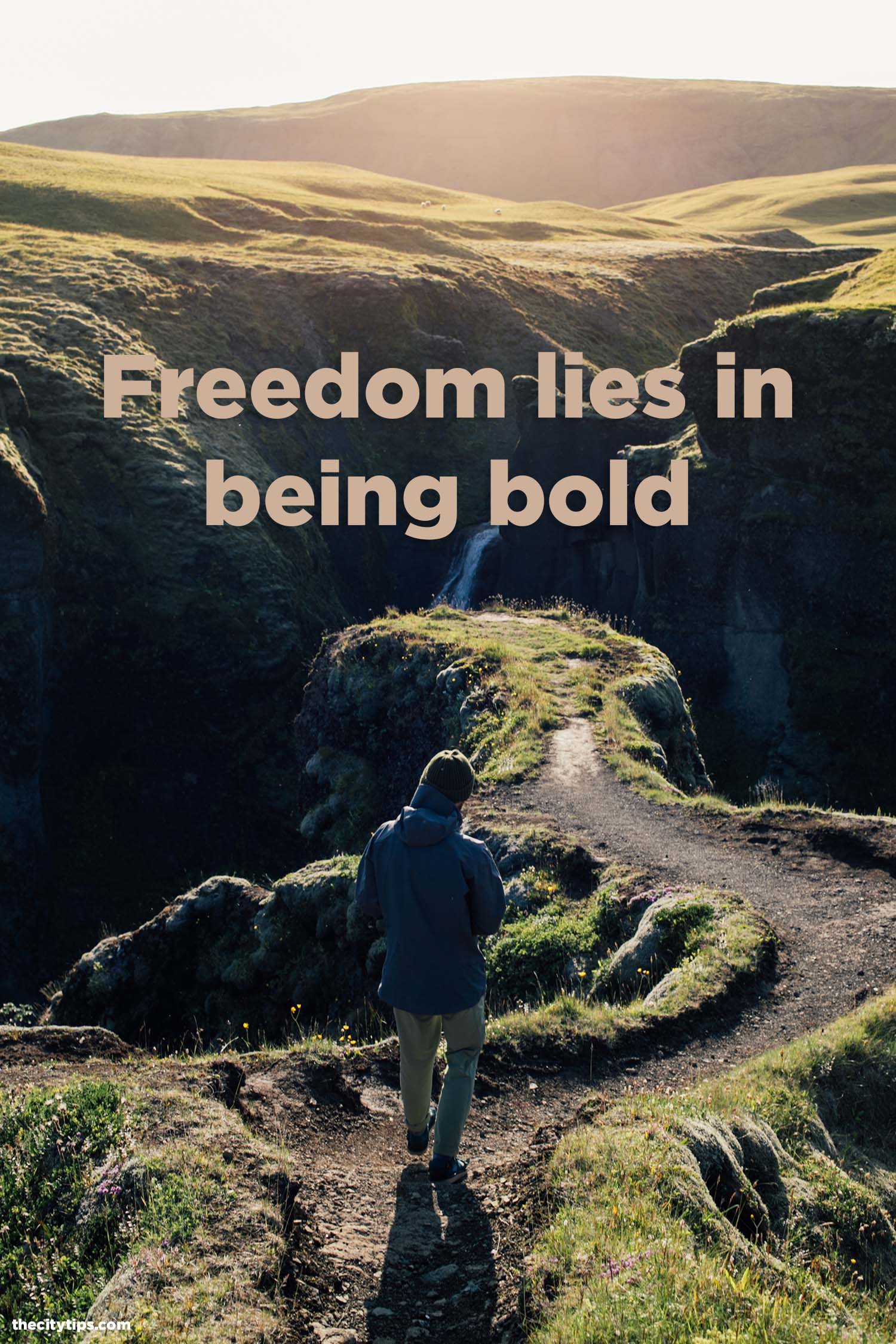 "Traveling is the only thing that makes you richer in experiences, memories and freedom." (Anonymous)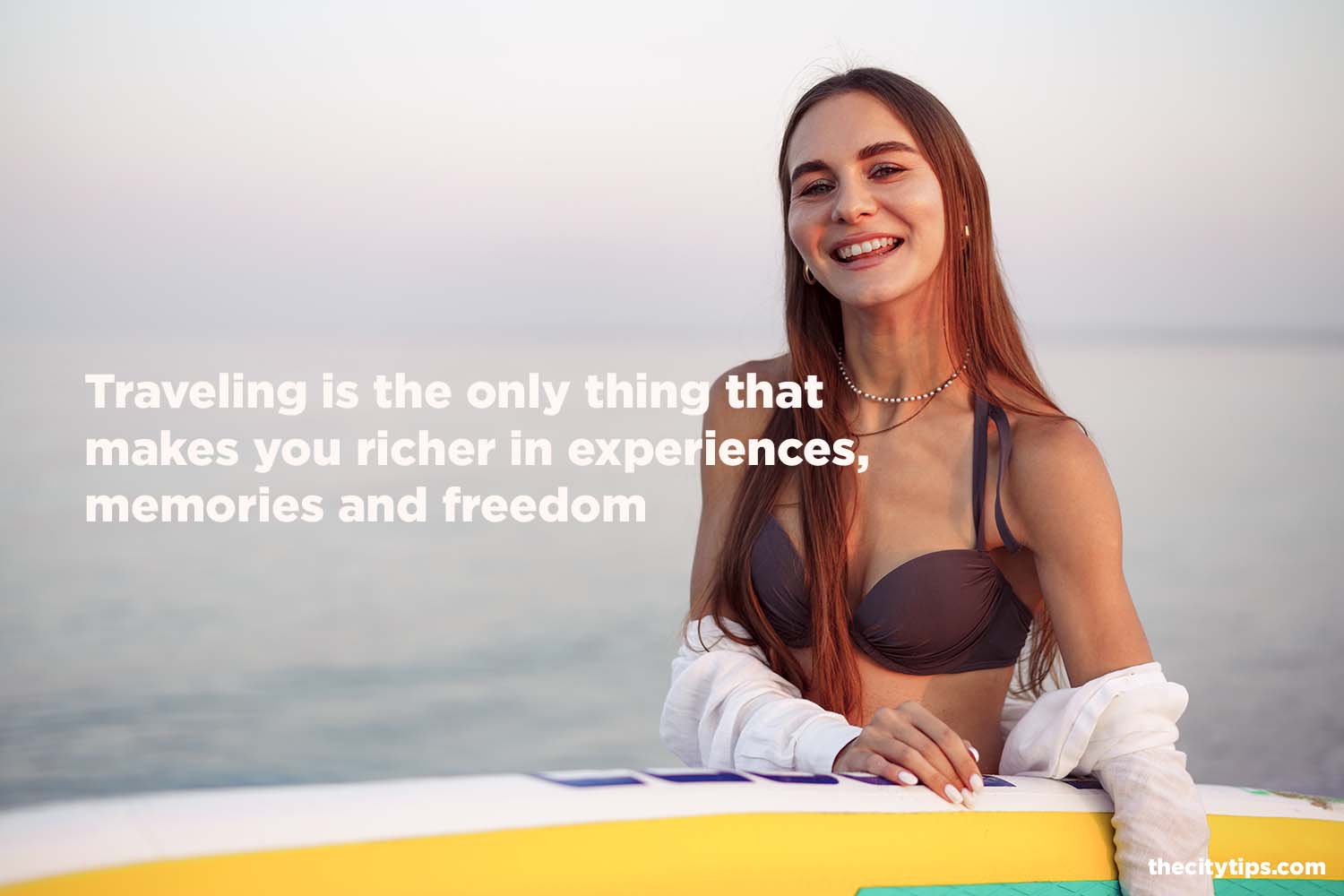 "To travel is to live freely, unencumbered by the constraints of daily life." (Anonymous)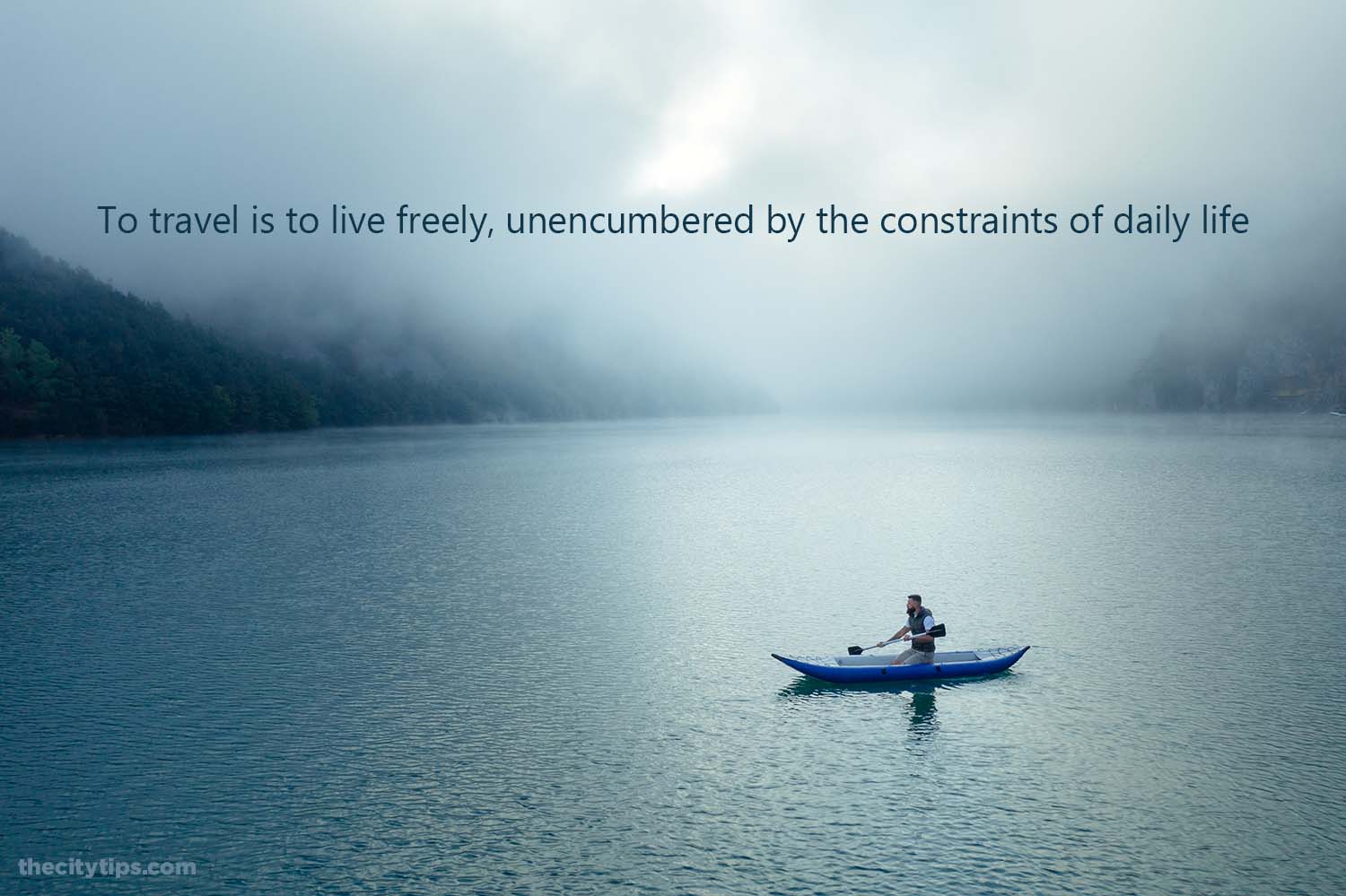 "Traveling is about finding those moments of freedom in life that are truly priceless." (Anonymous)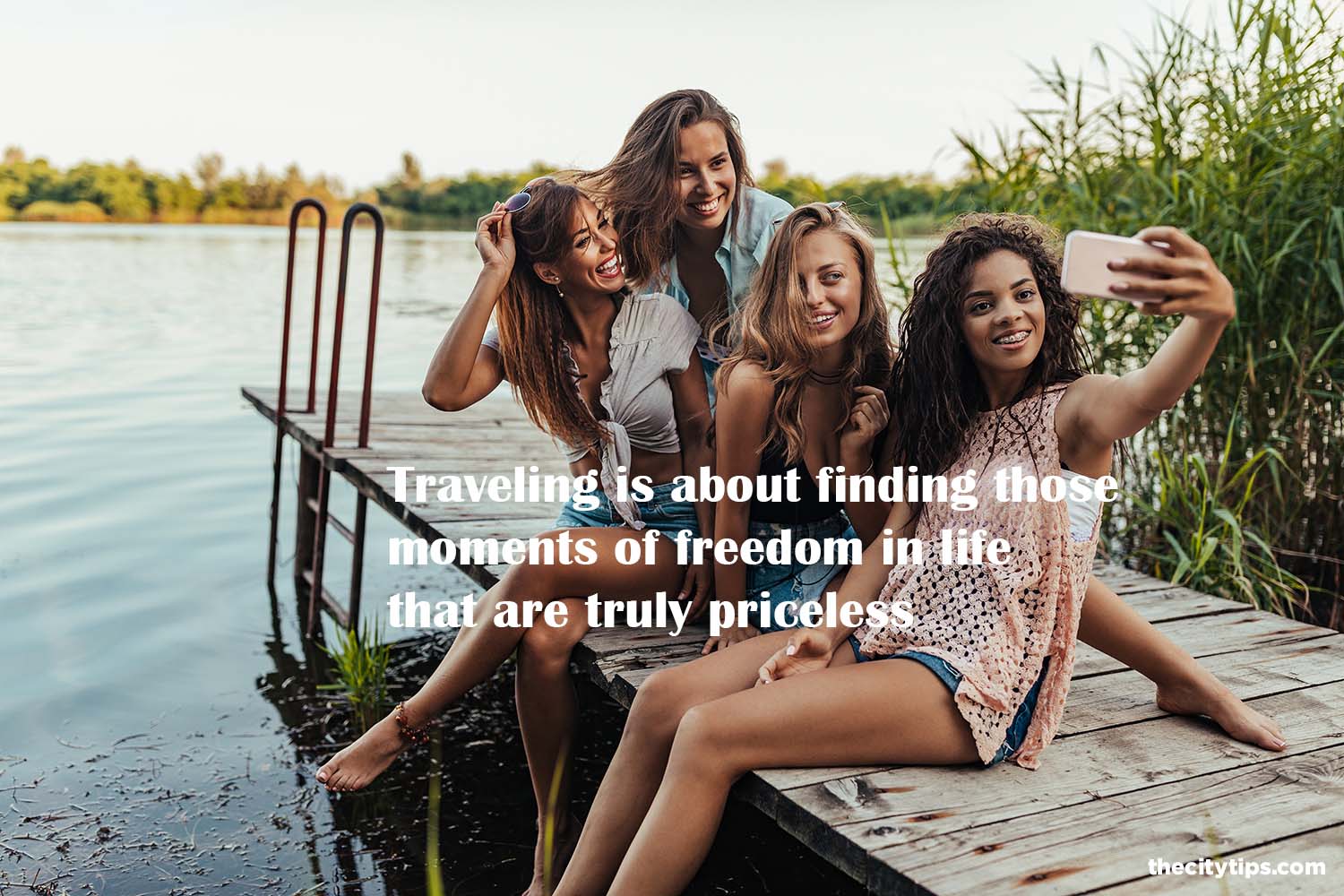 "Traveling is a way to find your inner freedom and embrace the unknown." (Anonymous)