Do you want to explore some of the most beautiful and authentic places in Tenerife? Then a day trip to Garachico is a perfect option for you! This charming town is located in the north-west of the island and it's known for its lovely architecture, delicious food, and stunning natural scenery. If you're looking for an unforgettable experience, then be sure to add Garachico to your list of must-visit destinations on Tenerife!
The history of Garachico
Garachico is a town on Tenerife that has a rich history dating back to the 15th century. The town was originally founded by banker Cristobal de Ponte and it soon became the commercial port of Tenerife, being an important hub between Europe and the rest of the known world.
However, the town met with misfortune in the 16th century when it was hit by fires and various diseases such as the plague and swarms of locusts. The worst event occurred in 1706 when the town was destroyed by a volcanic eruption of the Montana Negro volcano. Despite this, the town was slowly rebuilt and it is now thriving once again with tourism being an important part of the local economy.
It is thought that the island's wealth attracted merchants and other men of substance from across Europe and the New World, whose riches enriched the city. It had streets made of marble, according to legend; paupers were only permitted to walk them once a week. The noble homes of wealthy merchants, clergymen, titled families, and artists were all built in the Spanish style with wrought-iron balconies, tiled roofs, and patios.
Another source of business is the expansion of the Sports and Fishing Port. The sports dock measures 20,000 square meters and the fishing port 12,500 square meters, with a spacious esplanade linking them, which makes for a beautiful stroll in the sunshine.
The San Roque Festival, which takes place in August, is one of the most spectacular times to visit Garachico. Buses depart from locations such as Puerto de la Cruz, La Laguna, and Santa Cruz to reach Garachico.
Why You Should Go for a Day Trip to Garachico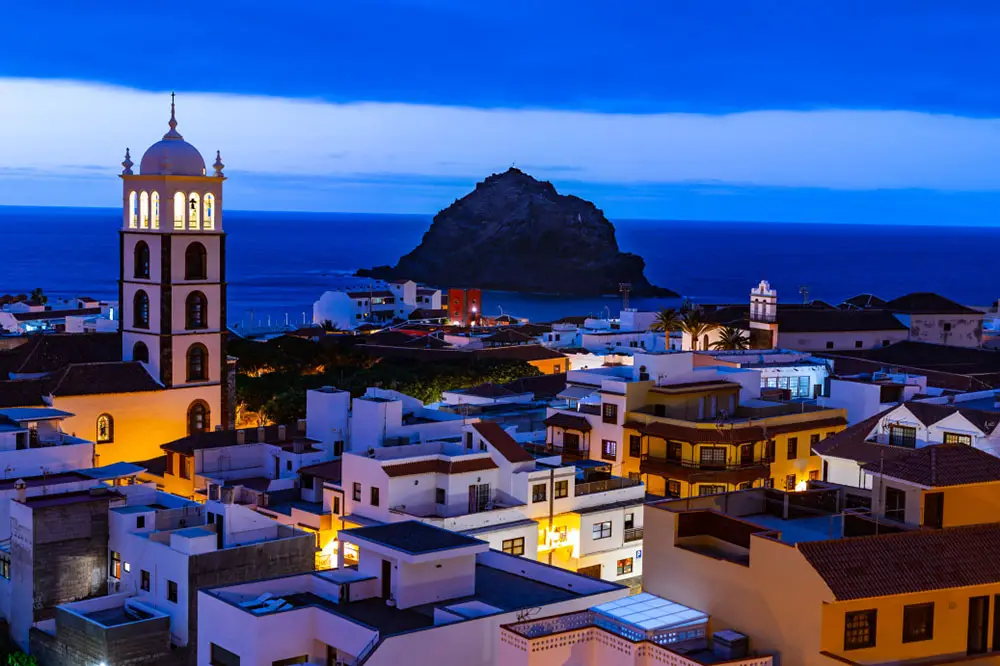 There are many reasons why you should go on a trip to Garachico. Firstly, the town is home to some of the most beautiful architecture in Tenerife. The charming colonial-style buildings are a sight to behold and they provide a great backdrop for a day of exploring. Secondly, the town is home to several excellent restaurants. If you're looking for somewhere to enjoy a delicious meal, Garachico is the place to be. Thirdly, and perhaps most importantly, Garachico is home to some of the best beaches in Tenerife. The black lava beaches are truly unique and they offer a great opportunity to relax and soak up the sun, making it a perfect place for day-trippers.
Top things you don't want to miss in Garachico, Tenerife
Just walking around Garachico is an experience in itself, but I've collected the top attractions you don't want to miss when you visit this lovely town.
The Natural Pools El Caleton
With a history that dates back to the 1706 eruption, The Natural Pools El Caleton is now one of Garachico's most popular tourist attractions. Visitors come not only in the summer months but all year long because this place offers something special – natural pools formed by nature itself!
The rocks are a bit slippery so be careful if you're not used to swimming in the sea. There is a free parking lot available which is a plus because finding parking in Garachico can be quite difficult.
If you're looking for a place to take a dip and relax, The Piscinas El Caleton is the place for you! Just be careful of the deep water.
Don't miss out on the live webcam over the pools in Garachico.
Plaza de la Libertad
Garachico is a small town located on the north coast of Tenerife. It's known for its beautiful plaza, which is home to several stunning colonial-era buildings. The plaza is a popular spot for locals and tourists to relax and enjoy the tranquility of the town.
If you're looking to escape the hustle and bustle of tourist-filled towns, then Garachico is the perfect place for you. The town is relatively unknown, so you'll be able to enjoy its peace without having to fight through crowds of people.
The plaza itself is a lovely square of green, with trees providing shade and a beautiful statue of Simon Bolivar in the center. The church sits on one side of the plaza, while colorful houses line the streets that surround it.
There are several charming cafés and restaurants in the area.
Whether you're looking to relax or explore, Plaza de la Libertad is a great place to start your adventure in Garachico.
Roque de Garachico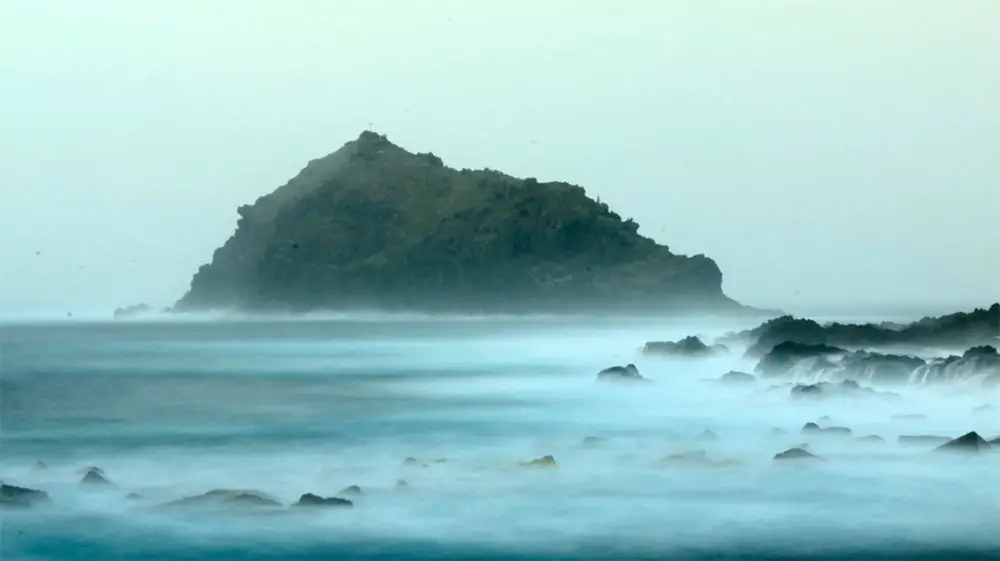 Roque de Garachico is a small island that stretches 284 meters north-south and up to 169 meters wide with an area of five hectares. It emerges steep out into the sea, containing nearly vertical walls in some places which reach heights around 77 meters tall
It's today considered a protected space and goes locally by the name of Monumento Natural del Roque de Garachico.
Castillo de San Miguel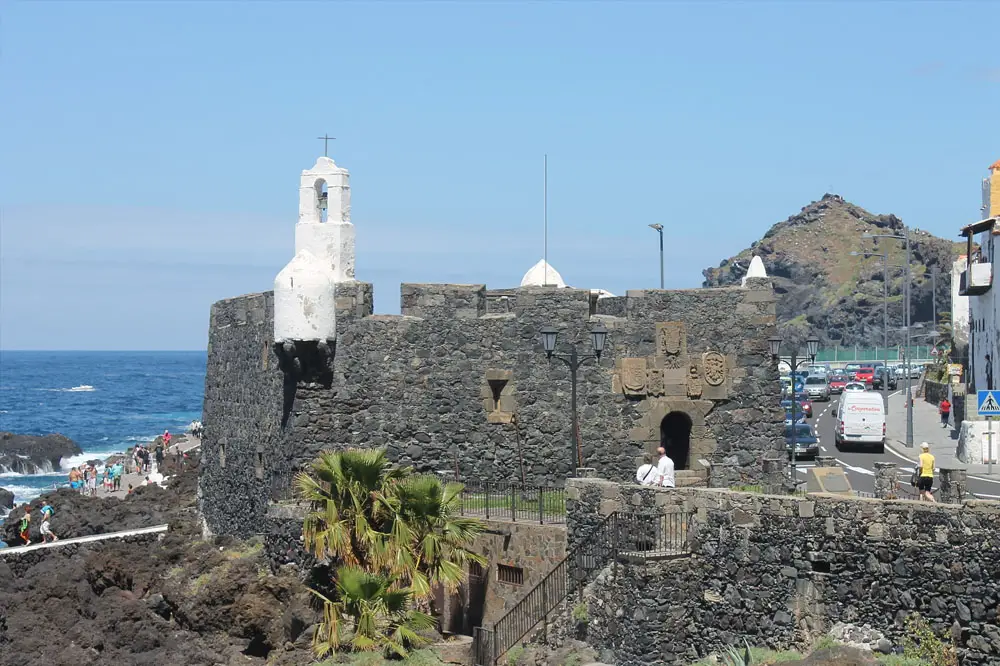 An ancient structure with a square layout and massive walls that date back to 1575. You may get a fine view of how the lava from El Caletón's volcanic eruption has formed the natural pool if you enter and climb to the top, which is well worth the view.
Garachico was the island's most prosperous community in the 16th century, and its port was consequently the most utilized. For this reason, it required protection against possible assaults by sea.
In 1553, the city of Santa Cruz de la Palma was assaulted by François Le Clerc, known as "Pie de Palo," a French corsair who had previously sailed through Garachico. The La Palma capital was pillaged and burned, a calamity that had a significant influence on the islands' inhabitants.
It would not be until 1575, during the reign of Felipe II, that the Royal Certificate with the Instruction, written by Don Francés de Alava, Captain General of Artillery, was issued allowing for the creation of a larger and better-equipped fortification.
Want to see how GARACHICO is looking right now?
In 1587, the building is thought to be finished, and it may thus be claimed that, except for a few minor changes, it has the appearance it retains today.
The Garachico or Arenas Negras volcano erupted in 1706, burying part of the town and the roadstead guarded by the castle, and though it was not damaged, it lost its defensive purpose when the port vanished and the city's importance decreased.
Castillo San Miguel presently serves as a museum and tourist attraction for the city. It is currently home to the Heritage Information Center, which promotes cultural tourism in the region.
Convent of San Francisco
A lovely museum with a large variety of things to see. El Convento de San Francisco is located in a 16th-century convent and has an amazing interior. The exhibits have a selection ranging from the island's volcanic history and geology to more recent photos of the town as well as sculptures from Canarian history.
The oldest of five convents built in the town, this Franciscan Convent and Church was founded by Cristóbal de Ponte from Genoa with Ana de Vergara's assistance. It features two stone doorways emblazoned on its main facade as well extensive heartwood cloisters inside that have balconies high enough for birds to nest among their Gargoyles pillars – a perfect place to get away from it all!
The Municipal Library and the other municipal institutions are all located in the Cultural Centre within the convent, which is also home to the Natural Science Museum, Local History Museum, and an exhibition hall. The Town Hall stands next to the former convent of San Francisco (Cultural Centre), with a neo-classical style façade.
Why don't ride to Garachico by bike?
The best way to see any town is by foot, but if you want to really get a feel for a destination, hopping on a bike is the way to go. You can cover more ground than if you were walking, and you can really take in all the sights and smells of your surroundings.
Garachico is no exception – there are bike paths that wind through the town and along the coast, providing breathtaking views of the sea. And since Garachico is relatively small, it's easy to get around on two wheels.
So whether you're a seasoned cyclist or someone who just likes a leisurely ride, biking is a great way to explore this charming town.