If you're looking to be transported away from the hustle and bustle of modern life, Anaga Rural Park in Tenerife is the perfect destination. With its dramatic landscape of rugged peaks, deep ravines, and lush ancient laurel forests, Anaga is an idyllic paradise where you can enjoy hiking and exploring nature.
Throughout the park, you'll find spectacular views of the Atlantic Ocean and find yourself surrounded by a variety of endemic bird species and a range of flora. In addition to its stunning scenery, Anaga also offers you many historical sites such as old chapels, manor houses, and traditional villages that are still intact today. You'll also find plenty of opportunities for adventure with activities such as mountain biking or rock climbing. 
The History of Anaga Rural Park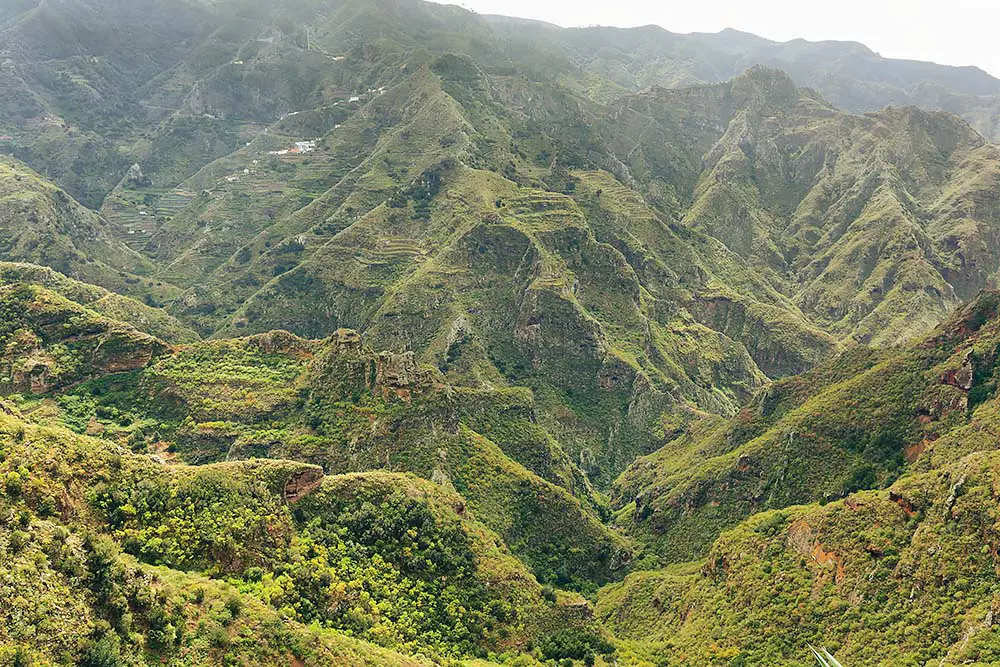 Chinamada, Anaga massif
The park covers an area of over 14,000 hectares and is home to a wide variety of flora and fauna, some of which are endemic to the Canary Islands.
The Anaga Rural Park is one of the oldest protected areas in the Canary Islands, with evidence of human occupation from prehistoric times. It was declared a Protected Natural Area in 1987 and a Rural Park in 1994, protected by the Government of the Canary Islands. The park is home to several endemic species of plants and animals, as well as some species that are only found here in Tenerife. 
The area has been populated for centuries by people who have adapted to its challenging landscape and developed a unique form of subsistence agriculture based on the terracing. This traditional system of peasant farming has helped preserve the natural environment and cultural heritage of the area. In addition, many ancient archaeological sites can be found throughout the park, including a number of pre-Hispanic fortifications dating back to the 15th century.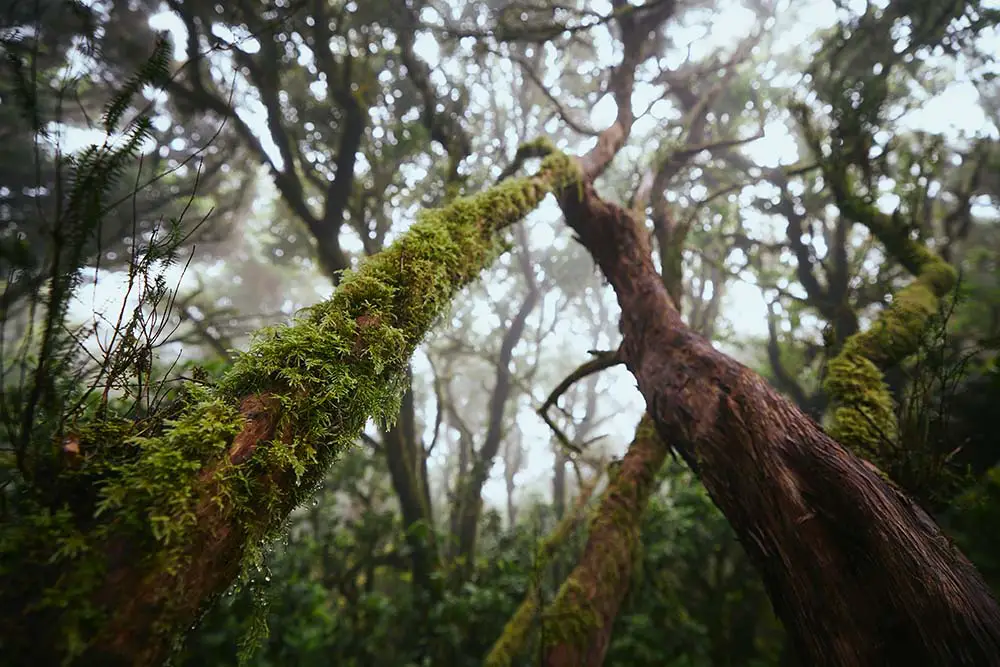 Trees reaching for the skies in Anaga
Today, the Anaga Rural Park continues to combine rich biodiversity with traditional rural lifestyles. Its forests are home to rare species such as Canarian lizards and giant snails, while its rugged terrain offers spectacular views over rocky cliffs, deep ravines, and lush mountain landscapes. Despite its popularity with tourists and hikers alike, this unspoiled corner of Tenerife still retains a sense of tranquility that makes it an ideal escape from busy urban life.
Getting There
Anaga Rural Park is one of the most beautiful and unique parks in the Canary Islands, and probably in Spain too, and getting there is easier than ever. For visitors who want to experience all that Anaga has to offer, there are several options for transportation. 
The most popular way to get to the park is by car. Driving allows you to control your own itinerary and make stops along the way at some of the many spectacular viewpoints. While parking can be difficult during peak hours, there are always plenty of designated spots for cars near the entrance. 
Public buses offer an economical alternative for those wanting a more relaxed journey. Bus routes are available from Santa Cruz de Tenerife, La Laguna, and El Sauzal, with some having daily services during certain times of the year. The bus timetables vary depending on which route you choose to take so it's important to plan ahead before setting out. 
For a truly unique experience, a guided tour bus is an excellent choice as it takes you directly through Anaga's multiple landscapes and gives you an opportunity to explore its stunning scenery firsthand. Tour buses are generally available during specific seasons and require advanced booking before departing. 
Getting there by car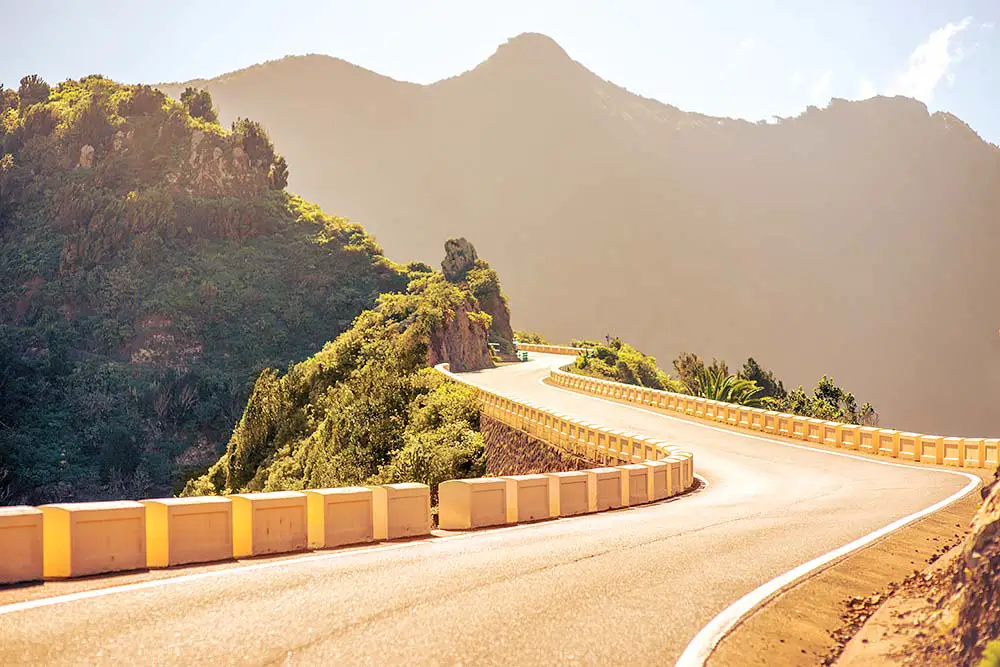 Taking the car to Anaga
Embarking on a scenic drive from Santa Cruz to the Anaga Rural Park is a great way to take in the stunning landscapes that Tenerife has to offer.
Starting from Santa Cruz, simply follow C. de José Manuel Guimerá to Túnel Juan Amigó de Lara, before continuing on to TF-5 and TF-13.
After passing through the La Laguna Centro Ciudad/Tegueste area, you'll reach the Cam. las Mercedes/TF-113 roundabout, where you should take a left turn to stay on the road.
As you continue on, you'll come across the picturesque C. Santo Labrador, which eventually turns into TF-12.
After a 6.9 km drive, you'll arrive at the Anaga Rural Park, which is located on Carretera TF- 12 Monte de Las Mercedes.
Although the route may seem a bit winding, the scenic views along the way more than make up for it. The journey takes about 33-40 minutes, and it's advisable to take breaks along the way to stretch your legs and take in the breathtaking scenery.
Getting there by bus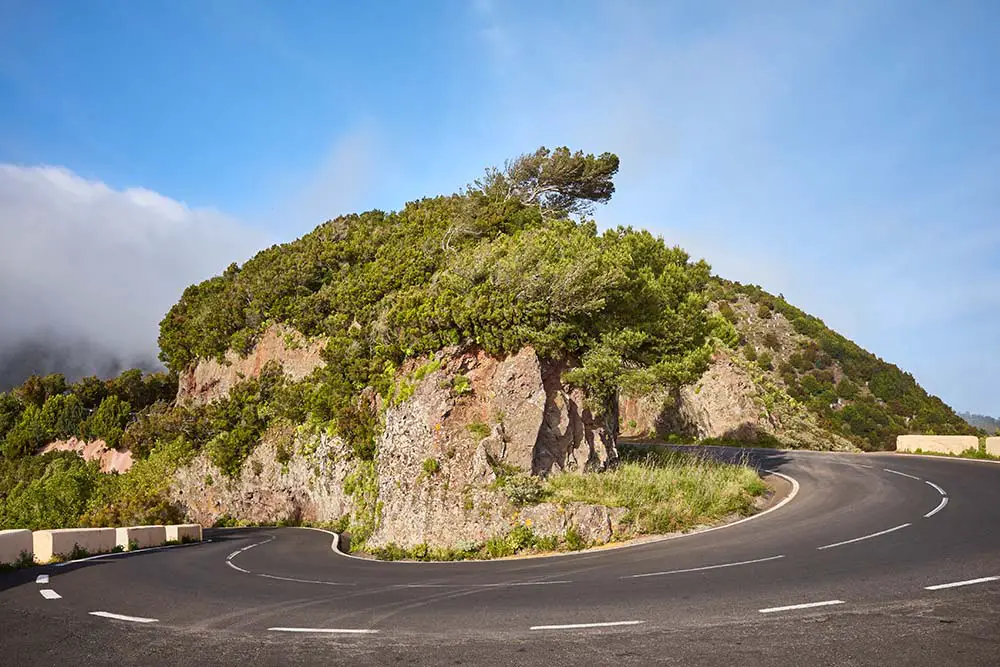 The roads you take are amazing up there
If you're looking for a more environmentally friendly way to travel from Santa Cruz to the Anaga Rural Park, then taking the bus might be the perfect option for you.
The Route 946 bus, which departs from Santa Cruz's main bus terminal, will take you on a scenic journey through the heart of the park to reach your destination. Although the bus operates at infrequent intervals, with waiting times ranging from 40 minutes to 3 hours, the journey itself is well worth the wait.
As you make your way through the park, be sure to keep an eye out for the stunning little villages nestled on the edges of the breathtaking ravines. These charming settlements are built into the natural landscape, providing a unique and picturesque view of the rugged terrain.
As you continue on the winding road, take in the awe-inspiring shapes of the towering peaks that surround you, creating a truly immersive and unforgettable experience.
After roughly 40 minutes, the bus arrives in Taganana, a charming coastal town with gorgeous beaches and a handful of delicious eateries.
And the best part? It only costs €1.25.
While taking the bus may not offer the same level of freedom as traveling by car, it's a great way to experience the natural beauty of Tenerife in a more sustainable way. So sit back, relax, and let the bus take you on an unforgettable journey through the stunning Anaga Rural Park.
Getting there by tour bus
If you're looking to explore the Anaga Rural Park without the hassle of navigating public transportation or finding parking, booking a tour bus might be a good option. There are a number of group tours available that can take you through the park and show you some of the sights that might be harder to reach on your own.
One of the main advantages of taking a tour is that you'll have the benefit of an experienced guide to show you around and provide insights into the history and ecology of the park. Additionally, tour buses often have more flexibility in their schedules, allowing you to see more of the park in a shorter amount of time.
However, it's important to note that tours can be more expensive than other options, and it's up to you to decide whether the added cost is worth it. Prices for Anaga Rural Park tours can range from around £30 to over £100 per person for the day, with children's prices typically being lower.
Many tours also include stops in nearby cities like Santa Cruz and San Cristóbal de La Laguna, which can make for a long but rewarding day trip. Just be aware that these combined tours are often advertised as being 9 hours long, so you'll want to plan accordingly and be prepared for a full day of sightseeing.
There's also the possibility to get a completely private tour of Anaga Rural Park where you get picked up at your hotel in northern Tenerife.
Is Anara Rural Park Free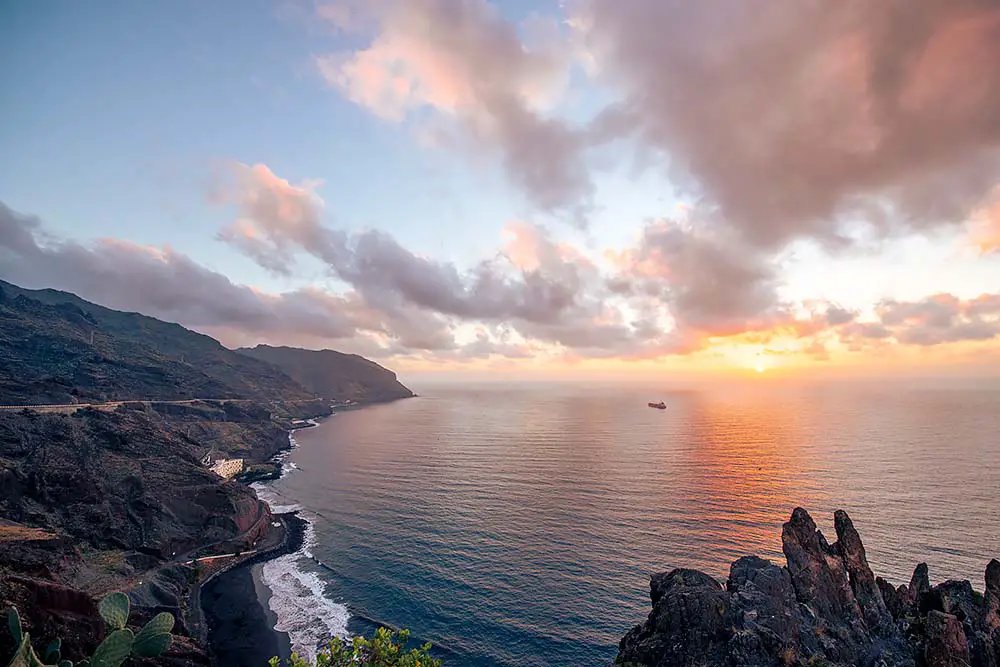 Aerial view of the coastline
Good news for those planning to visit Anaga Rural Park: there are no entrance or parking fees! That's right, you can explore the stunning natural beauty of the park without any additional costs.
However, if you are planning to hike through the Enchanted Forest, also known as El Pijaral, you will need to apply for a free permit. This is to ensure that the area is not overcrowded and that the environment remains protected. The permit is limited to a maximum of 45 visitors per day, so it's essential to apply in advance to secure your spot.
You apply for your permit here and please note that they release only 45 spots each day, and at 9 am (local time) they release spots up to 15 days in advance. This means that you really have to plan ahead and also be quick about it.
It's worth noting that attempting to hike through El Pijaral without a permit can result in a hefty fine of €600, so it's important to follow the rules and regulations of the park.
However, if applying for a permit sounds like too much hassle, don't worry. There are plenty of other stunning hikes to explore in the Anaga Rural Park that doesn't require a permit. So, pack your hiking boots, bring your camera, and get ready to explore the natural beauty of this incredible park!
Flora and Fauna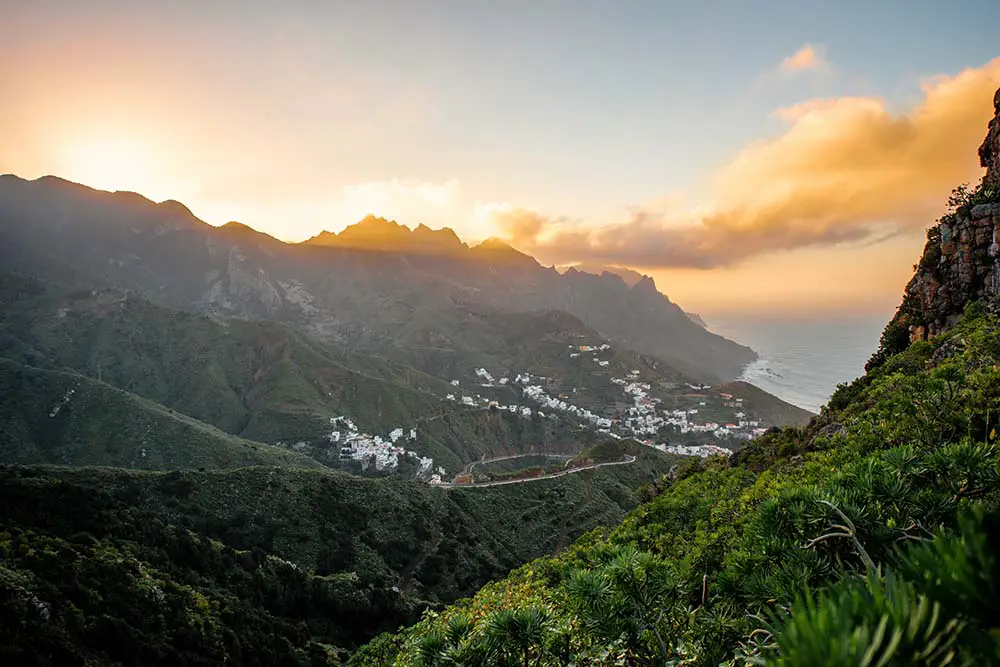 Sunset in the park with a view of the Taganana village
Anaga Rural Park is a unique and biodiverse nature reserve that has been included in the UNESCO World Network of Biosphere Reserves since 2015. This park is home to an enormous variety of wildlife, both flora and fauna, making it one of the most diverse ecosystems in Europe. With more than 800 unique species having been recorded here, it's no wonder that Anaga contains some of the highest concentrations of endemic species in Europe.
The most abundant plants found in this area include the Canary Island spurge, Phoenician Juniper, and dragon trees which are perched on inaccessible rocks. Other rare plants include those from the tertiary sector such as laurel forest that can only be found in Anaga and other areas located in the Canary Islands and the Azores.
In terms of wildlife, Anaga has many different kinds of reptilian inhabitants including lizards native to Tenerife like endemic geckos and wall lizards who take refuge from predators by hiding among the rocks. There are also many invertebrates such as butterflies and moths that flutter throughout this lush environment thanks to its warm climate year-round. 
Things to do in Anaga Rural Park
The park offers a range of activities for visitors, including hiking, birdwatching, and beachcombing. There are several well-marked trails that wind through the laurel forests and along the coast, offering stunning views of the surrounding landscape. The park also has several beaches, including Playa de Almáciga, which is popular with surfers.
Hiking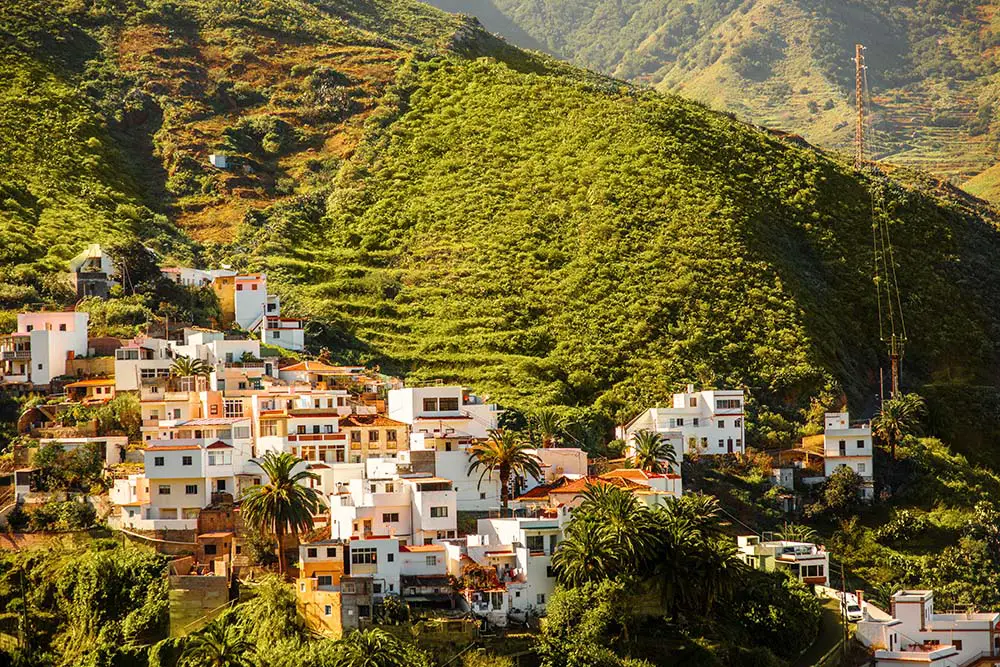 Hiking is one of the most popular activities in the Anaga Rural Park, and for good reason. The park boasts a wide variety of hiking trails, ranging from leisurely strolls to challenging treks. One of the most popular hikes is through the Enchanted Forest, also known as El Pijaral, which requires a permit due to its popularity and limited capacity.
But fear not, there are plenty of other enchanting forests to explore that don't require a permit.
If you're up for a challenge, the trek up to Pico del Inglés, the highest peak in the park, is a must-do. The trail is steep and challenging, but the views from the top are well worth the effort.
For those seeking a more relaxed hike, the coastal trail from Taganana to the beach of Benijo offers stunning views of the rugged coastline and the Atlantic Ocean.
No matter which trail you choose, make sure to bring plenty of water and snacks, wear sturdy shoes and sun protection, and be mindful of the park's flora and fauna.
Bird watching
Anaga Rural Park is a haven for birdwatchers, with over 120 species of birds inhabiting the park's diverse ecosystems. The park is home to several endemic species, including the laurel pigeon, the Bolle's pigeon, and the Tenerife blue chaffinch, making it an essential destination for bird enthusiasts.
To make the most of your bird-watching experience, it's best to visit during the winter months when migratory birds flock to the area. The park's diverse habitats, including dense forests, rugged coastlines, and high peaks, provide an ideal environment for a wide range of bird species.
The best spots for bird watching in the park are the forests of El Pijaral and Las Mercedes, where you can see endemic birds such as the blue chaffinch, the Tenerife goldcrest, and the Tenerife laurel pigeon. You can also spot seabirds, such as Cory's shearwater and Bulwer's petrel, off the coast of Anaga.
Enjoy the beaches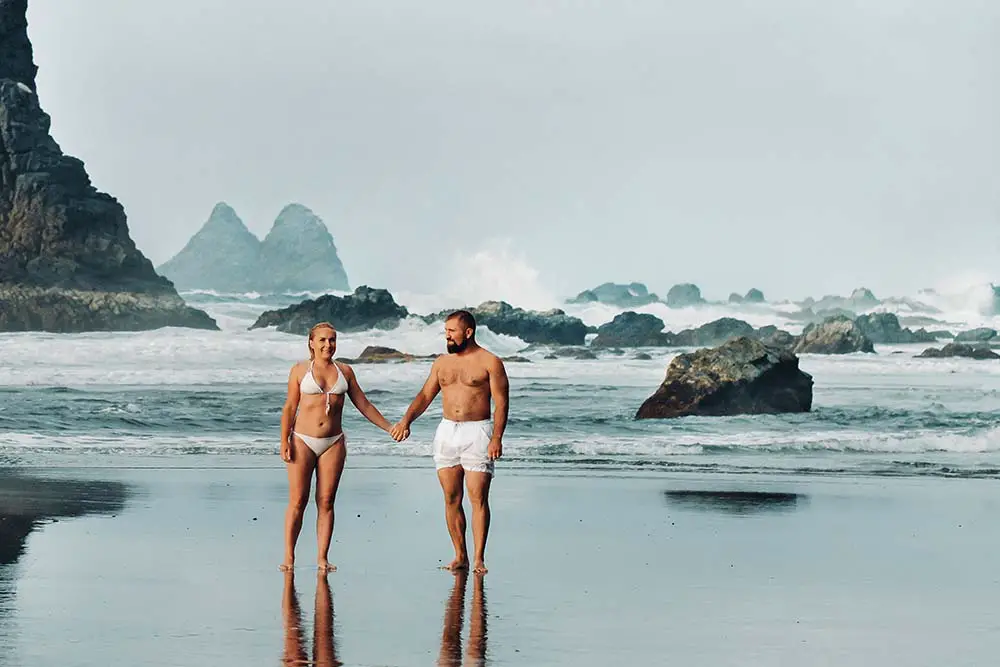 Playa de Benijo
Anaga Rural Park is not just about mountains and forests, it also boasts a number of beautiful beaches that are definitely worth a visit. One such beach is Playa de Benijo, which is famous for its stunning views of Roque de las Bodegas, a tall rocky formation that juts out of the ocean.
Another beach worth checking out is Playa de Almáciga, which is a great spot for surfing and has a number of restaurants and bars where you can enjoy some fresh seafood.
While the beaches in Anaga Rural Park are less crowded than the more popular ones on the island, they are still popular with locals and tourists alike, so it's best to go early if you want to secure a good spot.
Many of the beaches are also accessible via hiking trails, so you can combine a day of hiking with some beach time.
It's important to note that some of the beaches have strong currents and are not suitable for swimming, so it's best to check with locals or park officials before taking a dip.
Visit the charming villages
Visiting the charming villages scattered throughout Anaga Rural Park is a must for any visitor seeking an authentic Tenerife experience. These quaint towns offer a glimpse into the traditional Canarian way of life, with their narrow streets and colorful houses.
One such village is Taganana, a small hamlet nestled in a valley with stunning views of the coastline. Its picturesque architecture and laid-back atmosphere make it an ideal spot to stop and relax.
Another village worth visiting is the tiny settlement of Chamorga, which can only be accessed on foot. This charming village boasts a beautiful beach and is surrounded by lush greenery. The village is also home to a small chapel, which is steeped in history and is a popular spot for visitors.
Exploring the villages is a great way to learn about the culture and history of the area. The locals are friendly and welcoming, making it easy to strike up a conversation and learn more about the traditional way of life in Anaga Rural Park. Don't miss the opportunity to sample some of the local cuisines and pick up some souvenirs to take home.
Photography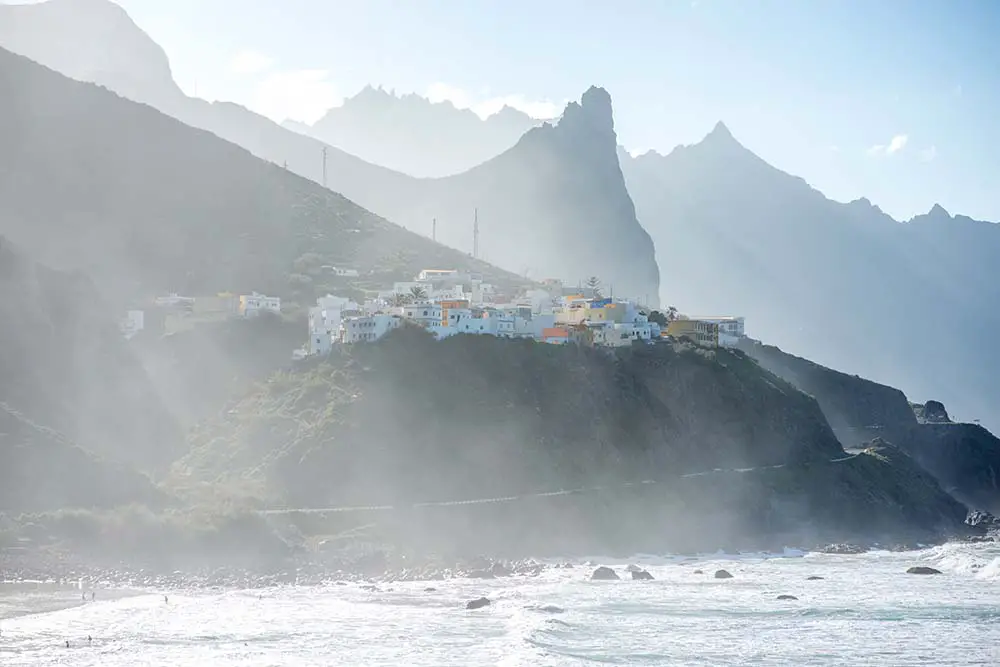 Taganana village
The breathtaking views, deep ravines, and lush vegetation make it a paradise for capturing stunning photographs. The park's unique and diverse flora and fauna offer a range of photographic opportunities for nature lovers and wildlife photographers.
You can capture the stunning landscapes of the park from various hiking trails or from viewpoints, such as Pico del Inglés, where one can admire panoramic views of the park, mountains, and coastline.
Besides natural beauty, Anaga also offers photographic opportunities for architecture enthusiasts. The charming villages, historic buildings, and narrow streets with colorful houses make for an excellent subject for urban photography. Photographers can capture the essence of Canarian culture, by taking lovely photos of charming local people, their traditions, and their lifestyle.
For photographers who are interested in astrophotography, Anaga Rural Park is the ideal location to capture stunning shots of the night sky, thanks to its remote location and minimal light pollution.
Whether you are a professional or an amateur photographer, Anaga Rural Park is a haven of inspiration and creativity, and you are bound to leave with memory cards full of beautiful photographs.
Picnicking
With plenty of open spaces, lush greenery, and stunning views, it's easy to find the perfect spot for a picnic. Whether you're looking for a quiet spot to relax and enjoy the scenery or a more active area where you can play games and socialize, there's something for everyone in the park.
Pack your favorite snacks, grab a blanket, and find a cozy spot under the shade of a tree or on a sunny patch of grass. As you enjoy your food, take in the natural beauty that surrounds you. You may even spot some wildlife or hear the soothing sounds of a nearby stream. And with no entrance or parking fees, you can spend as much time as you want in the park without breaking the bank.
Just make sure to follow the park's rules and regulations when it comes to littering and waste disposal. Help keep the park clean and beautiful for future visitors to enjoy.
Mountain biking
For the adrenaline junkies out there, Anaga Rural Park offers some of the best mountain biking trails in Tenerife. The park's rugged terrain and challenging paths make it the perfect playground for mountain bikers of all levels. With its diverse landscapes, from the lush greenery of the laurel forests to the rocky peaks of the mountains, riders will find themselves in awe of the park's natural beauty.
One of the most popular routes is the ride from Cruz del Carmen to Punta del Hidalgo, which offers stunning views of the ocean and the mountains. Riders can expect steep climbs and thrilling descents, making for an unforgettable adventure. For those seeking a more leisurely ride, there are also plenty of scenic routes through the park's charming villages.
If you don't have your own bike, there are several shops in the nearby towns that rent them out. It's recommended to bring your own helmet and protective gear, as well as plenty of water and snacks for the ride. Always ride responsibly and be mindful of other park visitors, as some trails are shared with hikers and horseback riders.
Stargazing
Anaga is not only a natural paradise during the day but also at night, offering a spectacular starry sky for those interested in stargazing. Due to its location far from the bright lights of the city, Anaga Rural Park is a great place to view constellations, planets, and other celestial objects.
To fully enjoy stargazing in the park, it is recommended to visit on a clear night and bring binoculars or a telescope for a closer look. The park's elevated areas, such as Cruz del Carmen and Pico del Inglés, offer some of the best viewpoints for stargazing.
For those interested in learning more about the stars and constellations, there are also guided stargazing tours available. These tours provide participants with a wealth of knowledge and a chance to observe the night sky with the guidance of an expert astronomer.
Where to Stay
There are several accommodation options in and around the Anaga Rural Park, including hotels, apartments, and rural houses. Visitors can choose to stay in the nearby towns of San Andrés and Taganana, or in the more remote areas of the park.
Best Time to Visit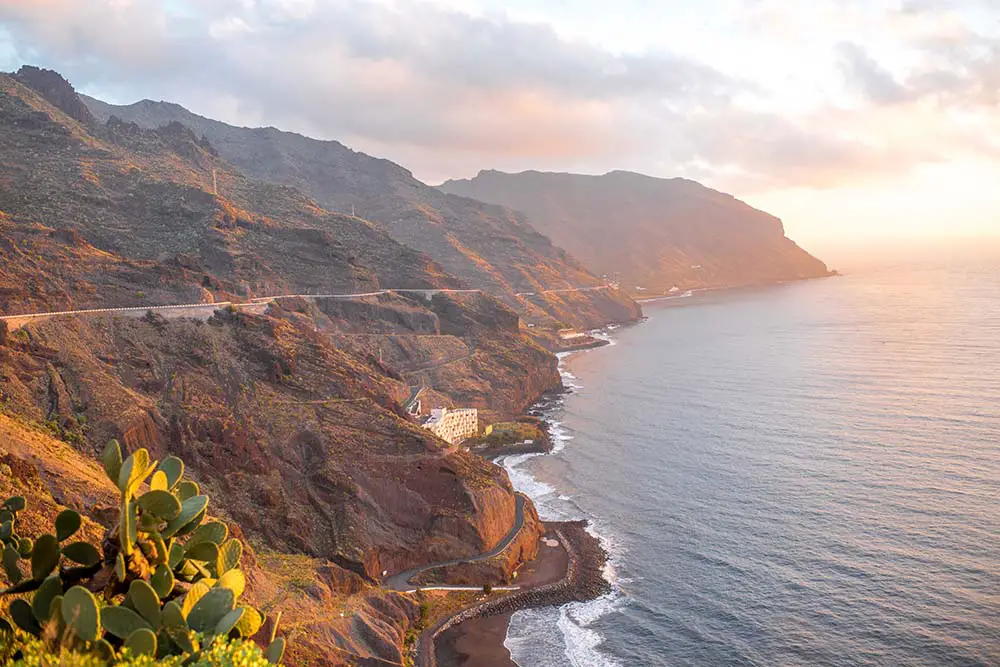 The views in the park are really amazing
The best time to visit Anaga Rural Park largely depends on what activities you have in mind. If you're planning on hiking or mountain biking, the best time to visit is in the cooler months, between October and May. The temperatures are milder, making it easier to explore the trails without being uncomfortable.
However, it's worth noting that this is also peak season, so the park can be crowded, and permits for certain hikes, such as El Pijaral, may need to be booked in advance.
If you're more interested in enjoying the beaches and the ocean, the warmer months, between June and September, would be a better time to visit. The water is warmer, and the weather is perfect for sunbathing and swimming. Additionally, these months are less crowded, so you can have a more relaxing and peaceful experience.
Finally, if stargazing is your main priority, the best time to visit would be during the winter months, between November and February, when the skies are clearest and the stars are at their brightest.
Ultimately, the best time to visit Anaga Rural Park depends on your interests and preferences. Regardless of when you go, the park has something special to offer, and you're sure to have an unforgettable experience.
Conclusion
The Anaga Rural Park is a unique and beautiful natural area that offers visitors a chance to experience the stunning landscape and rich biodiversity of the Canary Islands. With its ancient forests, rugged coastline, and diverse flora and fauna, it is a must-visit destination for nature lovers and adventure seekers alike.
I've been here several times during my visits to Tenerife, and there are always new things to explore. Just make sure to bring water with you, especially if you venture out to the park during the warmer months. It can get really hot out there.
FAQs
Is the Anaga Rural Park suitable for families with children?
Yes, there are several trails and beaches that are suitable for families with children. However, visitors should be aware that some of the trails are steep and may require a moderate level of fitness.
Is it possible to camp in the Anaga Rural Park?
No, camping is not allowed in the park. However, there are several accommodation options in and around the park.
Can I bring my dog to the Anaga Rural Park?
Yes, dogs are allowed in the park as long as they are kept on a leash and their waste is properly disposed of. However, visitors should be aware that some trails may not be suitable for dogs.
Are there any entrance fees for the Anaga Rural Park?
No, there are no entrance fees for the park. However, visitors should be aware that some activities, such as guided tours or birdwatching, may have a fee.
Is the Anaga Rural Park accessible for people with disabilities?
While some trails and areas of the park may be accessible for people with disabilities, visitors should be aware that the terrain can be rugged and steep in some areas. It is recommended to contact the park beforehand to inquire about accessibility options.