A Historic Haven: Delving into San Sebastián de La Gomera's Past
San Sebastián de La Gomera, the island's capital and main port, boasts an intriguing history that dates back to the 15th century. With its charming streets, historic buildings, and rich cultural heritage, this picturesque town is a must-see destination for any traveler visiting the Canary Islands.
The Role of Christopher Columbus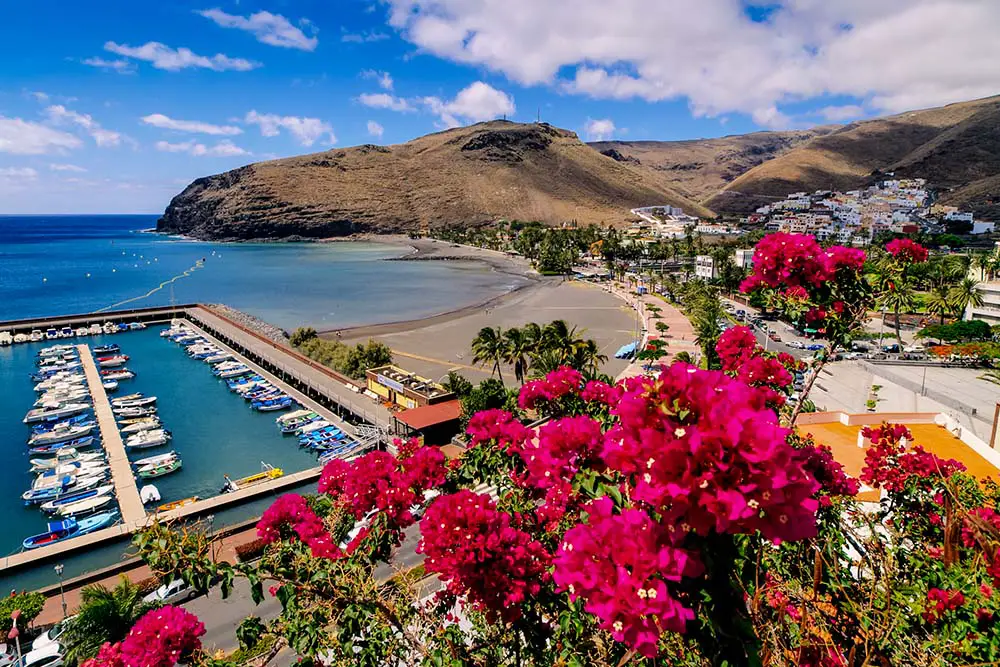 One of the most significant historical events that took place in San Sebastián de La Gomera was Christopher Columbus's stay before setting sail on his first voyage to the Americas in 1492. As a result, the town is home to several landmarks that celebrate Columbus's legacy:
La Casa de la Aguada: Also known as the Casa de Colón, this historic building is believed to have been Columbus's residence during his time on the island. Today, it houses a museum that showcases a variety of exhibits related to Columbus and the town's history. Boasting various sections on archeology, ethnography, and local history, the museum also showcases Christopher Columbus's journey and stay on the island. Open Tuesday to Saturday with free admission, visitors can explore its specialized library for a deeper understanding of La Gomera and the Canary Islands.
Church of La Asunción: This 15th-century church is said to have been visited by Columbus before embarking on his voyages. Visitors can admire its Gothic and Mudéjar architectural styles, along with stunning artwork that adorns its interior.
El Pozo de La Aguada: This ancient well, located close to La Casa de la Aguada, is where Columbus and his crew are said to have replenished their water supply before setting sail.
Natural Wonders: Explore the Beauty of La Gomera's Landscapes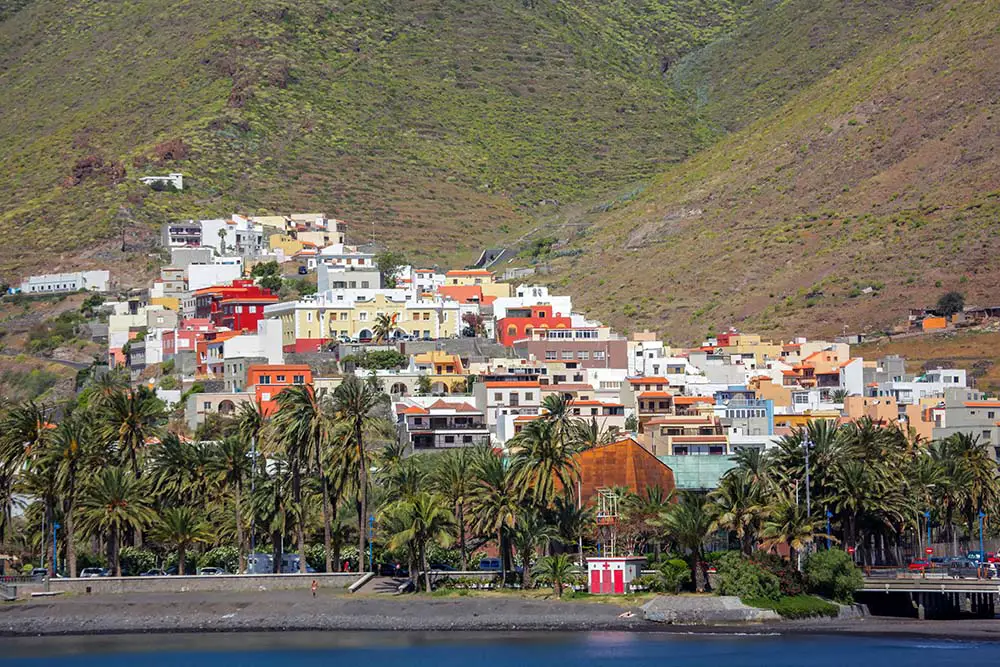 San Sebastián de La Gomera serves as the perfect starting point for exploring the island's captivating landscapes. From verdant forests to rugged coastlines, La Gomera's diverse terrain offers an array of outdoor adventures.
Garajonay National Park
This UNESCO World Heritage Site is home to a unique laurel forest, providing a lush and mystical atmosphere for visitors. Hike through the park's extensive network of trails, and marvel at the breathtaking vistas and diverse flora and fauna.
Los Órganos
Witness the awe-inspiring natural formation of Los Órganos, a series of vertical basalt columns resembling a colossal pipe organ. Accessible only by boat, this geological wonder is best appreciated on a guided boat tour along the island's northern coast.
Local Gastronomy: Savor the Tastes of La Gomera
San Sebastián de La Gomera offers a delightful culinary scene that showcases the island's traditional flavors. Indulge in local delicacies such as:
Almogrote: A spicy cheese spread made with hard cheese, peppers, garlic, and olive oil.
Potaje de berros: A hearty watercress soup, perfect for warming up after a day of exploring.
Gofio: A versatile flour made from roasted grains, often used in bread, stews, and desserts.
Don't forget to pair your meal with a glass of La Gomera's exceptional wine, produced from the island's fertile volcanic soil.
Navigating the Island: Transport Options in San Sebastián de La Gomera
As the main transport hub of the island, San Sebastián de La Gomera offers several options for getting around, including:
Ferry services: Regular ferries connect San Sebastián to the other Canary Islands, making it easy to explore the entire archipelago.
Bus services: The island's public bus network, known as GuaguaGomera, operates routes between San Sebastián and other towns on La Gomera.
Car rental: For those who prefer the freedom to explore at their own pace, car rental agencies are available in San Sebastián de La Gomera. The island's winding roads provide an exciting driving experience, with stunning views around every bend.
Taxis: Taxis are a convenient option for shorter trips within the town and to nearby attractions. Keep in mind that taxi fares may increase during weekends and holidays.
Hiking and cycling: With its well-maintained trails and pleasant climate, La Gomera is a paradise for hikers and cyclists. Many trails can be accessed from San Sebastián, offering an eco-friendly way to discover the island's natural beauty.
A Vibrant Cultural Scene: Festivals and Events in San Sebastián de La Gomera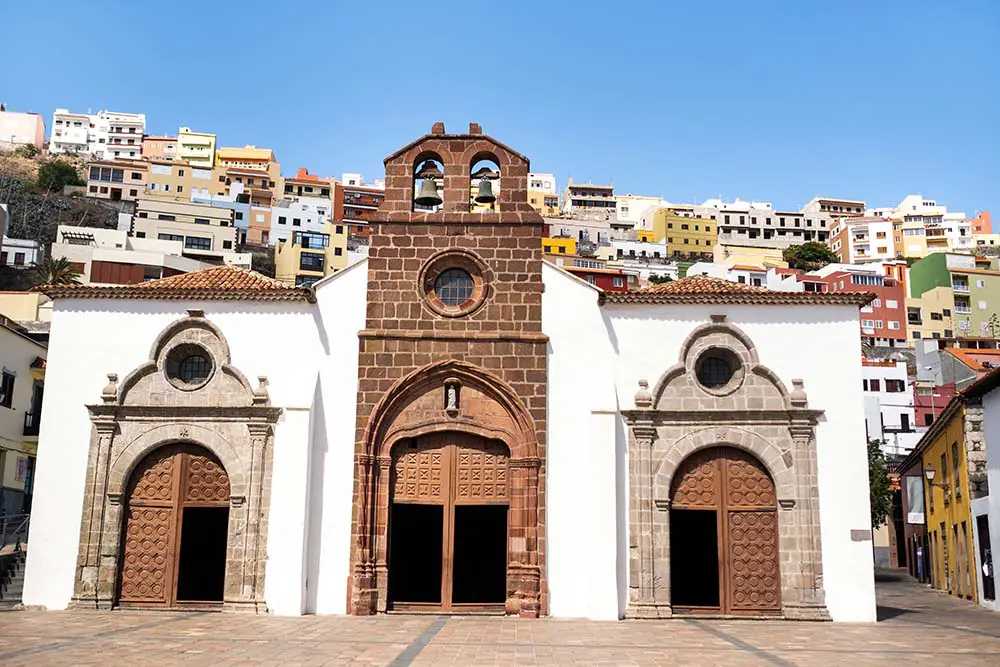 Throughout the year, San Sebastián de La Gomera hosts a variety of festivals and events that celebrate the island's rich cultural heritage. Some highlights include:
Fiestas Lustrales de La Gomera: Held every five years, this religious celebration honors the island's patron saint, the Virgin of Guadalupe. The event features processions, traditional music and dancing, and a variety of cultural activities.
San Sebastián Day: Celebrated annually on January 20, this event commemorates the town's patron saint with religious processions, music, and traditional Canarian games.
International La Gomera Walk Festival: Held in October, this popular event attracts hikers from around the world to explore La Gomera's breathtaking landscapes through guided walks and social activities.
Captivating Beaches: Unwind by the Ocean
San Sebastián de La Gomera is home to several beautiful beaches where you can relax, swim, or soak up the sun. Some of the most popular include:
Playa de San Sebastián: Located near the town center, this black sand beach offers calm waters and excellent amenities, including sunbeds, umbrellas, and nearby restaurants.
Playa de La Cueva: Just a short walk from the town, this secluded beach is surrounded by cliffs and offers crystal-clear waters, perfect for snorkeling and swimming.
Playa de Avalo: A hidden gem accessible only by foot or boat, Playa de Avalo is ideal for those seeking tranquility and unspoiled natural beauty.
In Conclusion: A Timeless Treasure Awaits in San Sebastián de La Gomera
Whether you're a history enthusiast, a nature lover, or a foodie, San Sebastián de La Gomera offers an unforgettable experience for everyone. Explore its rich past, immerse yourself in its vibrant culture, and discover the enchanting landscapes that make this island a true Canary Islands gem.