Tierra Verde, a tranquil and charming coastal community, is situated on a lush barrier island between the crystal-clear waters of the Gulf of Mexico and the vibrant Tampa Bay. This sun-drenched paradise offers a slice of Florida's natural beauty, inviting you to escape the hustle and bustle of everyday life and immerse yourself in its picturesque landscapes.
As you meander through the palm tree-lined streets, you'll encounter an array of impressive waterfront homes, locally-owned businesses, and friendly faces. Tierra Verde is a tight-knit community where residents and visitors alike appreciate the slower pace and welcoming atmosphere that permeates the island.
Whether you're in search of soft white sands to sink your toes into or thrilling water adventures, Tierra Verde has it all. The island boasts an array of pristine beaches, tranquil bays, and hidden coves, just waiting for you to explore. Meanwhile, its strategic location provides easy access to world-renowned attractions such as St. Pete Beach, Fort De Soto Park, and the vibrant city of St. Petersburg.
Long before the development of Tierra Verde and its neighboring islands, the native peoples of Florida recognized the spiritual significance of these pristine lands. The Indian tribes, such as the Tocobaga and Calusa, utilized the islands as sacred spaces for ceremonies and burial grounds.
These ancient peoples respected and honored the natural beauty and serenity of the islands, establishing a deep connection with the land and its surrounding waters. Today, visitors to the region can still sense the echoes of this rich cultural heritage and marvel at the enduring legacy left behind by these early inhabitants.
When you visit Tierra Verde, you'll not only be captivated by its natural beauty but also by its commitment to preserving the environment. The community takes great pride in conserving the area's diverse ecosystems and wildlife habitats, ensuring that future generations can also experience the magic of this enchanting Floridian paradise.
Proximity to Popular Attractions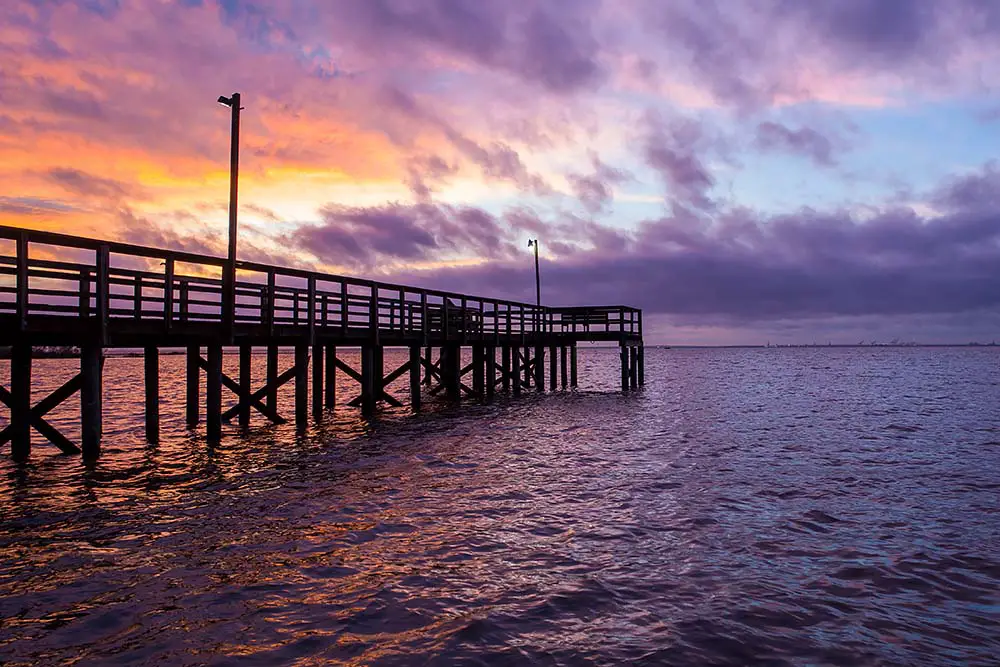 Amazing sunset at the Florida Gulf Coast
One of the many perks of visiting Tierra Verde is its close proximity to a plethora of popular attractions. While the island itself offers a serene escape, you're never far from an exciting adventure or a bustling hotspot to explore. Its strategic location and easy access to nearby destinations make Tierra Verde an ideal base for those who want to experience the best of Florida's Gulf Coast.
Just a short drive away is the bustling city of St. Petersburg, known for its thriving arts scene, world-class museums, and diverse culinary delights. Spend a day wandering through the city's vibrant streets, exploring galleries, and tasting your way through its incredible restaurants. Don't forget to visit the famous Salvador Dalí Museum, home to the largest collection of the surrealist artist's works outside of Europe.
For beach lovers, the award-winning St. Pete Beach is merely minutes away. Sink your toes into the powdery white sands and soak up the sun, or indulge in exhilarating water sports such as parasailing, jet-skiing, or paddleboarding. When the sun begins to set, take a leisurely stroll along the shoreline, or unwind at one of the many oceanfront bars and restaurants, sipping on a refreshing cocktail as you watch the sky burst into a kaleidoscope of colors.
History buffs and nature enthusiasts will find themselves captivated by the nearby Fort De Soto Park, a historic site and nature reserve that offers a unique blend of rich history and breathtaking landscapes. Explore the historic fort, enjoy a picnic by the beach, or immerse yourself in the park's diverse ecosystem with a hike or a bike ride.
Tierra Verde's location also provides easy access to the Pinellas Bayway, a scenic route connecting the island to nearby attractions. Embark on a road trip and discover the charm of neighboring communities like Pass-A-Grille, Treasure Island, and Madeira Beach.
In essence, Tierra Verde's close proximity to popular attractions ensures that you'll never run out of exciting experiences to savor and memories to create during your stay on this enchanting island.
Embracing Nature's Beauty and Unique Activities
Tierra Verde is a haven for nature lovers and outdoor enthusiasts. The island's unspoiled landscapes, diverse ecosystems, and abundant wildlife offer a plethora of opportunities to reconnect with nature and indulge in unique activities. From bird watching and tortoise spotting to exploring hidden coves and participating in water sports, there's always something to captivate your senses and spark your curiosity.
Begin your adventure by visiting the nearby Fort De Soto Park, where you'll find an impressive variety of bird species, including ospreys, herons, and egrets. The park is considered a premier bird-watching destination, offering a glimpse of these magnificent creatures in their natural habitat. Don't be surprised if you also spot playful dolphins, manatees, or even a tortoise lazily crossing the trail as you explore the park's diverse ecosystems.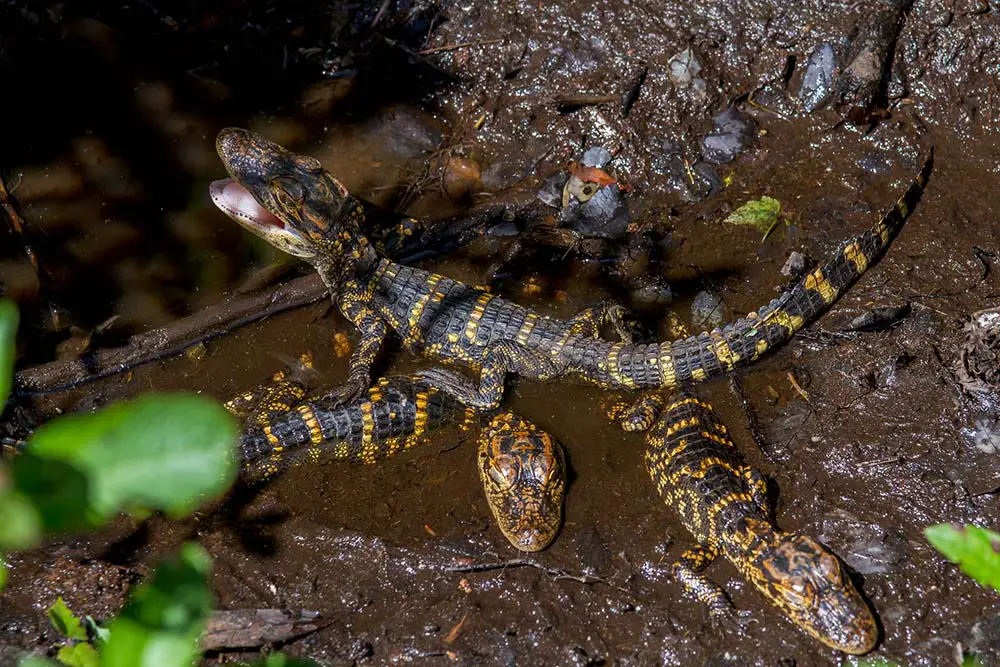 The amazing wildlife in Florida (Photo: Kelly Verdeck, Flickr)
Tierra Verde's pristine coastline is also perfect for those seeking water-based activities. Rent a kayak or paddleboard and navigate the island's tranquil bays and inlets, where you can marvel at the vibrant marine life and lush mangroves. Or, embark on a guided eco-tour to Shell Key Preserve, a nearby uninhabited barrier island that is home to a unique ecosystem teeming with birds, sea turtles, and other wildlife.
For a more leisurely approach to embracing nature's beauty, unwind on one of the island's many picturesque beaches, allowing the gentle sea breeze and the rhythmic sound of waves lapping at the shore to soothe your soul. Take a moment to appreciate the vivid sunsets that paint the sky in brilliant hues, creating a genuinely mesmerizing spectacle.
If you're a fishing enthusiast, Tierra Verde's surrounding waters offer plenty of opportunities to cast your line and reel in a memorable catch. Charter a fishing boat or try your luck from one of the many piers dotted along the coastline, and you might just land yourself a delicious dinner of fresh fish.
In Tierra Verde, the beauty of nature is never far away, inviting you to embrace its wonders and partake in the unique activities that abound. Whether you're a thrill-seeker or simply yearning for a serene escape, this enchanting island offers countless ways to immerse yourself in the breathtaking splendor of Florida's Gulf Coast.
Exploring Fort De Soto Park
Fort De Soto Park, a historic gem nestled on the coast of Florida, offers visitors an unparalleled blend of natural beauty and rich history. Spanning over 1,100 acres, the county park encompasses five interconnected islands, or keys, each boasting unique landscapes and ecosystems. The park's stunning beaches, diverse wildlife, and intriguing past make it a must-visit destination for those exploring Tierra Verde and its surroundings.
One of the most significant aspects of Fort De Soto Park is its namesake fort, which played a crucial role in coastal defense during the Spanish-American War. Today, visitors can explore the fort's well-preserved structures, such as the guardhouse and gun batteries, offering a fascinating glimpse into the area's military history. The on-site museum further delves into the fort's past through engaging exhibits and artifacts.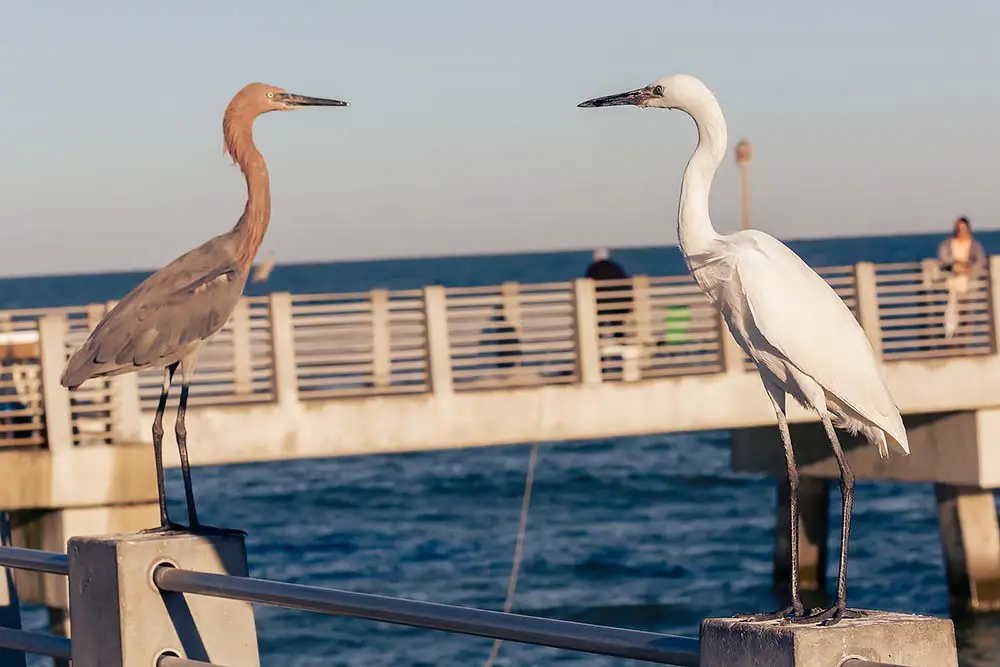 Reddish Egret Dark and White Morph at Fort De Soto (Photo: Matthew Paulson, Flickr)
Beyond its historical significance, Fort De Soto Park is a haven for nature lovers. Its pristine white-sand beaches are perfect for sunbathing, swimming, or simply enjoying the views. The park also features miles of hiking and biking trails that meander through its lush landscapes, allowing you to immerse yourself in its diverse ecosystems. Along the way, you might encounter a myriad of bird species or even spot a tortoise crossing your path.
The park's importance also lies in its role as a sanctuary for various wildlife species. As a premier bird-watching destination, the park attracts numerous birders eager to observe its resident and migratory birds. Furthermore, its unspoiled beaches provide nesting grounds for threatened sea turtles, emphasizing the park's commitment to conservation and wildlife protection.
Relaxing at St. Pete Beach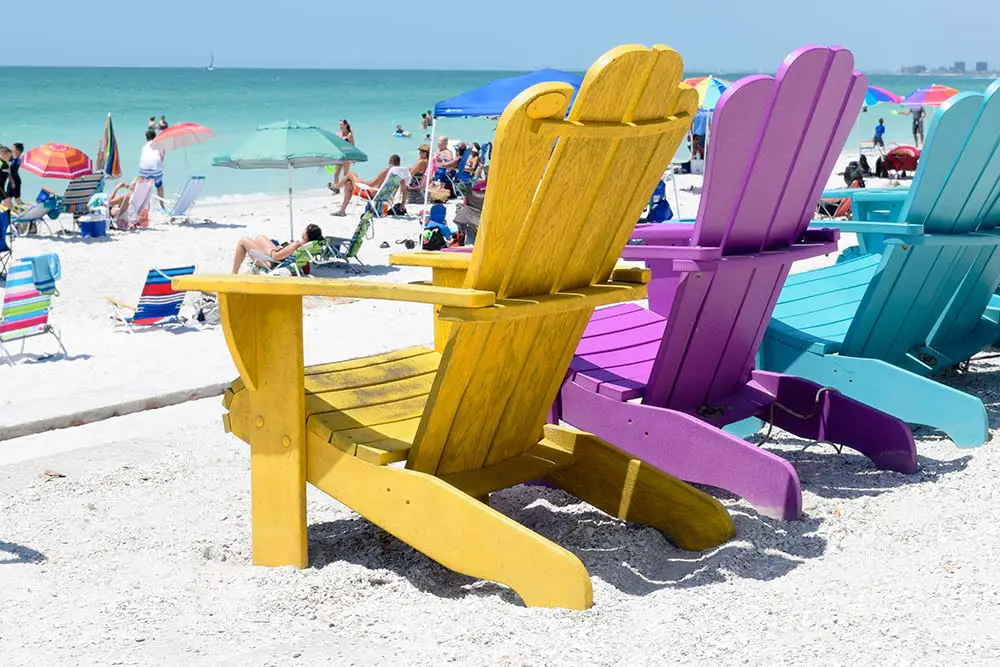 Colorful chairs at St. Pete Beach
St. Pete Beach, a stunning stretch of coastline just minutes from Tierra Verde, is the epitome of a dreamy beach escape. Known for its powdery white sands, warm turquoise waters, and spectacular sunsets, St. Pete Beach consistently ranks among the best beaches in the United States. This idyllic destination offers everything you could want for a relaxing day by the sea, as well as a variety of activities to suit every interest.
Located on the Gulf of Mexico, St. Pete Beach is a haven for sun-seekers and water enthusiasts alike. The beach's gentle waves and shallow waters make it perfect for swimming, especially for families with young children. Take a leisurely dip in the warm ocean, or simply stretch out on the soft sand and let the sun's rays work their magic on your skin.
If you're seeking a more active day at the beach, St. Pete Beach offers a plethora of water sports and activities. Rent a paddleboard, kayak, or jet ski, and explore the picturesque coastline from a new perspective. If you're in search of adrenaline-pumping thrills, consider trying your hand at parasailing, where you'll soar high above the sparkling waters, taking in breathtaking views of the surrounding area.
St. Pete Beach also caters to your culinary desires, with an array of oceanfront dining options available to satisfy any craving. From casual beachside cafes to upscale restaurants, you can indulge in delicious meals while enjoying spectacular views of the glistening Gulf. Don't miss the chance to sample some of the area's freshest seafood, caught just offshore.
As the day winds down, one of the most unforgettable experiences at St. Pete Beach is watching the sunset over the horizon. The sky comes alive with vibrant hues, creating a mesmerizing display that serves as a perfect end to a day spent on this magnificent stretch of sand.
Navigating Pinellas County
Navigating Pinellas County, home to Tierra Verde and other popular destinations, is a breeze, thanks to its well-connected roadways and accessible public transportation options. Whether you're driving or using other means of transport, you'll find it easy to explore the county's many attractions, including its stunning beaches, vibrant cities, and charming communities. Here's everything you need to know about getting around Pinellas County and reaching Tierra Verde, with a particular focus on connections from St. Petersburg.
By Car
Renting a car is a popular choice for visitors, providing flexibility and convenience when exploring Pinellas County. The main route connecting Tierra Verde to St. Petersburg and other parts of the county is the Pinellas Bayway (FL-679). From downtown St. Petersburg, simply head south on Interstate 275, take Exit 17 onto the Pinellas Bayway, and follow it westward until you reach Tierra Verde. The scenic drive takes you through picturesque landscapes and over stunning bridges, making the journey an enjoyable part of the experience.
By Public Transportation
Pinellas County's public transportation system, the Pinellas Suncoast Transit Authority (PSTA), provides an affordable and convenient way to explore the area. While there isn't a direct bus route to Tierra Verde, you can easily get to nearby St. Pete Beach using PSTA's bus services.
From St. Petersburg, hop on Route 14 to the Central Avenue Trolley, which takes you to St. Pete Beach. From there, it's a short taxi or rideshare ride to Tierra Verde.
By Bicycle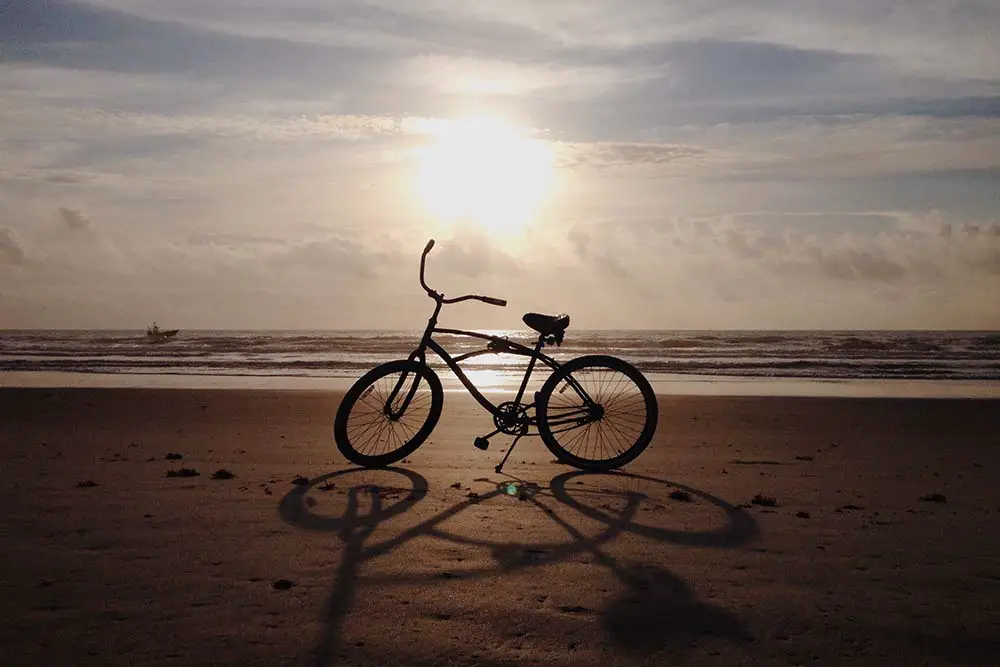 For the more adventurous traveler, cycling around Pinellas County is a fantastic way to take in the beautiful surroundings at a leisurely pace. The county boasts an extensive network of bike lanes and trails, including the Pinellas Trail, which stretches over 50 miles from St. Petersburg to Tarpon Springs. While the trail doesn't directly connect to Tierra Verde, you can cycle to St. Pete Beach and then use dedicated bike lanes on the Pinellas Bayway to reach your destination.
Access to Nearby Attractions via Pinellas Bayway
The Pinellas Bayway, a scenic route connecting Tierra Verde to neighboring attractions, offers an easy and enjoyable way to explore the stunning Gulf Coast of Florida. This picturesque roadway, which includes a series of bridges, enables visitors to access a variety of popular destinations, from award-winning beaches to charming coastal communities.
One notable attraction accessible via the Pinellas Bayway is the renowned Fort De Soto Park. Simply head east on the Bayway, and you'll soon reach this historic site, where you can explore the fascinating fort, pristine beaches, and diverse ecosystems teeming with wildlife. The park is a must-visit destination for history buffs, nature lovers, and anyone looking for a memorable day trip.
In addition to Fort De Soto Park, the Pinellas Bayway provides access to a number of other beautiful beaches, such as St. Pete Beach and Pass-A-Grille. These stunning stretches of sand are perfect for sunbathing, swimming, and indulging in water sports, or simply unwinding at an oceanfront restaurant with a refreshing cocktail in hand.
As you travel along the Pinellas Bayway, you'll also discover several charming communities, each with its own unique character and attractions. From the lively atmosphere of Treasure Island to the laid-back vibes of Madeira Beach, there's always something new to explore just a short drive away from Tierra Verde.
Isla Del Sol and Monte Cristo Neighborhoods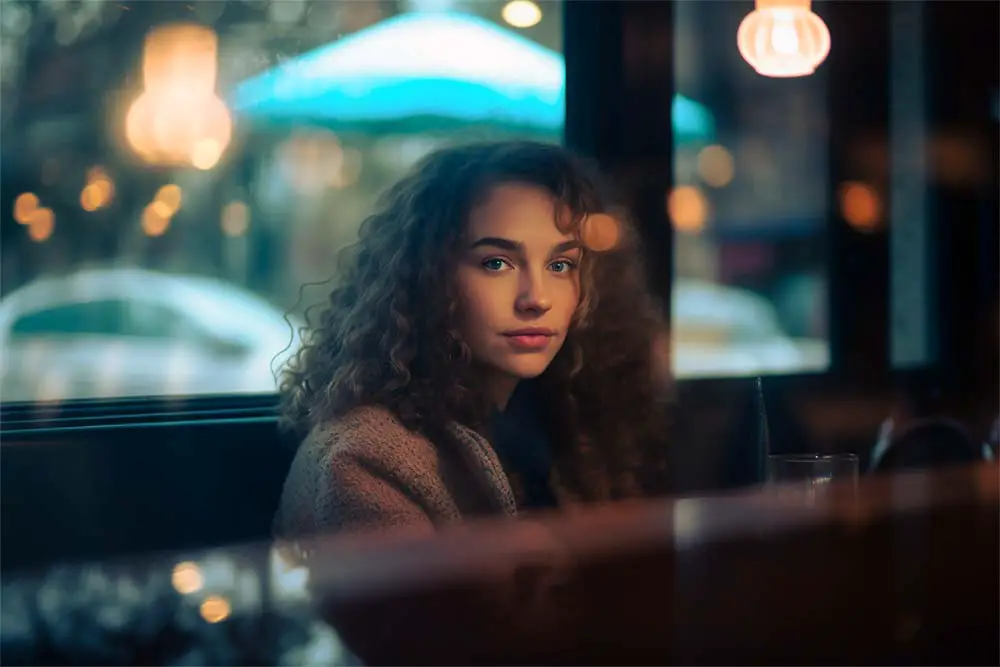 Young woman enjoying something to drink at a local café in Monte Cristo
Nestled near Tierra Verde, the upscale neighborhoods of Isla Del Sol and Monte Cristo offer a luxurious and tranquil retreat for visitors and residents alike. These exclusive communities are known for their stunning waterfront homes, well-manicured landscapes, and access to top-notch amenities, making them an ideal choice for those seeking an elevated experience along Florida's Gulf Coast.
Isla Del Sol, a beautiful island community, boasts a prestigious golf course, a private marina, and a variety of dining and shopping options. The well-maintained streets are lined with elegant homes, many of which offer breathtaking views of the surrounding waters. For those looking to hit the links, the Isla Del Sol Yacht and Country Club provide a challenging 18-hole championship course, where you can enjoy a round of golf in a picturesque setting.
Monte Cristo, another upscale neighborhood located near Tierra Verde, is characterized by its exquisite homes, some of which feature private docks and direct access to the Intracoastal Waterway. The peaceful atmosphere of Monte Cristo invites you to slow down and savor the finer things in life, such as leisurely strolls through the neighborhood or relaxing by the water's edge.
In summary, both Isla Del Sol and Monte Cristo are enchanting neighborhoods that exemplify the best of Florida's Gulf Coast living. Their serene ambiance, luxurious amenities, and stunning landscapes provide a captivating backdrop for a truly unforgettable getaway.
Discovering Shell Key Preserve
Shell Key Preserve, a pristine and secluded barrier island located just south of Tierra Verde, is an unspoiled haven for nature lovers and adventure seekers alike. Encompassing over 1,800 acres of protected land and waters, the preserve is home to a rich variety of flora and fauna, as well as a unique ecosystem that includes mangroves, seagrass beds, and tidal flats. The island's serene beauty, combined with its diverse habitats, make it a prime destination for those looking to connect with nature and escape the bustling tourist hotspots.
Kayaking
One of the best ways to explore Shell Key Preserve is by gliding through its tranquil waters on a kayak. Paddling along the winding channels and mangrove tunnels offers an intimate look at the preserve's unique ecosystem, while also providing the opportunity to spot native wildlife, such as manatees, dolphins, and a myriad of bird species. The calm waters surrounding the island are perfect for both experienced kayakers and beginners, making this an enjoyable activity for all skill levels.
Snorkeling
Beneath the clear waters of Shell Key Preserve lies a vibrant world teeming with marine life, waiting to be discovered by snorkelers. Don your mask and fins, and immerse yourself in the underwater wonderland, where you'll encounter a dazzling array of fish, sea stars, and other marine creatures. The preserve's seagrass beds and shallow reefs serve as important habitats for many species, allowing you to observe the rich biodiversity that thrives in this protected environment.
Wildlife Observation
Shell Key Preserve is a haven for wildlife enthusiasts, boasting an impressive array of native and migratory bird species, as well as a variety of marine life. As you explore the island's beaches, marshes, and mangroves, keep an eye out for rare and endangered birds, such as the reddish egret, roseate spoonbill, and black skimmer. The preserve's shores also serve as nesting grounds for sea turtles, making it a critical habitat for these threatened creatures. Don't forget your binoculars and camera, as you'll undoubtedly encounter countless photo-worthy moments while exploring this natural sanctuary.
Guided Tours and Excursions
For those who prefer a more structured experience, Shell Key Preserve offers a variety of guided tours and excursions, led by knowledgeable local experts.
Choose from eco-tours that focus on the preserve's unique ecosystem and wildlife, or opt for a guided kayaking or snorkeling adventure that allows you to delve deeper into the island's aquatic habitats. Many tour operators also offer sunset cruises and shelling excursions, providing an unforgettable way to experience the island's beauty while learning about its fascinating ecology.
Things to Do in and Around Tierra Verde
Boating and Fishing
The waters surrounding Tierra Verde offer a wealth of opportunities for boating and fishing enthusiasts. The area's numerous marinas and boat ramps make it easy to launch your vessel and embark on a memorable day on the water. The Intracoastal Waterway and the Gulf of Mexico provide excellent fishing grounds, teeming with a variety of game fish, such as snook, redfish, and tarpon.
For those without their own boat, numerous local charters offer guided fishing trips, ensuring a fantastic day on the water, whether you're a seasoned angler or a first-time fisherman.
Hiking and Biking Trails
Tierra Verde and the surrounding area boast a network of hiking and biking trails, offering outdoor enthusiasts the chance to explore the region's natural beauty at their own pace. The nearby Fort De Soto Park features several miles of multi-use trails, perfect for hiking, jogging, or cycling, while the longer Pinellas Trail provides a more extensive route, connecting St. Petersburg to Tarpon Springs.
These trails meander through diverse landscapes, from picturesque waterfront vistas to lush, shaded forests, providing a delightful way to immerse yourself in the local environment.
Art Galleries and Studios
Tierra Verde and its neighboring communities are home to a thriving arts scene, featuring numerous galleries and studios where visitors can admire the works of local and regional artists. Stroll through the charming streets and discover a diverse range of artistic styles, from traditional paintings and sculptures to more contemporary pieces in various mediums.
Many galleries also offer workshops and classes, allowing you to tap into your own creativity and learn from talented artists in a welcoming atmosphere.
Restaurants and Bars
A visit to Tierra Verde would be incomplete without sampling its diverse culinary offerings. The area boasts an array of restaurants and bars, catering to a variety of tastes and budgets. From casual beachside cafes serving up fresh seafood and tropical cocktails to upscale establishments offering fine dining experiences, there's something to satisfy every palate. Don't miss the opportunity to enjoy a meal al fresco, taking in stunning waterfront views as you savor the flavors of the region.
Seasonal Events and Festivals
Tierra Verde and the surrounding areas host a variety of seasonal events and festivals throughout the year, offering unique experiences that showcase the region's vibrant culture and community spirit. From art fairs and craft shows to food festivals and live music events, there's always something happening to keep visitors entertained. One highlight is the annual Tierra Verde Island Festival, a weekend-long celebration featuring live music, local vendors, and delicious food, all set against the backdrop of the island's stunning waterfront. Make sure to check local event calendars during your visit, so you don't miss out on these memorable experiences.
Conclusion
In summary, Tierra Verde is a hidden gem on Florida's Gulf Coast, offering a perfect blend of natural beauty, outdoor activities, and cultural attractions. From the pristine shores of Fort De Soto Park and St. Pete Beach to the enchanting wildlife at Shell Key Preserve, this charming destination provides ample opportunities for relaxation, adventure, and exploration. The region's diverse outdoor activities, including boating, fishing, hiking, and biking, cater to visitors of all ages and interests, while the thriving arts scene, bustling restaurants and bars, and lively seasonal events ensure there's never a dull moment during your stay.
Whether you're seeking a tranquil getaway in the upscale neighborhoods of Isla Del Sol and Monte Cristo, or you're eager to discover the wonders of the local ecosystem and wildlife, Tierra Verde has something for everyone. Its convenient location, just a short drive from St. Petersburg and other Pinellas County attractions, makes it an ideal base for exploring the many treasures of Florida's Gulf Coast. With its inviting atmosphere, stunning landscapes, and wealth of activities, Tierra Verde is sure to leave a lasting impression on all who visit this captivating destination.