When it comes to finding the best places in Tenerife, there are many factors you need to take into account. Each area of the island has its unique charm and offers something different for visitors. Whether you're looking for a quiet place to relax or an area with plenty of nightlife and activities, I have got you covered. In this post, I will introduce you to the different areas of Tenerife and give you my top picks for each one!
Which side of Tenerife is better?
The island of Tenerife is usually divided into north and south and the difference in climate and experiences are large. The south is generally warmer with more beach days whereas the north has cooler temperatures and is better for hiking. The majority of tourist attractions are located in the south, so if you're looking to tick some things off your bucket list, this is the area for you. However, both sides of the island offer stunning views and plenty of activities, so it comes down to what you're looking for in a holiday.
To help you make your decision, I've put together a list of the best places to stay in Tenerife, depending on what type of vacation you're after. Don't miss out on the live webcams available all across the island of Tenerife.
Playa de las Americas: The ultimate place to party in Tenerife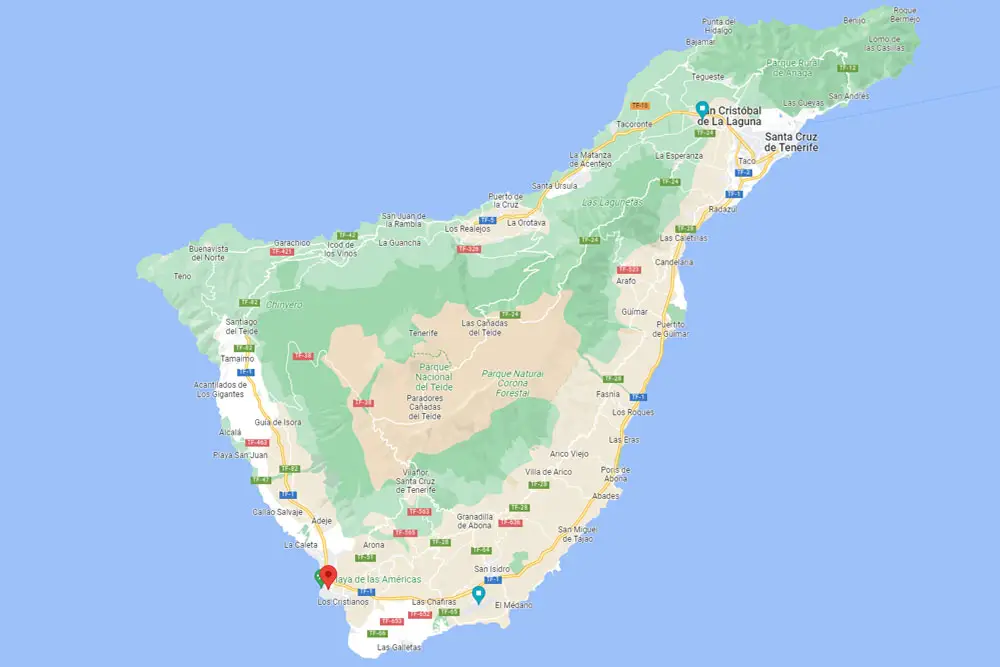 If you're looking for a place to let loose and party, look no further than Playa de las Americas. This city located at the southern end of Tenerife is known for its nightlife and abundance of clubs. If you're looking to have a good time, this is the place to be.
The island's party capital is Playa de las Americas, which is something to remember about this lively resort on the south coast of the island. Thousands of people celebrate it up in this colorful and vibrant holiday destination, which is known for its 24-hour parties, making it one of the most popular places to visit in all of Europe. 
So, if you're looking for a place to let your hair down and have some fun, Playa de las Americas is the perfect spot for you. With its vibrant nightlife and an endless supply of clubs, this city will definitely keep you entertained. So get ready to party hard and have some fun!
Some of the best clubs in Playa de las Americas include:
Tramps Tenerife: This club is a must-visit for anyone looking for a wild night out. With its dancers, acrobats, and pyrotechnics, the club is sure to keep you entertained all night long.
Princess Di's: This club is one of the most popular on the island and is known for its incredible parties. If you're looking to let loose and have some fun, KU is the place to be.
Sax Rock Bar: This club is the perfect place to listen to live music and party all night long. With its great atmosphere and amazing drinks, you're sure to have a good time at Sax Rock Bar.
Family holiday at Playa de las Americas
Playa de las Americas is a popular tourist destination in the Canary Islands. It has many hotels and other amenities to serve tourists, but one thing that sets it apart from most resorts is its family-friendly atmosphere.
Many of the people who live there are also families with children, so they all have lots of fun together. There's always something to do for kids (and adults too!), whether it be going on an excursion or simply relaxing at the beachside park. If you're looking for a resort where your kids will have as much fun as you do, Playa de las Americas might just be perfect for you!
If you're looking for a place to stay in Playa de las Americas, there are plenty of great options. The Jardin Tropical Hotel is a luxurious option that's right on the beach. For something a little more budget-friendly, the Paradise Park Funicular Hotel is a great choice. No matter what your budget is, you're sure to find something perfect for your needs in Playa de las Americas.
And don't forget: the food is amazing here too! The Canary Islands are known for their seafood, and you'll find plenty of delicious dishes to choose from when you're in town. So why not come and see for yourself what makes Playa de las Americas so special? You won't be disappointed.
Los Cristianos, where to stay in Tenerife for families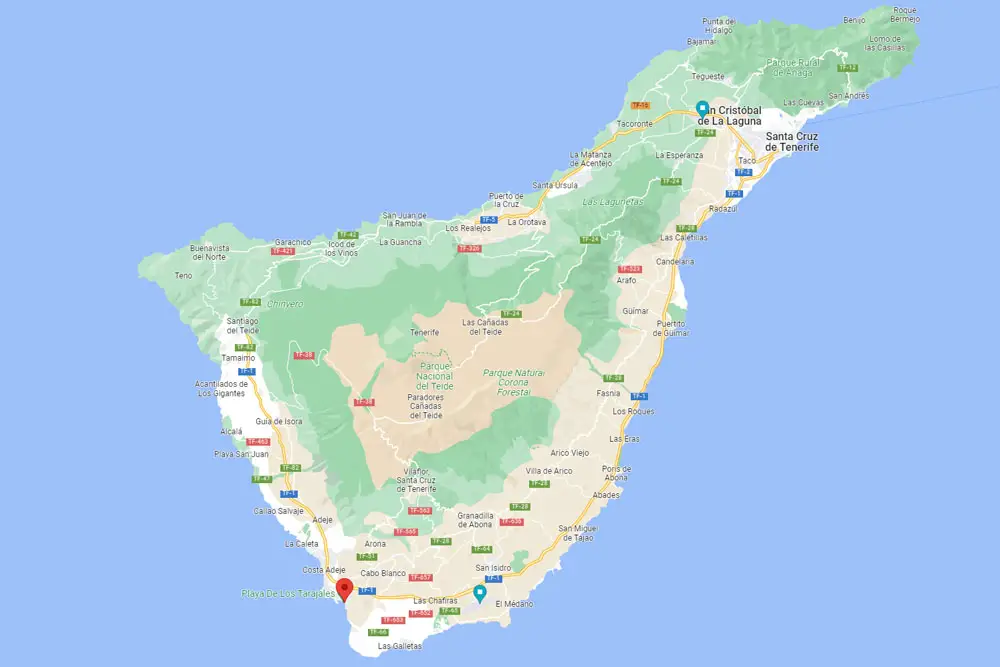 The city of Los Cristianos is located west of the southern airport (Reina Sofía) and is one of the most popular and active resorts on the Canary Islands. The beaches are beautiful, and it has a harbor that provides fishing excursions, pleasure cruises, outings on glass-bottom boats, diving excursions, as well as ferries to other islands.
The average temperatures are between 21ºC and 28ºC, which makes it a great destination any time of year. The water is usually around 22ºC. You can find many all-inclusive resorts in Los Cristianos, as well as smaller, more intimate hotels. No matter what your budget is, you'll be able to find something that suits your needs.
Family-friendly
If you're looking for a family-friendly resort, Los Cristianos is a great option. It's only a five-minute drive from Playa Las Américas, which has lively nightlife. Los Cristianos is also convenient and only 15km from Reina Sofia Airport.
There are many golden sandy beaches, many cafes and restaurants catering for all nationalities. Playa de Los Cristianos Camisón and manmade Playa de las Vistas are famous watersport spots and family fun playgrounds for children. If you want to explore beyond the resort, you can take a cable car ride to Monkey Park or Siam Water Park.
If you're looking for a relaxing vacation with plenty of activities for the whole family, Los Cristianos is the perfect place to stay.
The main beach, full of golden sand and tranquil waters, is a hive of activity with plenty of sunbeds and shower facilities. The next beach along, Playa de las Vistas, is another long stretch of yellow soft sand with an abundance of amenities. Waters sports are on offer here; you can have fun on a pedalo or test your surfing ability.
Both beaches are great for swimming, sunbathing, and enjoying the views. Los Cristianos is also one of the best places in Tenerife for a bit of luxury; there are some high-end hotels and resorts located here. If you're looking to enjoy all that this vibrant town has to offer, then Los Cristianos is certainly the place to stay.
Puerto de la Cruz, the best place to stay in North Tenerife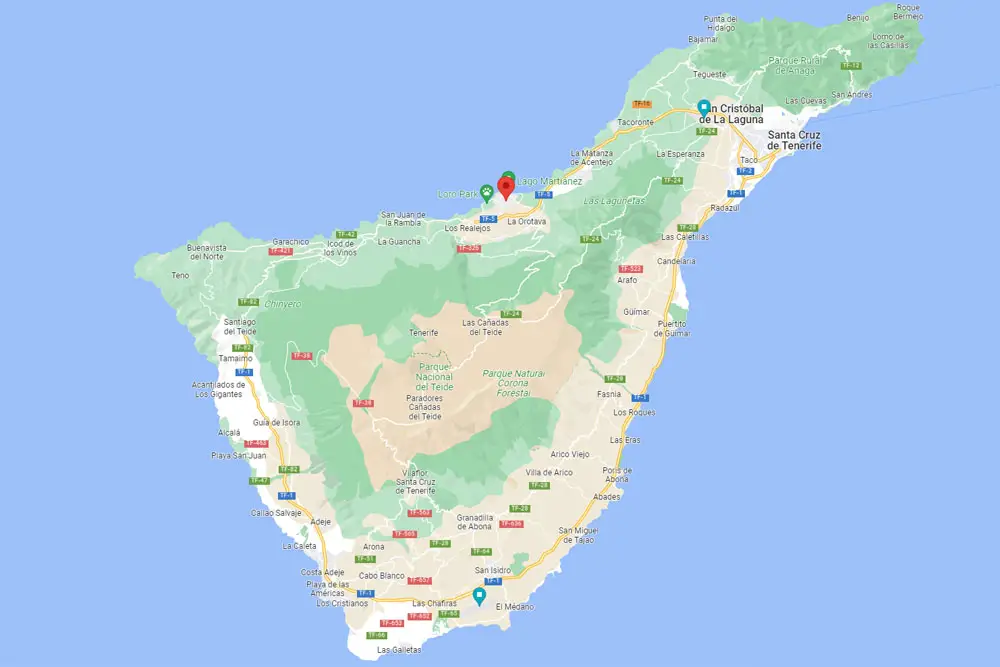 In the Orotava Valley, Puerto de la Cruz is located on the north coast of Tenerife and was once only a fishing village but became an important tourist destination. In the summer, many Spanish and foreign citizens visit Puerto de la Cruz for the holiday. One of its attractions is the old town, with an outdoor Swimming Pool in Lago Martianez Water Park, an Animal-Adventures Park in Loro Parque, Jardin Botanica, and Parque Taori. The vicinity of the historic fish port is dotted with shady cobblestone streets and traditional colonial bars and cafés. The huge square of Las Placa del Charco is also close by.
This is the main square and it's a great place to watch the world go by. The port area has a beautiful promenade that's perfect for an evening stroll. You can also find some good restaurants here serving fresh seafood.
The old town is filled with charming streets and traditional bars and cafés, and the port area has a beautiful promenade perfect for an evening stroll.
Puerto de la Cruz is a fantastic holiday getaway for the discerning traveler searching for peace and culture, whether you want a romantic escape, a family vacation, or to unwind with a group of friends.
If you are staying here and are looking for a great day trip, make sure to take the bus (or rental car) a bit west to Garachico. An amazing place to spend a day.
Los Gigantes, beautiful cliffs and relaxing holidays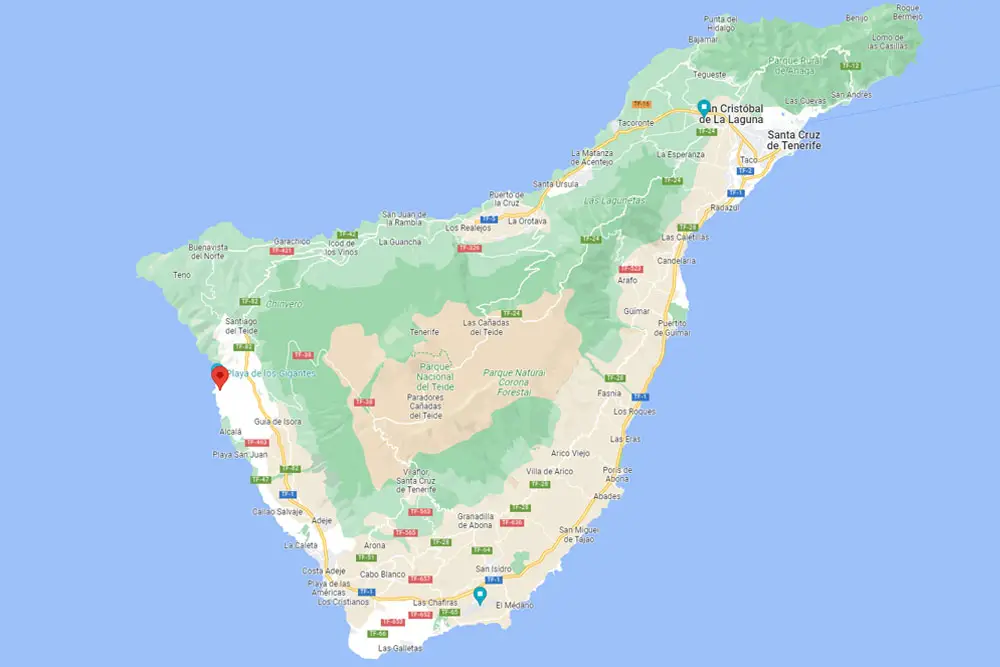 Los Gigantes is on the west coast of Tenerife. It is just a short distance from Puerto Santiago and Playa de la Arena amidst the affluent resort of Playa de la Americas and Los Cristianos. These once fisher villages offer the same authentic Spanish experience as many other holiday destinations in Tenerife.
The town offers a lovely marina and several excellent local cafes. Los Gigantes is named after the high mountain tops of Tenerife north of Los Gigantes. Los Gigantes is surrounded by the Massive Mountains of Teno. The area has something for everyone with beautiful beaches, good food, lively nightlife, an attractive village center with cobbled streets, and plenty to see – all set against a backdrop that includes some of the most dramatic cliffs in Tenerife.
If you're looking for a place to relax and enjoy the incredible views, Los Gigantes is the perfect spot for you.
Santa Cruz de Tenerife, where to stay for city life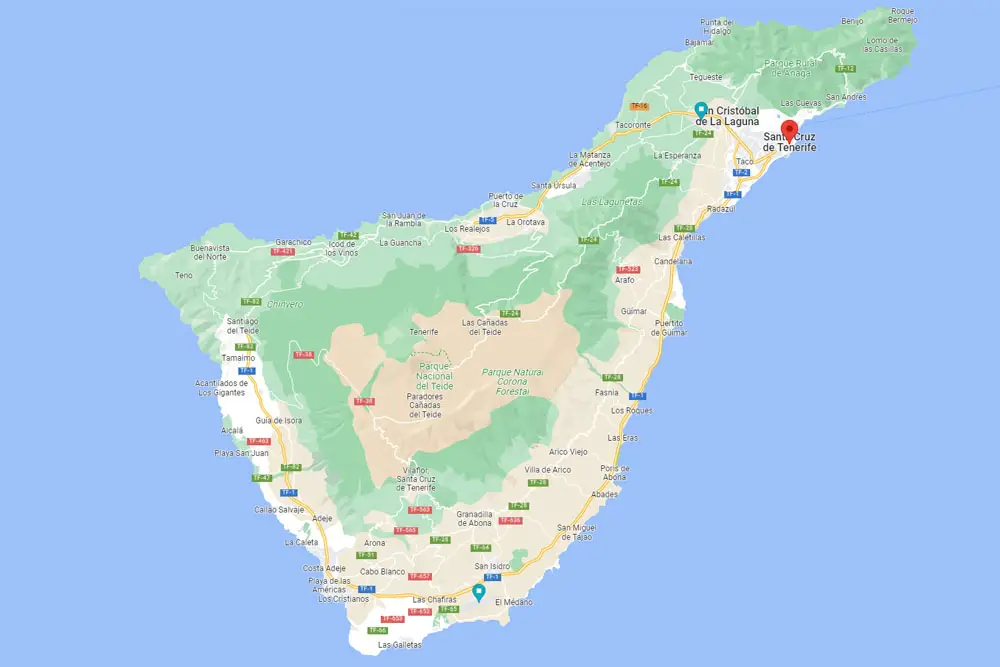 On the eastern end of Tenerife, Santa Cruz is a bustling metropolis that houses one of the most historically significant harbors in the Atlantic Ocean. The city grew rapidly during the 19th century, when ships bound for North America would routinely stop here, helping to cement this destination on the world map.
Today, Santa Cruz de Tenerife is a popular tourist spot for those seeking the hustle and bustle of city life. Here you'll find all the amenities and conveniences one would expect in a capital city, as well as a wide range of cultural attractions. The Museo de la Ciencia y el Cosmos (Museum of Science and Cosmology get a true sense of the city's history, be sure to visit the Casco Viejo (Old Quarter), where you'll find narrow streets and colonial-era architecture. And for some retail therapy, head to Calle Castillo, which is home to high-end designer boutiques.
It's a dynamic and colorful metropolis with numerous interesting sites to visit, beautiful buildings, wonderful shopping, and fantastic restaurants. The harbor is a stepping-off point for ships traveling to the Caribbean as well as a port of call for those sailing to mainland Spain.
Santa Cruz is a city that has something for everyone
If you're looking to stay in the heart of Santa Cruz and enjoy all that this vibrant city has to offer, then look no further than the Hotel AC Santo Domingo. This contemporary hotel is centrally located on Plaza de España, just steps away from some of the best shopping in the city and a short walk from Santa Cruz's beautiful seafront. Rooms are spacious and well-equipped with everything you need for a comfortable stay, while the hotel's rooftop terrace offers stunning views of the cityscape and the Atlantic Ocean.
For those who prefer to be outside the hustle and bustle of the city center, the Hotel Corona Mar is a great option. Situated in the peaceful district of San Cristóbal de La Laguna, this charming hotel offers easy access to all of Santa Cruz's main attractions via public transport. Rooms are comfortable and well-appointed, and guests can enjoy lovely views of the city from the rooftop terrace.
The Carnival in Santa Cruz de Tenerife
Santa Cruz becomes a party town every year in February or March with the arrival of carnival. For weeks, the streets and plazas are transformed into one enormous celebration, and they know how to have a good time! People from all around arrive in vibrant costumes, join the parade, and sing and dance until early morning.
No matter what your interests are, Santa Cruz is a city that has something for everyone. So why not book a stay in this exciting destination and explore everything it has to offer?