Costa Adeje is a luxurious beach resort located on the western shore of Tenerife. This beautiful beach is situated on the foothills of Teide Volcano and is mostly lined by a boardwalk with views of the sea. Costa Adeje offers a unique beachside experience that is perfect for families. You will find plenty to do in this area, including water parks containing a dazzling slide, modern shopping areas, and several cool areas to relax with views. Soak up the sun and enjoy your time at Costa Adeje!
The beautiful beaches and hotels in the north of Costa Adeje, which is immediately north of Playa de las Americas, are popular with fashionable European tourists. Join them and you'll discover family-friendly beaches linked by a magnificent seaside walk that offers everything from shopping to dining to water activities. This is paradise on earth when it comes to weather, with temperatures averaging a comfortable 24C and an annual 320 days of sunshine.
Things to Do in Costa Adeje
Costa Adeje comprises mostly vast beaches surrounded by a variety of water conditions. In contrast, it's home to several theme parks that keep kids excited. One is Siam Park, Europe's biggest water park. The Aqualand Costa Adeje Waterpark has everything from a lazy river to heart-stopping slides like the Tower of Power – which drops you through inky darkness into an ice-cold pool. Have a look at all the live webcams in Adeje to see what's happening right now.
Ocean experiences
The Costa Adeje weather is an endless summer varying from the hottest average at 24 degrees Celsius in August (although sometimes a high 30 degrees) to the coldest during January. The average temperature is 18 degrees Celsius. However, the water is very cold as the ocean opens up to the Atlantic Ocean. The beaches of Costa Adeje are packed with marine species far from home and can be a great base for exploring oceanic attractions.
Beaches
Soak in the sun, play on the beach or enjoy many water sports activities at the Costa Adeje beach. Place your head along a rocky shore to purchase a chilled product from a nearby resort or restaurant with the best customer service in a long line of beaches that merge smoothly. Although many of these coves can be accessed via taxis or buses, many opt instead of walking because of their proximity and the picturesque sights.
Playa del Duque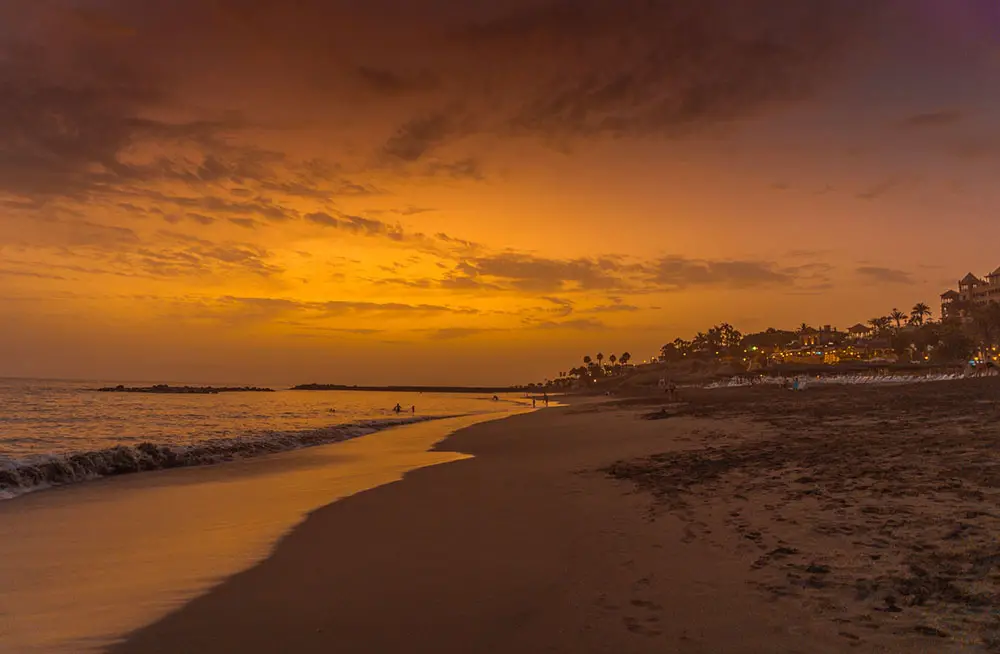 Approximately 700 meters of grey gold sand lies at the edge of the Costa Adeje rocky cove. The Beach is the property of the hotel in which this is located, and is available to the public. The pathway down to the beach provides scenic views of Cove and Atlantic and consists of strollers and joggers.
Playa del Puertito
A little further away is a small village called El Puertito. The fishing town in the past was much less popular than some resort areas and has a few attractions and shops. The principal beach, Playa del Puertito, attracts most residents who like to grill or walk their dogs here.
Playa del Bobo
A popular beach in the region by a lot of people because it is close to many of the nearby hotels. Play d'Obobos is a manmade cove of black volcanic sand that can be a perfect family destination and is surprisingly quieter than the beaches surrounding Costa Adeje.
Playa de Fanabe
Five km from Adeje's center lies Fanabe's coastal town. The city itself evokes British ambiance by having a central square that has a tearoom and a cafe. Upmarket villas form a typical site here as well as luxurious, exclusive beach hotels.
Golf Costa Adeje
For those older players wishing to spend some time playing golf, Costa Adeje boasts a beautiful golf course that can take you to a breathtaking place. The 18 holes offer stunning views over the Atlantic and various obstacles across the vast green.
If you're looking for a place to tee off in style, Golf Costa Adeje is your spot. This 18-hole course offers stunning views of the Atlantic and plenty of challenges to test even the most experienced golfer. And if that's not enough, the all-day sunshine and balmy temperatures will make you feel like you're really on vacation.
Surfing Windsurfing and Stand Up Paddleboarding (SUP)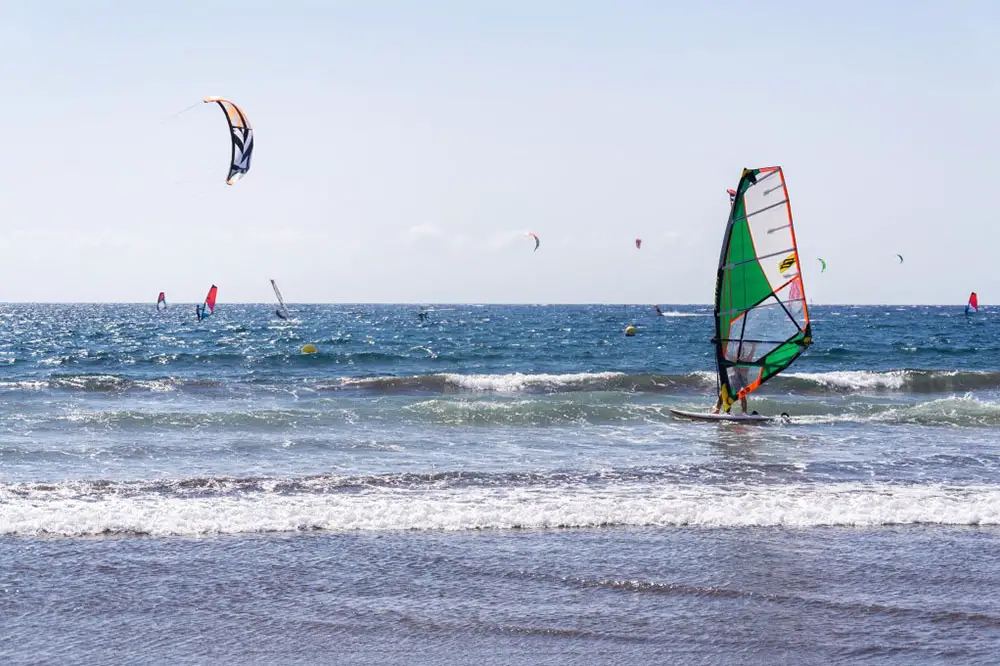 The many beaches of Costa Adeje make it the ideal place for surfing. In the case of the Atlantic, waves have been abundantly present throughout the area. If the wind is stronger, choose to windsurf and try stand-up paddleboarding in clear waters.
Watersports
Try a few different jet-ski excursions around the island, or simply go by sea. Watersport Tenerife also offers group activities such as banana boats, para-gliding, and flyfishing. Adrenaline junkies should take up Wakeboarding.
Want to see how Costa Adeje is looking right now?
Parks
Costa Adeje never seems to run out of activities that will entertain everyone. Even younger crowds will be entertained at the Costa Adeje Waterpark. Golf Costa Adeje provides great views of the lush greens overlooking the ocean.
Sailing
Explore other locations along Adeje's coastline with a chart of its waterways. Abrazo Sailing is equipped to carry an explorer who takes you along the coastline and takes you to unknown beaches for swimming or relaxing.
Playa Blanca
Playa Blanca is known for its beaches in Costa Adeje and its dives. The rich marine biodiversity of the waters attracts many tourists who find local barracudas, corals, sharks, and other animals swimming nearby.
Aqualand
Aqualand is a water park on the island of Tenerife in the Canary Islands. It is one of the largest water parks in Europe, with over 20 attractions and thousands of visitors per day. Aqualand has something for everyone, from children's areas with small rides and play pools, to thrill rides such as the 'Black Hole' and 'Tornado'. There are also several restaurants and shops located within the park.
Siam Park
The thrill-seekers will discover many things to enjoy at a world-class Waterpark in Europe. Siam Park is the perfect place for a full-body weekend of fun, recreation, and recreation.
With over 30 rides and attractions, Siam Park is one of the most popular tourist destinations in Tenerife. The park's main attraction is the Tower of Power, a 28-meter drop that will leave you breathless. Other adrenaline-pumping rides include the Mai Thai River, Dragon's Kingdom, and Jungle Snakes. For those looking for a more relaxing experience, Siam Park also offers lazy rivers and swimming pools.
Scuba diving and snorkeling
Costa Adeje provides a range of diving services ranging from beginner to professional levels. Several diving centers have PADI courses and excursions along the island's shore.
Is Costa Adeje better than Los Cristianos?
Los Cristianos has always been popular with families thanks to its accessibility and climate, but Costa Adeje is a better bet for chic Europeans who prefer more upscale restaurants and hotels. If you're looking for a luxurious beach resort with plenty of activities and great weather, Costa Adeje is the place to be. The only downside? It can get a bit crowded during peak season. But hey, that's what happens when you find an amazing spot like this!
If you're looking for a luxurious beach resort on Tenerife's western shore, look no further than Costa Adeje. With its family-friendly beaches, great shopping, and upscale restaurants, Costa Adeje has everything you could want in a beach resort. And with weather that consistently hovers around 24 degrees Celcius and the sun shining around 320 days a year, Costa Adeje is practically paradise!
If you are looking to get away from the bustling crowds in Costa Adeje for a day, take the car 20 minutes north and make a visit to the lovely town of Alcala. A small and quiet place where you can enjoy great food and scenery.
Which airport is closest to Costa Adeje?
The closest airport to Costa Adeje is Tenerife South Airport, which is about a 20-minute drive from the resort. There are also several other airports on the island of Tenerife, but Tenerife South Airport is by far the closest and most convenient option for visitors to Costa Adeje.