If you are heading to South Florida, be sure to check out this list of top Miami shopping malls and shopping areas.
South Florida is one of the most popular tourist destinations in the country. If you are planning a trip to Miami or South Florida and are looking for a fun place to shop, look no further.
Everyone who lives in Miami has shopped at one of the big malls at one time or another. There are many other great malls, including the one in the middle of the Florida Keys called the "Falls," and the posh ones in Aventura and Bal Harbour, where the shopping is superb so long as you don't let the price tags get to you.
We have places that are visited by every resident and every tourist to Miami, such as the Dolphin Mall, which is popular for not only its specialty and outlet shops but also for its variety of entertainment options.
Aventura Mall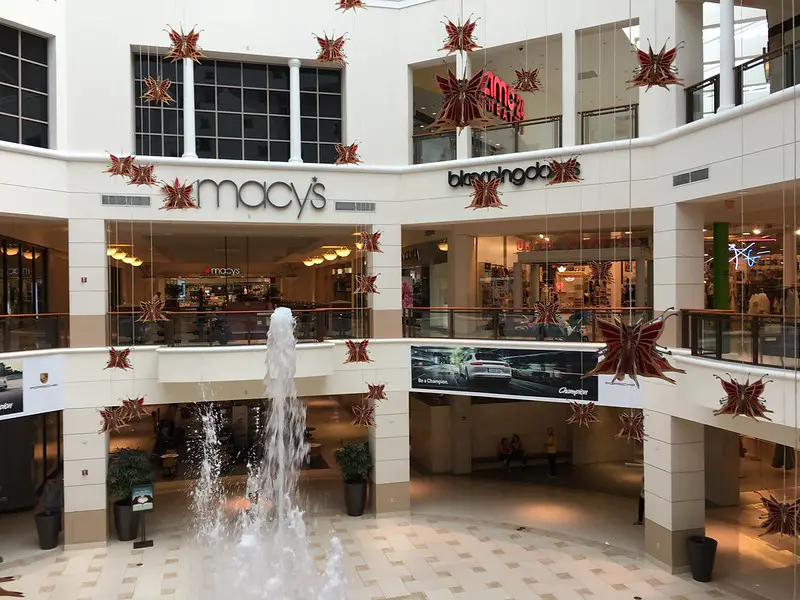 Aventura Mall is a shopping center located about 15 miles north of Miami, in Aventura, Florida. The easiest route there is by I-95 Express which will take you just about 20 minutes by car.
This is a must-visit shopping mall in Miami if you're traveling to Florida. After a recent $214 million expansion, it's now one of the largest shopping malls in the US. It's not just for luxury shoppers anymore, the biggest and best indoor shopping mall in South Florida also features over 300 stores offering something for the luxury shopper and the mid-range shopper alike.
Whether you're looking for upscale shopping or high-fashion boutiques, Aventura Mall is the place to go. This is a true fashion lover's paradise and features some of the world's most exclusive and sought-after brands, including Gucci, Louis Vuitton, Cartier, Fendi, Givenchy, Burberry, Saint Laurent, Tiffany & Co., Hermès, and more.
The Apple store at Aventura Mall is also highlighted by a two-level Apple store that blurs the lines between interior and exterior design. The mall has five department stores, including Nordstrom, Bloomingdale's, and Macy's. It's home to 300+ of the world's most popular retailers, including Adidas, Anthropologie, H&M, Sephora, and Zara.
In summary, Aventura Mall is a luxury shopping mecca for anyone who is looking for fashion, high-end luxury items, or even just some retail therapy.
Website: aventuramall.com
Address: 19501 Biscayne Blvd, Aventura, FL 33180
Dolphin Mall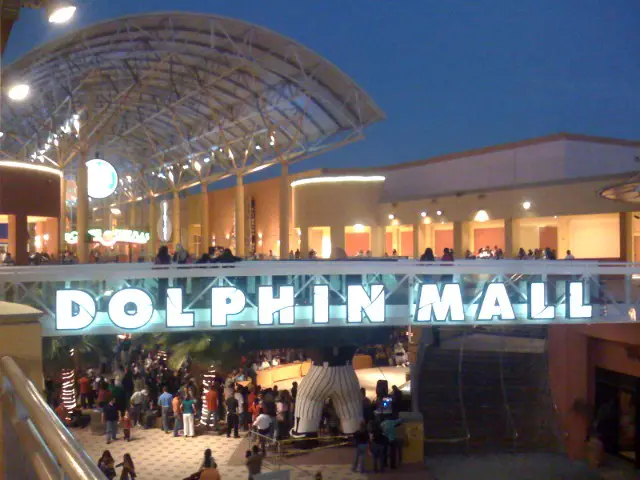 Dolphin Mall is the largest retail value shopping center in Miami-Dade County with more than 240 value-oriented stores and an entertainment center with a movie theater.
It's a great place for people who are looking for convenience and easy shopping. You'll find many great designers and retail labels at a relaxed pace, like Aldo, Forever 21, Calvin Klein, H&M, Love World, Foot Locker, and more. This is where you go for a variety of stylish, comfortable, and affordable clothing and accessories.
Dolphin Mall is Miami-Dade County's largest retail value shopping center blending the hottest concepts in theme entertainment and dining with an unparalleled offering of more than 240 value-oriented stores.
There are a lot of places to eat, with everything from fine dining to the quick bite.
Website: shopdolphinmall.com
Address: 11401 NW 12th Street, Miami, FL 33172
Miami Design District (Wynwood)
Midtown and Wynwood are two of the hottest places to shop in Miami, but the Design District is quickly rising as one of the newest luxury designations. Visit the outdoor mall for a chance to shop some of the hottest brands in Miami, including Marc Jacobs, Cartier, Burberry, Dior, Louis Vuitton, Hermes, and many more.
The Design District is known for its sleek modern architecture, upscale retail shops, and art galleries. It's a great place to find luxury fashion, jewelry and accessories, trendy cafes and fine dining, and more. The Institute of Contemporary Art (ICA) displays cutting-edge work in an ultra-modern building.
The Miami Design District is unlike anything else. It's a curated mix of art, design, fashion, and furniture which makes them distinct from your usual shopping destination or traditional mall.
You don't just visit the Miami Design District for the shopping, but a full experience of art, culture, and gourmet food. The Miami Design District has restaurants like L'Atelier and Le Jardinier, as well as local James Beard, nominated chefs, Michael Schwartz and Brad Kilgore.
The Design District neighborhood is like a little slice of Paris, London, or New York in South Florida, and you will love the beautifully designed spaces and sense of place. The architecture, interiors, and public art give you the feeling of being in an artistic community, which you'll feel comfortable in, and you'll love it.
Website: miamidesigndistrict.net
Address: 140 NE 39th Street, Miami, FL 33137 
Lincoln Road Mall
Looking for Miami Beach shopping malls? Then Lincoln Road Mall is the outdoor shopping mall you should head to. It's located right north of Collins Avenue with lots of shops and dining options, including Kiko, Wings, Zara, Diesel, Gap, and more. After shopping until you drop, you can try a meal from any of the large variety of restaurants available or one of the outdoor cafes.
The Lincoln Road Mall, a pedestrian-friendly corridor lined with boutiques, bars, and restaurants, is Miami Beach's go-to retail spot. This is a great place to spend an entire day. You'll find one-of-a-kind boutiques, art galleries, and trendy shops to peruse. Lincoln Road has an easy transition from day to night, so you might want to plan a full day there.
After you've spent the day checking out shops, you'll be ready to eat. You'll find a variety of restaurants, cafes, and bars that serve everything from burgers to fine dining to ethnic food.
Website: lincolnroadmall.com
Address: 622 Lincoln Road, Miami, FL 33139
Bal Harbour Shops
Arguably the ritziest shopping mall in Florida, you'll often find celebrities at this glamorous indoor/outdoor mall. Packed with major designers, such as Chanel, Chloe, Gucci, Alexander McQueen, and many others, Bal Harbour is a luxury shopper's dream.
It is one of the highest-grossing shopping centers in the world with sales of $3,000 per square foot. The two stores that are a must-visit at Bal Harbour are Neiman Marcus and Saks Fifth Avenue.
Bal Harbour Shops is the first shopping mall that many famous European brands choose as the site for their first ventures outside of New York. Over 100 of the world's most famous and luxurious fashion and jewelry brands are located in the mall.
The shopping center has been ranked as the #1 most productive shopping center in America by Women's Wear Daily, as well as being the host to the Bal Harbour Fashion Shows.
Website: balharbourshops.com
Address: 9700 Collins Ave, Bal Harbour, FL 33154
Dadeland Mall
Dadeland Mall is one of the largest malls in the Miami area, and is sometimes referred to as "the Aventura Mall of the south." It's a huge, indoor mall in south Miami with everything from high-end department stores, to mid-range shops, to inexpensive chain stores. It's a great place to do one-stop shopping.
Everything you need when it comes to luxury, dining, beauty, and fun. The stores are mid-range, and free parking and convenience to those in the Bayside area make it one of the top places to shop in Miami. Find anchor stores like Nordstrom, Sephora, The Cheesecake Factory, and more.
Dadeland Mall is the ultimate shopping experience in South Florida. It's where locals shop for high-end brands and exclusive merchandise, and it attracts visitors from around the world who want a classic Miami shopping experience with hundreds of top retailers covering 1.4 million square feet.
Website: simon.com/mall/dadeland-mall
Address: 7535 N Kendall Dr, Miami, FL 33156, United States
Sawgrass Mills
Sawgrass Mills is an outlet and discount retail shopping destination. It's located near Miami, Florida, and provides more than 350 name-brand stores and outlets, as well as an incredible selection of incredibly low prices. It's the 11th largest mall in the United States and the shopping mall in Florida where a lot of bargain hunters go when they're on vacation or looking for a deal. 
Whether you're in the Miami area or not, a visit to Sawgrass Mills will inspire you to shop for the best prices on the hottest designer brands. You'll save on designer items from the likes of Jimmy Choo, Gucci, La Perla, DVF, Kate Spade New York, and more, and you'll be sure to find something that you like.
Website: simon.com/mall/sawgrass-mills
Address: 12801 W Sunrise Blvd, Sunrise, FL 33323, United States
CocoWalk
CocoWalk is a unique outdoor shopping area located just south of Miami in Coconut Grove. It features a mix of well-known retailers, along with local boutiques such as consignment and antique shops. There's also a movie theater and plenty of great restaurants to explore.
The city of Coconut Grove, located just north of Downtown Miami, is home to many of the area's coolest shopping, dining, and business districts. Sure, we have a thriving cultural scene and a vibrant business community. But it's also home to the unique urban village, Cocowalk, a hidden gem of nature. 
Website: cocowalk.com
Address: 3015 Grand Ave, Coconut Grove, FL 33133, United States
Miracle Mile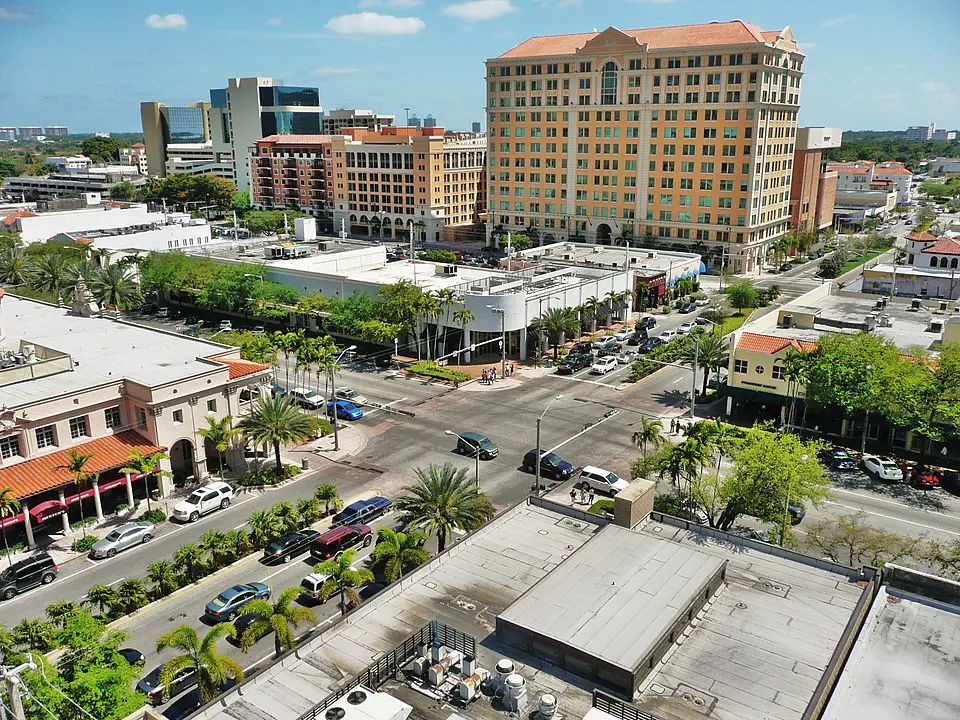 Another great outdoor shopping area is Miracle Mile, which is located just south of Miami in Coral Gables. You'll find lots of locally owned boutiques among these tree-lined streets, including several bridal salons, Dominique Boutique, and Sweet Boutique for women. There are also several small shops for men, including several nice selections at the Upscale Menswear Shop.
The Coral Gables Art District is a great place to look for unique, handmade gifts. You'll find numerous art galleries, as well as jewelry and clothing shops.
You'll find it all on Miracle Mile. It's a great place to shop for jewelry, home furnishings, art, and clothing. There are galleries, specialty boutiques, fine dining, and live theater. It's a great place to just stroll and people watch.
Address: Coral Gables, FL 33134, United States
Shops at Merrick Park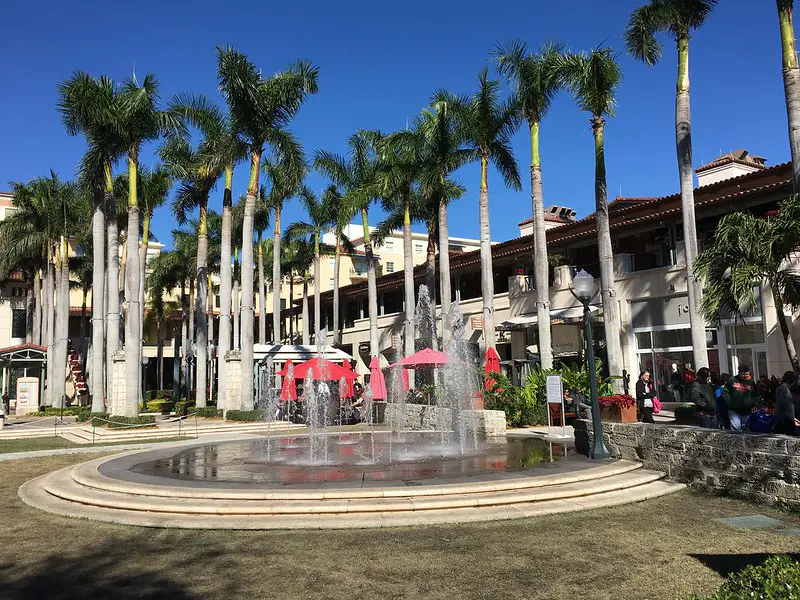 The Merrick Park Mall is a three-story, open air shopping area that is often heralded as a local favorite. It has moderately priced merchandise, better than the Bal Harbour Shops, but not luxury level like the South Beach boutiques. It's a good option for shoppers with medium to upper-middle-class incomes.
The main anchors are BOSS, Gucci, and Jimmy Choo. Loius Vuitton is also a major attraction.
The city of Coral Gables, FL offers exciting attractions and experiences for everyone. It has a beautiful and unique ambiance and offers visitors and residents a unique and relaxing experience. You can visit the historical parks and landmarks, as well as explore the vibrant shopping districts. There are restaurants and food trucks all around, making the city an excellent place to explore.
Website: www.shopsatmerrickpark.com
Address: 358 San Lorenzo Ave, Coral Gables, FL 33146, United States
The Falls
The Falls is located farther south in South Miami and is another mall to check out. Gap, Macy's, and Loft are just a few of the mid-range stores that can be found at this outdoor mall. The name of the outdoor mall is "The Falls" because of the path winding through the waterfalls.
This shopping center is a great place for families. It's surrounded by lush tropical greenery and features a waterfall that plays over an open water pool in the center of the center. It's relaxing to walk around the center, and you're sure to enjoy the alfresco experience.
The 55-acre shopping center and tourist destination located in the heart of the city has more than 100 specialty stores, restaurants, and coffee shops featuring American Girl, Apple, Bulla Gastrobar, Shake Shack, Sephora, Michael Kors, and Hollister to name a few.
Website: https://www.simon.com/mall/the-falls
Address: 8888 SW 136th Street, Miami, FL 33176
Brickell City Centre
After $1 billion of investment, Brickell City Centre is a modern, multi-level, and infinitely inspiring lifestyle experience. It is hard to be bored as you shop its 500,000 square feet of premium retail. The Brickell City Centre has four levels of unparalleled shopping, dining, and entertainment anchored by a 107,000 square foot, ultra-modern Saks Fifth Avenue as the main attraction.
Premium and contemporary shops filled with beauty, home decor, jewelry, apparel, and much more make up the 500,000 square foot vertical shopping experience.
Website: https://www.brickellcitycentre.com/
Address: 701 S Miami Avenue, Miami, FL 33131
Featured image by Diana Robinson (CC BY-NC-ND 2.0)