There's no denying that Miami is a city with a vibrant and pulsing heartbeat. But if you want to experience the city's most vibrant and alive neighborhood, you need to head to Little Havana.
This neighborhood is located in the heart of Miami, not far from downtown Miami, and it offers an amazing atmosphere and some of the best food in the city. The streets are always alive with activity, and there's always something new to discover.
Little Havana is one of the most culturally-rich neighborhoods in Miami. It is home to many Cuban exiles, as well as immigrants from other parts of Latin America. An estimated 98 percent of the residents are Spanish-speaking.
The neighborhood is known for its vibrant culture, delicious food, and lively music, and is perfect to immerse yourself in after you're done shopping in Miami.
Visitors to Little Havana can enjoy traditional Cuban dishes like ropa vieja and croquetas, listen to live Cuban music and watch dancers perform the traditional salsa. The neighborhood is also home to numerous art galleries and museums, which showcase the rich history and culture of the area.
Little Havana is a truly unique and vibrant neighborhood that should not be missed on a trip to Miami.
What to do in Little Havana?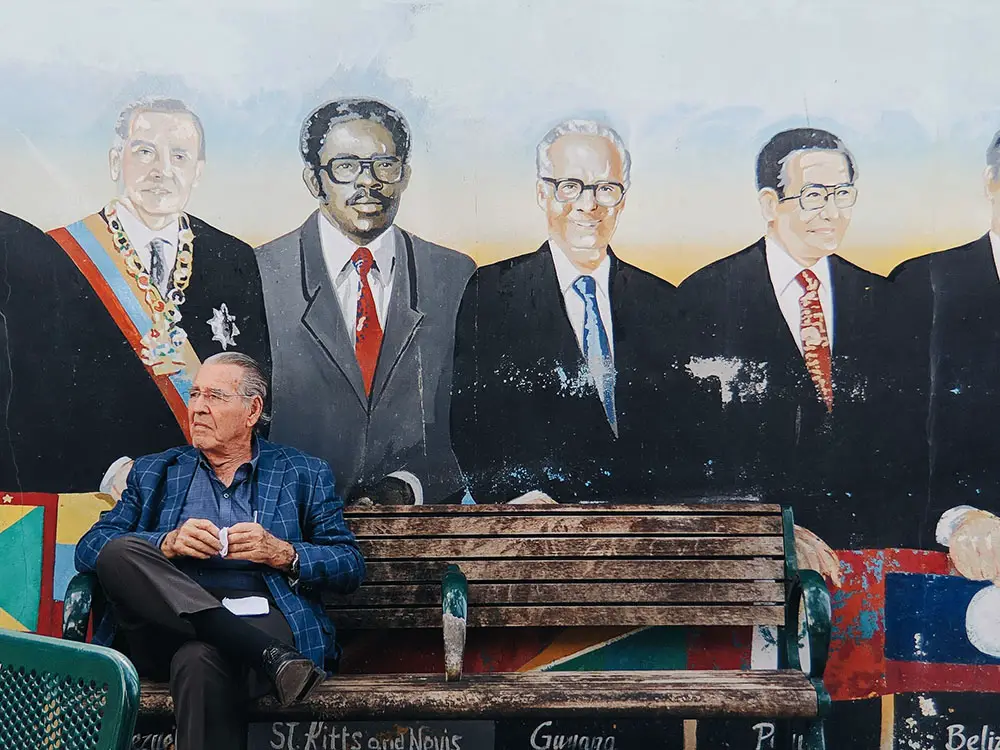 If you are short on time and just want to spend a short time in Little Havana, this is a perfect 1 Day Itinerary. The colorful and Latino-dominated neighborhood of Little Havana is just a 25-minute drive away from South Beach.
Make sure to plan ahead, because there is so much to explore (and eat) here.
If you are eager to experience the Cuban culture, architecture, history and music without actually traveling to Cuba, Little Havana is a must have experience if you are in the Miami area.
Take a walk down Calle Ocho Walk of Fame
As you walk up and down SW 8th Street in Little Havana, you'll notice that the sidewalk is marked with pink marble stars, making up the Calle Ocho Walk of Fame. This attraction began as a way to recognize Cuban celebrities, but since then singers and soap stars from all over Latin America have been honored.
What makes the Cuban Walk of Fame so special is its flair – the stars are arranged in a creative way, and many of them are decorated with mosaics and other Cuban art.
The first Cuban to get the star at Calle Ocho Walk of Fame was Celia Cruz, who died in 2003. She was Cuba's most famous salsa singer and got her star back in 1987.
Sign up for Little Havana Food & Cultural Tour
The Little Havana Food & Cultural Tour is the perfect way to experience Miami's rich Cuban culture.
You'll get many stops along the half-mile, and the 2.5-hour tour include a traditional bakery, an open-air market, a churreria and more. Plus, you'll learn about the history of Cuban food and culture from your knowledgeable guide.
This is a must-do for anyone visiting Miami and having even the slightest interest in Cuban food and culture.
Stop by Domino Park (Máximo Gómez Park)
If you want to experience the real Little Havana, Domino Park is a must-visit spot. This small park is filled with Cuban retirees who gather to play dominos and drink coffee. It's a quiet, relaxing spot with a friendly atmosphere – and it's a great place to people-watch.
The park is a quiet oasis in the heart of Little Havana, and it's a great place to take a break from exploring the neighborhood. There are plenty of benches to relax on, and the park is surrounded by some of the best Cuban restaurants in Miami.
Find the large painted Roosters on Calle Ocho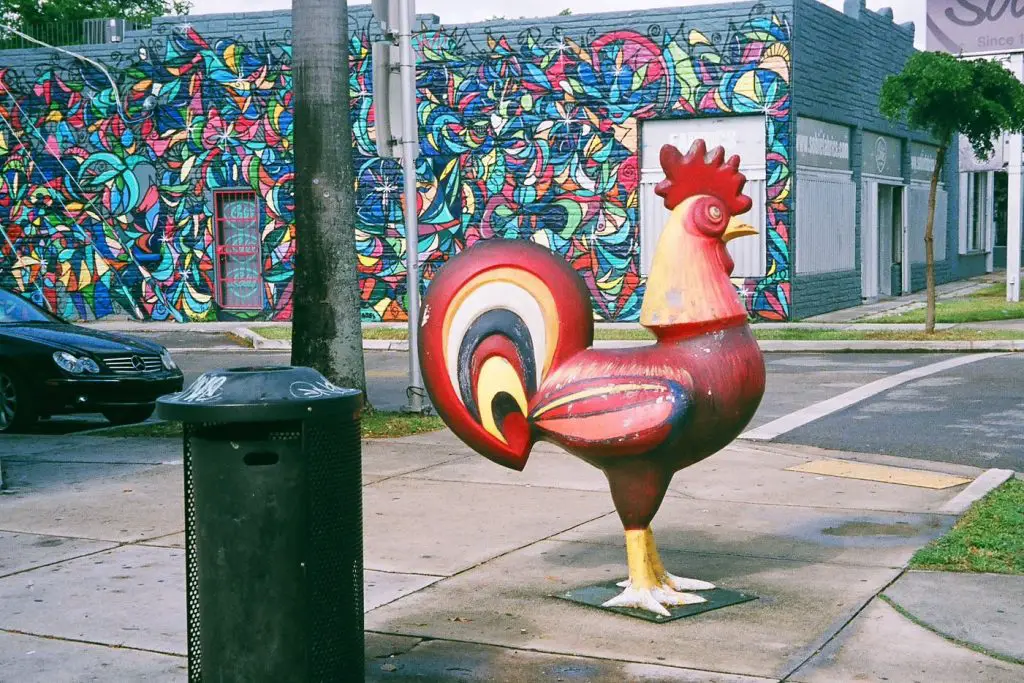 There are large, colorful roosters all along Calle Ocho in Miami's Little Havana neighborhood. One of the most humorous things to do here is to take photos with them.
While you're in the area, be sure to also check out Rooster Alley – a short walkway behind the main strip that is filled with rooster-themed memorabilia. If you're lucky, you might even spot a live feral rooster roaming the streets!
Cuban Culture
Miami's high Cuban population is a result of the political and economic conditions in Cuba during the 1960s. Fidel Castro's Marxist revolution in 1959 led to a mass exodus of Cubans to the United States.
Many Cubans fled to Miami, which became known as the "Capital of Cuban Exile." The Cuban culture is so prevalent in Miami because of the large number of Cuban immigrants who have settled there.
The Cuban community in Miami has made significant contributions to the city's culture, economy, and politics. Cubans have opened businesses, such as restaurants and cigar factories, which have become popular tourist destinations.
Cuban music is also very popular in Miami. The Cuban rhythms of salsa and son are often heard blasting from car stereos and nightclubs. Cuban musicians have also gained international fame, such as Gloria Estefan and Celia Cruz.
If you want to experience Cuban culture, there is no better place than Little Havana in Miami. This vibrant neighborhood is full of life, color, and delicious food.
Explore Calle Ocho
The main strip is the famous Calle Ocho, and also the epicenter of Little Havana. On this street, you will find a large supply of the most authentic Cuban coffee shops outside Cuba itself.
It is a great experience to just spend some time walking around looking at what the locals are doing and experiencing all these amazing open-air fruit stands where you can buy some refreshing guarapo, which is the freshly squeezed sugarcane juice often found in Central America.
Cuban Cigars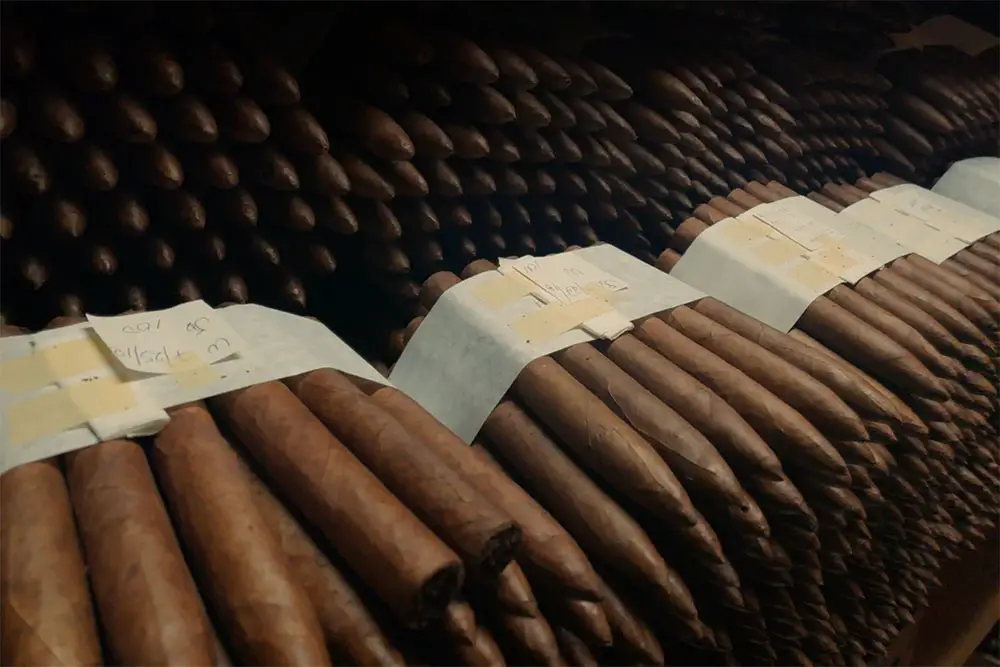 As a non-smoker, there is still a lot to experience at El Titan de Bronze, one of Little Havana's best and most authentic Cuban cigar shops. However, the allure of witnessing a true Cuban cigar rolling master at work might be too great to resist.
Upon entering the tiny cigar shop, the mixed aroma of tobacco and coffee in the air is intoxicating. You can feel the history and culture of Cuba oozing from every corner of the room. Trained rollers who are considered masters in their craft are hand rolling a selection of premium cigars each day.
Take a seat and watch as one of the rollers expertly crafts a cigar. It is mesmerizing to see the care and precision that goes into creating each one. This truly is a unique neighborhood with a rich culture that must be experienced firsthand. If you're looking for an authentic Cuban cigar-rolling experience, El Titan de Bronze is definitely worth a visit if you want to pick up a few authentic Cuban cigars.
Cuban Coffee
Cuban coffee is special because of its unique flavor profile and the fact that it's made with a blend of coffees from different parts of the world. It's also roasted very dark, which gives it a rich, smoky flavor.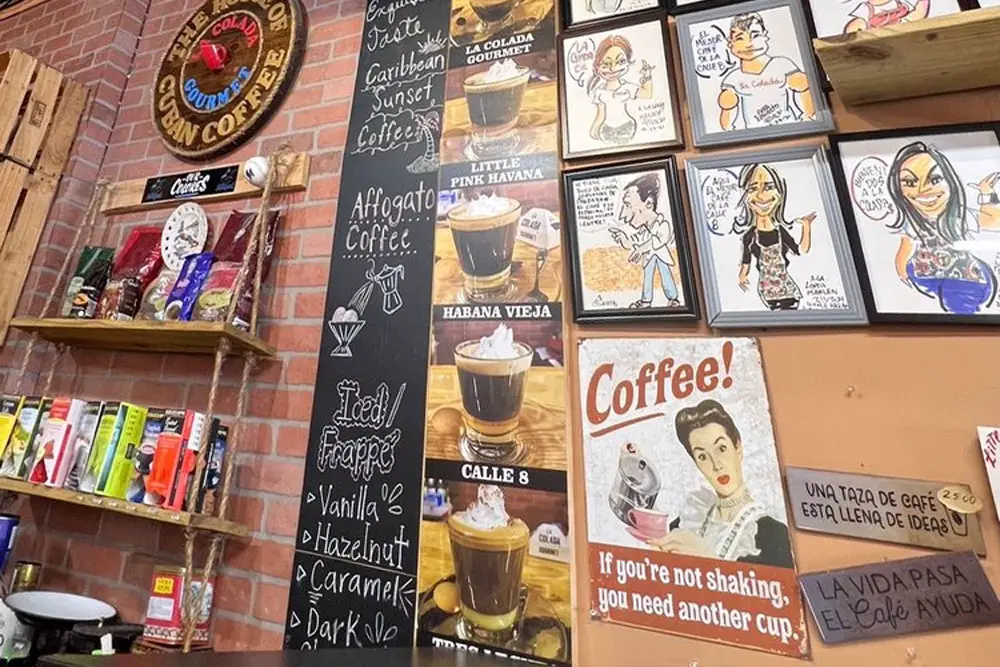 If you are looking for a unique coffee house experience in Little Havana, La Colada Gourmet is the place to go. The baristas create custom orders using their expertise and incorporate traditional Cuban flavors with an original twist that will leave your taste buds wanting more!
Little Havana Restaurants
If you are spending some time in Little Havana, you have to try Cuban cuisine. The authentic Cuban food you find in this place is amazing, and you'll find some really great Cuban restaurants on and around Calle Ocho.
Versailles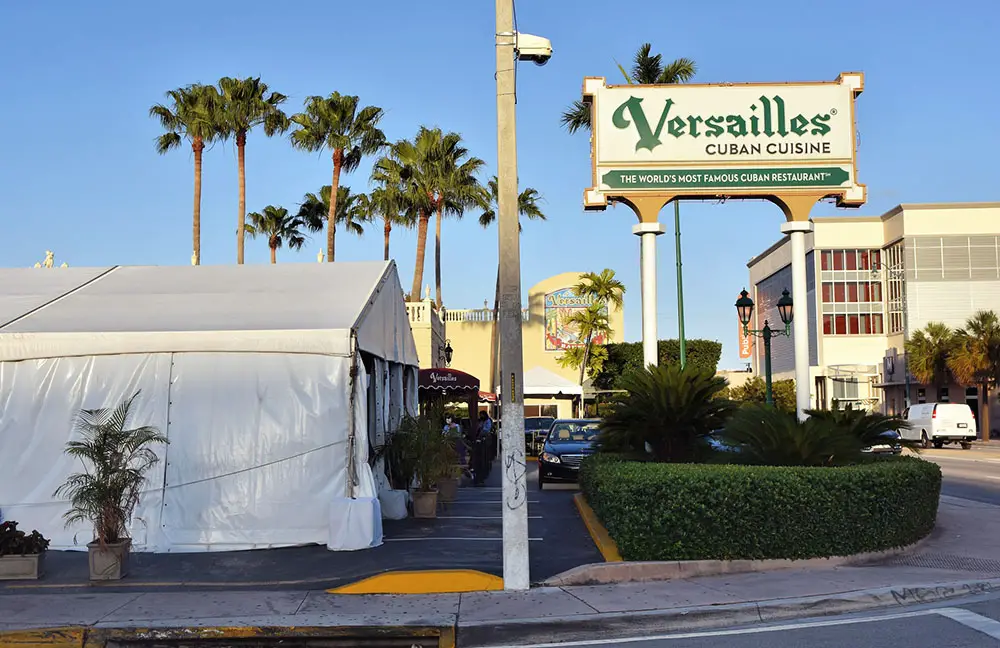 There's something happy and nostalgic about Cuban cuisine. Maybe it's the memories of family gatherings around the table, or the vibrant flavors that seem to dance on your tongue.
Whatever the reason, Versailles has been serving up happy memories for foodies in Little Havana since the '70s. From plantain soup to the famous Cuban sandwich, there's something for everyone at this Miami staple, which considers itself to be "The world's most famous Cuban restaurant", and Guide Michelin agrees.
And with a comfortable atmosphere that feels like home, it's no wonder why Versailles is one of the most popular restaurants in town.
El Cristo
If you're looking for an authentic Cuban culinary experience, there's no better place to go than El Cristo Restaurant in Little Havana. From the delicious pastelitos and coffee to the warm, welcoming atmosphere, El Cristo will make you feel right at home.
The staff is incredibly friendly and passionate about their food, and they'll go out of their way to make sure you have a great time. Whether you're a first-time visitor or a regular, you won't be disappointed by the exceptional cuisine and service at El Cristo.
El Rey De Las Fritas
The restaurant has been serving the Miami community for more than 40 years, and it's an iconic landmark within the Miami-Hispanic community. El Rey de la Fritas is known for its original frita cubana, a Cuban-style burger made with a ground beef patty and sautéed onions, topped with crispy shoestring fries.
But what truly sets this burger apart is its secret recipe, which is infused into the patty!
The staff is incredibly friendly and passionate about their food, and they'll go out of their way to make sure you have a great time.
La Camaronera
Some of the freshest, if not the freshest seafood in the entire area of Little Havana can be found at La Camaronera.
This Cuban fish shack has been around for decades, and it's a favorite among locals for its amazing pan con minuta – a fried snapper sandwich on a lightly toasted Cuban roll.
At under $10, it's a great deal, and it'll keep you satisfied for hours. Plus, you'll come home smelling like you've spent the day on a barge, but hey, that's the price for grabbing some of the best seafood around.
Sanguich de Miami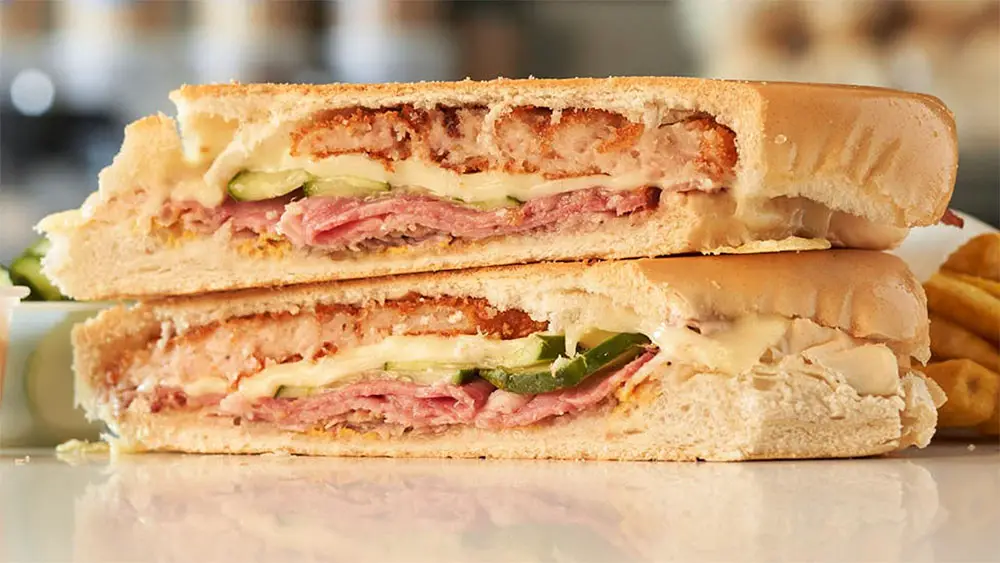 If you're looking for the best Cuban sandwich in Miami, make sure to stop by Sanguich de Miami. The small, 25-seat restaurant makes everything in-house, from the cured ham and pork to the artisanal mustard.
The bread is made specifically for Sanguich de Miami, ensuring that every Cuban sandwich is delicious and authentic. And if that's not enough, Sanguich de Miami also serves delicious batidos (Cuban milkshakes) to have with these amazing sandwiches.
Honorary Mention
If you are looking for a great Cuban place to eat outside of Little Havana, you have to make a visit to Havana Harry's in Coral Gables, just a short ride away.
Frequently Asked Questions about Little Havana
There is always a lot of questions when you are about to visit a new place, and the same goes with Little Havana. I have answered the most common questions below, and if you are still wondering about anything, don't hesitate dropping a comment and I'll get back to you.
Is Little Havana safe?

Little Havana is one of the most popular places to visit for its authentic Cuban culture. However, just as with any place there are some areas you should probably avoid if your looking to stay more or less safe while traveling around Miami Beach's famous district! But all in all, Little Havana is a safe place to visit.
Where does the name Little Havana come from?
Little Havana is named after the Cuban capital Havana. Little Havana (in Spanish: Pequeña Habana) is a neighborhood in Miami (FL) where you find many Cuban exiles and nowadays also many other immigrants from Central and South America.
What percent of Miami is Cuban?
US Census population data (2019) shows that 33% of the population in Miami are Cubans.
How close is Little Havana to the beach?
Going by road, the distance between Little Havana and the beach is 9 miles. Just take MacArthur Causeway and drive east toward South Beach.
Is Little Havana walkable?
The best way to explore Little Havana is on foot. The neighborhood is easily accessible from downtown Miami and from the beaches. It's also convenient to take public transportation, as several buses and the Metrorail stop in Little Havana.