Miami is an ideal destination for couples looking to enjoy a romantic getaway. With its stunning beaches, vibrant nightlife, and delicious food, Miami has something special to offer every couple. No matter if you're looking for a quiet spot to watch the sunset or an exciting activity to keep your nights alive with energy, Miami has it all!
Here are 50+ romantic things couples can do in Miami – from relaxing beach days and boat rides to adventurous activities and outdoor fun.
Take a stroll along the Miami Beach Boardwalk and watch the sunset
Nothing says romance quite like taking a stroll along the Miami Beach Boardwalk and watching the sun dip below the horizon together. Hand-in-hand, take your time admiring the oceanic views before you and witness as day fades into night.
Miami Beach Boardwalk is a romantic way for couples to spend time together, laughing and chatting along the way or simply enjoying each other's company in companionable silence after a day of shopping.
This popular hotspot lies by the beach, so you can also choose to sit on one of its many benches and watch people pass by while taking in some fresh air – perfect for an evening of quality time together.
Rent a tandem bike and explore South Beach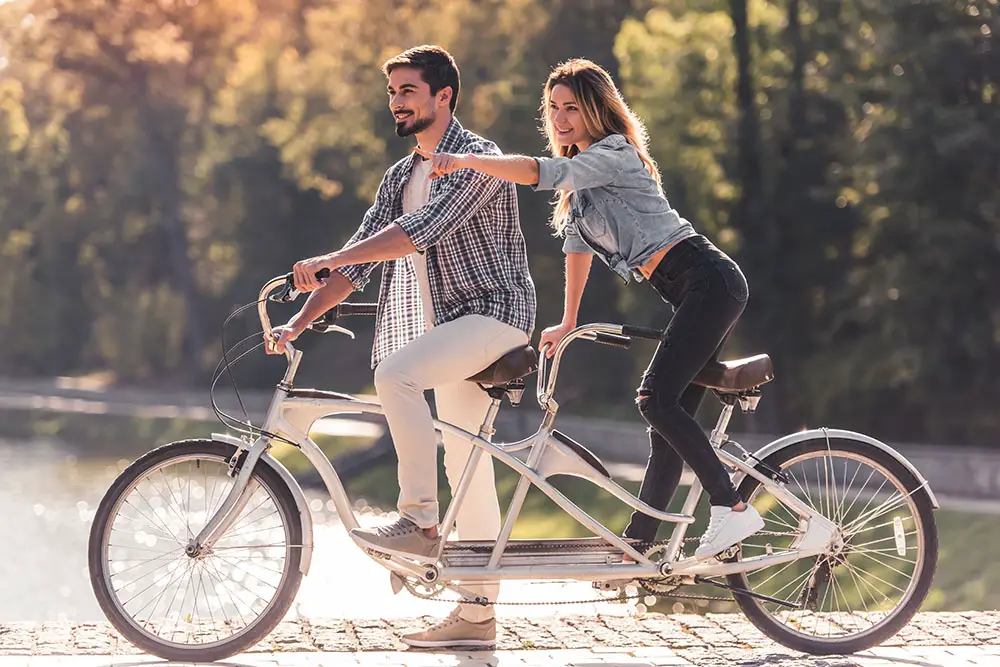 If you and your sweetie are looking for a fun adventure, try renting a tandem bike for a leisurely ride through South Beach. This beach area is known for its scenic drives, but two seats on an extra-large bike make it that much more romantic.
Breeze along the coast on your two-person bicycle, gazing at the deep blue waters under the Florida sun.
Indulge in a couples massage at a luxurious spa
A couples massage at a luxurious spa is a great way to reconnect with your special someone and enjoy some pampering in the process. It's also a fantastic way to experience Miami's unique spa culture. Miami is known for its array of luxury spas, offering a plethora of services that cater to couples looking for a romantic escape from their everyday lives.
Enjoy a sunset sail on Biscayne Bay
Enjoying the sunset from a sailboat on Biscayne Bay is one of the most romantic activities Miami has to offer. The breathtaking view of the Miami skyline as it fades into the horizon while surrounded by clear blue waters can only be experienced here. Whether it's a private charter or a group sail, it's the perfect way to create lasting memories with your significant other.
Visit Vizcaya Museum and Gardens for a romantic walk through stunning gardens
Visiting the Vizcaya Museum and Gardens in Miami is an absolute must for couples looking for a romantic day out. The gardens boast beautiful landscapes, lined with lush tropical foliage, exotic plants, and a range of vibrant flowers in all shapes and sizes.
There are picturesque views of Biscayne Bay to enjoy as you explore the estate, and the peaceful atmosphere is perfect for a romantic stroll. The museum also houses an impressive collection of European and American art, furniture, and decorative arts from the 16th century to today – making it the perfect backdrop to your Miami getaway.
Watch a movie under the stars at the Rooftop Cinema Club
Watching a movie under the stars at Miami's Rooftop Cinema Club is an unforgettable experience. Not only is it the perfect way to enjoy Miami's balmy evening climate, but you'll also be able to take in stunning views of Miami's South Beach skyline and Biscayne Bay.
This unique open-air cinema hosts private screenings of classic and modern films, providing couples with the perfect opportunity to relax, cuddle up, and enjoy a romantic night out!
Experience the beauty of nature with a sunset kayak tour in Key Biscayne
For couples looking for a romantic experience in Miami, Key Biscayne offers a truly unforgettable adventure. Enjoy the beauty of nature with a sunset kayak tour across the clear waters of this stunning barrier island. Feel the wind in your hair and marvel at the awe-inspiring color changes that come along as day turns to night.
Whether you're an experienced kayaker or a first-time paddler, take in the tranquility and peacefulness that comes with being on the water – it's sure to be an experience you and your partner will never forget!
Take a romantic walk through the Miami Beach Botanical Garden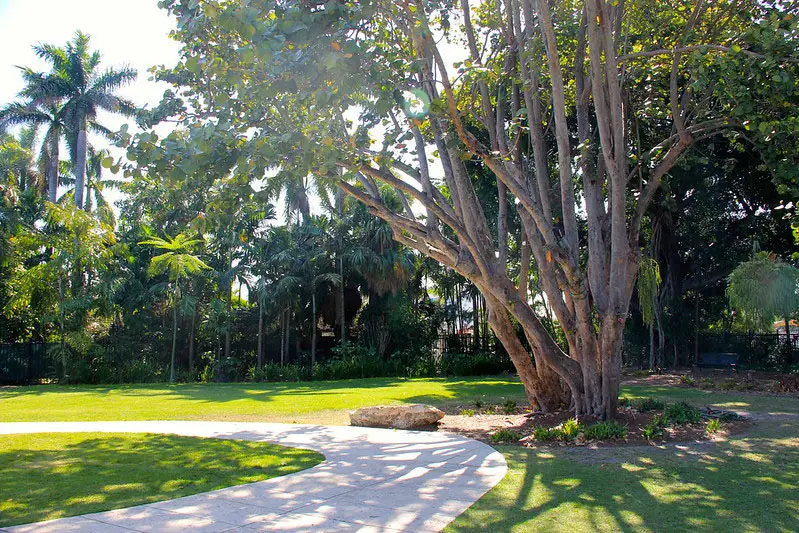 For couples looking for a romantic rendezvous in Miami, a walk through the serene, lush Miami Beach Botanical Garden is just the ticket. With its tranquil water features and reflecting pools, this sprawling 3-acre park is home to exotic flora and fauna and features guided tours, special events, and classes.
Stroll together along winding paths lined with colorful blooms, take in breathtaking views of native tropical plants, and explore multiple themed gardens such as the Japanese or the butterfly gardens. You can even make it an entire day date, with a stop at the onsite cafe for refreshments!
Go on a hot air balloon ride and see the city differently
Get a fresh perspective on the city together with your significant other by taking a romantic hot air balloon ride in Miami. From high up in the sky, admire all the great beauty the city has to offer, with breathtaking views of downtown buildings intertwined with lush parks and sparkling blue waters.
Get to see it from an angle you'd otherwise never be able to experience and spend some quality time together in the sky while soaking in each moment that passes. Don't forget to take photos so you can always look back and relive all these incredible memories!
Dine at a candlelit table at a rooftop restaurant with stunning views
For couples looking for a romantic evening out, dining at a candlelit table at a rooftop restaurant with stunning views checks all the boxes. From the exquisite decor to the delicious cuisine and craft cocktails, these restaurants offer an ideal setting to enjoy a relaxed evening together.
Perched atop the city's highest towers, you can admire sweeping vistas of Biscayne Bay, the Surfside skyline, or sunny South Beach while happily sharing conversation and awesome food. No matter which rooftop restaurant you choose, it's sure to make for unforgettable memories between loved ones.
Take a private art tour of Wynwood and discover the city's vibrant street art scene
Immerse yourselves in art on a romantic private art tour of Wynwood! Wynwood, located in Miami's Wynwood Design District, is renowned for its vibrant street art scene and Wynwood Walls, an outdoor museum featuring the works of many great street and graffiti artists.
Afterward, why not relax at one of Wynwood's numerous cafes and explore the unique boutiques in the area? A romantic private art tour of Wynwood is sure to be an unforgettable getaway experience that sparks creativity and brings couples closer together.
Snorkel or scuba dive together in Biscayne National Park
With its stunning coral reefs, diverse aquatic wildlife, and endless shoreline adventures just waiting to be discovered, there is no better place for a romantic day out than Biscayne National Park.
For the adventurous couple, take your relationship to the next level and snorkel or scuba dive together in the crystal-clear waters of the park. This exciting experience will not only bring you closer together but will also give you an opportunity to witness the breathtaking beauty that Florida's beaches have to offer.
Go on a food tour and taste the delicious flavors of Miami's diverse cuisine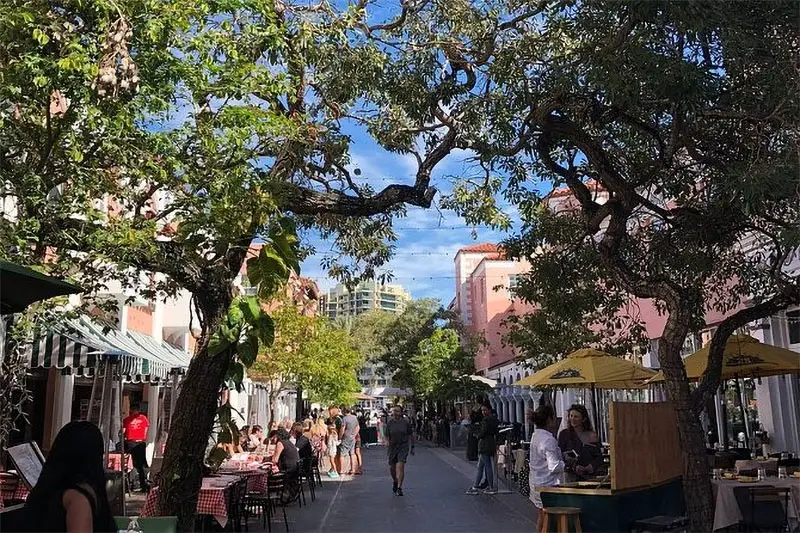 From its classic Cuban cuisine to its mouthwatering fusion of Latin and Caribbean flavors, sampling the city's spectacular array of dishes can turn sightseeing into a truly memorable experience. Opt for a guided food tour throughout Miami's funky neighborhoods and sample dishes from traditional mom-and-pop locales, or stop by some of the city's trendiest hot spots for interactive food experiences that will have your taste buds singing.
Couples will discover something delightful everywhere they turn in Miami, making a food tour an exciting journey through all that Miami's inspiring culinary scene has to offer.
Enjoy a picnic on the beach with a bottle of wine and delicious snacks
For couples who want to take in the sights and sounds of the ocean while spending quality time together, hosting a picnic on one of Miami's iconic beaches is an unforgettable experience.
Share a bottle of wine, and some delectable snacks, watch the sunset, and revel in being surrounded by some of Miami's most breathtaking scenery – what could be more romantic? Not only will this special event create wonderful memories that are sure to last a lifetime, but it also allows couples to relax and connect in a way that many other activities simply cannot match.
Visit the historic Coral Gables Merrick House for a romantic stroll through beautiful gardens
This historic house was once home to George and Elizabeth Merrick, who founded the city of Coral Gables in the 1920s. Today, visitors can explore the house and its beautiful gardens.
Stroll hand-in-hand through fragrant shrubs and peaceful pathways that make it easy to forget about everything else and enjoy some quality time with your loved one. Whether you take a guided tour of the mansion or just wander together around the grounds, visiting this enchanting place can be a memorable experience that adds more romance to your relationship.
Watch a show at the beautiful Adrienne Arsht Center for the Performing Arts
A romantic evening in Miami deserves the magical backdrop of the Adrienne Arsht Center for the Performing Arts. From plays to ballets, operas to orchestras, it features immensely talented local and international performers of many genres.
Spend a memorable night out with your loved one watching a show accompanied by sumptuous cuisine and drinks at one of several top-notch restaurants nearby. The grand colonial-style Art Deco building is an architectural marvel that transports you back in time while providing an unforgettable and luxurious entertainment experience.
Take a romantic helicopter tour of Miami and see the city from above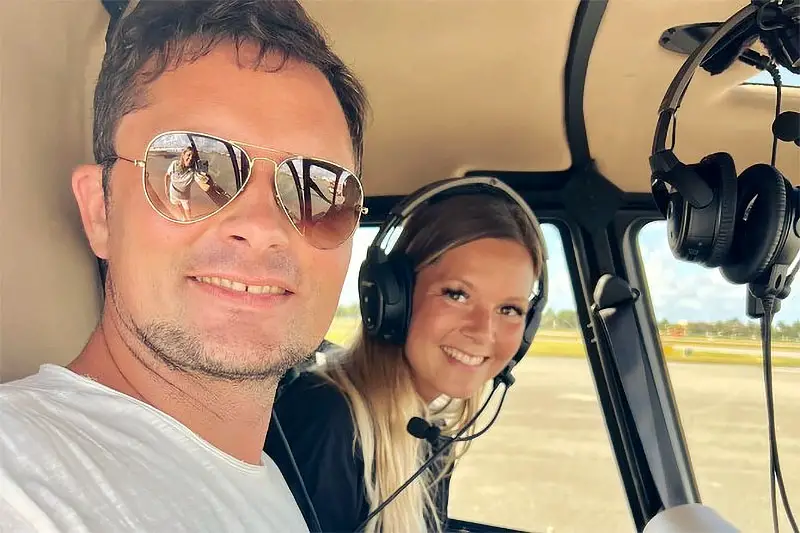 There's no better way for couples to take their relationship to new heights than with a romantic helicopter tour of Miami! Experience the city from a unique perspective in the sky and gaze down at famous sites like South Beach, the PortMiami Cruise Terminal, and stunning Biscayne Bay.
See endless miles of golden sand and gleaming Atlantic waters, and catch amazing sights of downtown skyscrapers and sprawling subdivision neighborhoods. It's an unforgettable experience that truly allows couples to cultivate even more appreciation and admiration for one another – not to mention breathtaking views that'll make any couple feel like they are on top of the world.
Have a night at a rooftop bar with live music and city views
As the sun sets, the evening sky turns orange and the lights come on around you, creating the perfect atmosphere for an evening of intimate conversation and laughter with your partner.
Soaring above it all, you'll get a unique birds-eye view of this amazing city while being serenaded by talented local musicians.
Take a private yacht tour and explore the city from the water
Miami has countless options for romantic experiences, as you've started to see by coming so far down this list, but few compare to taking a private yacht tour around the city.
Glide along the sparkling waters of Biscayne Bay and enjoy stunning views of the bustling cityscape with your loved one by your side. With some tours lasting up to three hours, you'll have plenty of time to take in unforgettable moments together while sipping champagne and sharing delicious local bites.
Enjoy observing picturesque port stops at prime spots like Star Island and Fisher Island, or enjoy an evening under the stars with a sunset sail – whatever you choose, you're guaranteed an intimate experience that'll be one for the books!
Visit the Miami Seaquarium and watch a dolphin or sea lion show together
Miami Seaquarium is the perfect spot for couples looking to enjoy a romantic afternoon in Miami. From the moment you step through its gates, you will be in awe of the various habitats and species that fill it, from sea turtles to tropical birds.
But why not turn your visit into an extra special experience by taking in one of their world-famous dolphin or sea lion shows? With experienced trainers guiding dolphins and sea lions through tricks, jumps, and dives, as well as entertaining stories about them afterward, this is sure to be an unforgettable experience for any couple.
Enjoy a sunset cruise on a private boat tour
If you're looking for something special to experience as a couple in Miami, then why not discover the city from an entirely different perspective by booking a romantic evening boat tour? Climb aboard with a private captain to head out into the bay and explore the twinkling skyline while sipping on a bottle of Champagne.
Take the chance to customize your itinerary according to your interests and take in the sights of local landmarks such as Star Island. It's sure to be night that you'll never forget!
Walk hand in hand through the lush Fairchild Tropical Botanic Garden
With its lush landscapes, colorful blooms, and tranquil walkways, it's the ideal spot for an amorous stroll hand in hand. Whether you're looking to get lost amidst the gardens or find some solace by a serene lake, this breathtaking open-air garden is sure to provide a date neither of you will forget.
If a walk around isn't enough, there are also art classes and events that take place at this oasis. Whatever your passion, the Fairchild Tropical Botanic Garden offers a beautiful setting for true romance.
Take a romantic bike ride through the scenic Key Biscayne bike trails
If you and your sweetheart are looking for a romantic experience that immerses you in the stunning beauty of South Florida, then the Key Biscayne's bike trails is for you guys!
These picturesque paths are perfect for couples who want to explore and take in the breathtaking natural surroundings. Whether it's a slow ride or an intense workout, a bike ride through the trails is sure to fulfill all your romantic desires.
Not only will this activity foster quality time together, but it will also be memorable and special, presenting you with lots of beautiful sights and undiscovered moments along the way.
Visit the Pérez Art Museum Miami for a romantic date with contemporary art
Here, lovebirds can explore contemporary art in an intimate setting. The museum hosts weekly events, such as lectures and performances, while exhibitions featuring iconic works from both international and local artists are also on permanent display.
Get lost among the thought-provoking pieces and conversation starters on a romantic outing with contemporary art at the Pérez Art Museum Miami.
Take a private Art Deco Historic District tour and admire the architecture
Take a private tour of the beautiful, historic Art Deco District. With its vintage charm and bright colors, this distinct area is sure to take your breath away. Bask among architecture that dates back to the 1920s, 30s and 40s – take a walk along Ocean Drive for some of the most iconic structures, or find more subtle beauty on side streets.
Your personal guide will tell you all about the history of the district and tailor your experience based on your interests. There's no better way to spend time with your loved one than taking in these famous sights while exploring an old-fashioned neighborhood together!
Explore the Venetian Pool, a beautiful and unique public swimming pool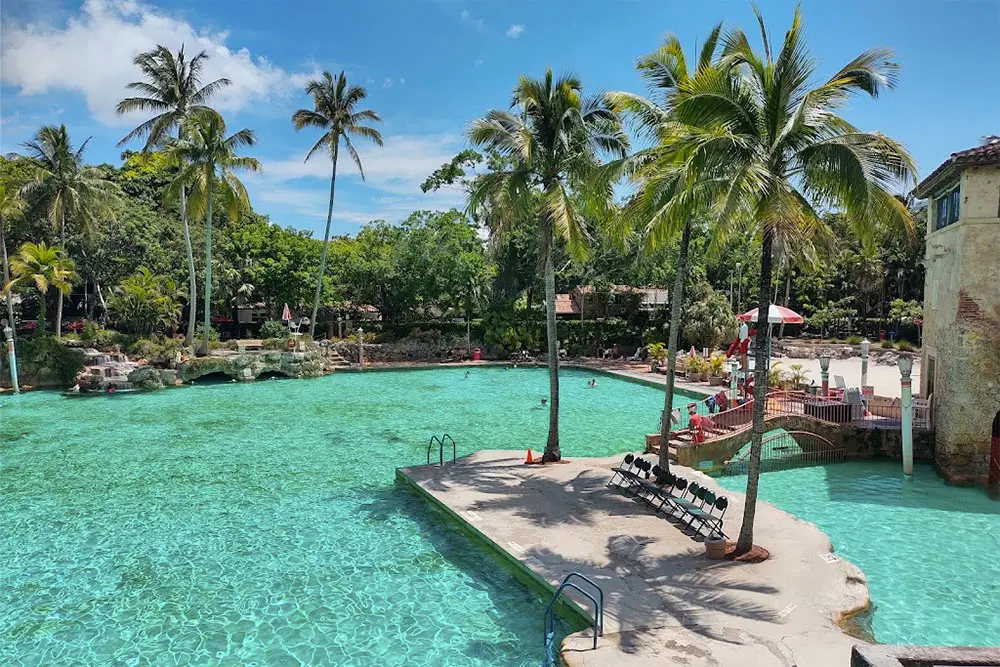 Miami's Venetian Pool is a one-of-a-kind destination for romantic couples to explore. Built in 1924, this 820,000 gallon lagoon is the largest freshwater pool in the U.S and is fed by several natural springs.
As you swim past two cascading waterfalls and grottos with bridges across them, it's easy to feel transported centuries ago to the canals of Venice, Italy (which explains the name).
Enjoy a wine tasting together at a local winery
Miami is one of the most romantic cities in the world, and there's nothing better for couples to do than indulge in some wine tasting at a local winery. There are several options for couples to enjoy a luxurious day filled with good food, great wine, beautiful scenery, and unforgettable memories.
From the unique Scandinavian-style architecture of Schnebly Redland's Winery & Brewery to the stunning views from Groves at Grand Bay, there's something for every couple looking to create an unforgettable experience.
Not only is it fun and romantic, taking part in a wine tasting together can also be educational; learning about different types of wines could help you decide which ones best suit each other's palate.
Take a day trip to the Florida Keys for some snorkeling, sun, and relaxation
If your idea of romance involves sandy beaches, crystal clear water, and an abundance of sunshine, a day trip to the Florida Keys could be just what the love doctor ordered. Catch some rays on one of Key Largo's stunning white sand beaches or take a romantic snorkeling excursion in the world-renowned coral reefs.
Quiet coves and hidden islands offer tremendous scenery and plenty of opportunities for some restful relaxation. With its tropical atmosphere, postcard-perfect views, and wealth of activities to experience with your special someone, a daytrip to the Keys is sure keep you two dazzled by each other's company.
Visit the Wolfsonian Museum for a unique look at the history of design
Visiting the Wolfsonian Museum in Miami is a great way to explore the beauty of design along with your significant other. Filled with stunning artifacts from the 19th and 20th century that bring an interesting history of design to life, the museum offers interactive exhibits that will help educate as well as inspire.
From sculptures and furniture to posters, prints, textiles and books, visitors can take in a kaleidoscope of ideas while taking part in this inspiring journey. There's no better article of human expression to explore than design – so why not enjoy it together?
Rent a convertible and take a scenic drive down Ocean Drive
Renting a convertible and taking a scenic drive down Ocean Drive makes for an excellent couples activity in the city. Cruise along with the wind in your hair and enjoy the stunning view of lush palm trees and bright blue water.
Along Ocean Drive, you will pass by picturesque art deco hotels, lively cafes, and boutique shops that add to the atmosphere of relaxation and romance. Spend some quality time bonding as a couple in one of the most beautiful cities around.
Attend a live concert or show at Fillmore Miami Beach
Spending a night at the Fillmore Miami Beach for a live concert or show is a romantic win for couples in Miami. With its storied history, it offers an intimate yet vibrant atmosphere perfect for creating lasting memories.
Pair that with some of the best music acts in the city and you've got yourself a date night of epic proportions! From rock to rap, blues to jazz, they host some of the world's greatest performers under its iconic roof. Just make sure to get your tickets well in advance so you won't miss out!
Visit the Little Havana neighborhood for a taste of Cuban culture
Take a romantic stroll through the vibrant streets of Little Havana and enjoy a true taste of Cuban culture. Here, you can explore local galleries and browse handicrafts while listening to the sounds of traditional Cuban music playing in the air.
Then, sit down at a cozy cafe and order a famous cubano sandwich and fresh guayabas from one of the hole-in-the wall eateries. Perhaps take part in one of the lively street dance festivals that often occur or even visit Domino Park for an exciting game – accompanied by local street performers.
Regardless if it's a day trip or an evening stroll, you won't regret having made this exploration for two – it'll surely make for an unforgettable journey!
Take a romantic stroll through the historic Deering Estate
Hidden away on Biscayne Bay, the historic Deering Estate provides couples with a tranquil place to escape. Spend the day enjoying a romantic stroll through its pristine grounds and explore its natural wonder.
Get lost in its trails winding through oak trees and poplar groves of rare tropical hardwoods. Be sure to keep an eye out for some of the local wildlife such as wild turkey, Fish Crows, Green-Winged Teals, Roseate Spoonbills and Anhingas that inhabit Deering Estate's Native Hammock Trail. Catch the sunset at Monkey Jungle Overlook or spend a quiet picnic next to the lagoon.
Learn to dance the tango or salsa at a local dance studio
For a fun and romantic date night in Miami, couples should consider learning to dance the tango or salsa together. The Latin American-inspired dances are very popular in the city, and many local dance studios offer lessons.
Nothing brings two people closer than sharing the experience of learning something new together – especially when it comes to such passionate dances like the tango and salsa!
Learning to move gracefully on the dance floor as a couple can inject a sense of connection and romance into your time together, with results that will improve every time you take it for a spin.
Watch the sunrise together on the beach
Take the time to watch the sunrise together on the beach. There's nothing quite like watching the sky come alive with gorgeous shades of purple, orange and pink as it ushers in another warm day on the sunny shores of Florida.
The sound of waves licking at toes and gulls gliding through the air make for a calming and peaceful atmosphere that will help set the mood for all the little moments shared between two lovers who love each other deeply and can't wait to spend more meaningful time together.
Go on a romantic gondola ride in Coral Gables
Gently gliding along the winding canals beneath a gorgeous sunset, it's an experience that is sure to provide couples with wonderful memories to treasure forever. Most companies offer packages complete with sparkling wine and chocolates to make this special occasion even more unique and memorable.
You'll be able to admire the mesmerizing sights all around you, as well as bask in the feeling of love that is so easy to find in this charming town – what could be more perfect?
Visit the stunning Biltmore Hotel for a romantic dinner or drinks
From fine dining to unique experiences, the city has plenty to choose from. A particularly romantic spot is the iconic Biltmore Hotel. Built in 1926, it's full of old-world charm and grandeur – an ideal backdrop for an intimate dinner or drinks for two.
The staff at the Biltmore deliver impeccable service, ensuring a memorable evening together, and with its unparalleled views over the Venetian Pool and Gables Estate gardens, spending time with your loved one in this remarkable hotel will leave you both feeling relaxed and revitalized.
Take a sunset paddle boarding tour in Miami Beach
Miami Beach is a great spot for couples looking to get away and enjoy some quality time together. Taking a sunset paddleboarding tour is the perfect way to see Miami's beautiful coastline while getting out on the water together.
You can rent paddleboards from a local rental shop, or look into taking a guided tour with an experienced instructor that can provide fun facts about the area along with safety tips. 
Explore the historic Vizcaya Village for a glimpse into Miami's past
Located on Miami's Biscayne Bay, it is one of the few remaining waterfront villages left that serves as a reminder of how Miami used to be in the 1920s. Enjoy amazing sunrises and sunsets while strolling along the boardwalk. Sample tasty foods at local eateries and explore souvenir shops for interesting finds.
Learn about Miami's history through guided tours at nearby museums or relax on the beach with your special someone. There is something sure to please all couples in this charming destination which offers glimpses into Miami's past.
Enjoy a romantic picnic in a local park or nature reserve
If you're looking for a romantic activity to do with your honey in Miami, why not try a picnic in a local park or nature reserve?
There are some stunning parks and reserves right in the city, where couples can relax together and appreciate the beauty of nature. For the ultimate cozy setup, pack a basket of your favorite snacks, something to sip and plenty of throw pillows and blankets.
Visit the Miami Beach Botanical Garden for a romantic evening under the stars
Located near the heart of South Beach, this tranquil setting allows couples to wander through gorgeous gardens set against a backdrop of glimmering stars. Beautiful flowers and lush greenery create a picturesque landscape you won't soon forget while hand-in-hand strolls beneath the night sky help leave special memories that last a lifetime.
Experience the romantic side of Miami by visiting the Miami Beach Botanical Garden for an enchanted evening!
Take a sunset catamaran sail on the ocean
Taking a sunset catamaran sail on the ocean is one of the most romantic things to dofor the two of you in Miami. Imagine being in a beautiful boat as the sun dips below the horizon and makes everything glow with a golden hue.
You can admire nature's beauty up close, while spending quality time with your partner onboard. The views of the ocean and unobstructed access to incredible scenery make this experience especially unforgettable and romantic.
With many tour options available, you're sure to find the right sailboat adventure that will create lasting memories between two lovers.
Spend the day at the beach and watch the sunset with a bonfire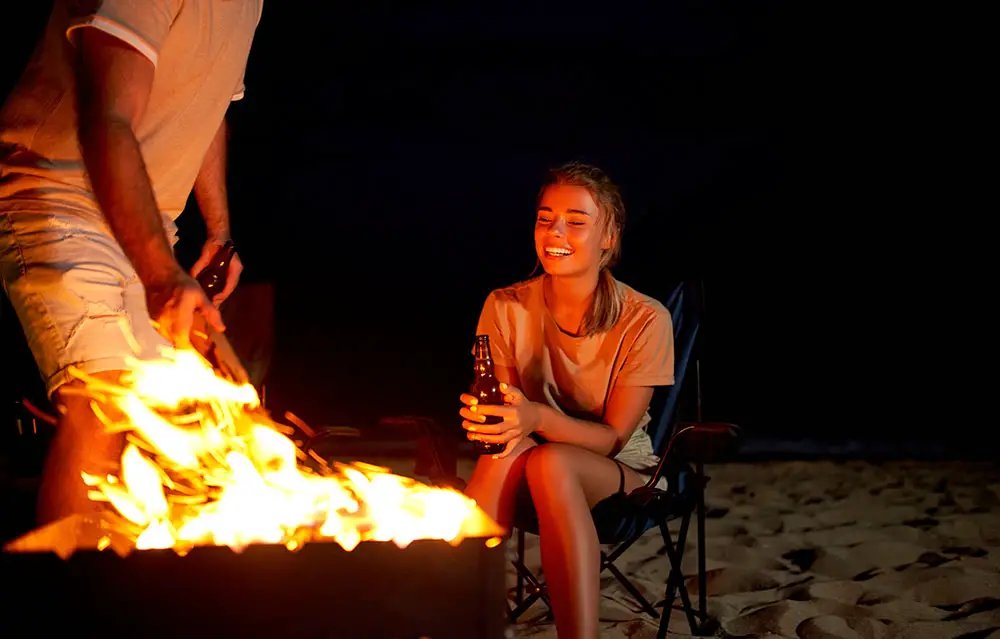 A date night spent at the beach watching the sunset with a bonfire is an incredibly romantic and memorable thing to do. With some simple planning and a bit of imagination, this classic experience can become a reality.
Watching the colors of the setting sun give way to a blanket of stars accompanied by soft ocean waves and the crackling sound of a bonfire really does set an incredible mood for romance. It's no secret that it's hard to beat natural beauty, so why not make your next date night one with nature?
Take a private walking tour of the historic Coconut Grove neighborhood
With its cobblestone streets, lush palms and warm sea breezes, the area can provide a beautiful backdrop for romantic moments shared between couples in love.
Explore the quaint shops, waterfront restaurants and charming art galleries at your own pace with the personalized guidance of your own expert guide, pointing out hidden gems and providing exclusive insights into what makes this part of town so special. Put on your walking shoes and enjoy all of the beauty that Coconut Grove has to offer as a couple.
Attend a live jazz performance at the historic Betsy Hotel
Once known as a celebrity hotspot in South Beach, The Betsy still stands as a monument to true, old-world Miami style. Listening to some of the best local, regional and international talent perform soothing tunes will instantly bring on those romantic vibes.
With cozy tables, delicious cocktails and stunning decor, The Betsy remains one of the finest places in town to spend an entertaining evening with your special someone.
Explore the local farmers market together and pick out ingredients for a romantic dinner at home
Exploring the local farmers market and cooking together at home is also a really romantic activitity for couples. Take a leisurely stroll around the stands, breathe in the fascinating aromas, see all the colors of fresh fruits and vegetables – all this will bring back wonderful memories for years to come.
When you two come across something that catches your fancy, don't hesitate to get it – you'll get all the ingredients for a romantic dinner at home ready! Soaking up all the vibes from the Farmer's Market is a fantastic way to make your relationship even stronger and enjoy each other's company.
Take a guided tour of the Coral Castle Museum, a unique and romantic destination
Miami's Coral Castle Museum is a one-of-a-kind and romantic destination that offers couples an extraordinary experience. From the towering limestone sculptures to the mysterious hand-carved artifacts, it is easy to get lost in the romance of this historic landmark.
To get the most out of your visit, consider a guided tour – led by knowledgeable and passionate experts who specialize in shining a light on this remarkable destination – which will help couples learn more about why Coral Castle Museum has become such a beloved spot for lovers.
Relax and unwind with a sunset yoga class on the beach
An experience not to be missed is a sunset yoga class on the beach. Find a quiet stretch of sand, preferably not too crowded, and allow yourself to unwind as you stretch your way through beautiful poses with each breath and movement bringing you closer to each other.
Brace the ocean breeze and gaze out over the horizon while breathing together in perfect harmony.
Attend a "dinner in the dark" experience at a local restaurant
For a truly one-of-a-kind date night, why not consider attending a "dinner in the dark" experience at a local Miami restaurant? This unforgettable evening will begin with candlelight and garnish-adorned cocktails before you and your date are guided through complete darkness to an intimate corner of the restaurant.
The meal is served while you're both immersed in total darkness — a heightened sensory experience that heightens your taste buds and forces you two to rely on each other to find your way around the table.
Take a tour of the historic Freedom Tower and learn about Miami's immigrant history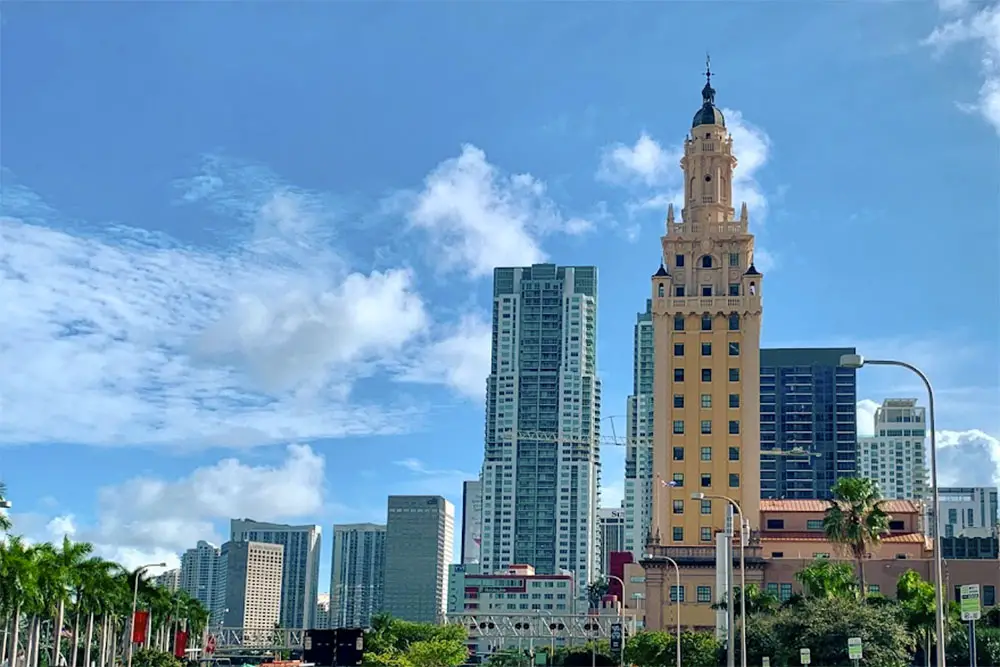 As you've come to understand by now, Miami is the perfect city for a romantic getaway, and what better way to celebrate your love than at the historic Freedom Tower?
Located in downtown Miami, this iconic building has been welcoming generations of immigrants to the United States since its construction in 1925. On an evening tour of Freedom Tower, couples can learn about Miami's rich immigrant history, dating all the way back to when settlers first arrived by boat from Cuba and Haiti.
Afterward, visitors can enjoy a romantic dinner at one of the many restaurants close by and finish off the day with stunning views from the top of this amazing monument.
Rent a vintage convertible and take a scenic drive through the Redland countryside
Renting a vintage convertible is the perfect way to explore the beautiful Redland countryside and take time out to enjoy some quality time together. Whether you drive through with your partner for just an afternoon, or maybe stay overnight, there's no denying it will be an unforgettable experience, from passing fields of tropical fruit trees to spotting marshy swamps teeming with wildlife.
A drive through this picturesque landscape promises you both captivating sights and serene moments that will remain with you for years to come.
Take a cooking class together focused on local and sustainable ingredients
Since Miami boasts access to some of the freshest produce and seafood in the United States, utilizing such ingredients is a great way to introduce new flavors and textures into the mix.
During these classes, couples will learn how to procure their locally-sourced food, as well as how to master dishes that can be made over and over again. Whether you plan on having an intimate dinner for two or an extravagant feast with friends, you'll have all the tools you need once you complete this cooking course.
Explore the Miami River on a private kayak tour
One exciting way to explore the Miami River is through a private kayak tour. Feel the breeze in your hair and the sun on your skin as you paddle with your significant other past historic mansions, mangrove forests, and stunning views of downtown Miami's skyline.
An experienced guide will escort you for a fun filled day with stunning nature views, educational commentary and plenty of unforgettable memories. A perfect way to connect with nature and each other!
Visit the Jewish Museum of Florida to look into Miami's Jewish history and culture
Located in downtown Miami, this historical museum highlights the long standing impact of Miami's Jewish community on the region. From historic artifacts and photographs to interactive exhibitions, couples can explore the modern history of Jewish life in Florida.
Meander through galleries filled with thought-provoking stories and engaging experiences, learning more about this culture along the way.
After your visit, take a stroll along South Beach or grab dinner at one of the area's local restaurants to cap off a truly memorable day together.
Go on a romantic camping trip on a private island off the coast of Miami
If you're looking for a truly romantic experience to share with your special someone, consider planning a camping trip on one of the many private islands off the coast of Miami.
With countless perfect spots to pitch your tent and set up camp, this secluded escape offers complete privacy and tranquillity. Whether lounging by a bonfire under the stars, taking a dip in crystal clear waters together, or canoeing along the shoreline, there are endless romantic activities to enjoy.
Add that special touch with homemade picnic baskets while watching dolphins play in the distance – a proposal your partner will never forget!