If you're looking for a vacation destination that offers something for everyone, look no further than Maspalomas in Gran Canaria. This resort town is home to some of the most beautiful scenery on the island and plenty of activities and attractions to keep you busy.
Whether you're interested in nature, history, or just relaxing on the beach, Maspalomas has something for you. So come explore this wonderful corner of the world!
What is Maspalomas and what makes it special?
Maspalomas is a tourist resort in the south of the island of Gran Canaria, one of Spain's Canary Islands. It's known for its water park and seafront promenade. The Maspalomas Dunes are massive sand dunes that extend inland from the rocky coastline.
West of the dunes you'll find Playa de Maspalomas. A long, secluded beach with clear waters.
Playa de las Canteras. To the east, busy Playa del Ingles is lined with high-rise hotels, busy bars, and all-night clubs.  Maspalomas' location on the southern tip of Gran Canaria means that it enjoys year-round sunshine, making it a popular winter getaway for European sunseekers.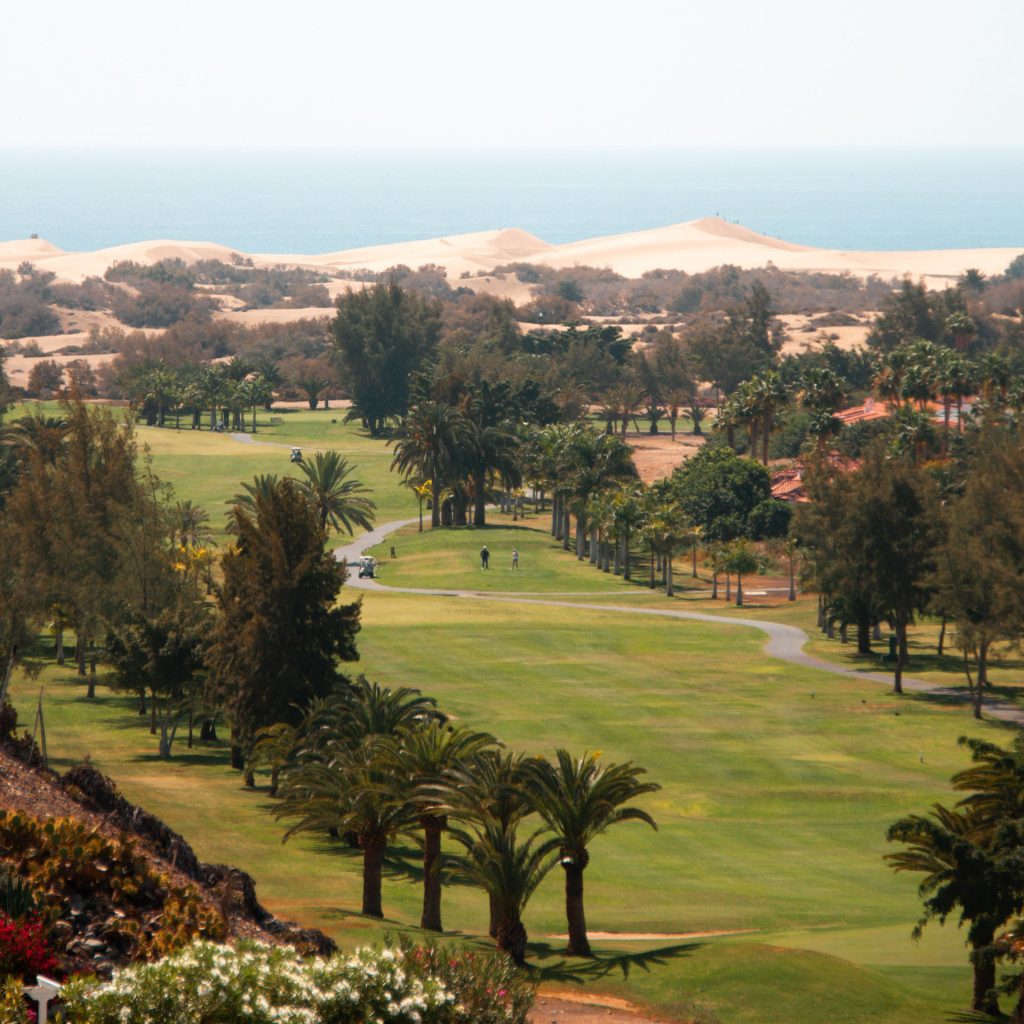 The temperatures are especially pleasant in spring and autumn when the north of the island can be cool and breezy. Thanks to its central location, Maspalomas is also a good base for exploring Gran Canaria's other tourist towns and villages, such as Puerto Rico and Puerto de Mogán.
Whether you're looking for sun, sand, and sea or a more active vacation, Maspalomas is the perfect destination.
How were Maspalomas Dunes formed?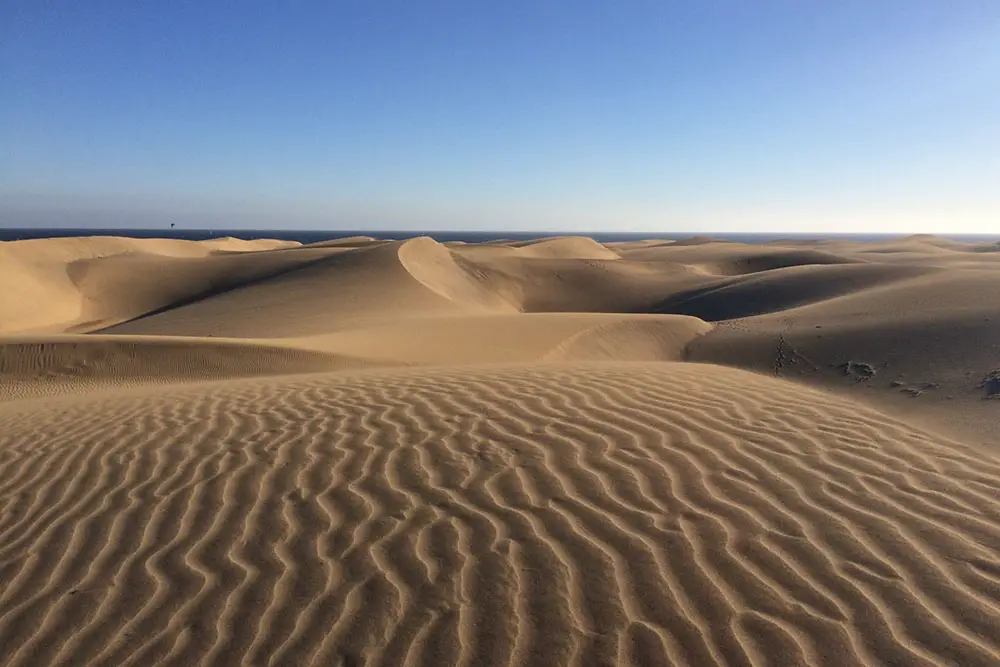 The Maspalomas Dunes are a truly unique geological phenomenon found on the southern coast of Gran Canaria.
Created by the Atlantic Ocean and forceful winds, these dunes represent an incredible example of the transformative power of nature over time. During the last ice age, as water levels began to recede, vast quantities of sand were left exposed along this coastline.
Over many years, strong winds carried this golden sand further and further inland, eventually giving rise to what we now know as the Maspalomas Dunes. Today, these natural wonders continue to move slowly from east to west at a rate of 2-5 meters per year, constantly reshaping themselves in response to new weather conditions and providing a fascinating glimpse into the earth's ever-evolving history.
Playa del Ingles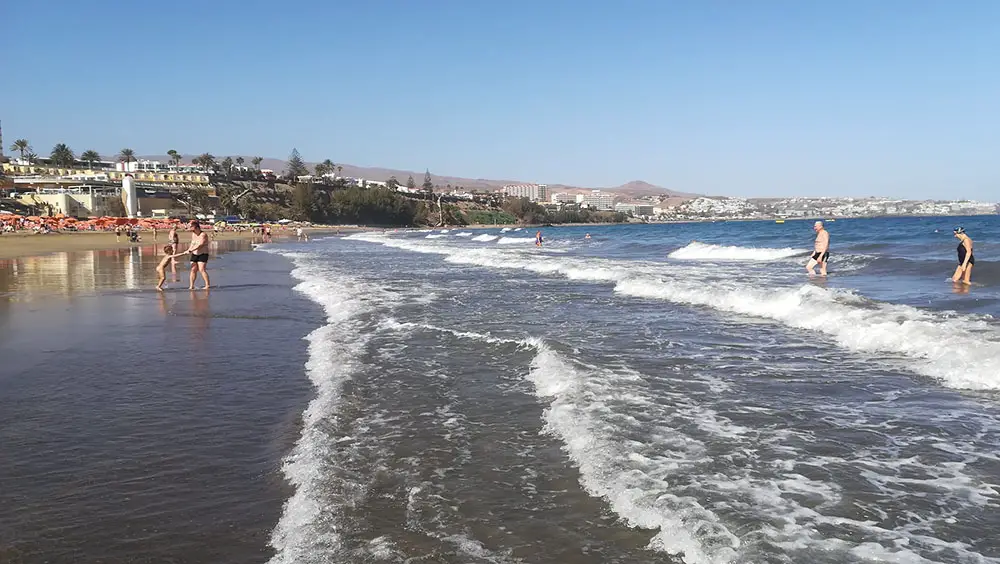 If you're looking for a beach vacation close to Maspalomas with a little bit of everything, then the Spanish resort town of Playa del Inglés is the perfect spot for you.
With its sandy beaches and lively nightlife, there's something for everyone in this vibrant community. And since it's just outside one of the largest holiday complexes in Spain, you'll never find yourself bored or without options.
The northern end of the beach is where most of the hotels and resorts are located, as well as services such as parasol rental, bathrooms, showers, and snack stands. As you approach the lighthouse, the shore gets more rugged, with surfing opportunities and a nudist beach.
Bird watching at La Charca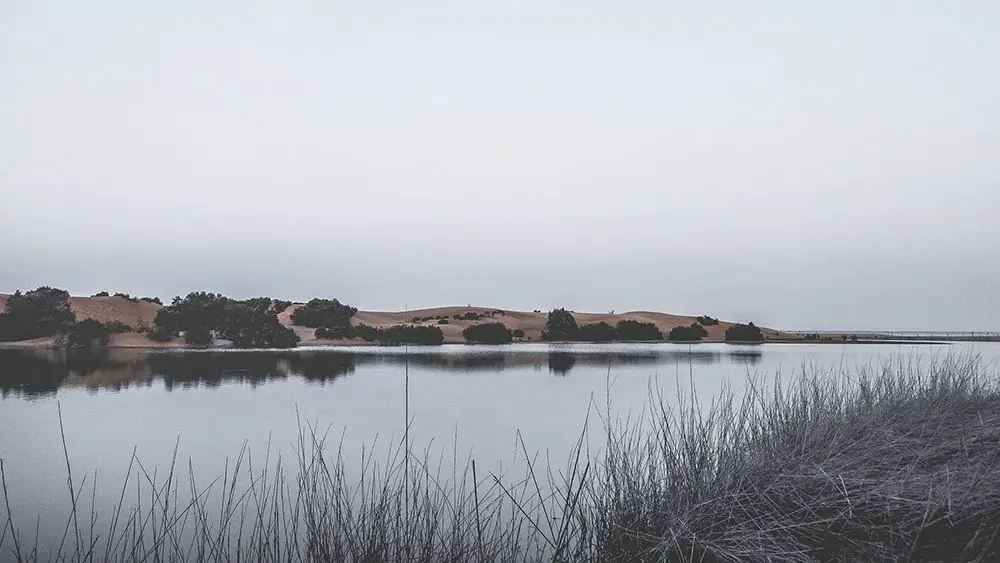 If you're a bird lover, then you'll definitely want to check out La Charca. This nature reserve is home to a variety of birds, making it the perfect spot for bird watching. Located in the west of the Maspalomas dunes, La Charca is a palm-fringed lagoon that is a veritable oasis for birds.
Every year, birds migrate from Europe to Africa, and La Charca is a great place for them to rest. With over 20 different species of birds, you're sure to see some amazing feathered friends while you're here. So make sure to bring your binoculars or camera and enjoy the beauty of nature at La Charca.
400 Hectares Nature Reserve
The Maspalomas Dune system is a truly special place, known for its natural beauty and an incredible range of ecosystems. Spanning over 400 hectares, this wild expanse is home to everything from vibrant palm groves to mineral-rich mudflats.
And what makes it even more incredible is that it's fully designated as a special nature reserve, meaning that the area is both actively protected and strictly off-limits to development.
Whether you're an avid hiker or simply someone with a travel bug in your soul, you'll find endless adventure and excitement in these rugged sands.
Activities and attractions in Maspalomas
Maspalomas is a world-renowned tourist destination for its many activities and attractions. From its beautiful beaches to its exciting nightlife, there is something for everyone in Maspalomas.
Visitors can enjoy a variety of activities such as swimming, sunbathing, windsurfing, and kitesurfing. There are also numerous restaurants, bars, and clubs to keep visitors entertained into the wee hours of the morning.
In addition, Maspalomas is home to a number of notable attractions such as the Lighthouse of Maspalomas, the Dunes of Maspalomas, and the Maspalomas Botanical Gardens.
Maspalomas Lighthouse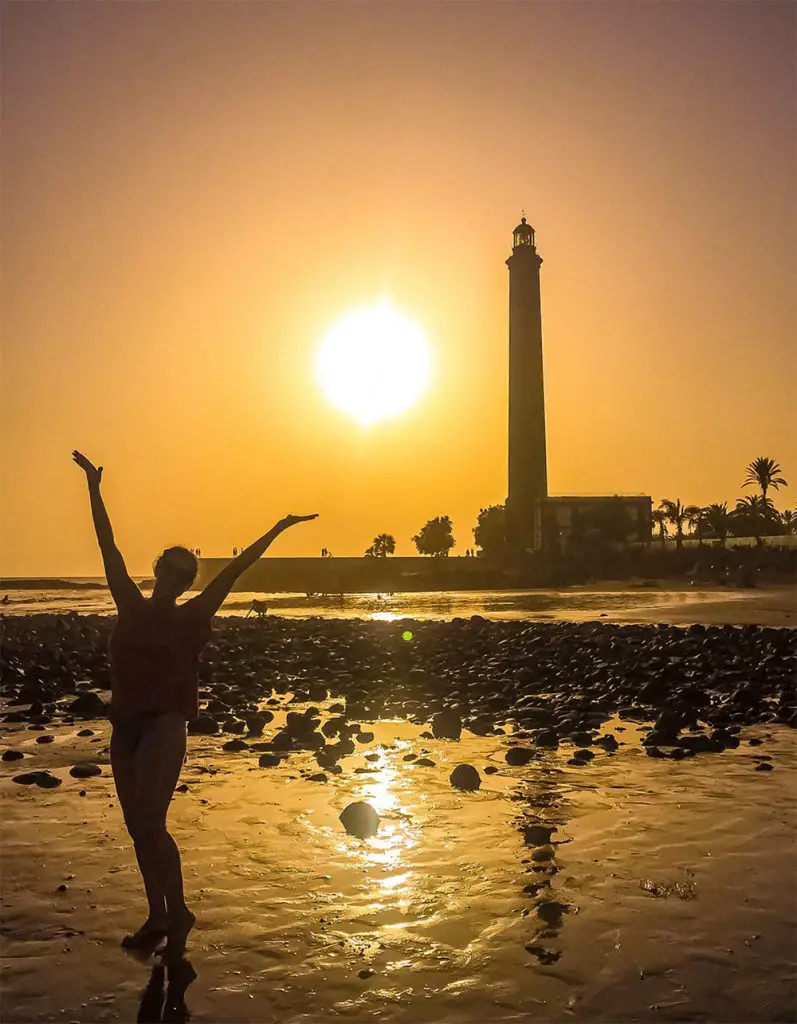 The Maspalomas Lighthouse (Faro de Maspalomas, in Spanish) has long been a landmark of the town of Maspalomas. This majestic structure rises 56 meters up above the coastline to tower over both land and sea, and it acts as an important navigational aid for ships sailing along this stretch of the Atlantic Ocean.
Maspalomas Botanical Gardens
El Parque Botanico de Maspalomas, or the Botanical Park of Maspalomas, is a must-see for any plant lover visiting Gran Canaria. This park contains a wide variety of plant species, grouped by their location of origin, habitat, or use.
Some of the plants are from the Canary Islands and are quite unusual. The park also has a section devoted to cacti, as well as a palm grove and a lily pond. Visitors can also take a guided tour of the park or attend one of the workshops on topics such as gardening, herbal medicine, and beekeeping.
Whether you're a green thumb or just enjoy looking at pretty plants, the Botanical Park of Maspalomas is sure to delight.
Where to stay in Maspalomas
Maspalomas offers a great variety of hotels and apartments to stay in. Many of the accommodations are all-inclusive, so you can enjoy your vacation without having to worry about a thing. The town is also full of bars, restaurants, and cafes, so you'll never go hungry or thirsty.
Riu Palace Hotel Oasis
When you're looking for an all-inclusive resort in vibrant and sunny Maspalomas, look no further than the swanky Riu Palace Oasis! With its pristine beachfront location and stunning ocean views, this hotel is the perfect choice for those looking to treat themselves.
From gourmet dining to luxurious spa treatments, there is something for everyone at this popular destination. Whether you're traveling solo, as a couple, or as a family, you'll enjoy every moment of your stay at the Riu Palace Oasis.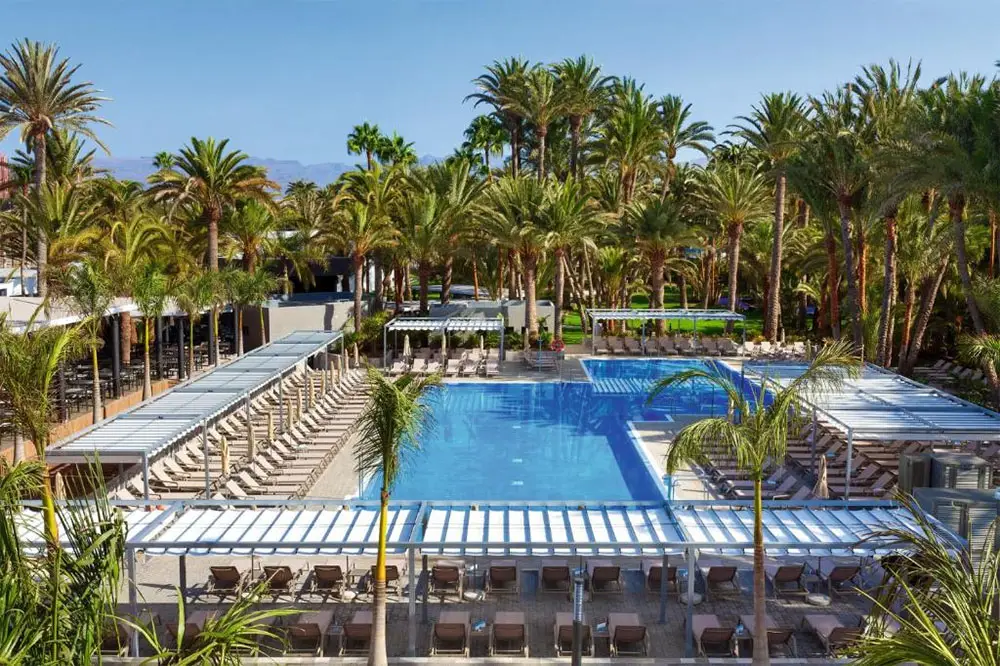 ---
Riu Palace Hotel Maspalomas (Adults Only)
Are you looking for the ultimate luxury getaway? Look no further than the Riu Palace for adults only in Maspalomas! This stunning hotel features a number of exceptional amenities, from a gorgeous bar and garden to private beach access and 24/7 room service.
Whether you're looking to relax on the beach or explore everything this vibrant city has to offer, this beautiful hotel is the perfect destination.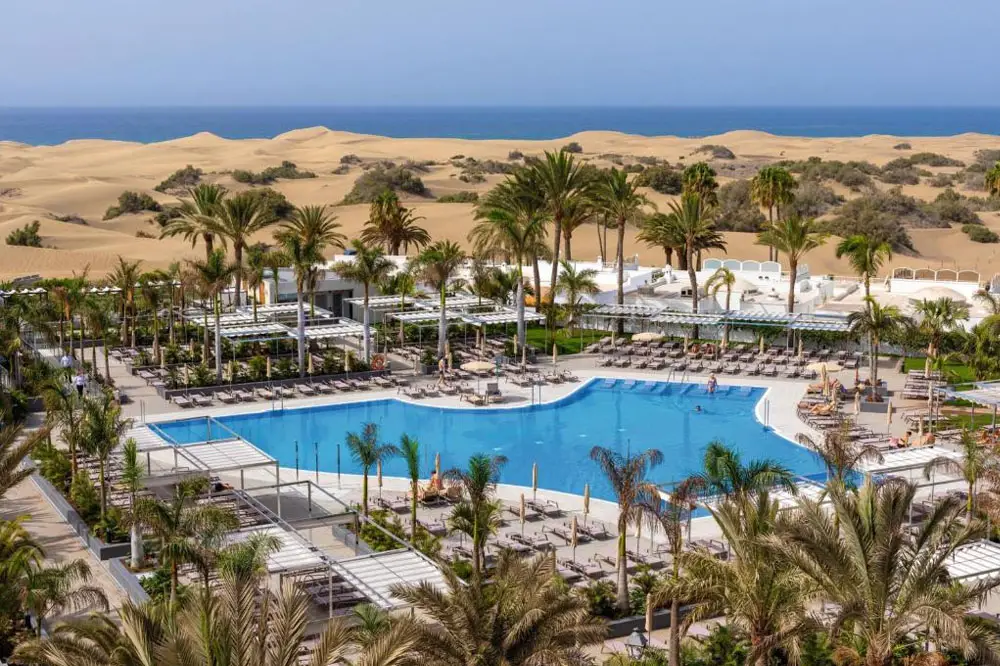 ---
Oasis Playa Maspalomas
Imagine hitting the beach in a matter of seconds – no need to fight traffic or take out your wallet, because this hotel Oasis Playa Maspalomas is just a minute's walk from the sandy shores of the sparkling Atlantic Ocean. And what's even better?
These luxury apartments offer stunning views of both the Maspalomas dunes and the sea. Whether you're looking for a relaxing getaway with friends or an exciting adventure with your family, this incredible property has got you covered.
With all the comforts of home and more, it's truly a Shangri-la for anyone with a travelbug.