If you're looking for a beautiful beach to relax on in the heart of Las Palmas, Gran Canaria, look no further than Las Canteras. This 3.5km stretch of golden sand is perfect for a day of contemplation and relaxation. You'll find plenty of services and amenities along the promenade, making it the perfect spot for a family day out.
Las Canteras Beach is a world-class beach in Gran Canaria that should not be missed. It is beautiful, natural, and offers plenty of activities for beach-goers of all ages. The jewel of Las Palmas is definitely worth a visit!
Las Palmas golden sand beach
Las Canteras Beach is one of the most popular beaches in Gran Canaria and all of Spain and it's easy to see why. The golden sand stretches for over 3 kilometers, making it ideal for long walks. The waters are calm and shallow, making them perfect for swimming and paddling.
And the promenade is lined with restaurants, cafes, and bars, providing plenty of options for refreshments. There's also a playground and a skate park, making it a great spot for families.
Plus, there's always something going on, whether it's a concert, a festival, or just people watching.
The best urban beach (in the world?)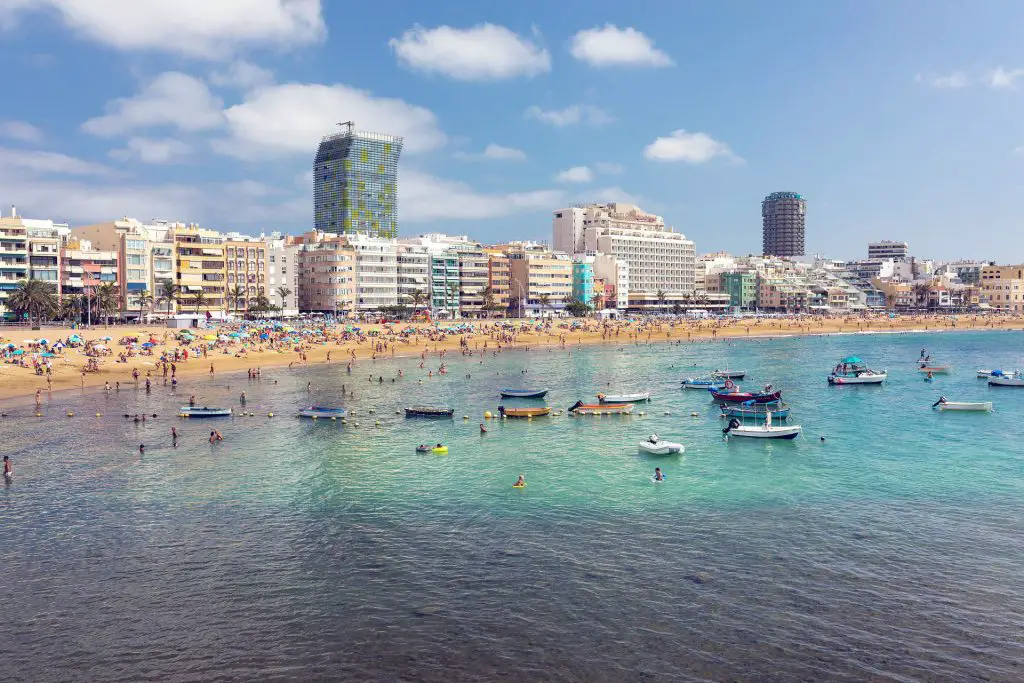 As a lifelong beach lover, I am constantly on the lookout for great swimming spots that are well-maintained and have plenty of amenities, and after visiting Playa Las Canteras, I can honestly say that this urban beach is the best beach in all of the Canary Islands.
With its wide expanse of soft, golden sand and its stunning view of the Atlantic Ocean, Playa Las Canteras offers everything you could hope for in a city beach. Its shallow waters are perfect for families with young children and there's plenty of space to spread out a towel or set up a tent.
Even better, there are lots of shops nearby where you can stock up on snacks and drinks, as well as restrooms and showers to stay clean and refreshed during your stay.
Overall, whether you're looking for an enjoyable day at the beach or a place to spend your whole vacation soaking up some sun and sand, there's simply no better spot than Playa Las Canteras and its all-round sub-tropical climate!
Protected by a natural reef
As one of the ämost popular beaches of the capital city, it draws tourists and locals alike thanks to its expansive white sand and crystal clear waters.
But what truly sets this beach apart from other favorites is La Barra – a famous natural reef that protects the coastline from powerful sea currents. With these calm conditions, even novice swimmers can enjoy swimming out to where surfers are catching waves on the south tip of the shore.
Whether you're a sun-worshipper, surfer, or water enthusiast of any kind, you won't be able to resist a day the huge beach of Las Canteras.
A huge beach divided into different parts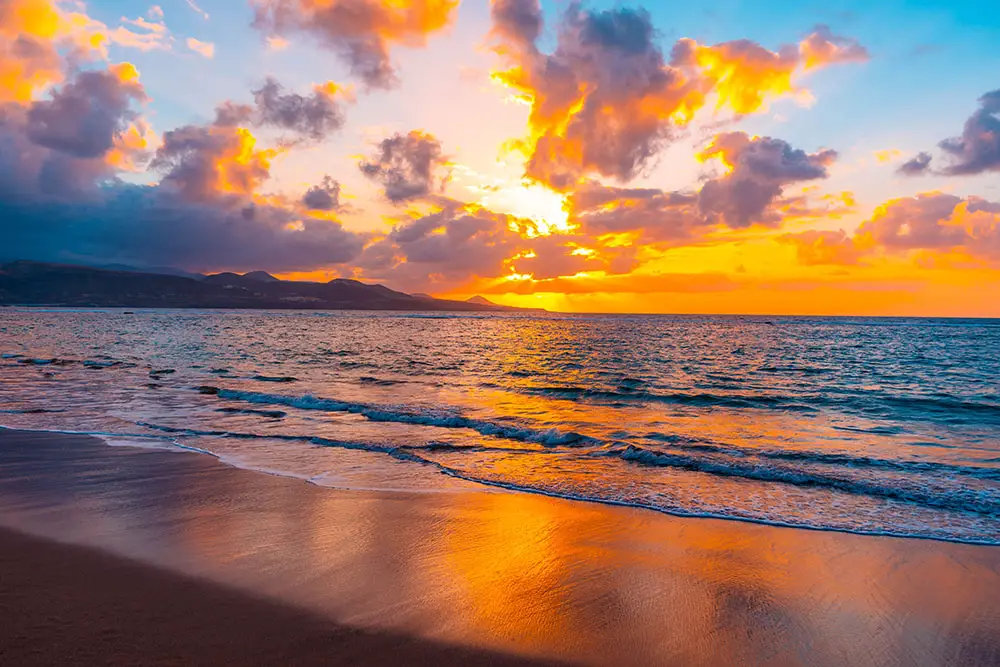 The long, white sand beach at Las Canteras is so beautiful that it has been called "the best city beach in Europe and maybe even the world." I would agree with this assessment.
The soft winds from the ocean make for perfect biting conditions when you're throwing around a few frisbees or playing mini-golf on your vacation – what more could one ask?
The beach is so large it's divided into smaller beaches.
Playa Grande
The calm waters of Playa Grande in the north part of Las Canteras are ideal for those who want to relax on the sand with their toes in clear water and an umbrella providing shade.
The northern end has more space than other beaches because it's protected by a lava reef that blocks waves from coming into shore, which means there is plenty of room at any one time!
Playa Chica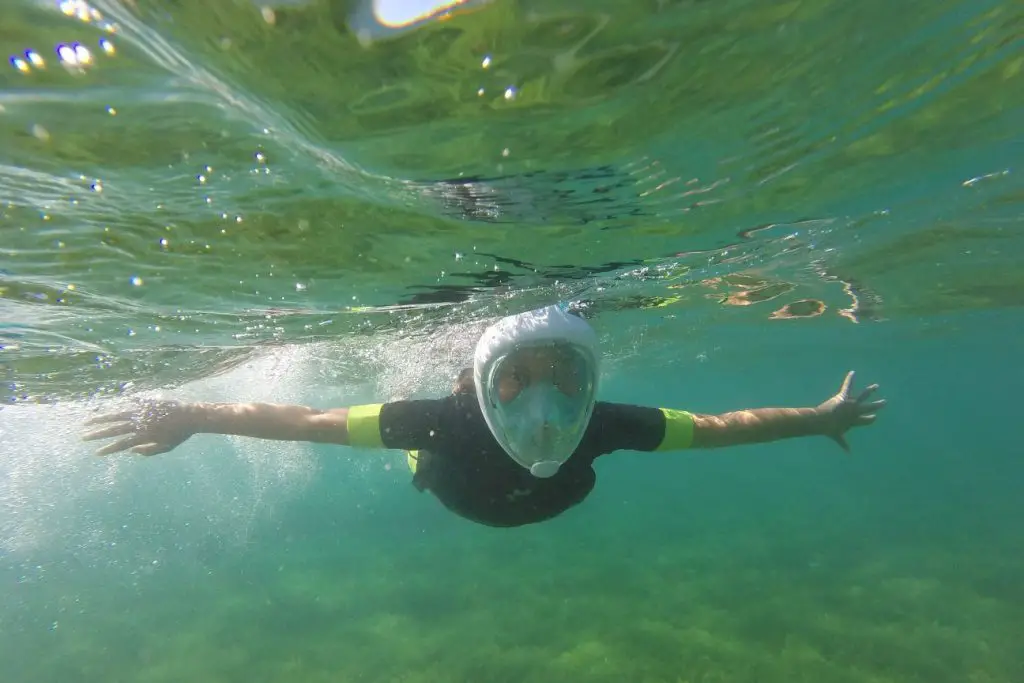 The water in front of Playa Chica, which you'll find in the center of Las Canteras is great for snorkeling as it has a mini-reef full of colorful fish. If you're looking to get away from the crowds, this might be your perfect spot!
Peña de la Vieja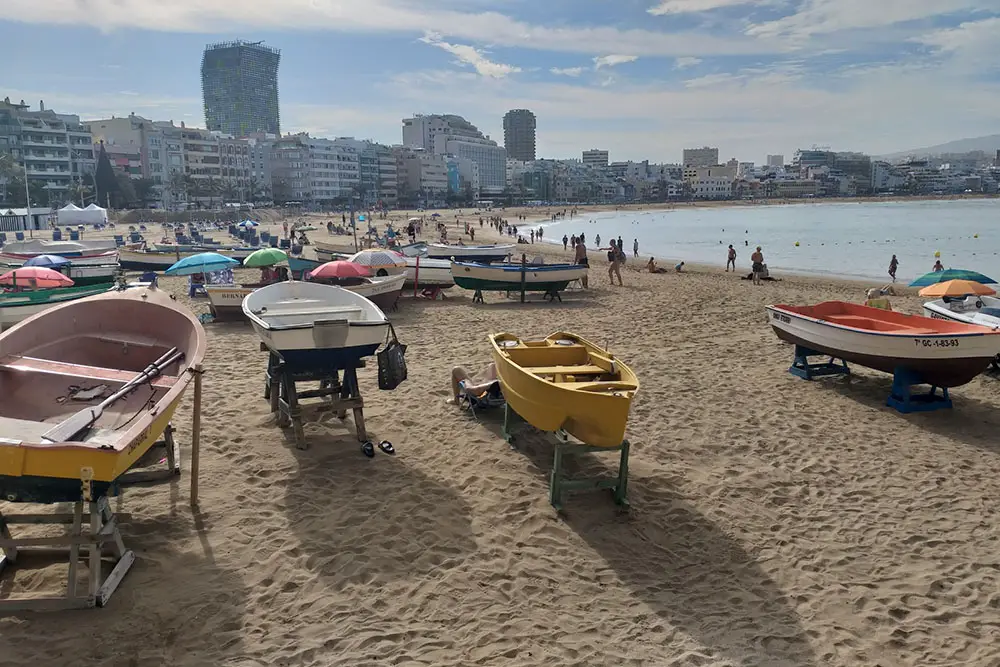 The small rock that sticks up halfway to the reef at Las Canteras beach is called La Peña de la Vieja (The Old Lady of The Anchors).
It has one sunbed concession and some fishing boats parked on the sand. This area also makes an excellent spot for snorkeling since there's no current here!
Just south, near Playa Chica, you can find El Charcon – another great place with white-sand beaches protected by rocks which often don't seem like they'll let go any time soon but then just give way graciously when waves pull them back underwater again.
La Cicer 
The locals of Las Canteras love to play beach tennis and football at low tide. It's here that you can find the perfect surfing conditions, with no offshore reef making it easier for beginners or experienced surfers alike.
If you want to get into surfing in Gran Canaria, Las Cicer has got your back with its consistent waves and professional surf schools.
Surfers Paradise at the south tip of the beach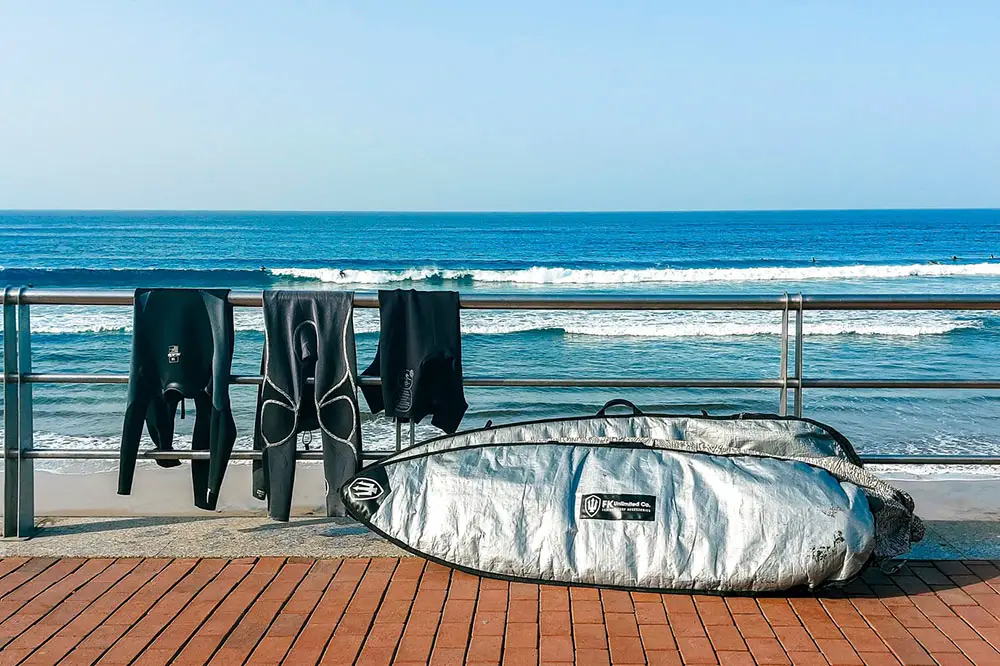 If you're looking to spend some time engaging in your favorite aquatic activities, then Playa Las Canteras is the place for you. With its wide array of shops selling equipment and accessories, ranging from surfboards to snorkels, this spot is packed with everything you need to take your water sports obsession to the next level.
And if you're still a beginner or looking for more advanced tips and techniques, no worries there either – there are many surf schools in the area that can provide lessons and camps for all skill levels.
Whether you're an aspiring oceanographer or a seasoned swimmer with skills to share, Playa Las Canteras is sure to be your go-to destination anytime the waves call your name.