Canary Island Travel Guide
Our detailed Canary Island Travel Guide provides you with the best advice on what to do while visiting any of the beautiful islands in the archipelago.
Escape to the sunny shores of the Canary Islands, where crystal-clear waters, sandy beaches, and year-round sunshine await. As an autonomous community of Spain located off the northwest coast of Africa, the Canary Islands are a popular vacation destination known for their diverse landscapes and rich cultural heritage.
From the rugged cliffs and black sand beaches of Lanzarote, to the lush green forests and towering volcanoes of Tenerife, the Canary Islands offer something for every type of traveler. Whether you're seeking adventure, relaxation, or cultural immersion, the Canary Islands have something to offer. So pack your bags and get ready to fall in love with these beautiful islands!
Canarian customs & culture
Spanning hundreds of miles from the Iberian Peninsula and just short of northwest Africa, the Canary Islands are an exotic Spanish archipelago full of culture - where residents consider themselves citizens on par with those in Madrid.
Whether you're a budget-savvy traveler or ready to spend some euro (€1 EUR) enjoyably, major credit cards are accepted at most restaurants & shops. Restaurateurs here nominate tipping anywhere between 7 - 13% as sufficient appreciation for their services; taxis favor rounding up to nearest euros!
From its Spanish-influenced accents to the haunting whistles of La Gomera's native language, Silbo, there are plenty of linguistic surprises to discover in this diverse corner of the Canaries. And when it comes to cultural expression and tradition? Locals here don't skimp on celebration!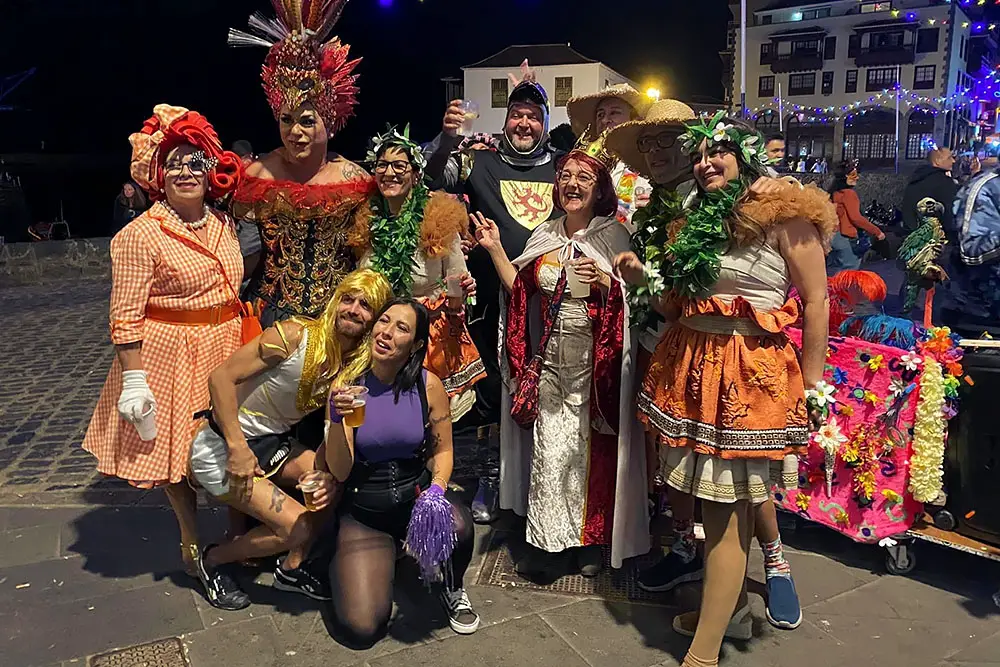 Carnival in Puerto de la Cruz, Tenerife (Feb 2023)
Carnivals is a major event - but that's not all; religious pilgrimages known as Romeria also fill streets with colorful parades carrying reverence for saints from church doors and beyond!
How to stay safe
Whether you're beach-bound or exploring a national park in the Canaries, guard against sunburn with liberal scoops of sunscreen and regular water breaks.
And when it comes to your belongings, use extra caution - willy nilly wandering may invite potential theft among popular tourist areas.
For best practices: keep valuable items stowed away on your person or locked up safely at home base; if bringing them along for fundays out by the sandbar, make sure someone's got eyes on 'em!
What to eat
The Canary Islands may be small, but their cuisines is packed with a lot of flavor and variety. With influences from both Spain and Africa, their dishes are a delicious blend of cultures.
One traditional dish you're sure to find on many tables is papas arrugadas - or wrinkled potatoes. These are cooked in salted water until they become shriveled and tender, then served with mojo sauce - a red pepper-based condiment that can be mild or spicy depending on your taste. Another classic dish is pella de gofia, which is made from cornmeal and served as an accompaniment to the main course.
When it comes to seafood, ropa vieja - or old clothes - is a popular choice. This stew typically contains tuna, parrot fish and tomatoes cooked in olive oil for a rich, flavorful meal. And no meal would be complete without wine - the islands' sweet Malvasía grapes produce some of the best wines in the world!
In short, the culinary offerings of the Canaries are as vibrant and flavorful as its people. No matter if you're sampling fresh seafood at one of its markets or enjoying a home-cooked meal of papas arrugadas with family and friends, you won't leave this beautiful archipelago disappointed by its food!
Our Latest TRAVEL Guides TO THE Canary Islands